By Amanda Shea
Nearly two months after the attack on the Congressional baseball game practice, another unhinged leftist has followed in the footsteps of James T. Hodgkinson who attempted an assassination on House Majority Whip Steve Scalise. Another GOP victim has been identified as a committeeman in Pennsylvania and now we know the identity of who shot two bullets into his head and why.
G. Brooks Jennings is dead now and his wife witnessed the entire execution after their unhinged liberal neighbor had enough of the couple's support of President Donald Trump and their opinions within their political party.
This isn't the first attempted execution and won't be the last. Democrats can't blame it on any isolated event or mental illness other than liberalism as a disorder.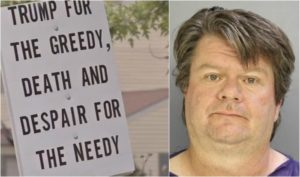 ***********
ADDITIONAL RESOURCES:
Police: Man killed by neighbor after dispute in West Goshen
…Carter then allegedly retrieved a .380 semi-automatic handgun from his house and confronted the victim again outside.
Officials say Carter shot Jennings once in the head, knocking him to the ground. Carter then allegedly stood over Jennings' body and shot him once more in the head.
The victim was on his own property, police said…
…Jennings' wife allegedly heard the first gunshot, then saw Carter stand over her husband as he fired the second shot.
Police recovered two shell casings, the gun and a knife at the scene. One shell casing was located on Carter's property. The second shell casing was found on the victim's property, near Jennings' body…
***
12:02 PM – 8 Aug 2017
Clayton Carter is facing 1st degree murder, accused of shooting neighbor and Chesco GOP committeeman Brooks Jennings. @KYWNewsradio
Twitter – Jim Melwert (KYWNewsRadio)
***