ABC News‏ (Verified account)
@ABC
JUST IN: AG Sessions says federal investigation opened into Charlottesville incident: "Justice will prevail." https://abcn.ws/2vxhclH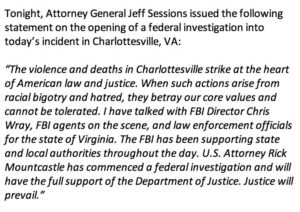 Man charged with murder for allegedly plowing into crowd in Charlottesville following white nationalist rally
By Michael Edison Hayden, Adam Kelse , LUCIEN BRUGGEMAN
Aug 12, 2017, 10:59 PM ET
An Ohio man was charged with murder after a car plowed into a crowd of demonstrators following a foiled white nationalist rally Saturday in Charlottesville, Virginia, killing a 32-year-old woman and leaving 19 others injured, police and officials said.
James Alex Fields, Jr. of Maumee, Ohio faces one count of second degree murder, three counts of malicious wounding and one count of hit-and-run after the incident, which sent pedestrians flying. In the wake of the crash, the Department of Justice opened an investigation into the incident.
***
Ohio man, 20, identified as suspect who drove car into Charlottesville protesters
***
by Ben Kochman, August 12, 2017, | 2:14pm
> A car plowed into a group of counter-protesters at a white nationalist rally in Virginia on Saturday afternoon, news reports said.
>> An Associated Press reporter saw at least one person on the ground receiving medical treatment immediately after the incident. Video on social media showed more than one vehicle involved in the incident.
>> The car plowed into the crowd two hours after police shut down a white nationalist rally before it could even begin in a Charlottesville, VA park Saturday after hours of violent brawls between white supremacists and counter protesters.
**********
ADDITIONAL RESOURCES:
THE DAILY CALLER — still running LIVE FEED — BLACK LIVES MATTER SHOUTS … and drink bottles being thrown — police are in riot uniforms … reporter has been sprayed and struck several times …. stating, "Everyone is pretty much wet with sh*t." …… WATCH FOR YOURSELF!!!
***
State of emergency declared amid violence at Charlottesville's 'Unite the Right' rally
By Jason Hanna, Kaylee Hartung, Devon M. Sayers and Nicole Chavez, CNN, Updated 12:34 PM ET, Sat August 12, 2017
Charlottesville, Virginia (CNN)[Breaking news update, published at 12:17 p.m. ET]
Protesters have been arrested at the site of Saturday's "Unite the Right" rally in Charlottesville, Virginia, state police say. The unspecified number of arrests began shortly after police made a declaration of unlawful assembly at Emancipation Park, the state police said on Twitter.
***
Car Intentionally Plows Into Charlottesville's Protesters Injuring Dozens!!!
41 mins ago, August 12, 2017 (0:45 video – car speeds up, plowing into people)
Earlier today, President Trump and First Lady Melania Trump addressed the violence happening in Charlottesville, Virginia where protests are going on and the Governor has declared a State of Emergency. ….
***
POSSIBLE LINK TO PROTEST  ***UNKNOWN DATE OF POST***
Actors and Photographers Wanted in Charlotte
hide this posting
compensation: $25+/hour
Crowds on Demand, a Los Angeles-based Public Relations firm specializing in innovative events, is looking for enthusiastic actors and photographers in the Charlotte, NC area to participate in our events. Our events include everything from rallies to protests to corporate PR stunts to celebrity scenes. The biggest qualification is enthusiasm, a "can-do" spirit. Pay will vary by event but typically is $25+ per hour plus reimbursements for gas/parking/Uber/public transit.
For more information about us, please visit www.crowdsondemand.com
If you're interested in working with us, please reply to this posting with the following info:
-Full Name
-Prior relevant experience (as an actor/performer, photographer, brand ambassador, political activist, etc)
-When are you usually available for work?
-Resume (optional)
-If you're a photographer, what equipment do you use?
-Are you ok with participating in peaceful protests (optional)?
Read more at American Digital News Group