Below is a thread dealing with the fired National Security Council staffer's memo about a coup against the United States government and President Trump and the supporting resources publicly available.  Please add any additional research and links in comment section below to be included in upcoming post.
***
By:  Around the Web   August 11, 2017
The memo at the heart of the latest blowup at the National Security Council paints a dark picture of media, academics, the "deep state," and other enemies allegedly working to subvert U.S. President Donald Trump, according to a copy of the document obtained by Foreign Policy.
The seven-page document, which eventually landed on the president's desk, precipitated a crisis that led to the departure of several high-level NSC officials tied to former National Security Advisor Michael Flynn. The author of the memo, Rich Higgins, who was in the strategic planning office at the NSC, was among those recently pushed out.
Continue reading at…
***
Exclusive
Here's the Memo That Blew Up the NSC 
Fired White House staffer argued "deep state" attacked Trump administration because the president represents a threat to cultural Marxist memes, globalists, and bankers.
By Jana Winter, Elias Groll  August 10, 2017
…The memo is part of a broader political struggle inside the White House between current National Security Advisor H.R. McMaster and alt-right operatives with a nationalist worldview who believe the Army general and his crew are subverting the president's agenda.
Though not called out by name, McMaster was among those described in the document as working against Trump, according to a source with firsthand knowledge of the memo and the events. Higgins, the author, is widely regarded as a Flynn loyalist who dislikes McMaster and his team.
"It was about H.R. McMaster," the source said. "So, when he starts reading it, he knows it's him and he fires [Higgins]."…
A copy of the NSA memo obtained by Foreign Policy, "POTUS & Political Warfare" may be viewed here.
***
An NSC Staffer Is Forced Out Over a Controversial Memo
The document charges that globalists, Islamists, and other forces within and outside the government are subverting President Trump's agenda.
By:  Kevin Lamarque (Reuters)        By: Rosie Gray  (Atlantic) Aug 2, 2017
A top official of the National Security Council was fired last month after arguing in a memo that President Trump is under sustained attack from subversive forces both within and outside the government who are deploying Maoist tactics to defeat President Trump's nationalist agenda.
His dismissal marks the latest victory by National Security Adviser H.R. McMaster in the ongoing war within Trump's White House between those who believe that the president is under threat from dark forces plotting to undermine him, and those like McMaster who dismiss this as conspiratorial thinking.
Continue reading at…
Presidential Study Directive 11, a classified report produced in 2010 by the Obama administration which presaged the Arab Spring, outlining unrest throughout the Middle East. (See Below Article)
***
Secret Report Ordered by Obama Identified Potential Uprisings
By MARK LANDLER  FEB. 16, 2011
WASHINGTON — President Obama ordered his advisers last August to produce a secret report on unrest in the Arab world, which concluded that without sweeping political changes, countries from Bahrain to Yemen were ripe for popular revolt, administration officials said Wednesday.
Mr. Obama's order, known as a Presidential Study Directive, identified likely flashpoints, most notably Egypt, and solicited proposals for how the administration could push for political change in countries with autocratic rulers who are also valuable allies of the United States, these officials said.
The 18-page classified report, they said, grapples with a problem that has bedeviled the White House's approach toward Egypt and other countries in recent days: how to balance American strategic interests and the desire to avert broader instability against the democratic demands of the protesters.
Continue reading at…
***
Former DOD Official Warns America Is On The Wrong Track To Fighting War On Terror [VIDEO]
By:  Ginni Thomas  Contributor      11:24 PM 07/02/2016
Former Department of Defense official Rich Higgins knew America was losing the war on terror when a terrorist attacked the Pulse bar in Orlando, killing 49 people and injuring over 50.
Higgins' sister-in-law asked him if he was doing all he could to fight this enemy after seeing the carnage of innocent life. Now, Higgins is taking considerable risk to speak truthfully about the lack of strategic policy in our government's war on terror….
…..Higgins calls for a "strategic and operational pause" in America's misguided battle to stop the terror. He would, instead, ask new leadership to develop a comprehensive political warfare plan, while removing the subversive policies and personnel causing America to lose this paramount battle.
He cites the "purges" carried out by law enforcement and intelligence officials throughout government, which Phil Haney, Sebastian Gorka and Steve Coughlin have made public.
(RELATED: Whistleblower: Islamic Groups Control Narrative Of American Law Enforcement)
Continue reading at…
Video Source – The DailyCaller
***
Whistleblower: Islamic Groups Control Narrative Of American Law Enforcement
By:  Ginni Thomas   1:29 AM 12/20/2015
When the name of the terrorist group that the San Bernardino extremists — Sayed Farook and Tashfeen Malif — were affiliated with became public, a retired Department of Homeland Security employee, whose work was shut down out of fear of offending Muslims, sat up straight in his chair.
"That's my case," he exclaimed, hearing al-Huda and Tablighi Jamaat — both movements a part of the Deobandi movement within Islam.
***
15 December, 2015
An Open Letter to Members of Congress:
In the aftermath of the most devastating and lethal jihadist attack in the United States since 9/11,
Americans are rightly angry their government will not face the problem of Islamic terrorism honestly.
I know this firsthand.
During my 13 years at the Department of Homeland Security, I worked tirelessly to identify and
prevent terrorism in the United States. As a recognized "founding member" of DHS, it was among my
responsibilities to raise concern, not only about the individuals primed for imminent attack, but about
the networks and ideological support that makes those terrorist attacks possible.
I investigated numerous groups such as the Deobandi Movement, Tablighi Jamaat, and al Huda as
their members traveled into and out of the United States in the course of my work. Many were
traveling on the visa waiver program, which minimizes the checks and balances due to agreements
with the countries involved. But the scrutiny we were authorized to apply was having results. This
investigation could possibly have prevented the San Bernardino jihadist attack by identifying its
perpetrators, Syed Farook and Tashfeen Malik, based on their associations with these groups.
Almost a year into this investigation, it was halted by the State Department and the DHS Office of
Civil Rights and Civil Liberties. They not only stopped us from connecting more dots, the records of
our targets were deleted from the shared DHS database. The combination of Farook's involvement
with the Dar Al Uloom Al Islamiyah Mosque and Malik's attendance at al Huda would have indicated,
at minimum, an urgent need for comprehensive screening. Instead, Malik was able to avoid serious
vetting upon entering the United States on a fiancé visa – and more than a dozen Americans are dead
as a result.
The investigation was not stopped because it was ineffective, it was stopped because the
Administration told us the civil rights of the foreign nationals we were investigating could be violated.
When did foreign nationals gain civil rights in the United States, especially when they are associated
with groups we already know are involved in terrorist activity? Based on what I have seen in the
Department of Homeland Security, I no longer have the confidence this administration can
adequately vet or screen refugees or immigrants from Islamic countries.
I took my story to the American people last week. Remarkably this week, DHS' former acting under secretary for intelligence and analysis, John Cohen, told ABC News that under the direction of DHS
Secretary Jeh Johnson, potential immigrants' social media activity was off
limits to those responsible for screening.
Just as they did when they halted my investigation in 2012 which could have provided key
intelligence and potentially saved over a dozen lives DHS described a potential "civil liberties
backlash" if the law enforcement officials tasked with keeping our country secure did the most basic checks on potential travelers, immigrants and refugees. Parents checking on someone their child may
be dating look at social media, but our law enforcement officials can't?
This administration has a deadly blind spot when it comes to Islamic terrorism. It is not willing to
allow proper vetting and screening of refugees or immigrants from Islamic countries; Congress must
take action to defend the security of the American people.
I understand the desire to welcome as many immigrants and refugees as possible, especially those
fleeing dangerous conflict zones. However, this administration has handcuffed law enforcement
officials tasked with vetting these individuals appropriately and that places the American people in
danger.
Philip B. Haney
DHS, Customs & Border Protection Officer (Ret.)
A June 2012 commendation letter to Haney from the National Targeting Center, one of many, for identifying over 300 terrorists has been released: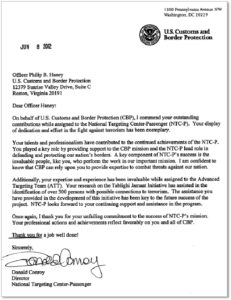 Judicial Watch exposed the pressure put on the FBI to purge their training documents of material that may offend Islam. (See next article for more.)
***
JW Report: 'U.S. Government Purges of Law Enforcement Training Material Deemed "Offensive" to Muslims'
DECEMBER 09, 2013
Judicial Watch today released a "Special Report: U.S. Government Purges of Law Enforcement Training Material Deemed 'Offensive' to Muslims: Documentation and Analysis of Islamist Active Measures and Influence Operations Targeting Anti-terrorism Training."
The 26-page Special Report includes a detailed chronology, identifies specific Islamic propaganda organizations, and identifies five top "Islamist influence operators" associated with the Obama administration. More than 12 years of Judicial Watch work on national security issues is featured in the Special Report, highlighting information from government documents exclusively obtained by the organization.
The heavily footnoted Report centers on the Federal Bureau of Investigation's (FBI) purge of anti-terrorism training material and curricula deemed "offensive" to Muslims.  The curricula purge – documented through a Judicial Watch Freedom of Information Act (FOIA) lawsuit in June 2013 – occurred following a February 8, 2012, meeting between FBI Director Robert Mueller and various Islamic organizations.  According to the Report, the purge was part of a "broader Islamist influence operation" designed to "influence the opinions and actions of persons, institutions, governments and the public at-large." The Report also documents incidents of "Islamic influence operations" at the Departments of Justice and State, the Joint Chiefs of Staff, and the Obama White House.
***
More research to be added in upcoming post.