By Emily Nowak – August 21, 2017,      Featured Image Source: The Marshall Report
PHOENIX, ARIZONA — President Trump is holding a rally in Phoenix on Tuesday, and leftist groups are already trying to cause trouble. Fourteen groups are going to protest the rally, and have urged others to book free tickets to attend so that the arena seats are empty.
But, Washington Times reports, those protestors didn't count on one thing- bikers. Bikers for Trump's Arizona Cobra Chapter put out a call to action to its members,…
Continue reading at…
***
Bikers for Trump on duty in Phoenix
By Jennifer Harper – The Washington Times    Monday, August 21, 2017
At last count, there are 14 organizations planning to protest against President Trump's rally in Phoenix on Tuesday, this according to a tally by the Phoenix Sun Times, a news organization that has attempted to track them all. The groups also have urged their members to request free tickets to the rally, then not attend — to lend the impression that there are empty seats in the humongous arena. Meanwhile, two groups will be on hand in support of the president.
"Donald Trump is coming to the Phoenix Convention Center to hold a rally. There have been plans for Charlottesville sympathizers to protest. We need our bikers to show up and keep people safe," Bikers for Trump Arizona Cobra Chapter says in a "call to action" to the group's members — in anticipation of a possible encounter with anti-Trump protesters, who will assemble at the arena an hour before Mr. Trump steps on stage in the early evening.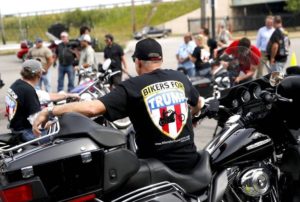 Continue reading at…