***
How the Nazis Used Gun Control
by Stephen P. Halbrook December 2, 2013
The perennial gun-control debate in America did not begin here. The same arguments for and against were made in the 1920s in the chaos of Germany's Weimar Republic, which opted for gun registration. Law-abiding persons complied with the law, but the Communists and Nazis committing acts of political violence did not.
In 1931, Weimar authorities discovered plans for a Nazi takeover in which Jews would be denied food and persons refusing to surrender their guns within 24 hours would be executed. They were written by Werner Best, a future Gestapo official. In reaction to such threats, the government authorized the registration of all firearms and the confiscation thereof, if required for "public safety." The interior minister warned that the records must not fall into the hands of any extremist group.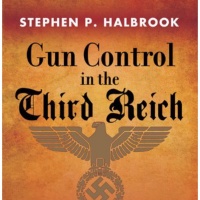 Continue reading at…
***
Background and formation
Few citizens owned, or were entitled to own firearms in Germany in the 1930s.[1] The Weimar Republic had strict gun control laws.[7] When the Third Reich gained power, some aspects of gun regulation were loosened, such as allowing ownership for Nazi party members and the military.[4]:672 The laws were tightened in other ways. Nazi laws disarmed "unreliable" persons, especially Jews, but relaxed restrictions for "ordinary" German citizens.[4]:670,676 The policies were later expanded to include the confiscation of arms in occupied countries.[8]:533,536
According to gun rights activist Neal Knox, the Nazi gun control theory was first suggested by Jay Simkin and Jews for the Preservation of Firearms Ownership (JPFO) founder Aaron S. Zelman in a book they published in 1992. In it, they compared the German gun laws of 1928 and 1938, and the U.S. Congressional hearings for what became the Gun Control Act of 1968.[9][10]
In a 2000 article, author and attorney Stephen Halbrook said that he was presenting "the first scholarly analysis of the use of gun control laws and policies to establish the Hitler regime and to render political opponents and especially German Jews defenseless."[8]:485 In the article, he cites an Adolf Hitler quote: "the most foolish mistake we could possibly make would be to allow the subject races to possess arms."[8]:483[11]:403 In his 2013 book, Halbrook adds that such victims might have successfully resisted Nazi repression if they had been armed — or better armed.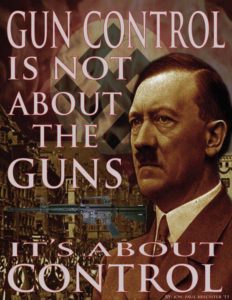 ***
Speaker Ryan Talks Gun Control Following Charlottesville Car Attack
by AWR Hawkins 22 Aug 2017
While taking questions on Charlottesville, President Trump's response, and related tensions during an August 21 town hall, House Speaker Paul Ryan (R-Wisc.) voiced support for more gun control to keep guns out of the hands of people suspected of "domestic terrorism."
Continue reading at…
***
American Bar Association Asks States to Adopt Firearm Confiscation Laws
by AWR Hawkins21 Aug 2017
The American Bar Association is pushing state and local governments to adopt firearm confiscation laws similar to those in California.
During their 2017 Annual Meeting, the ABA House of Delegates adopted Resolution 118B, which "urges governments to enact statutes, rules, or regulations authorizing courts to issue gun violence restraining orders, including ex parte orders."
The ex parte aspect of the resolution means the ABA is pushing confiscation orders that can be issued without any input from the gun owner.
Resolution 118B
Status:   ADOPTED
Urges governments to enact statutes, rules, or regulations authorizing courts to issue gun violence restraining orders, including ex parte orders.
Source – AmericanBarAssociation
***
***
Homeowner Retrieves Firearm, Holds Suspect at Gunpoint for Police
By AWR Hawkins  24 Aug 2017  Salina, KS
A homeowner in Salina, Kansas, awoke Wednesday to the sound of his dark barking, retrieved a firearm, and held a robbery suspect at gunpoint until police arrived.
The incident occurred around 4:15 a.m.
Continue reading at…
***
Gun Control Org Blames Va. Gun Laws For Violence In Charlottesville Despite Lack Of Gun Violence
By:  Kerry Picket  Reporter    12:36 PM 08/13/2017
Gun control organizations Everytown For Gun Safety and Moms Demand Action pointed to Virginia's open carry laws as a core issue at the events that unfolded in Charlottesville, Virginia Saturday despite no gunshots being fired.
"The complications of such policies are on display today in Charlottesville as white supremacists openly carry loaded guns. Not only does this make the job of law enforcement more difficult by blurring the lines of lawful gun owners and those intent on doing harm, but it also drives intimidation and fear," Everytown said in a statement.
The statement goes on to compare events that happened in Charlottesville, which involved no gunfire, to the racially motivated mass shooting at Emanuel AME church in Charleston, South Carolina in 2015.
Continue reading at…
***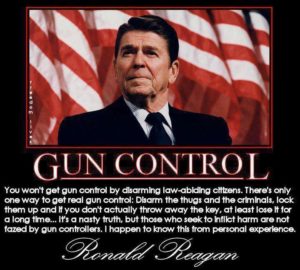 ***
GOP Lawmaker Expects To Push Anti-Operation Choke Point Bill After August Recess
By:  Kerry Picket   Reporter    1:40 PM 06/27/2017
WASHINGTON — House Judiciary Committee members plan to roll out legislation after the August recess to eliminate an Obama era initiative that pressured financial institutions to drop accounts with businesses the administration found to be reprehensible.
Known as Operation Choke Point, the Obama Justice Department began pressuring financial institutions in 2013 to deny accounts for legal business operations like firearms dealers, payday lenders, porn merchants and drug paraphernalia vendors. The initiative essentially "choked" off these industries from mainstream banking institutions, sending them to cash only or smaller financial firms willing to take their business.
Continue reading at…
***
Lawmaker Reintroduces Bill To Eliminate Operation Choke Point
By:  Kerry Picket  Reporter   4:45 PM 05/29/2017
Gun rights activists hailed a piece of legislation proposed at the end of last week that would protect firearm businesses from being shut off from financial services.
The piece of legislation re-introduced last Thursday by Republican Missouri Rep. Blaine Luetkmeyer — called the Financial Institution Customer Protection Act — first passed the House in the last Congress.
Continue reading at…
***
Gun Control Statistics as of 2016
In the Bill of Rights, the Second Amendment to the Constitution reads:
A well regulated Militia, being necessary to the security of a free State, the right of the people to keep and bear Arms shall not be infringed.[198]
* Gun control proponents have argued and some federal courts have ruled that the Second Amendment does not apply to individual citizens of the United States but only to members of militias, which, they assert, are now the state National Guard units.[199] [200] In 2002, a federal appeals court panel ruled that "the people" only "have the right to bear arms in the service of the state."[201]
* Gun rights proponents have argued and some federal courts have ruled that the Second Amendment recognizes "an individual right to keep and bear arms."[202] In 2001, a federal appeals court panel ruled that the Second Amendment "protects the right of individuals, including those not then actually a member of any militia or engaged in active military service or training, to privately possess and bear their own firearms…."[203]
* James Madison was the primary author of the Bill of Rights,[204] is known as the "Father of the Constitution" for his central role in its formation,[205] and was one of three authors of the Federalist Papers, a group of essays published in newspapers and books to explain and lobby for ratification of the Constitution.[206] [207]
* In Federalist Paper 46, James Madison addressed the concern that a standing federal army might conduct a coup to take over the nation. He argued that this was implausible because, based on the country's population at the time, a federal standing army couldn't field more than 25,000–30,000 men. He then wrote:
To these would be opposed a militia amounting to near half a million of citizens with arms in their hands, officered by men chosen from among themselves, fighting for their common liberties, and united and conducted by governments possessing their affections and confidence.
Besides the advantage of being armed, which the Americans possess over the people of almost every other nation, the existence of subordinate governments, to which the people are attached, and by which the militia officers are appointed, forms a barrier against the enterprises of ambition, more insurmountable than any which a simple government of any form can admit of. Notwithstanding the military establishments in the several kingdoms of Europe, which are carried as far as the public resources will bear, the governments are afraid to trust the people with arms.
***
Oregon Governor Signs Gun Confiscation Law, Violates 2nd and 14th Amendments
By  M. L.    Posted on August 23, 2017
In a disturbing move that reeks of tyranny, Oregon Governor Kate Brown signed a Democrat bill into law that permits the Oregon government to steal guns without notice.
The law, based off of Oregon Senate Bill 719, has faced massive resistance from Republicans and Oregon citizens alike. Despite this, the local governments managed to sign it into law—Oregon is no longer a free state.
***