Gary David Cohn (born August 27, 1960) is an American investment banker and political figure. He is the chief economic advisor to President Donald Trump and Director of the National Economic Council  (The National Economic Council (NEC) of the United States is the principal forum used by the President of the United States for considering economic policy matters, separate from matters relating to domestic policy, which are the domain of the Domestic Policy Council. The council forms part of the Office of White House Policy which contains the National Economic Council and other offices. The Director of the NEC is titled the Assistant to the President for Economic Policy and Director of the National Economic Council.).  He was formerly the president and chief operating officer of Goldman Sachs  (The Goldman Sachs Group, Inc. is an American multinational finance company that engages in global investment banking, investment management, securities, and other financial services including asset management, mergers and acquisitions advice, prime brokerage, and securities underwriting services. It also sponsors private equity funds, is a market maker, and is a primary dealer in the United States Treasury security market.) from 2006 to 2017. Cohn is a registered Democrat, but has donated extensively to Republican politicians as well.
Cohn is considered one of the most influential voices in the Trump administration.
Cohn was recruited by Goldman Sachs in 1990.  In 1996, he was named head of the commodities department and in 2002, he was named the head of the entire Fixed Income, Currency and Commodities Division (FICC) division. In 2003, he was named co-head of Equities and in January 2004, Cohn was named the co-head of global securities businesses .  He became President and Co-Chief Operating Officer and director in June 2006.
In late 2009, Cohn led a delegation from Goldman Sachs to meetings with the government of Greece, which included proposals (that were not adopted) to push debt-due dates far into the future, "much as when strapped homeowners take out second mortgages to pay off their credit cards."  Goldman Sachs had been scrutinized for creating or pitching products used by Greece to "obscure billions in debt from the budget overseers in Brussels".
On January 20, 2017 Cohn took office as Director of the National Economic Council (NEC) in President Donald Trump's administration, a position which did not require Congressional confirmation. By February 11, 2017, The Wall Street Journal described Cohn as an "economic-policy powerhouse" and The New York Times called him Trump's "go-to figure on matters related to jobs, business and growth".  Cohn's salary at Goldman Sachs was US$22 million in 2014.  He received $21 million in 2015.   His severance package at Goldman Sachs amounted to $285 million – mostly in stock – from Goldman Sachs upon leaving to join the administration of Donald Trump.  In the administration he took a salary of $30 thousand.  Additionally, Cohn sold a stake valued at $16 million in the Industrial and Commercial Bank of China, the world's largest bank as of 2017.
Cohn supports reinstating the Glass-Steagall legislation, which would separate commercial and investment banking.
The Glass–Steagall legislation describes four provisions of the U.S. Banking Act of 1933 separating commercial and investment banking. [1] The article 1933 Banking Act describes the entire law, including the legislative history of the provisions covered here.
(The common name comes from the names of the Congressional sponsors, Senator Carter Glass and Representative Henry B. Steagall.[2] A separate 1932 law described in the article Glass–Steagall Act of 1932, had the same sponsors, and is also referred to as the Glass–Steagall Act.)
The separation of commercial and investment banking prevented securities firms and investment banks from taking deposits, and commercial Federal Reserve member banks from:
*dealing in non-governmental securities for customers
*investing in non-investment grade securities for themselves
*underwriting or distributing non-governmental securities
*affiliating (or sharing employees) with companies involved in such activities
***
Is Gary Cohn Now Trump's New Favorite Aide?
By:  Emily Jane Fox  April 6, 2017 9:04 pm
On any given night, as the clock ticks closer to 10 or 11 P.M., Gary Cohn, director of the National Economic Council, is still in his office on the second floor of the West Wing. Cohn, who, until joining the Trump administration at the behest of his friend, Donald Trump's son-in-law and senior adviser Jared Kushner, was the president and chief operating officer of Goldman Sachs, is now suddenly working junior analyst hours. "He has to spend so much time watching T.V. with Trump during the day that he ends up staying at work until late in the night," one person familiar with the dynamic told me. (A White House official says it is not true that they watch T.V., but the hours sound right.)
Just across the hall, and working similar hours, is Stephen Bannon, Trump's chief strategist and the architect of his populist campaign. Bannon is also a former Goldman banker, but one who rejects much of what the bank—and Cohn—stand for. It's a nightly struggle for Trump's ear.
***
By:  Mike Allen   Apr 12, 2017
The instant fallout: Swan hears Bannon allies inside and outside the White House were taken by surprise when Goodwin's column posted, and are distraught. Bannon allies are bitter about the role they believe economic adviser Gary Cohn has played in undercutting their guy to POTUS. In private conversations, they call him "Globalist Gary." In text messages, the shorthand is CTC (Carbon Tax Cohn).
EXCERPT — Cohn's White House clique of wealthy Jewish New Yorkers, alternatively referred to in press accounts as the "Wall Street wing" of the administration or, more simply, as "the Democrats", includes Trump's son-in-law Jared Kushner and his daughter Ivanka Trump.  Another ally, Dina Powell, is a fellow Goldman Sachs alumna who now serves on the National Security Council.
***
Trump Reversals Hint at Wall Street Wing's Sway in White House
By ALAN RAPPEPORT    APRIL 12, 2017
…Larry Kudlow, the economist who advised Mr. Trump when he was a candidate, panned Mr. Trump's reciprocal tax idea as a nonsensical approach that would essentially raise taxes.
He suggested that the scattershot approach to economic policy coming from the White House was probably because of poor leadership at the National Economic Council, which is led by Gary Cohn, and the diminished role of the Treasury Department, which is steered by Secretary Steven Mnuchin.
"It's complete chaos," Mr. Kudlow said. "It sows confusion, and people lose confidence. The process is broken."
***
How Gary Cohn Became The Hated Jewish 'Globalist' In Trump's Cabinet
By:  Josh Nathan-Kazis  April 14, 2017
In the palace intrigue rattling Donald Trump's White House, Gary Cohn is the insider the Trump diehards love to hate.  It's a role to which he's particularly-well suited:
"Gary Cohn would be too liberal for the Obama administration," former Trump advisor Sam Nunberg told Yahoo News. "I don't know what he's doing in a Republican White House,"  Nunberg said, voicing the sentiment, widely held in pro-Trump circles, that Cohn is an odd match for the expectations set by the Trump regime.
***
Gary Cohn Testimony: Goldman Didn't Bet Against Clients
By Michael Corkery    Jun 30, 2010 10:24 am ET
You know the world has become a strange place when a Wall Street firm is bragging about how much money it lost.
But in prepared testimony before the Financial Crisis Inquiry Commission, Goldman Sachs Group President Gary Cohn does just that. Cohn says the investment bank couldn't have taken advantage of its clients in the mortgage market because Goldman ultimately lost money
"During the two years of the financial crisis," Cohn says. "Goldman Sachs lost $1.2 billion in its residential mortgage-related business. We did not 'bet against our clients,' and the numbers underscore this fact."
Read Cohn's full testimony at link below:
***
Darling: White House Office of American Innovation Outsourced to German Company
by Brian Darling   8 Jul 2017
President Donald Trump has created an "Office of American Innovation" and an "American Technology Council" to promote an America First economic policy. The head of the Council, Jared Kushner, hosted an event at the White House last month to promote technology week. Among the invited companies was one that did not fit in – the German tech company SAP…
…Keeping jobs in the United States and not outsourcing jobs to foreign companies is part of President Trump's economic plan. That is why the inclusion of SAP was a head scratcher.
Continue reading at…
***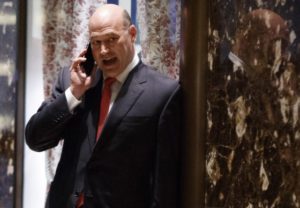 As 'Disgusted' Gary Cohn Fails, Donald Trump Disbands His CEO Council
by Matthew Boyle  16 Aug 2017
President Donald Trump has disbanded the CEO council that National Economic Council director Gary Cohn created as CEOs were abandoning their posts amid the president's response to the Charlottesville, Virginia, incidents this past weekend.
Rather than putting pressure on the businesspeople of the Manufacturing Council & Strategy & Policy Forum, I am ending both. Thank you all!
— Donald J. Trump (@realDonaldTrump) August 16, 2017
JUST IN: Statement from business leaders that were part of President Trump's strategy council, which has disbanded https://t.co/JOVqUwFe6Y   pic.twitter.com/CT2a3XympM
— CNBC Now (@CNBCnow) August 16, 2017
***
Gary Cohn Declares Antifa Thugs Are Great Americans 'Standing Up For Equality and Freedom'
By:  Joshua Caplan Aug 25th, 2017
In what is the most absurd part of Gary Cohn's interview with the Financial Times, the National Economic Council boss argued the notoriously violent Leftist group, Antifa, are upstanding citizens that are 'standing up for equality and freedom.' He cannot be serious.
Daily Caller reports:
National Economic Council Director Gary Cohn claimed that militant "anti-fascists" (or "antifa") are just concerned citizens "standing up for equality and freedom" in a Financial Times interview that ran Friday.
"Citizens standing up for equality and freedom can never be equated with white supremacists, neo-Nazis, and the KKK," Cohn said of the recent violence at a white nationalist rally in Charlottesville. "I believe this administration can and must do better in consistently and unequivocally condemning these groups and do everything we can to heal the deep divisions that exist in our communities."
Cohn's comments were a clear shot at President Trump, who took heat in the media for acknowledging that "both sides" engaged in the violence in Charlottesville.
The media refuses to report the truth about Antifa.
***
Gary Cohn Criticizes Donald Trump's Response to Charlottesville Protests
by Charlie Spiering   25 Aug 2017
White House economic adviser Gary Cohn challenged Donald Trump's response to Charlottesville, insisting that the president had to do a better job condemning white supremacists.
"I believe this administration can and must do better in consistently and unequivocally condemning these groups and do everything we can to heal the deep divisions that exist in our communities," Cohn said in an interview with the Financial Times.
Cohn aligned his views with the establishment media, asserting that the violent Antifa counter-protesters were "standing up for equality and freedom" while the protesters defending Robert E. Lee's statue were all white supremacists, neo-Nazis and the KKK.
"Citizens standing up for equality and freedom can never be equated with white supremacists, neo-Nazis, and the KKK," he said.
***

Trump Adviser Gary Cohn: Neo-Nazis Will Not 'Cause This Jew To Leave His Job'
Posted on August 26, 2017 by True Pundit Staff
National Economic Council Director Gary Cohn considered resigning after President Donald Trump's comments on the white supremacist violence in Charlottesville, but decided to stay out of duty.
"As a Jewish American, I will not allow neo-Nazis ranting 'Jews will not replace us' to cause this Jew to leave his job," Cohn told the Financial Times in an interview published Friday. "I feel deep empathy for all who have been targeted by these hate groups. We must all unite together against them."
Cohn was critical of Trump's response to the Charlottesville Unite the Right rally that turned deadly when a car allegedly driven by a white nationalist protester careened through a crowd, killing one woman and injuring dozens of others.
"As a patriotic American, I am reluctant to leave my post as director of the National Economic Council because I feel a duty to fulfill my commitment to work on behalf of the American people," Cohn said. "But I also feel compelled to voice my distress over the events of the last two weeks."
***
WITH FRIENDS LIKE GARY COHN, WHO NEEDS ENEMIES?
By:  Jeff Crouere    August 26, 2017
…If the appointee is not fired, he should have the decency to resign if he cannot publicly support the President. A principled letter outlining the reasons for his resignation is what National Economic Council Director Gary Cohn should have delivered to President Trump.
Cohn, a former Democrat, was dissatisfied with the President's balanced criticism of "both sides" in the aftermath of the riots in Charlottesville, Virginia. Instead of keeping his complaints private, Cohn gave a controversial and utterly unhelpful interview to the Financial Times blasting the President while inferring his own moral superiority. According to Cohn, "This administration can and must do better in consistently and unequivocally condemning these groups and do everything we can to heal the deep divisions that exist in our communities."
***
Projecting Weakness: President Trump Allows Inner Circle to Publicly Disparage Him as Globalists March
By Matthew Boyle  27 Aug 2017
In the past several days, several members of President Donald J. Trump's inner circle have publicly disparaged him—and the president has done nothing public to stop them.
First, National Economic Council (NEC) director Gary Cohn—the former number two banker at Goldman Sachs and a top Democrat who joined the Trump administration after the president's election—bashed the president in an on-record interview with the Financial Times…
…The New York Times also reported that Cohn drafted a resignation letter, and came under enormous pressure from his own family including his wife to resign, but has remained in the White House.
"Mr. Cohn, who is Jewish, seriously considered resigning and even drafted a letter of resignation, according to two people familiar with the draft," the New York Times' Maggie Haberman and Kate Kelly wrote on Friday, adding later in the piece details about Cohn's plans for potential resignation.
Continue reading at…