ADN Compilation:  Hurricane Harvey Animal Rescue Stories
By Ami Tiel  8/30/17
Not to forget our 2 and 4 legged friends, here's several animal rescues that will put a smile on your face at the happy outcome.
************
    Tiele Dockens' image
"This dog is walking around Sinton TX carrying a entire bag of dog food with him. LOL #refugee," she (Tiele Docken) posted on Facebook.
Dockens told weather.com that she was checking on family and friends' properties when she spotted the ambitious pooch.
"Otis was strolling the streets after the owner let him out. With his dog food of course," she said.
Otis was heading home when Dockens took the photo, she said, and his owner later confirmed that he made it back.
***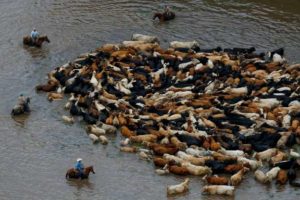 The 54 counties in the state's disaster zone have at least 1.2 million beef cows, according to the latest government statistics, said David Anderson, a livestock economist at Texas A&M University.
***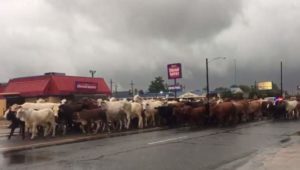 CNBC News' Harriet Taylor shows police near Dayton, about 40 miles northeast of Houston, guiding dozens of cattle down a street and to "higher ground" because of the nearly 50 inches of rain that's predicted in the area by Wednesday.
***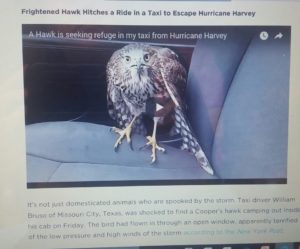 It's not just domesticated animals who are spooked by the storm. Taxi driver William Bruso of Missouri City, Texas, was shocked to find a Cooper's hawk camping out inside his cab on Friday. The bird had flown in through an open window, apparently terrified of the low pressure and high winds of the storm according to the New York Post.
***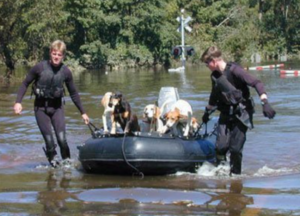 THE GUARDIANS ARE DEPLOYING TO HURRICANE HARVEY'S 4 LEGGED VICTIMS.  The devastation continues and the insurmountable toll of victims seems endless, both human and animals.
***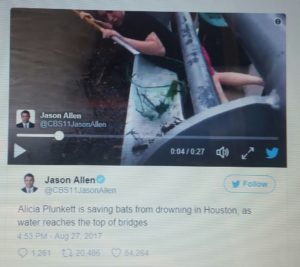 Bats
One woman helped rescue bats from drowning as flood waters reached the top of a bridge they called home. Texas' bats are essential for keeping mosquito populations in check, but don't attempt to rescue a bat especially if your rabies vaccination is not up to date.
***
ANIMAL RESCUE GROUPS ON FACEBOOK
Harvey Small Animal Rescue
***
Guardians of Rescue