ADN Compilation: Hurricanes, Earthquakes, Wildfires and Droughts, Solar Flares and Tsunamis
By:  Ami Tiel  9/8/17
When Mother Natures calls, everyone listens.  She is making herself widely heard across the northern hemisphere this month and there shows no signs of letting up.  Why is our weather and world in such chaos?  Are they connected?  Can we do anything about it?  Below covers articles from Solar flares and Droughts to Hurricanes and wildfires.  What do you think is causing such upheaval in our weather world?
Featured Image: A massive, X9.3-class solar flare blasted from the sun at 8:02 a.m. EDT (1202 GMT).
Credit: SDO/AIA/Steve Spaleta
***
Breaking: Hurricane Jose Upgraded to Category 3 Storm as It Gains Strength Behind Hurricane Irma
By Caleb Hull  9/7/17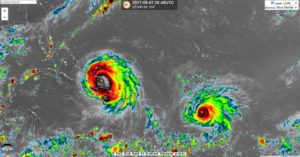 As Floridians brace for the worst possible scenario as Category 5 storm Hurricane Irma barrels for the coast, they didn't expect it to get even worse. Hurricane Jose, following close behind, has just been upgraded to Category 3 status:
Continue reading at…
***
Powerful earthquake hits Mexico's coast, tsunami waves reported
September 08, 2017
At least five people died in a historically massive earthquake that struck the southern coast of Mexico early Friday, toppling hotels and houses and prompting tsunami waves and power outages.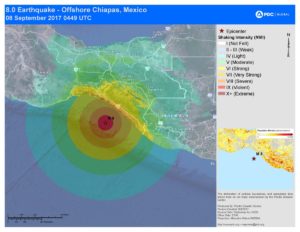 The United States Geological Survey said that a magnitude 8.1 quake hit about 73 miles off Tres Picos, Mexico, along Mexico's southern coast.
Its epicenter was 102 miles west of Tapachula in southern Chiapas state and had a depth of about 21 miles. The quake was so powerful, it sent people fleeing from buildings 650 miles away in Mexico City.
Continue reading at…
***
Tsunami waves confirmed in Mexico, PTWC says
By Paulina Dedaj   September 08, 2017
Following Thursday night's major earthquake off Mexico's southern coast, tsunami waves have been measured in the area.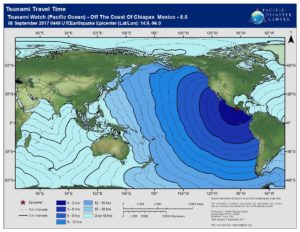 The Pacific Tsunami Warning Center said waves of 3.3 feet above the tide level were measured off Salina Cruz. Smaller tsunami waves were observed on the coast or measured by ocean gauges in several other places.
***
Sun Unleashes Monster Solar Flare, Strongest in a Decade
By Sarah Lewin   September 6, 2017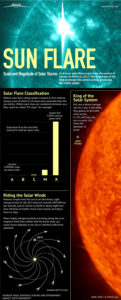 Early this morning (Sept. 6), the sun released two powerful solar flares — the second was the most powerful in more than a decade.
At 5:10 a.m. EDT (0910 GMT), an X-class solar flare — the most powerful sun-storm category — blasted from a large sunspot on the sun's surface. That flare was the strongest since 2015, at X2.2, but it was dwarfed just 3 hours later, at 8:02 a.m. EDT (1202 GMT), by an X9.3 flare, according to the National Oceanic and Atmospheric Administration's Space Weather Prediction Center (SWPC). The last X9 flare occurred in 2006 (coming in at X9.0).
Continue reading at…
***
Hurricane Irma causes at least 10 deaths in Caribbean as Florida, Georgia, SC brace for storm
By Tara Fowle, Emily Shapiro, Julia Jacobo, Mark Osborne   Sep 7, 2017
Hurricane Irma lashed the Caribbean today, causing at least 10 deaths, while in the U.S., Florida, Georgia and South Carolina are facing states of emergency as residents brace for the monster storm.
The storm — called "extremely dangerous" by the National Hurricane Center (NHC) — currently has sustained winds of 180 mph and even higher gusts.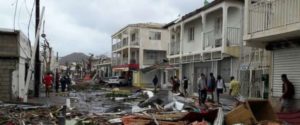 The storm's impact on the Caribbean islands
On Wednesday afternoon, Irma was battering the Caribbean, destroying about 90 percent of the structures and vehicles on Barbuda, officials said.
***
Montana Battles Wildfires Amid a Severe Drought
By Jacey Fortin   SEPT. 7, 2017
Montana has been burning for months, and there is still no end in sight.
This summer, thousands of firefighters and hundreds of Montana National Guard members have been battling the flames of dozens of large and small wildfires across the state. Thousands of people have been affected by evacuations, and two firefighters have lost their lives.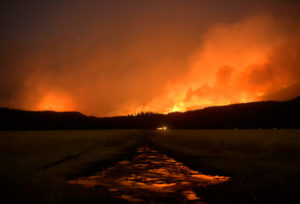 Montana is one of several states experiencing severe fires this year. Blazes flared up and down California, from Los Angeles — where a state of emergency was declared just this week — to well north of Sacramento. Wildfires in Idaho, Utah, Oregon, Washington and other Western states have smothered parts of the West in smoky, ashy air.
A wildfire burned in the Lolo National Forest near Salmon Lake in Montana in August.
Credit  Rion Sanders/The Great Falls Tribune, via Associated Press
Continue reading at…
***
Wildfires Scorch Los Angeles in the Midst of a Heat Wave
By Adam Nagourney    SEPT. 3, 2017
More than 1,000 firefighters battled wildfires burning through the Verdugo Mountains on the north edge of Los Angeles on Sunday, in the midst of a scorching heat wave. The fire destroyed three homes and forced mandatory evacuations in several neighborhoods.
As helicopters flew over the blazing hills Sunday afternoon, Gov. Jerry Brown declared a state of emergency for Los Angeles County, clearing the way for a mobilization of state resources to help fight the fire. Mayor Eric M. Garcetti of Los Angeles had declared a local state of emergency on Saturday and asked the state for help.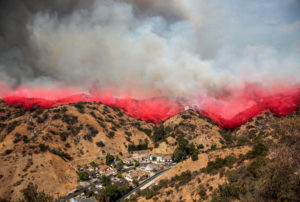 The blaze, which began Friday evening in La Tuna Canyon, was burning in 5,895 acres. It was 15 percent contained as of Sunday evening. Four firefighters had sustained minor injuries, and officials said the cause of the fire was under investigation.
Fire retardant was dropped on the hills above Burbank, Calif., on Saturday in an effort to contain the La Tuna Canyon wildfire.  Credit  Kyle Grillot/Reuters
***
US Drought Map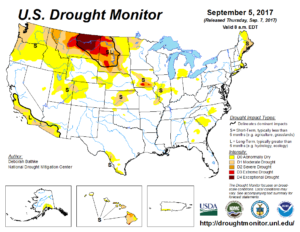 Source – DroughtMonitor
***