Cancer Cure Suppressed for 80 Years: Finally Admitting Royal Rife Was Right
By:  Melissa Dykes    September 14, 2017
A person does not hear sound only through the ears; he hears sound through every pore of his body. It permeates the entire being, and according to its particular influence either slows or quickens the rhythm of the blood circulation; it either wakens or soothes the nervous system. It arouses a person to greater passions or it calms him by bringing him peace. According to the sound and its influence a certain effect is produced. Sound becomes visible in the form of radiance. This shows that the same energy which goes into the form of sound before being visible is absorbed by the physical body. In that way the physical body recuperates and becomes charged with new magnetism. — Sufi musician, mystic, and healer Hazrat Inayat Khan
Our reality is such that frequencies have a much more profound effect on us than we've been previously led to believe. This reality can no longer be ignored.
As technologically advanced as we are constantly told we are these days, there are some technologies just now being presented to the public as "new" when they are not new at all but have simply been widely suppressed for decades. Things like the "new" digital neuro headbands that pulse specific electromagnetic frequencies into a person's head to "transition" his or her moods, for example.
It has also come out in recent years that frequencies can cure diseases, including cancer. Professor and researcher Anthony Holland even gave a Tedx talk on "Shattering Cancer with Resonant Frequencies" a few years back, discussing the ability to destroy cancer cells and deadly super bugs like MRSA with oscillating pulsed electrical fields… not that you probably heard about it on the nightly news or anything.
Continue reading at…
***
Shattering cancer with resonant frequencies: Anthony Holland at TEDx SkidmoreCollege
TEDx Talks   Published on Dec 22, 2013
Anthony Holland: Associate Professor, Director of Music Technology, Skidmore College. DMA, MM, MM, BM; President: Novobiotronics Inc. [a nonprofit 501(c)(3) charitable and educational company]. Discovered the ability of Oscillating Pulsed Electric Fields (OPEF) to destroy cancer cells and MRSA in laboratory experiments. Expert in custom digital electronic signal design, synthesis and analysis for biological effects. Member: Bioelectromagnetics Society (BEMS), European Bioelectromagnetics Association (EBEA). Postdoctoral work: Center for Computer Research in Music and Acoustics (CCRMA) Stanford University. Advanced Digital Synthesis and Analysis studies with: Max Mathews (the ' Father of Computer Music'), John Chowning (founding Director of CCRMA, Electronic Composer and Inventor (famed FM Synthesis Patent); Jean-Claude Risset (Electronic Composer and founding Director of the Digital Synthesis Division of the internationally renowned IRCAM center, Paris, France); John Pierce: former Director of Sound Division: Bell Laboratories.
Video Source – YouTube (see comment section for additional resources)
***
Meet Dr. Royal Raymond Rife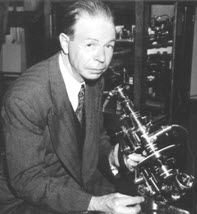 "For organisms too small to be stained, an ingenious illuminating system is used. This system utilizes Rife's theory that organisms respond to certain wavelengths, a theory he carries to finality by bombarding disease germs with radio waves which are 'tuned' to those of the minute man-killers. And the virus he says occurs in cancer has, Rife insists, disintegrated under such radio waves."
Meet Dr. Morris Fishbein
"Fishbein sent an attorney to make a token attempt to buy out Rife. Rife refused. Although no one knows the exact terms of the offer, it was probably similar to the one Fishbein made to Harry Hoxsey for his herbal cancer remedy (which Fishbein, in court, had to admit worked on skin cancer)."
***
Featured Image courtesy of StillnessintheStorm
***