#TakeAKnee Research compiled by Ann Rose Laurence for American Digital News.
COLORS – AND – SPORTS ENTERTAINMENT V. POLITICS::
NFL is 72%; NBA is 74% – Black.
Fan Bases IS 83% – White.
September 24, 2017 — Dennis Michael Lynch "Take a Knee" poll:
* I agree with Trump, and want him to continue speaking out against the NFL 72.52%
* I agree with Trump, but want him to stop speaking out about the NFL. 25.37%
* I disagree with Trump, it's their right to kneel. Trump should move past this issue. 1.37%
* I disagree with Trump, it's their right to kneel, Trump can speak about it if he wants. 0.74%
***
Editorial Comment:  I HAVE BEEN ASKED — "IS THERE AN NFL RULE ABOUT TEAMS BEING ON THE FIELD FOR OUR NATIONAL ANTHEM?" … Questions and statements have arisen due to Dallas Cowboys, Seattle Seahawks, Pittsburgh Steelers recent actions —- Sooooo I went digging:
There is a clear cut answer on #TakeAKnee — already researched >>>>>>>>>
Despite this claim, it does not appear that there is anything the NFL rulebook requiring players to be on the field for the national anthem. Article 1, Section 2 of "Game Timing" only requires the kickoff is not delayed, and the coin toss is on schedule — but says nothing of when players are required to be on the field outside of having sufficient time to warm up.
There's a chance the representative of the NFL speaking to Maske was referring to Article 8, which deals with personal messages pregame. This broad section gives the NFL tremendous latitude to fine players as it sees fit and take additional action (including suspension) after addressing a player's team. However, there is no mention of any requirement on where players should be during the anthem or how they should act, outside of a potentially broad use of Article 8. >>>>> (Click link below to read more.)
Are NFL players required to be on the field for the national anthem?
Teams are staying in the locker room, but there's a debate whether they're allowed to.
The Steelers, Seahawks and Titans took a different approach to their games on Sunday when all three teams chose to remain in their locker rooms rather than be on the field to participate in the national anthem.
The rationale behind the Steelers' decision, according to coach Mike Tomlin, was that it removed the politics from the situation and didn't force players to pick sides. The Titans did not issue a statement, while the Seahawks said the following:

***
National Anthem Protests Put Pressure On Bill To Defund Sports Arenas
By Kerry Picket   09/24/2017
Senators proposed a bill this summer to prevent federal taxpayer funding from going towards the construction of professional sports arenas, and after more players began supporting the protest of the national anthem before games, the legislation may begin to pick up steam.
…"Professional sports teams generate billions of dollars in revenue," Booker said in a statement. "There's no reason why we should give these multimillion-dollar businesses a federal tax break to build new stadiums. It's not fair to finance these expensive projects on the backs of taxpayers, especially when wealthy teams end up reaping most of the benefits."
…Kaepernick claimed his protest of the national anthem last season stemmed from treatment of blacks by law enforcement, but by the end of the season Kaepernick's demonstrations, joined at that point by other players, led the reason to the league's TV ratings plunge, ESPN reported. (See article below)
Despite claims from local officials and team owners that the construction of these stadiums would create jobs and economic growth, research from the Journal of Economic Perspectives showed "there is no statistically significant positive correlation between sports facility construction and economic development," specifically aimed at income growth or job creation.
Source – DailyCaller
***
Anthem protests led poll of reasons viewers tuned out
By: Darren Rovell     Jul 27, 2017
National anthem protests were the top reason that NFL fans watched fewer games last season, according to a new survey released by J.D. Power.
NFL game viewership on networks that broadcast games was down an average of 8 percent for the 2016 regular season versus the season before. Before the election (Nov. 8), games for the first nine weeks were down 14 percent compared to 2015. The final eight weeks saw only a drop of 1 percent compared to Weeks 10-17 in 2015.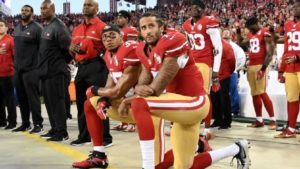 49ers QB Colin Kaepernick caused a stir this past season when he started kneeling during the national anthem.
Source – ESPN
***
STADIUM WELFARE
MASSACHUSETTES $171.6 Million
By Editorial Team     September 10, 2015
>> Tonight the 2015 NFL season will kick off as the New England Patriots host their conference rival the Pittsburgh Steelers at Gillette Stadium in Foxborough, Massachusetts. Win or lose, Patriots' fans will have bragging rights beyond being the reigning Super Bowl champions: While Gillette Stadium accepted $72 million in public funding for construction, or 17 percent of the project's total cost, Heinz Field, the Steelers' home, cost taxpayers $171.6 million, or 61 percent of the project's total cost
Source – CharlesKochInstitute (Archive Link)
***
HOW MUCH — STADIUM WELFARE ACROSS AMERICA???
The Pentagon paid 14 NFL teams $5.4 million to 'salute troops'
The NFL reportedly accepted millions of dollars…
>> The Pentagon reportedly signed contracts with 14 NFL teams — including the New York Jets, the Indianapolis Colts and the Baltimore Ravens — between 2011-2012 stipulating that teams would be paid sums ranging from $60,000-$1 million each (in federal taxpayer money) to pause before the start of games and salute the city's "hometown heroes," according to n (dot) com.
Source – BusinessInsider
***
Which NFL teams got your federal tax dollars?
By Christopher Baxter    May 14, 2015
>> TRENTON — At the same time Congress and the president have imposed caps on military spending, the Department of Defense has paid at least $6 million in taxpayer money to 16 NFL teams across the country, including $377,500 to the Jets, with the bulk spent by the National Guard.
>> U.S. Sen. Jeff Flake (R-Ariz) last week called out the New Jersey Army National Guard for the spending, which, in part, paid for a segment at Jets home games in which soldiers were featured on the big screen, thanked for their service and given tickets to the game.
>> Flake said most in the general public believe the segments were heartfelt salutes by their hometown football team, not an advertising campaign paid for with their money. The Guard defended the arrangement as an effective recruitment tool for the force, and the Jets pointed out numerous other ways in which they support the military.
Source – NJ.com
NEW JERSEY (dot) COM — Military contracts with NFL teams
From 2011 to 2014, the Department of Defense paid at least $6 million to NFL teams for salutes to the military and other advertising, with most coming from the National Guard, according to federal contracts. — CHECK THE LINK — NFL teams listed and subsidy payments ranted from $4,960 (Cincinnati Bengals, Inc.) to $600,000 (Green Bay Packers, Inc. — 3 DOD payments: $400K, $150K, and $50K) ……. the DOD PAYMENTS TO THE NFL listing — is an eyeopener!!!!!
***
Op-Ed: NFL teams score $7 billion in taxpayer subsidies on stadiums
By Patrice Lee    Sept 16, 2015
The New England Patriots kicked off the 2015 NFL season last week against conference rivals, the Pittsburgh Steelers.
>> Forget about the final score of the game. The real losers weren't on the field. They were sitting in the stands at Gillette Stadium or on their couches at home.
>> They were the American taxpayers.
>> The Patriots built the impressive Gillette Stadium in Foxboro, Massachusetts, but it came at a hefty price tag to taxpayers: $72 million. Through the government, we funded 17 percent of the stadium's total cost.
>> The Patriot's aren't alone. The Pittsburgh Steelers pulled down $171.6 million in public funding for their stadium, 61 percent of the total cost. It's no understatement to say that stadium truly belongs to the people of Pittsburgh.
>> And Indiana fans shouldn't be too happy that the Colts secured $619 million in taxpayer subsidies – almost nine times more than what was given to the Patriots.– AND THE GOVERNMENT WELFARE LIST CONTINUES
Source – Watchdog
***
CURRENT 2017 NFL — STATE REACTION
STADIUM WELFARE – LOUISIANA $392 MILLION
LOUISIANA SAINTS — SUBJECT TO LOSING $392 MILLION IN STATE SUBSIDIES DEDICATED THROUGH 2025.
By:  Advocate staff report   September 25, 2017
After Saints players protest, Louisiana Rep. Kenny Havard says team's access to state dollars should be cut

 >> Louisiana State Rep. Kenny Havard, R-St. Francisville, said Monday morning that he wants to cut millions in state tax dollars, exemptions and credits allocated to the New Orleans Saints, the NFL and any of those groups' associated facilities that receive funding.
>> Havard's announcement comes a day after a group of Saints players participated in a protest during Sunday's national anthem before their game against the Panthers. Protests were the focus around the NFL on Sunday as players chose different methods to demonstrate after controversial comments from President Trump late last week.
>> "The very reason (the Saints) have the privilege and opportunity to play professional football while being paid millions is because someone in uniform died protecting their right to do so," Havard said. "It is a disgrace to the men and woman of this nation and state who have sacrificed so much." 
>> Havard's statement didn't specify the amount of state money that he proposed be diverted from the Saints the NFL. According to a 2015 Forbes story, Saints and Pelicans owner Tom Benson was "set to rake in an estimated $392 million from state subsidies through 2025."
Source – TheAdvocate (Archive Link)
***
Louisiana lawmaker: New Orleans Saints should lose state support after player protests
By Julia O'Donoghue     September 25, 2017
And even if the Saints reaction to Trump is new, the argument over public subsidies for the team and Benson is not. A handful of legislators, particularly those from north Louisiana who are farther from the Saints reach, have raised questions over the state's support of the team for several years. It's a perennial part of the state budget discussion, albeit one that doesn't get much traction.
In an interview, Havard said he has been bothered for a long time by the public funding and tax breaks that go to the Saints. His proposal to cut funding for Benson didn't just crop up because of the national anthem protest on Sunday…
…All money made from ticket sales, concession sales and parking goes to Benson. No one has to pay sales tax on Saints and Pelicans revenue, which costs the state and city of New Orleans around $116 million combined. Benson also gets to keep revenue made from selling naming rights for the venues to Mercedes-Benz and Smoothie King.
There have been some adjustments made to the Saints contract with the state in recent years. They renegotiated their agreement in 2012 because of public outcry and legislators' agitation over the fact that Louisiana was paying the Saints $23.5 million every year to play in New Orleans on top of the team's other incentives.
Louisiana taxpayers are still agreeing to subsidize Benson's teams under the new contract though. Under the new deal, the Saints don't get paid that money anymore, but the state did pay for $85 million in upgrades to the Superdome…
…– a state board that oversees the Superdome and Smoothie King Center — also turned an empty mall adjacent to Benson Tower into Champions Square, an outdoor concert venue and fan zone.
This real estate deal served as a means to keep Benson's cash flow on par with what he was making under the old deal, when he was collecting checks worth $23.5 million.
Continue reading at…
Source – NOLA.com
***
BREAKING 4-30-09 Saints Owner Benson & Gov. Jindal Sign Agreement: Team Stays in La.'til 2025
By: admin   April 30, 2009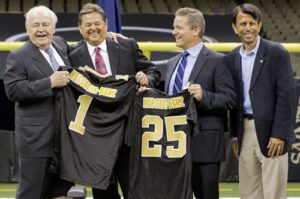 BATON ROUGE, LA (By: Tom Pace, Executive Editor, Talk of the Town) BREAKING: NFL NEWS 5pm 4-30-09 It's official: Saints' owner Tom Benson has signed an agreement with Louisiana Gov. Bobby Jindal that will keep the NFL team in New Orleans thru 2025. Subject to legislative approval, the new lease is effective August 1, 2009.
This new partnership not only continues the club's commitment to the state through 2025, but it also creates a new Sports Development District, that includes the Benson family purchasing and redeveloping the New Orleans Centre and Dominion Tower.
Those two properties have sat largely dormant and in disrepair since Hurricane Katrina, and this agreement will revitalize the area around the stadium.
Governor Jindal said that compared to the current agreement with the Saints, the terms of the new deal will save the state more than $280 million over the next 17 years – and no new taxes will be required to fund any aspect of the new agreement.
Additionally, according to a recent UNO study, the Saints generate $22.1 million annually in direct state revenue, which would add up to nearly $400 million over the life of this extension. …..
Source – ShreveportTalk
***
Saints, Louisiana agree to deal to keep team in New Orleans through 2025
April 30, 2009 Updated: July 26, 2012
Louisiana Gov. Bobby Jindal and Saints owner Tom Benson said Thursday that they need lawmakers and residents to back their plan to keep the NFL team in New Orleans through 2025 and revitalize a part of downtown that has been abandoned since Hurricane Katrina struck the city.
"I got a lot of confidence in our city and our state, and the old saying is, I'm putting my money where my mouth is, OK?" Benson said following the formal announcement of the agreement at a press conference inside the Louisiana Superdome. "We're not just talking. We're investing. I encourage everybody in this community to do that, too."
Source – NFL.com
***
Take a Knee, Pay Your Own Fee: Louisiana Politician Wants to Take State Money Away from Saints After Protests
By: Dylan Gwinn     25 Sep 2017
The struggle could become even more real, for the NFL's growing number of anthem-protesting malcontents. Particularly those who protest while wearing the Fleur-de-lis.
>> Louisiana House Rep. Kenny Havard, says that after ten Saints players protested the playing of the national anthem on Sunday, the time has come for the State of Louisiana to pull funds from the New Orleans franchise.
>> Havard told the New Orleans Times-Picayune, "Disrespecting our national anthem and flag in the name of social injustice is the highest form of hypocrisy. I believe in the right to protest, but not at a taxpayer-subsidized sporting event. Do it on your own time. There are plenty of disabled children, elderly and veterans in this state that would appreciate the money." ……
Source – Breitbart
***
National Anthem Singer Just Took Kaepernick's Protest to the Next Level [VIDEO]
(If you continue to watch the NFL and go to the games and buy their products you are support this behavior and their CAUSE and THEIR dishonoring those who gave every thing for our freedom and everything that the flag and the NATIONAL ANTHEM STAND FOR!!!!! )
If believe in AMERICAN FIRST how can you support this BEHAVIOR?
September 25, 2017
The singer of the national anthem at Sunday's Seattle Seahawks and Tennessee Titans game took a knee at the end of the song.
Megan Lindsey and her guitar player got down on one knee after performing the national anthem. The crowd cheered as she did so. (See Featured Image)
Players from both teams remained in their lockers rooms during the song in a joint protest.
Members of the Seahawks and Titans decided to sit out the national anthem in the wake of President Trump's comments attacking NFL players who knelt during the anthem.
Both teams released statements announcing the decision and in support of their players.
The Pittsburgh Steelers also chose to remain in the team's locker room during the national anthem. Only one player emerged during the song.
Players from multiple NFL teams have been kneeling during the national anthem after Trump called for players who do so to be fired. Others have locked arms in solidarity. ….
Video Source – Magazine20
***
Editorial Comment: WHY IS DOD – PENTAGON paying NFL teams to recognize military members in opening ceremonies?? … This is something that the NFL stadiums should be offering to honor our veterans. This is in addition to all of their STADIUM WELFARE!! …….. $$$ MILLIONS … $ BILLIONS THAT COULD BE USED TO HOUSE HOMELESS VETERANS AND HELP HOMELESS FAMILIES — NOT THE MILLIONAIRE NFL TEAM PLAYERS
***
Everyone needs to read and share this — and call your Senators (202)224-3121 Congress switchboard, available 24/7/365. #NONFLWELFARE