MOORE-Bannon   vs  STRANGE-Trump
Alabama Senate Runoff…What's Going On???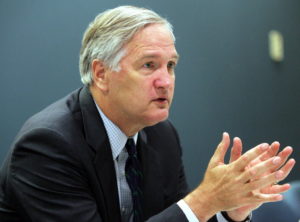 VS         
Why President Trump Endorsed Luther Strange
    Sept 26, 2017
Moore, the Ten Commandments, and Dominionism
The supreme art of war is to subdue the enemy without fighting.  — Sun Tzu, The Art of War
Let your plans be dark and impenetrable as night, and when you move, fall like a thunderbolt. — Sun Tzu, The Art of War
Our President has endorsed Luther Strange for Jeff Session's Senate seat, and he has good reasons.  Donald J. Trump knows exactly what he's doing.
Jeff Session's former Alabama Senate seat should have been filled by conservative Mo Brooks, whose voting record in the House perfectly reflects our President's policies.  However, the people of Alabama eliminated him from the running and instead chose Strange and Moore who are now in a runoff.
Luther Strange is, of course, an establishment insider, and Mitch McConnell wants him elected.  Strange is not a choice of true conservatives, thus I've heard countless numbers of people endorse Judge Roy Moore, and I am absolutely appalled and for good reason…..
Roy Moore Wants a Constitutional Convention
Moore believes that by opening the Constitution he can get a marriage amendment.  Article V of the Constitutionprescribes how an amendment can become a part of the Constitution. While there are two ways, only one has ever been used. All 27 Amendments have been ratified after two-thirds of the House and Senate approve of the proposal and send it to the states for a vote. Then, three-fourths (or 38) of the states must affirm the proposed Amendment.  Once affirmed, it becomes part of the Constitution. Judge Moore has rejected this way of adding an amendment, and wants a Constitutional Convention….
Moore's Law Professor Speaks Out
Guy Martin, Jr., a minister and former law professor who taught constitutional law to Roy Moore in law school, has an op-ed in an Alabama newspaper speaking out against Moore's candidacy. What he has to say about Moore is not the least bit surprising.
Roy Moore did not get along with his colleagues in law school or on the Supreme Court. The arguments were not over Christianity…
Moore, the Ten Commandments, and Dominionism
And last, but certainly not least, orthodox Christianity has the solid teachings of God, Jesus Christ, and the Holy Spirit, but there are heretical Christian doctrines, and Moore subscribes to one of them called Dominionism/Reconstructionism.
As a believer in this doctrine, Moore espouses a theocracy, which is control of government and societal spheres of influences only by those who believe as he does. (Theocracy…
Biblical Truth
In Matthew 5:17, Jesus fulfilled the Mosaic Law. Christ goes on in Matthew to explain the differences in the Law of Moses and the Law of Christ, the latter which we, as Christian believers, are now under.
Judge Moore used the 10 Commandments as a monument for righteousness,…
Mosaic Law Defined Sin
The Mosaic law came for many reasons, one of the biggest ones was so that we'd know sin.  Remember that Moses gave the law initially, 10 were written with the finger of God, the others were written down by Moses as God gave them to him.  The second batch were given by angels, (Acts 7:53, Gal 3:19, Heb. 2:2).  The Mosaic law was given because of sin, until Christ came,…
Judge Moore and Dominionism
Unfortunately, the Judge has promoted the 10 Commandments because he is a believer in Dominionist theology.  As I explained above, this doctrine wants to control the government and all spheres of society.  Those not believing in this doctrine are relegated to second class citizenship.
Thirdly, the hard core Dominionists still believe in stoning of sinners in the streets, including homosexuals, adulterers, disobedient children, those who take the Lord's name in vain, etc.  This belief system discounts the saving grace of faith that many find when they come to salvation in Christ and a full knowledge of God as redeemer.  (For more information on Dominionism/Reconstructionism, go [here], [here], [here], and [here].)
Conclusion
Our illustrious and brilliant President has never supported a Constitutional Convention, and neither has he supported the heretical doctrine of Dominionism/Reconstructionism.  Quite obviously, this is why our President has endorsed Luther Strange rather than Moore.  The Judge is not a man who should be in our Senate because of his dangerous and erroneous beliefs.  Neither am I a fan of Luther Strange, but I believe our President has a far better chance of passing his policies with Strange rather than with Moore.
Read more at the link below
Source – NewsWithViews
****************
Gorka: Trump Was Pressured to Endorse 'Swamp Dweller' Strange
Sept 23, 2017
President Donald Trump spoke at a rally in Alabama on Friday night, endorsing incumbent Sen. Luther Strange in the state's Republican primary runoff for the Senate seat vacated by Jeff Sessions.
Many of Trump's supporters and former administration officials, however, are actively campaigning for Strange's opponent, former Alabama Supreme Court Chief Justice Roy Moore.
Dr. Sebastian Gorka, former deputy assistant to Trump, explained that Strange is a "swamp dweller" and Moore will be better at advancing the president's "Make America Great Again" agenda.
Source – FoxNews
***
David Clarke: Trump 'Wins Either Way' in Alabama GOP Primary
Sept 22,  2017  
Former Milwaukee County, Wis. Sheriff David Clarke said President Trump will "win" regardless of which Republican candidate is victorious in the Alabama Senate primary.
Trump endorsed Sen. Luther Strange (R-Ala.), who he stumped for on Friday. Strange is facing Judge Roy Moore (R), who was endorsed by several conservative figures.
***
Roy Moore: Luther Strange Has Told Nothing But Lies and Mistruths
Sept 26,  2017
The Alabama special Senate race Tuesday night for Jeff Sessions' vacated seat has attracted national attention after President Trump campaigned for his candidate of choice.
Chief Justice Roy Moore is up against Sen. Luther Strange, whom the president endorsed and rallied for in Alabama on Friday.
Moore accused Strange of being a liar on Monday evening, the night before the polls opened.
"He's so far not told the truth about hardly anything," the judge told host Martha MacCallum.
Source – FoxNews
***
Luther Strange: 'I'm the Most Frustrated Person in the Senate'
Sept 26, 2017
Polls will open today for the GOP runoff election for Jeff Sessions' Alabama Senate seat.
President Donald Trump has endorsed Sen. Luther Strange, Alabama's former attorney general, who is up against former Alabama Supreme Court Chief Roy Moore.
Several prominent Trump supporters, including Steve Bannon and Sebastian Gorka, have come out in favor of Moore and accused Strange of being part of the Washington establishment.
"I was playing defense," Strange said of his days as attorney general fighting the Obama administration. "I want to be on offense with the president."
Source – FoxNews
***
Sen. Strange: Trump Endorsement Will 'Make All the Difference' in Alabama Senate Race
Sept 23,  2017
At a rally in Alabama on Friday, President Donald Trump stumped for incumbent Sen. Luther Strange in the state's tight Republican runoff race.
Strange, who was temporarily appointed to the Senate seat in April after Jeff Sessions joined the Trump administration, is neck-and-neck with former Alabama Supreme Court Chief Justice Roy Moore.
Trump argued during the rally that Strange would have a better chance than Moore at winning the general election if Strange secures the Republican nomination next week.
"That is why I'm here tonight to ask the good people of Alabama to send Luther Strange to the United States Senate, so he can defend your interests, fight for your values and always put America first," Trump said.
On "Fox & Friends Weekend," Strange said he could not be more grateful for Trump's friendship and endorsement.
Source – FoxNews
***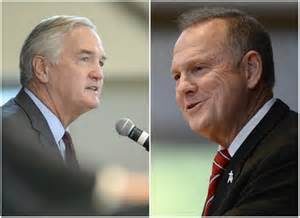 ***
Ann Coulter Goes Off on Trump for 'Idiotic' Alabama Senate Endorsement
Aug 10, 2017
Author and conservative commentator Ann Coulter is none too happy with President Trump's choice in the hotly-contested Alabama Senate primary.
Trump just announced his support for Sen. Luther Strange over Rep. Mo Brooks (R-Ala.) and former state Supreme Court chief justice Roy Moore.
Source – FoxNews
***
AL Sen to GOP Leadership: Skip Recess – 'We Need to Work as Hard as Trump Is'
July 9, 2017
A freshman Republican senator said he sent a letter to GOP leadership asking them to cancel the annual August recess because there is a lot left to do on Capitol Hill.
"We need to work as hard as President Trump is working," Sen. Luther Strange (R-Ala.) said on "America's News HQ."
He and Eric Shawn joked that it would be nice to take a summer respite down in Gulf Shores, but said that work must come before play.
"We should be rolling up our sleeves," he said, adding that taking a break without fully addressing health care, the debt ceiling and tax reform "doesn't sit well" with him.
Source – FoxNews
***
Trump tweets support for Strange, as Bannon makes best pitch for Moore in Alabama
Sept 26, 2017
President Trump late Monday tweeted his support for Sen. Luther Strange in the hotly contested Alabama Republican runoff for U.S. Senate, in a race that has pitted the president against his former strategist, Steve Bannon.
The runoff is set for Tuesday.
Vice President Mike Pence campaigned for Strange in Birmingham while Bannon spoke at a Moore rally at the coast.
 Taking the stage to prolonged applause, Bannon said Alabama can show the world "that this populist, nationalist, conservative movement is on the rise."
"A vote for Roy Moore is a vote for Donald J. Trump," Bannon said.
Big election tomorrow in the Great State of Alabama. Vote for Senator Luther Strange, tough on crime & border – will never let you down!
Bannon lashed out at negative ads funded by allies of Senate Majority Leader Mitch McConnell. Bannon said Republican "elites" had put millions of dollars into the Alabama race "to destroy a man."
"It's very simple," Bannon told Fox News' "Hannity." "This election is $30 million being spent by Mitch McConnell and that crew of corrupt and incompetent politicians and consultants. They raised $30 million in outside money to destroy Judge Moore."
Bannon mentioned that conservative radio hosts Mark Levin, Laura Ingram and Michael Savage have all voice support for Moore.
Continue reading at…
Source – FoxNews