Sports Corruption….Where Will It End?
WHILE COLLEGE BASKETBALL PLAYERS ARE PLAYING BALL — COACHES, RECRUITERS, AND SPORTSWEAR REPS ARE INTO RICO RACKETEERING — BIG BUCKS TO BUY THE YOUNG ADULTS TALENTS!!
***
10 arrested in college basketball corruption scandal
Charles Person
Tony Bland
Emanuel Richardson
Lamont Evans
James Gatto
Christian Dawkins
Jonathan Augustine
Merl Code
Munich Sood
Rashan Michel
Video Source – ABCNews
***
College hoops coaches busted by FBI in corruption scheme
By Emily Saul   September 26, 2017 
>> NCAA basketball coaches, sportswear reps busted by FBI in a fraud and corruption scheme — The FBI is charging 10 people, including four NCAA basketball coaches and representatives of a "major international sportswear company" with fraud and…
> Coaches with some of the country's top college basketball programs — including former NBA star Chuck Person — were arrested Tuesday morning as part of a wide-ranging bribery and fraud probe tied to their recruitment of players, authorities said.
>> Person, assistant head coach at Auburn University and coaches at the University of Arizona, University of Southern California and Oklahoma State University were busted, as well as managers, financial advisers and two top reps for Adidas, the Department of Justice said.
>> Manhattan federal-court documents allege that the coaches received kickbacks from the agents, money advisers and clothing-giant execs for steering their players — some of the biggest former high-school basketball stars in the nation — to them for lucrative deals.
>> Along the way, the agents, advisers and apparel-company bigs allegedly funneled tens of thousands of dollars to the players and their families to make sure they went to the coaches' schools.
>> In addition to Person — a star b-baller at Auburn before playing more than a decade in the NBA, most notably for the Indiana Pacers — the arrested coaches include: Anthony "Tony" Bland, associate head coach at University of Southern California; Lamont Evans, associate head coach and recruiting coordinator for Oklahoma State University's basketball team, and Emmanuel Richardson, an assistant coach for University of Arizona.
>> Jim Gatto, director of global sports marketing for basketball at Adidas, has been named in court papers as among those rounded up and arrested
Source – NYPost
***
Feds vow crackdown on NCAA corruption after busting coaches
By Bruce Golding and Kaja WhitehouseSeptember 26, 2017
The feds vowed Tuesday to clean up corruption in college sports following the arrests of four Division I NCAA basketball coaches and six other men on bribery and fraud charges.
>> "We have your playbook," New York FBI Assistant Director in Charge William Sweeney warned during a Manhattan news conference.
>> "Our investigation is ongoing and we are conducting additional interviews as we speak."
>> Acting Manhattan US Attorney Joon Kim also urged anyone with relevant information to contact authorities — and extended the offer to anyone "who engaged in this type of conduct."
>> "I think it's better for you to call us, than for us to call you when we're ready to charge you," he said.
Source – NYPost
***
Adidas stock tumbles after exec busted in bribery scheme
By Bruce Golding  September 26, 2017
Modal Trigger Adidas stock tumbles after exec busted in bribery scheme
>> Adidas' stock price fell more than 2 percent Tuesday morning following the revelation that a top exec was charged in a wide-ranging bribery scheme to lure college athletes into sportswear contracts.
>> James Gatto, the company's director of global sports marketing for basketball, is among a dozen defendants named in criminal complaints unsealed in Manhattan federal court.
>> Shares of the German sneaker company were trading at 187.50 euros each on the Frankfurt Stock Exchange, down 2.61 percent, shortly after 11 a.m. New York time
Source – NYPost    Video Source – NCAA
***
NCAA supports FBI in weeding out 'deeply disturbing' conduct
By Joe Tacopino   September 26, 2017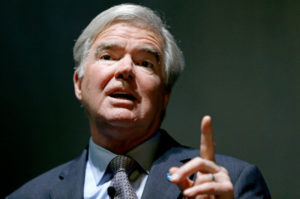 NCAA President Mark Emmert
> The NCAA called the charges brought against their league's coaches "deeply disturbing" Tuesday and pledged to support the federal investigation.
>> "The nature of the charges brought by the federal government are deeply disturbing," Mark Emmert, NCAA president, said in a statement. "We have no tolerance whatsoever for this alleged behavior."
>> The league president made the remarks after four coaches were arrested Tuesday morning for allegedly working with third-party reps to pay players and influence where they committed to play basketball.
>> "Coaches hold a unique position of trust with student-athletes and their families and these bribery allegations, if true, suggest an extraordinary and despicable breach of that trust," Emmert said.
>> "We learned of these charges this morning and of course will support the ongoing criminal federal investigation."
FOUR ARRESTED COACHES NAMED >>> The coaches arrested were: USC assistant men's basketball coach Tony Bland, Arizona assistant Emanuel Richardson, Auburn assistant Chuck Person and Oklahoma State assistant Lamont Evans
Source – NYPost
***
FBI sting has Louisville in its crosshairs
By Corey Masisak   September 26, 2017 
>> Feds vow crackdown on NCAA corruption after busting coaches
Assistant coaches from four major colleges were arrested Tuesday as part of an FBI investigation into corruption in college basketball, but those programs are not alone. 
>> The FBI complaint includes payments totaling $100,000 to an unnamed recruit by an unnamed school. The facts in the complaint make it clear that the school is Louisville and the recruit, according to multiple reports, is five-star prospect Brian Bowen, who committed to play for Rick Pitino and the Cardinals in June.
>> ESPN sources confirmed that "School 6" in the complaint is Louisville, and the school later confirmed it with an official statement.
>> "Today, the University of Louisville received notice that it is included in a federal investigation involving criminal activity related to men's basketball recruiting," the statement said. "While we are just learning about this information, this is a serious concern that goes to the heart of our athletic department and the university. UofL is committed to ethical behavior and adherence to NCAA rules; any violations will not be tolerated. We will cooperate fully with any law enforcement or NCAA investigation into the matter."
Source – NYPost
***