TRU

th

MA

chine EXCLUSIVE for American Digital News

****************************************
UNITED STATES DISTRICT COURT  –  MIDDLE DISTRICT OF LOUISIANA
OFFICER JOHN DOE CIVIL ACTION VERSUS DERAY MCKESSON ET AL.
NO.: 16-00742-BAJ-RLB RULING AND ORDER
Before the Court are Defendant DeRay Mckesson's Motion to Dismiss
(Doc. 15) ("Defendant's Rule 12 Motion"), Defendant DeRay Mckesson's Motion
to Dismiss Pursuant to Federal Rule of Civil Procedure 9(a) (Doc. 43)
("Defendant's Rule 9 Motion"), and Plaintiff's Motion to File Amended Complaint
for Damages (Doc. 52) ("Plaintiff's Motion to Amend"). Plaintiff filed a
memorandum in opposition to Defendant's Rule 12 Motion, (see Doc. 21), Defendant
DeRay Mckesson filed a reply memorandum in support of the Motion, (see Doc. 29),
and Plaintiff filed a surreply in opposition to the Motion, (see Doc. 38). Plaintiff also
filed a memorandum in opposition to Defendant's Rule 9 Motion. (See Doc. 44). The
Court held oral argument on Defendant's Rule 12 and Rule 9 Motions.
"[T]he practice of persons sharing common views banding together to achieve
a common end is deeply embedded in the American political process." Citizens
Against Rent Control/Coal. for Fair Hous. v. City of Berkeley, 454 U.S. 290, 294
(1981). Because of its nature as a fundamental guarantee under the First
Amendment to the United States Constitution, "[t]he right to associate does not lose
all constitutional protection merely because some members of [a] group may have
participated in conduct," such as violence, "that itself is not protected." NAACP v.
Claiborne Hardware Co., 458 U.S. 886, 908 (1982). Thus, when a tort is committed
in the context of activity that is otherwise protected by the First Amendment, courts
must use "precision" in determining who may be held liable for the tortious conduct
so that the guarantees of the First Amendment are not undermined. Id. at 916
(quoting NAACP v. Button, 371 U.S. 415, 438 (1963)).
Plaintiff's alleged injuries in this case – which he claims to have suffered in the
line of duty as a police officer while responding to a demonstration – are not to be
minimized. Plaintiff has failed, however, to state a plausible claim for relief against
an individual or entity that both has the capacity to be sued and falls within the
precisely tailored category of persons that may be held liable for his injuries, which
he allegedly suffered during activity that was otherwise constitutionally protected.
For the reasons explained herein, Defendant DeRay Mckesson's Motion to
Dismiss (Doc. 15) and Defendant DeRay Mckesson's Motion to Dismiss
Pursuant to Federal Rule of Civil Procedure 9(a) (Doc. 43) are GRANTED,
Plaintiff's Motion to File Amended Complaint for Damages (Doc. 52) is
DENIED, and this matter is DISMISSED WITH PREJUDICE.
III. CONCLUSION
Accordingly,
IT IS ORDERED that Defendant DeRay Mckesson's Motion to Dismiss
(Doc. 15) is GRANTED.
IT IS FURTHER ORDERED that Defendant DeRay Mckesson's Motion
to Dismiss Pursuant to Federal Rule of Civil Procedure 9(a) (Doc. 43) is
GRANTED.
IT IS FURTHER ORDERED that the Motion to File Amended
Complaint for Damages (Doc. 52) filed by Plaintiff is DENIED.
IT IS FURTHER ORDERED that the above-captioned matter 1s
DISMISSED WITH PREJUDICE.
Baton Rouge, Louisiana, this 28 day of September, 2017.
BRIAN A. JACK , CHIEF JUDGE UNITED STATES DISTRICT COURT MIDDLE DISTRICT OF LOUISIANA
Source – LAMD.USCourts.gov
***
The Importance of Trials to the Law and Public Accountability
Chair Mary Jo White  Nov. 14, 2013
5th Annual Judge Thomas A. Flannery Lecture – Washington D.C.
It is a great honor to have been asked to give the Fifth Annual Judge Thomas A. Flannery Lecture. And it is especially meaningful to be joined tonight by Tom Flannery's daughter Irene, son Tom, and so many friends, colleagues, and former law clerks who knew and served with him.
I unfortunately did not have the privilege of knowing and working with Judge Flannery. But one of the great benefits of being asked to speak tonight is that it gave me the opportunity to come to know him a little — through learning about his many impressive career accomplishments and through reading his own words and those of others about him. I wish I had known him. He was indeed a remarkable man, lawyer, and judge.
As all here know, Judge Flannery was a highly-respected Assistant United States Attorney, United States Attorney, trial lawyer, and jurist on this court for over 35 years. In fact, he spent most of his life within a few miles of this courtroom.
As part of the Historical Society's Oral History Project for this Circuit, Judge Flannery gave an interview in 1992. It is a fascinating account of his professional life and the life of this court. Judge Flannery said that his view of the justice system was shaped in great part by watching police court trials here in Washington as a law student.
He also said something else that particularly resonated with me and I am sure with all of you who have served in a United States Attorney's Office. He said, "I always missed the U.S. Attorney's office. I missed the excitement … and the action down at the courthouse." And it is no wonder he felt that way.
By the time he had completed his tenure as an Assistant U.S. Attorney, Tom Flannery had tried over 300 cases. That is an amazing feat and a rare opportunity not available to many lawyers, especially today when the number of both civil and criminal trials has dwindled.
I should confess that I was always envious that the D.C. U.S. Attorney's Office, given its jurisdiction over local as well as federal crimes, provides such a tremendous opportunity for trying so many cases in both Superior Court and District Court. But 300 trials in 12 years is still a remarkable number even by the standards of that office.
Why Trials Are Important
While not having nearly the trial experience of Judge Flannery, I too found trying cases to be among the most exciting and dramatic parts of my career. There is really no comparable professional moment to standing in a courtroom in a federal court, before a jury, and uttering the words, "I represent the United States."
It is pretty heady stuff, but mostly it is an awesome responsibility, which demands great humility and focus.
What Is Lost With the Decline of Trials
I suppose I should start with some unwelcome reality. For all that trials mean to our system of justice, there is no denying that trials have slowly but continuously declined over time. They have indeed become a rare species.
Seventy years ago, 20 percent of all federal civil cases went to trial. By 2009, that percentage had dropped to less than 2 percent and the most recent data suggests this number has remained steady. In terms of actual numbers, we had about 12,000 federal trials in 1985. Twenty-five years later, the number had decreased to just over 3,000. And this drop occurred during a period when the number of civil filings overall was increasing dramatically.
Trials Foster the Development of the Law
Judge Patricia Wald, a beyond legendary jurist of your Circuit Court, has for example cautioned us against the "creeping preeminence" of summary judgment and the case law relying too heavily on pre-trial litigation: "in which law is mostly made on the basis of undisputed facts 'pleaded,' 'stipulated,' or 'inferred' rather than on fuller trial records that may more accurately represent the complexity and ambiguity of life."
Public Accountability Through Trials
The reduction in the number of trials also carries with it other unfortunate consequences. As Professor Robert Burns has said, "The death of trials would… remove a source of disciplined information about matters of public significance. … It would mean the end of an irreplaceable public forum and would mean that more of the legal order would proceed behind closed doors. And it would deprive us, as American citizens, of an important source of knowledge about ourselves and key issues of public concern." I agree.
Conclusion
So in this age of diminishing trials, we at the SEC may be about to reverse the trend a bit. We need to make sure that we are always ready for the challenge, have the resources to do it, and do not in any other way diminish our strong enforcement program.
If, in fact, a result of our change in settlement policy results in more trials, one clear winner will be the administration of justice, which will always fare best in the open for the public to see and to take stock of what a defendant did and what its government is doing. It also would make our lives as lawyers and judges more interesting and, yes, in tribute to Tom Flannery, even more exciting from time to time. Also not a bad thing.
Source – SEC.gov
***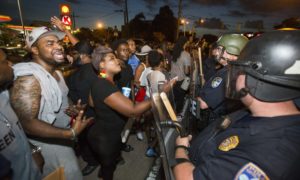 ***
Black Lives Matter is a movement that can't be sued, judge rules
By Michael Kunzelman   September 29, 2017
The officer's attorney, Donna Grodner, also filed a separate suit against Black Lives Matter and Mckesson on behalf of a sheriff's deputy wounded by a gunman who shot and killed three other law enforcement officers in Baton Rouge last summer. That suit, which is pending before the same federal judge, accuses Black Lives Matter and five of its leaders of inciting violence that led to the deadly ambush.
Mckesson was one of nearly 200 protesters arrested after Sterling's shooting death. He was arrested near Baton Rouge police headquarters on a charge of obstructing a highway. The local district attorney declined to prosecute roughly 100 protesters who were arrested on that same charge, including Mckesson….
…Grodner had argued that Black Lives Matter is an "unincorporated association" that can be held liable for her client's injuries.
"It's organized. They have meetings. They solicit money. They have national chapters," Grodner said. "This shows a level of national organization."
The officer whose lawsuit was dismissed is identified only as "Officer John Doe" in the suit, saying the anonymity is "for his protection." A court filing last year cited the July 2016 sniper attack that killed five Dallas police officers and the shooting 10 days later that killed three law-enforcement officers in Baton Rouge as reasons for concealing the officer's identity.
Mckesson and Black Lives Matter were also named as defendants in a federal lawsuit that Larry Klayman — founder of the conservative group Freedom Watch — filed last year in Texas after the sniper attack on Dallas police officers. A judge's ruling on June 2 said the plaintiffs didn't provide the court with any support for their "proposition" that Black Lives Matter is an entity capable of being sued. All of Klayman's claims against Mckesson and Black Lives Matter have been dismissed or withdrawn.
Source – BaltimoreSun
***
Judge rules against police officer, Black Lives Matter cannot be sued
By Ben Brady    September 29, 2017
A federal judge in Louisiana on Thursday ruled that since Black Lives Matter is a social movement it cannot be sued.
Judge Roberts also cleared Mckesson saying he "solely engaged in protected speech" at the protest.
The unnamed police officer tried to slip in Black Lives Matter as a defendant in his suit, using a hashtag to refer to the group. He claimed "#BlackLivesMatter" was a "national unincorporated association" in California, but the judge ruled that a hashtag couldn't be sued either.
Source – DML
***
The lawsuit, which was filed anonymously to "protect" the officer, claimed that Mckesson "incited the violence" and was "in charge of the protest."
Take a look at Deray Mckesson reacting to the news below.
deray mckesson ✔@deray
I just got the good news that one of the lawsuits against me from an anonymous Baton Rouge Police Officer was just dismissed by the judge.
12:48 PM – Sep 28, 2017 …………
Source – Twitter
***
Featured Image credited to Shutterstock via Snopes.