Let's Discuss the Stolen Secret Service Agent's Laptop for a Minute
NavyJack @USNJack  Sept 29, 2017
Was it in a car or on a motorcycle when stolen? Did it happen at 8:40AM or 3:10AM? News reports say 8:40AM. Police report says 3:10AM with an eyewitness out having a cigarette.  Odd??
Where was the bag (w/o laptop) found? News reports say Poly Prep Country Day School (a good long walk). Police report says 1533 Cropsey Ave. There were valuable coins in the bag. Not stolen. The eyewitness says the thief got out of a dark sedan, ran to the car with the bag & left. The sedan did not wait for him. It left "in a hurry".  Odd??
The thief is photographed on street cams walking towards Poly Prep Country Day School with the laptop, no bag visible at Bay 10th & Cropsey. Supervisor at Poly Prep Country Day School call police to report stolen unidentified articles found but no laptop and no bag. Witness statement "It showed somebody running to the car and running back out."  Odd??
So who is this "Secret Service" agent? The name provided is Marie Argentieri.  Actions sound pretty irresponsible based on the story so far.
Unless…
The US Attorney for the Southern District of New York was Preet Bharara. He was responsible for this famous laptop.
We all remember that Comey let EVERYONE slide on having Hillary's classified emails on that famous laptop.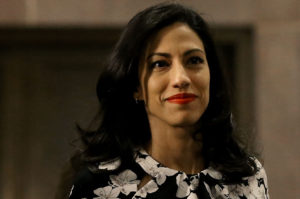 Also on that laptop were copies of emails related to Benghazi that the State Dept to date has refused to release.
Now here is where this gets really weird. Who is "Marie" Argentieri? Is she really just a Secret Service agent or is she something more??
Let's check a few dates. Preet Bharara was fired on March 11th.
The laptop was stolen from Ms. Argentieri on March 17th under very suspicious circumstances.
The laptop contained the "files related to the Hillary Clinton Email investigation".
Targeted Theft – Secret Service Laptop Containing Clinton Investigation Files Stolen From Vehicle Agent's Home…
You have to admit it is pretty odd for a "Secret Service" agent to be toting around files associated with this particular investigation.
Unless…
Could Ms. "Marie" Argentieri be more that just a "Secret Service" agent? Could she be someone helping out her former boss and the Clinton's? Could she be someone who knew where a certain laptop with Hillary's secret files was hidden by her fired boss before he left his office? Could she have placed the laptop in the bag in the car for the "thief" to "steal" so that it would not fall into the hands of say …. the very man who fired her boss? The man who coined the term "lock her up" regarding Hillary Clinton? To keep it from the President of the United States?
Could Marie Argentieri actually be …. Nichole "Marie" Argentieri, the Assistant US Attorney for New York and deputy to Preet Bhrara?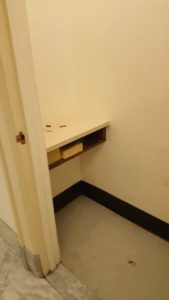 Must be just a coincidence. The "Awan" laptop appears to have been a classic drop and whomever was supposed to pick it up – screwed up. Interesting that it was found on April 6th and that this famous laptop was stolen in NYC on March 17th. Let's speculate for a moment. It was found here on the 2nd floor in a room that used to be a phone booth in Rayburn House Office Building.
Debbie Wasserman-Schultz would have no reason to be there as she works in the Longworth Building. The Rayburn Building is on the United States Capitol subway system (for use by Government officials only). 
Whoever was supposed to pick it up would need to have proper identification and either work in the building or have a reason to be there. These criteria would also apply to whoever dropped it off. We have no idea exactly when it was placed in the small room, but there was a significant hearing held in the building earlier that day. The hearing would have provided an opportunity for someone not normally in the building to drop the laptop off. It was found at midnight.
The DNC fought against any scan or review of the laptop contents between the date is was found and July 19th.
Then magically the DNC changed its position and allowed "FEDERAL" investigators to scan the laptop. Remember, this was a Capitol Police investigation and the laptop was in their custody. What could have happened to make Debbie Wasserman-Schultz and the DNC change their mind on or about July 19th? She changed her story several times. It was hers, then it was the property of the DNC, then it was the Awan's. But under any case, the DNC sure did not want anyone looking at it until July 19th.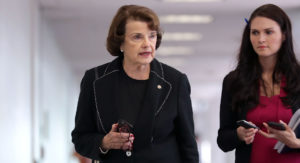 Democrats signal support for quick vote on FBI nominee Wray
Some things just make you go hmmmm?
Here is the text of the report that was filed:
If the contents of the laptop could compromise someone, say in the FBI, it sure would be convenient to let that person control the review. Especially if you could be certain that the incoming director of the FBI was someone the DNC voted almost unanimously to support. You just have to wonder about these dates. Too coincidental in my opinion.
FBI No. 2 did not disclose wife's ties to Clinton ally, records show
It sure would have sucked if the Hillary Clinton emails on the stolen laptop provided further evidence of the $680K being a payoff to ensure that there would never be any prosecution of Hillary Clinton, Huma Abedin or Cheryl Mills for the email scandal or the classified information found on the Wiener laptop. So, just speculating…. Is it possible that the laptop was dropped the day of a major committee hearing so say someone close to McCabe would pick it up and make sure it was in "safe" hands? Worth considering…..
This picture from the ceremony says it all…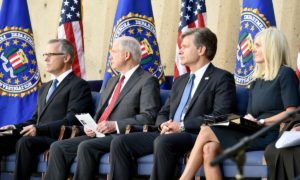 Source – Twitter