Kamala Harris at black church: US isn't as split as it seems
By Bill Barrow   Oct 1, 2017
ATLANTA –  Making her first high-profile foray into the Southern black church, California Sen. Kamala Harris told a Georgia congregation founded by former freed slaves that the United States remains wracked by racism, sexism and other forms of discrimination that flout the nation's core values.
But the rising Democratic Party star added that Americans aren't as split as "forces of hate and division" suggest. "I believe it is time we replace the divide-and-conquer," she said from the pulpit of First Congregational Church in downtown Atlanta, adding that national unity comes from citizens' recognizing their share priorities while still honoring diversity.
Identical Sources –  FoxNews   DetroitNews  SanFranciscoCBS  USNews  AthensOnline  NewsVader  WTop  GainesvilleSun  USANewsWire  ArkansasNewsOnline   Gumbumper.com   DaytonDailyNews  LasVegasSun  KRMG  MoneyLive
***
U.S. Senator Kamala Harris in Atlanta
By:   Sherry B.     October 1, 2017 
California's U.S. Senator Kamala Harris joined First Congregational Church, in Atlanta, today as the speaker for their 150th church anniversary. It was quite a celebration.
"Sister Senator" is how First Congregational's Pastor Dwight D. Andrews affectionately referred to Senator Kamala today…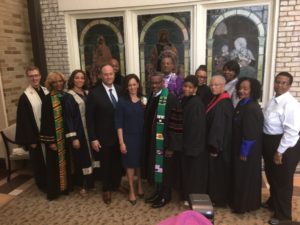 …Her address to the congregation today was filled with hope as she vowed to continue to speak truth to power and to do what she can to make a difference to reverse the assault on fairness and justice in this country.
Thank you "Sister Senator"!
Source – YourPowerConnection
***
Kamala Harris' powerful riposte to Trump: 'Racism is real in this country'
By:  Ed Pilkington  Oct 1, 2017
Speaking in a historically-charged venue, the First Congregational Church of Atlanta, one of the oldest African American churches in the US founded in 1867 by freed slaves, the California senator gave a blunt account of the problems facing the nation.
"Racism is real in this country," she said, "sexism is real in this country, homophobia is real … antisemitism is real."
The First Congregational Church has a long history of hosting sermons and addresses by prominent black leaders. Booker T Washington, a leader of former slaves in the late 19th and early 20th centuries, spoke there. In recent years, Calvin Butts and Bernice King, the youngest child of Martin Luther King, have spoken at the church.
Source – Guardian
***
Kamala Harris: NFL players 'should not be threatened or bullied' for protests
By Julia Manchester    10/01/17
Sen. Kamala Harris (D-Calif.) on Sunday defended NFL players who kneel during the national anthem to protest racial injustice, saying they should not be "threatened or bullied."
"Let's speak the truth that when Americans demand recognition that their lives matter, or kneel to call attention to injustice, that that is an expression of free speech, protected by our Constitution, and they should not be threatened or bullied," Harris said in her first comments about the NFL protests during an appearance at the First Congregational Church in Atlanta……
Source – TheHill
***
CA Sen. Kamala Harris To Make A Very Interesting Church Appearance…
By Daniel Schultz    September 27, 2017
You learn things reading church newsletters. Take, for example, this very interesting tidbit about First Congregational UCC, a historic downtown Atlanta church, celebrating its 150th anniversary.
Big deal, you say. Churches mark anniversaries all the time. Well, in this case, it is a big deal. First is a truly historic place. It was founded in 1867 by Congregationalist missionaries from the north who risked life and limb to educate freed slaves. Booker T. Washington spoke at the dedication of their present sanctuary, and Teddy Roosevelt visited a couple of years later. It was the home church of Atlanta's first black millionaire, and it has a long history of serving the local black community and helping to lead the cause of civil rights. Andrew Young was based at First throughout the 1960s and 70s. Jeremiah Wright gave a revival there a decade before before he became that Jeremiah Wright.
Senior Pastor Dwight Welch said:
"I was watching the Senate hearing involving the questioning of Attorney General Jeff Sessions and I was so taken by Sen. Harris' clarity of questions and statements, I said, "Who is this woman?"; As I looked into more of her background, I thought she would be a great choice because she is one of our leaders on the national scene and I think she is a very committed social justice soldier. Social justice is a part of what this church is about."
Source – ReligionDispatches
***
150th Anniversary Worship Service 2017 – U.S. Senator Kamala Harris, Guest Speaker
By Daniel Morris      September 16, 2017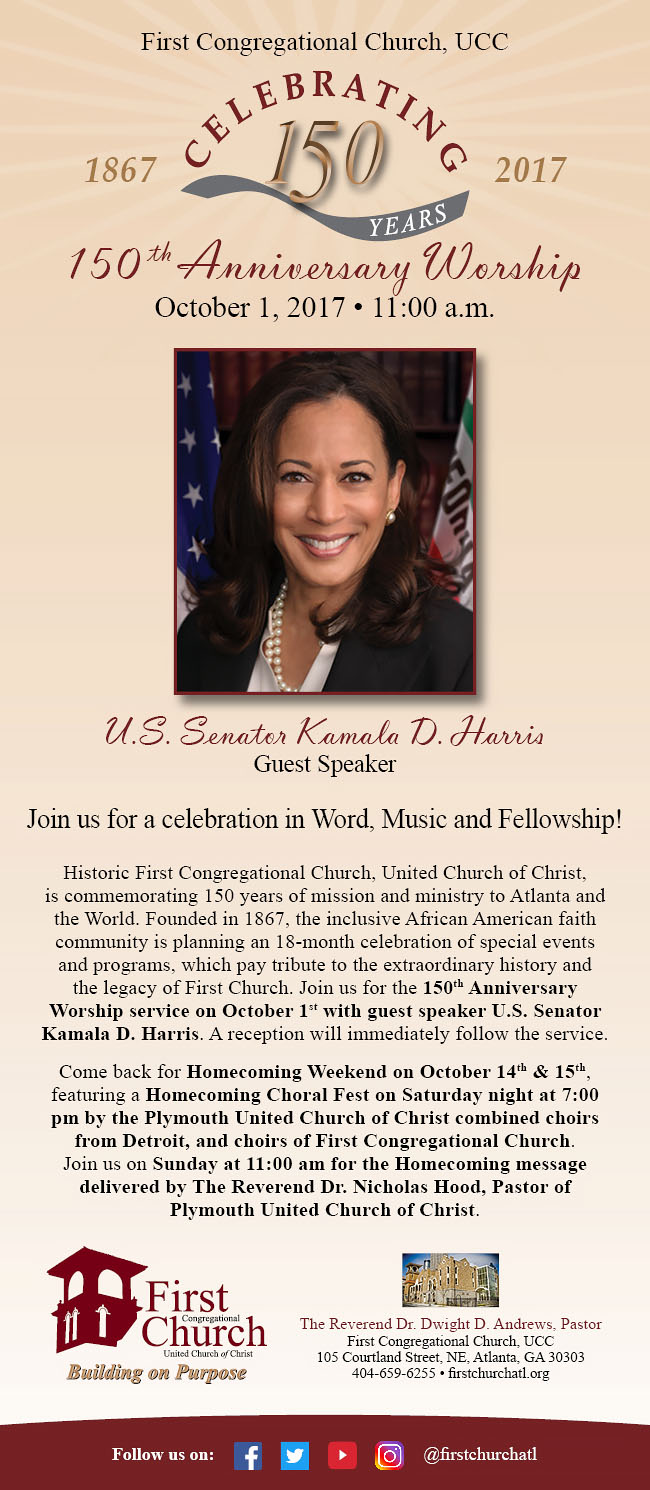 Source – FirstCongregationalChurch
***