TOPIC – LAS VEGAS SHOOTING QUESTIONS – SEEKING ANSWERS!!!
Trust me — MANY Americans are questioning the actual shooting event itself. The type of weapon, where actually fired from, and if there was in fact a possible second, third or fourth shooter.
NOT CONSPIRACY THEORY — simply digging into WHAT IS KNOWN and trying to reach a logical explanation.
SEE STATEMENTS, VIDEOS, AND DATA IN COMMENTS BELOW
*********
Taking up where we left off…
Police Scanner Recording
>9:10 reports shooter on 15th floor
>18:10 "shots fired on 29 and 32nd levels"
>18:25 "we are coming out on 32nd floor"
>18:45 "we have a security officer shot in the leg on the 32nd floor"
>19:15 "he shot down the hallway and hit a security guard" (32nd floor)
>19:35 "we'll need the 29th floor, it sounds like its confirmed there are at least 2 shooters with fully automatic weapons"
>26:30 "about 3 minutes ago a black unknown truck (unidentified) ripped out of the parking lot east of Excalibur heading south to the Delano, it was reported by several people and witnessed by me, keep an eye on it"
>36:10 "He's over in Tropicana/Motel 6, older white male with fatigues and a black bag, pedestrians say he came from the area of the shooting, he went into the motor home"
>37:15 "theres one 'WMA' in black fatigues and a white RV off of Koval and Tropicana, south of"
>41:30 (at Mandalay Bay) "nothing has been evac'd"
>43:05 "…at Reno and Tropicana we might have a possible… I need more units"
>47:10 "…confirming the Mandalay Bay, and Alibaba and Guille's(?) are the two shooting locations, do we have a third?"
***********
STARTLING DOCUMENTED REVELATIONS OF MULTIPLE SHOOTERS
Multiple Shooters! How the Shooting in Las Vegas Unfolded
Cab driver recorded the whole thing – MULTIPLE SHOOTERS
***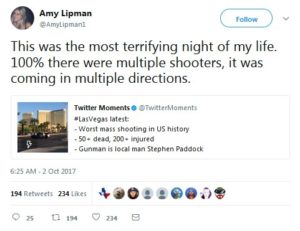 ***
More than one Vegas shooter, the evidence builds
 More than one Vegas shooter; evidence builds
By Jon Rappoport    October 3, 2017
Lone shooter? Really? And this is supposed to be more than a convenient fantasy?
Yesterday, I did a brief analysis of the number of people killed and wounded at the Vegas Concert (573) in roughly four and half minutes, which is the police estimate of the duration of the attack.
The lone shooter killed or wounded 2.1 persons per second. It is HIGHLY doubtful Paddock could have done that. His distance from the concert, his lack of professional skill, his state of mind, among other factors, rule against it.
Any competent and honest law-enforcement analyst would see a huge red flag right away.
But of course, multiple shooters destroys the official narrative and opens the door to an investigation that could expose, for example, an intentional false flag operation.
Here is a piece of Jeff Rense's analysis of rate-of-fire vs. people struck by bullets. It cuts to the core of the absurd lone shooter assumption:
"…a potential MAXIMUM of only 360 rounds could be fired at full auto burst with NO magazine changes in the approximate four minutes or 240 seconds of the shooting!"
"So, Paddock didn't fire 360 rounds in 240 seconds because he had to stop and change magazines…probably 30 round mags. That would be THIRTEEN magazine changes in the 240 seconds. And it is reported he fired from both broken out windows in the room/s."
Continue reading at…
Source – JonRappoport
 ***
Millennial Matt @Millennial_Matt
 Shots seen coming out of second window Mandelay well under 32nd floor.
7:47 PM – 2 Oct 2017
Video Source – Twitter
***
***
AUDIO: NEIGHBOR OF SHOOTER TELLS SAVAGE 'HE DID NOT DO IT!'
Photo: Home of alleged Las Vegas massacre shooting
Audio Source – MichaelSavage
***
Ex-Cop Points Out Mystery In Vegas Shooting Window
What did the media possibly overlook? Frm. Officer points out a problem with the story.
Published By:  JoshTolley   on Oct 2, 2017
Video Source – YouTube
***
ANONYMOUS TIP LINE SOURCE
Heads up. It's Antifa related. Yes, from FBI. No names.
************************************
AMERICAN DIGITAL NEWS SERIES POSTS:
NEXT:  Nevada Shooter – Following the Money and Motive