WAS SHOOTER THE MONEY TIE BETWEEN SEDITION GROUP & STREET THUGS?
This initially had the appearance of a false flag, but a day later, it's becoming clear this isn't the case.
Millionaire Vegas gunman who killed 59 people and hurt 527 took TWENTY THREE guns in TEN bags into Mandalay Bay sniper's nest.
The retired accountant had worked as an internal auditor at Lockheed Martin for three years in the late 1980s, and was a manager and investor in apartment complexes located in Mesquite, Texas and California, which had made him millions, his brother said, according to the Las Vegas Sun.
Local police said they had no run-ins with the man, not even traffic violations, and his brother described him as 'just a guy who lived in Mesquite who drove down and gambled in Las Vegas and… liked burritos'.
So the discovery that he had used 10 suitcases to methodically move an arsenal up into his Mandalay Bay room over the preceding weekend came as a shock to those who knew him.
Eric Paddock said he thought his brother was far from a gun fanatic.
'He had a couple of guns but they were all handgun, legal… he might have had one long gun, but he had them in a safe,' he said.
He said he didn't know about the 23 guns that were found in the hotel room.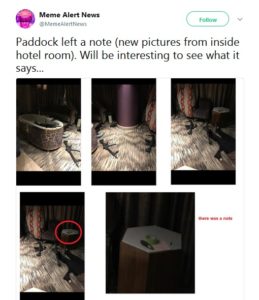 Among the weapons found in the room were four Daniel Defense DDM4 rifles, three FN-15s and other rifles made by Sig Sauer. A handgun was also found.
Although ISIS have repeatedly attempted to claim credit for the shooting, saying Paddock had recently converted to Islam, both his brother and authorities have dismissed the claims.
He had 'no religious affiliation, no political affiliation,' Eric said, adding: 'He just hung out.'
He also had no Army training, nor expressed any particular interest in guns, Eric added – though he admitted that, as he lives in Florida, he had not spoken much with his brother over the last year.
'His life is an open book. It's all in public record,' he said. 'Once again, there is nothing. He went to college. He had a job.
***
The suspect had a pilot's license but he was not up to date on his medical certification which he would need in order to fly legally, a federal official said.
The FAA website shows that the last time he went to get the medical certification required for private pilots who want to fly was February 2008 so he could not have flown legally recently.
The FAA will not release any information regarding his mental health from his last certification in 2008 because it is protected under federal privacy rules.
So far, authorities have found no military records for Stephen Paddock.
Source – Fox13
***

***
About Steven Paddock:
Gonna go out on a limb here, but this guy was NOT a super human 64 year old sniper. He was slouched shouldered, w/physical appearance of a drinker. Motor skills, coordination are impaired regardless of healthy living at 64. He was the money man, who wanted to partake, if anything. Side note. His eyes are OPEN in the in the post mortem photo. OPEN. Which means they were open at time of death. Eyes in suicide by gunshot to the face are closed. He was frozen in fear looking at his killer. That is usual. Now, it is highly unlikely, undoubtedly, that an officer of the law walked up and shot him in the face or mouth. That is not the scenario. So who? Police did not know how many would be in suite. They would not saunter over like Rambo & plug the guy in the mouth. No go. Not buying it.
No one is suggesting he didn't shoot. Now how many doors 2 that suite. Door(s) to adjoining rooms! Empty adjoining rooms or suites? The room was small armory with electronics. Probably scanner. A drill in their findings? Drill a lock to an adjoin room door? Would the security guard as he was perhaps not see(n) an exit from an adjoining room around corner? This was not a false flag. I don't see a c/u (cover-up) in the works. I see dissident group with more actors. Op training, connections? Maybe. But, if so this was rogue dissident operation. Dig deeper.
72 minutes from time of first call to arriving on 32nd floor. No critique of law enforcement. Nasty situation. But, deduct 11 minutes of action, that's an Hour give or take. Read the response transcript. No other actors could have slipped out? He could be laundering money back to groups in the US through Philippines. Geez. Common sense. …Could have been. He can't be doing it now.
***
OFFICERS KILLED THE GUNMAN AT 1:32 AM
TIMELINE:
10:08 p.m. PT – First call to dispatch for reports of shots fired at the Route 91 Harvest Festival outside Mandalay Bay Hotel and Casino on the Las Vegas Strip
10:40 p.m. PT – Alert about an active shooter hits the news wires
11:08 p.m. PT – Las Vegas police shut down a portion of the strip
11:20 p.m. PT – Reports of multiple injured people taken to area hospitals
11:32 p.m. PT – Some flights destined for the McCarran International Airport diverted
11:34 p.m. PT – Portion of Interstate 15 closed
11:56 p.m. PT – Las Vegas hospital says at least 2 dead, 24 injured, 12 critical
12:01 a.m. PT – Las Vegas police say one suspect is 'down' 1:06 a.m. PT – Southern California police department says off-duty officer among those shot
1:32 a.m. PT – Las Vegas sheriff says officers killed gunman on 32nd floor of Mandalay Bay Hotel and Casino.
*****
Las Vegas Shooter Wired $100,000 to Philippines Last Week
Las Vegas shooter Stephen Paddock wired $100,000 to an account in his live-in girlfriend's home country of the Philippines in the week before he unleashed the worst mass shooting in modern U.S. history, according to multiple senior law enforcement officials.
But while officials have confirmed that Marilou Danley was in the Philippines on Sunday when Paddock opened fire on a crowd attending a country music festival on the Vegas Strip, it was not known whether the money was for her, her family, or another purpose.
AND
There were 16 Currency Transaction Reports, or CTRs, filed for Paddock in recent weeks. The Treasury Department and the IRS mandate that casinos file the reports for "each transaction in currency involving cash-in and cash-out of more than $10,000 in a gaming day."
Source – NBC
***
Vegas shooter had 200+ reports of suspicious activities, large financial transactions in casinos
As ABC News first reported Monday, Paddock recently sent tens of thousands of dollars to someone in the Philippines, where his girlfriend was at the time of the attack, and authorities are still trying to determine who received that money, sources familiar with the matter said.
In the last three years alone, more than 200 reports about Paddock's activities, particularly large transactions at casinos, have been filed with law enforcement authorities, ABC News was told.
"Bottom line, this man was a gambler, but I do not believe there is sufficient evidence to show that he was under stress financially from gambling at the time this incident occurred," the top Democrat on the Senate Homeland Security Committee, Sen. Claire McCaskill, D-Missouri, told ABC News.
Source – ABC
***
WHO WERE THE OTHER SHOOTERS WITH PADDOCK?
WHO IS FINANCING DOMESTIC TERRORISM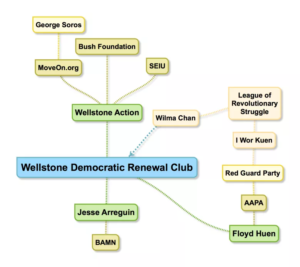 BAMN
B

y

A

ny

M

eans

N

ecessary

The Coalition to Defend Affirmative Action, Integration & Immigrant Rights, and Fight for Equality By Any Means Necessary, commonly shortened to By Any Means Necessary (BAMN), is an American left-wing militant[1] group that organizes protests and litigation to achieve its aims.

In June 2016, BAMN led a counter-protest against a rally held by the Traditionalist Workers Party, a white nationalist group, outside of the California State Capitol in Sacramento. Violence at the protests resulted in nine people being hospitalized, seven with stab wounds.[17] Yvette Felarca, a BAMN spokeswoman, said their protest successfully "chased away the neo-Nazis and kept them from recruiting new members."[18]

In July 2017, a year after the riot, authorities arrested Felarca and charged her with "inciting and participating in a riot and assault likely to cause great bodily injury."[19] Felarca and her lawyer, BAMN's national chair Shanta Driver, say the white nationalists were the aggressors and BAMN members had the right to defend themselves. Further, that Felarca sustained serious injury in the riot including a head wound requiring stitches.[20]

Source – Wikipedia

Today, these individuals are involved with organizations who financially and politically support figures tied to protest groups operating in San Francisco, including the far left movement By Any Means Necessary (BAMN). The parties involved in support for these protest groups are also tied to institutions connected to billionaire George Soros.

BAMN also targets young, impressionable teenagers when recruiting members in a striking similarity to tactics used by the Red Guard Party. In May 2017, the Daily Caller reported that BAMN organizers would intentionally try to recruit students into their organization using teachers who were members. The report followed revelations by the Daily Caller that BAMN's parent organization worked directly with the pro-pedophelia group NAMBLA and the founding members of BAMN were admitted NAMBLA members. FBI documents mention that the Red Guard Party would also recruit members as young as 14, some of whom were previously involved in former street gangs.

Source – Huffington Post Blogger's Club
************************************
AMERICAN DIGITAL NEWS SERIES POSTS:
MASSIVE DATA (AS IT HAPPENED) on Mandalay Bay Concert Shooting
UPDATED: Mandalay Bay Shooting, Shooter and Family
MORE LAS VEGAS UPDATES INCLUDING DEMO REPS RESPONSE: NO SYMPATHY
Was the Nevada Shooting a False Flag?
Did The Nevada Shooter Act Alone?
WAS SHOOTER THE MONEY TIE BETWEEN SEDITION GROUP & STREET THUGS?
NEXT POST – We'll discuss the THUGS……