Yes, if you did decide to go through with it, you would likely win reelection, thanks largely to name recognition, your fundraising prowess, and general electoral inertia. But when you do not share the views of the median Democratic voter in your state, and when your replacement almost certainly would come closer to doing so, does running for reelection reflect a commitment to public service, or just a desire to remain in the very prestigious club known as the U.S. Senate???
— Emma Roller (SplinterNews)
***************************************************
Dem. Sen. Feinstein Announces She Is Running For Reelection At Age 84
Dianne Feinstein has represented California as a United States senator since 1992 and during that time she has established herself as one of the more liberal politicians on Capitol Hill.  You name the liberal cause and she's put her name behind it. Gay marriage, gun bans, no restrictions on abortion, porous immigration system etc.  After over two decades in Washington, you'd think that Feinstein would listen to the message the voters sent to establishment types like her in November and hit the road.
Nope. She's running for reelection.
At 84, she is the longest consecutively serving California official and the oldest member of the Senate. After a stint on the San Francisco Board of Supervisors and as mayor of San Francisco, Feinstein was the Democratic nominee for governor in 1990. Though she lost to Republican Pete Wilson, the campaign gave her the statewide recognition she needed to win the special election to replace Wilson in the Senate in 1992.
In the decades since, she successfully pushed for an assault weapons ban, helped end the use of torture by the U.S. government, and led the way on a landmark water storage and conservation bill for California.
***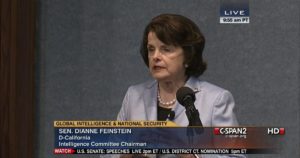 I am running for reelection to the Senate. Lots more to do: ending gun violence, combating climate change, access to healthcare. I'm all in!
COMMENTS:  As a Californian, I have watched you fail this state and country repeatedly. Packed prisons, lax environments standards, growin
g poverty
Additionally, you have led your party to ruin courting millionaires, losing > 1,000 seats, and giving GOP control of thr federal government
You have a long record of public service, accomplishing little, and some how amassed over $40M in personal wealth.
$40 million from a career of public service? There is only one logical conclusion. Wake up California!
Those of us in California who pay attention to what you say & do, beg to differ. We're voting you out.
Will all due respect Senator, it's time for new leadership across the country.
and hopefully no Billion $ sole source contracts for your spouse (like DiFi husband got selling PO property)!
You talk about "gun control" and yet approve of massive US arms sales to brutal/oppressive apartheid regime, dictators &theocratic monarchs
She hasn't said a damn on either account about our state being ON FIRE
***
Dianne Feinstein Retire, Ma'am
You have not yet confirmed that you will seek reelection in 2018, but you have been raising money and traveling around California holding e
vents, implying that you are gearing up for a campaign for a sixth term in the United States Senate. I suggest: How about not doing that?
Header Excerpt Credit from SplinterNews.com
***
Dianne Feinstein running for reelection next year in face of liberal angst
B

y Manu Raju and Eric Bradner
    Updated 1:20 PM ET, Mon October 9, 2017
Feinstein's California colleague, Sen. Kamala Harris and a rising star among liberals, quickly endorsed Feinstein in a Facebook post.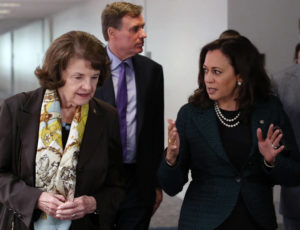 "I strongly support Dianne's reelection campaign, and am thankful she is again offering to serve our state," Harris wrote. "What Californians get from Dianne is someone who sticks to her principles and achieves results regardless of powerful opponents, from the assault weapons ban to the CIA torture report. We are better off with her leadership and I look forward to continuing to fight together for California in the Senate."
***
GOV. TRACK — includes: Committee Memberships, Enacted Legislation, Bills Sponsored, Votiing Records, and Primary Sources for information given.
Feinstein, a Democrat, is a senator from California and has served since Nov 10, 1992 (next election in 2018).
***
Diane Feinstein Defends Public Universities Shutting Down Free Speech
In a Senate hearing that took place this week, Senator Diane Feinstein defended the right of public universities to cancel controversial speaking events when they may lead to violence on campus.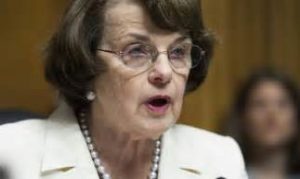 "
The fact of the matter is that there are certain occasions on which individuals assemble not to act peaceably, but to act as

destructively as they possibly can
," Feinstein stated. "When you have a set group of people that come to create a disturbance, some of them even wearing masks or wearing certain clothing, what do you do?" Feinstein added. "I do believe that the university has a right to protect its students from demonstrations once they become acts of violence."
 BIOGRAPHY — Dianne Feinstein
U.S. Representative from CA to US Senate, Mayor(1933–)
QUICK FACTS
NAME – Dianne Feinstein
OCCUPATION – U.S. Representative from CA to US Senate, Mayor
BIRTH DATE – June 22, 1933 (age 84)
EDUCATION – Stanford University
PLACE OF BIRTH – San Francisco, California
AKA – Dianne Goldman Berman Feinstein, Dianne Feinstein
MAIDEN
NAME – Dianne Emiel Goldman
Dianne Feinstein is a United States senator from California and a former mayor of San Francisco.
Born in 1933 in San Francisco, Dianne Feinstein is a left-leaning politician who has dedicated her life to serving the people of California, first on the local level and later on the national one. Becoming acting mayor of San Francisco when the sitting mayor was shot and killed in 1978, she ran for the job the following year and won, holding the post until 1988. In 1990, she ran for governor of California but lost. In 1992, however, she became the first woman elected U.S. senator from California, a seat she has held ever since….. 
***
How much is Dianne Feinstein Worth? in Richest Politicians › Democrats
Dianne Feinstein net worth:– $80 Million ..
General Earnings
Senators who do not hold a leadership position within the Senate are sometimes referred to as "rank and file" senators. These senators all have the same base pay, and it's a much more than the six dollars a session the first Senators earned back in 1989. How much does a senator make these days? As of 2010, yearly salaries for United States Senators were as follows:
• Basic Senators (no leadership position) – $174,000
• Majority and Minority Leaders – $193,400
Health Insurance and Retirement
Senators receive the same health insurance benefits as all federal employees under the Federal Employees Health Benefits Program (FEHB). Senators have a variety of health plans and providers available to them. They pay a bi-weekly premium, and enjoy some of the lowest rates of any other health care program in the nation.
Retirement benefits are also important to consider when researching the question how much to senators make. Depending on seniority, senators may be covered by the Civil Service Retirement (CSRS) or the more recent Federal Employees' Retirement System (FERS) program. A senator is eligible to retire and retain his full yearly compensation once he has met the minimum age requirement and service requirement as laid out by the program in which he is participating.
Allowances
When asking the question how much does a senator make, it is important to consider allowances provided for various expenses. The amount a senator receive for any given type of allowance may vary and can depend on factors such as the size of the state that the Senator represents. Some of the most common allowances allowed to senators are:
• Personal Staff Allowance – This allowance allows senators to hire staff to assist with clerical or other needs, both in Washington and in their district office. The number of employees hired can range anywhere from 26 to 60, with maximum pay per employee topping out at $156,848 as of 2005. Up to $75,000 of this allowance can be transferred to supplement the expense allowance.
• Expense Allowance – The expense allowance covers job related expenses such as stationary, business cards, newsletters, domestic travel and lodging, and communication expenses. This allowance varies and is based on population and distance of the state represented.
• Franking Privilege – This privilege allows senators to send mail free from postage so long as it is interacting with the recipient in the context of being a citizen of the United States.
• Foreign Travel – Foreign travel expenses are covered in this allowance, which also includes free use of any military air craft.
Source – CelebrityNetWorth
***
Sen. Feinstein's Husband's Company to Bag $1 Billion for Government Deal
By Wynton Hall   17 Jan 2015
Sen. Dianne Feinstein's husband, Richard Blum,
could bag $1 billion in commissions for his company from a government plan to sell 56 US Postal Service buildings.
As the New York Post notes, "Blum's company, CBRE, was selected in March 2011 as the sole real estate agent on sales expected to fetch $19 billion. Most voters didn't notice that Blum is a member of CBRE's board and served as chairman from 2001 to 2014."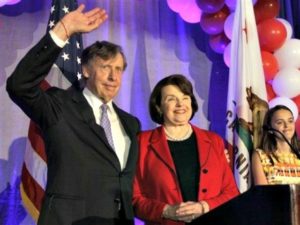 Feinstein's office denies that she had anything to do with the USPS decision.
This is not the first time Feinstein and her husband have come under fire for engaging in crony capitalism.
In 2013, a construction group partially owned by Blum's investment firm scored a construction contract for California's high-speed rail project valued at $985,142,530.
Source – Breitbart
***
Dianne Feinstein Still Dogged by Allegations of Conflicts of Interest
by Jeffrey Scott Shapiro   6 Jun 2012
The victor in yesterday's California primary in the U.S. Senate, incumbent Democrat Dianne Feinstein, has long faced questions about potential conflicts of interest in Congress, according to Breitbart News sources. Specifically, for at least 15 years, Feinstein has appeared to support government contracts that push federal funds toward companies co-owned or governed by her powerful, billionaire husband, Richard C. Blum. 
Breitbart News found evidence of possibly inappropriate influence from the period when Feinstein served on the Military Construction Veterans Affairs and Related Agencies Subcommittee (MILCON), which supervises military construction and oversees quality of life concerns for veterans, including the building of clinics and hospitals for wounded soldiers and housing for military families.
…The couple earned somewhere between $500,000 and $5M from capital gains on URS and Perini stock, and another $1.3M-$4M from CB Richard Ellis, a global real estate service company. In total, the couple's worth rose $10 million to an estimated $40 million. According to the San Francisco Chronicle, Blum has served on the corporate boards for both URS and CB Richard Ellis.
Continue reading at…
Source – Breitbart
***
Feinstein: 'I will do everything I can' to protect NSA data program
Sen. Dianne Feinstein, D-Calif., speaks at a hearing Wednesday about the importance of the NSA's data collection program
Video Source – NBCNews