North Bay California Area Wildfire Update: Day 6
PG&E source believes downed power lines, blown transformers started deadly North Bay fires
By Vic Lee    October 11, 2017
PG&E lineman who believes downed power lines and exploding transformers may have sparked the wildfires raging in the North Bay.  The lineman wants to remain anonymous, but the I-Team reviewed emergency dispatch recordings and in the early moments of this disaster, several calls came in about power lines falling in the high winds and transformers exploding.
PG&E sent the I-Team this statement: PG&E maintains an unwavering focus on delivering safe and reliable electric and gas service to the customers and communities that we serve. The historic wind event that swept across PG&E's service area late Sunday and early Monday packed hurricane-strength winds in excess of 75 mph in some cases. These destructive winds, along with millions of trees weakened by years of drought and recent renewed vegetation growth from winter storms, all contributed to some trees, branches and debris impacting our electric lines across the North Bay. In some cases we have found instances of wires down, broken poles and impacted infrastructure. Where those have occurred, we have reported them to our state utility regulator and CalFire. Our thoughts are with all those individuals who were impacted by these devastating wildfires. We want our customers, families and friends to know that we will stand beside them and work together throughout this restoration process.
Firefighters continue brave effort to contain Calistoga wildfire
By Laura Anthony    October 13, 2017
Calistoga remains under a mandatory evacuation order and officials are continuing their effort to douse the flames engulfing the North Bay town.
The mayor of the city has a message for anyone who wants to stay behind.
"Your presence in Calistoga is not welcome if you are not a first responder. Your choice to stay, and there have been a few of them, is a distraction to our first responders, you will not be given life safety support, you are on your own," Calistoga Mayor Chris Canning said.
Featured Image Credit:  A man raises the American flag at his home that was burned down during the wildfires.  (Danielle Funez)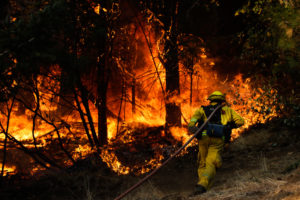 A firefighter carries a water hose to put out a fire during along the Highway 29 Friday, Oct. 13, 2017, near Calistoga, Calif. Firefighters gained some ground on a blaze burning in the heart of California's wine country but face another tough day ahead with low humidity and high winds expected to return. (AP Photo/Jae C. Hong)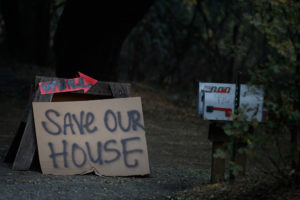 A sign stands outside a home as wildfires continue to burn Thursday, Oct. 12, 2017, near Napa, Calif. Gusting winds and dry air forecast for Thursday could drive the next wave of devastating wildfires that are already well on their way to becoming the deadliest and most destructive in California history. (AP Photo/Jae C. Hong)