Jesus Campos, the alleged Mandalay Bay Security Guard that has never appeared on their employee records, and the timeline shifts coming out tell very conflicting stories to what really happened on the 32nd floor that evening.  We dug in and followed this story from the beginning.  Below are commentary and supporting documentation describing those timeline shifts and how the changing narrative is taking on a new story line. And now we have a picture of Security Police Fire Professional of America (SPFPA) honoring this alleged hero. How could he have been a SPFPA (SPFPA.org) member if he never appears on the payroll or state registration? And SPFPA had just taken over the union contract September 12, 2017. How good for them to have a "new hero" to promote their union. More questions and more answers to come.
– Reference to Photoshop appears only to alter picture size, not composition.
********************************************
#SPFPA STRONG – HONORING OUR HEROS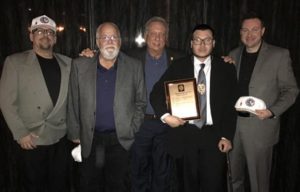 On October 10, 2017, SPFPA member Jesus Campos proudly accepts his "SPFPA Hero Award" for bravery in the line of duty. Brother Campos continued to assist Metro Officers after being wounded in the leg. He joins all of our member Heroes working as Security Officers at Mandalay Bay.
We are proud of ALL of our SPFPA members and recognize the important role they play in the protection of our Nation.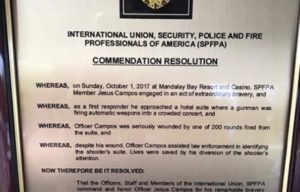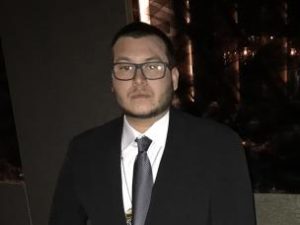 Source – SPFPA
**************************************
Holy Cow – The Official Mandalay Bay Massacre Narrative Just Completely Changed – Latest Presser Video…
Well, well, well… the entire previous weeks claims about the timeline and structure of Stephen Paddock and how he carried out the Mandalay Bay Massacre just changed a full 180 degrees today when Sheriff Joseph Lombardo dropped a statement that Paddock did not begin shooting until his advanced preparation was interrupted by Mandalay Bay security officer Jesus "Jose'" Campos.
According to the latest stunning revelation by Sheriff Lombardo, security guard Campos was responding to a door alarm notification, presumably from a fire exit door being opened by suspect Paddock on the 32nd floor.  Upon reaching the floor, Campos noticed the hotel room suite door was ajar, and heard the sound of drilling (he didn't knock).
Sheriff Lombardo's presser:
The bigger problem for Las Vegas Police, FBI, DHS etc. is this change is far more substantial than just the timeline. This "new narrative" stinks to high heaven.
Source – The Conservative Tree House
*****************************************
Las Vegas Mandalay Bay security guard Jesus Manuel Campos, Jesus Cortez Campo, Edmund Jesus "Jose" Campo; or is it Jesus Adrian Campos Valdez as his Instragram account is listed, is touted as "Hero of the Millennium" for his heroic efforts to prevent further loss of life to the victims of Stephen C Paddock.  LVMPD came out 4 days after the massacre with a timeline of events that put Campos in the position of interrupting the Las Vegas "Lone Wolf" shooter from continuing his slaughter of innocent victims.  But this week that has all changed.  Here is the original LVMPD transcript from that evening.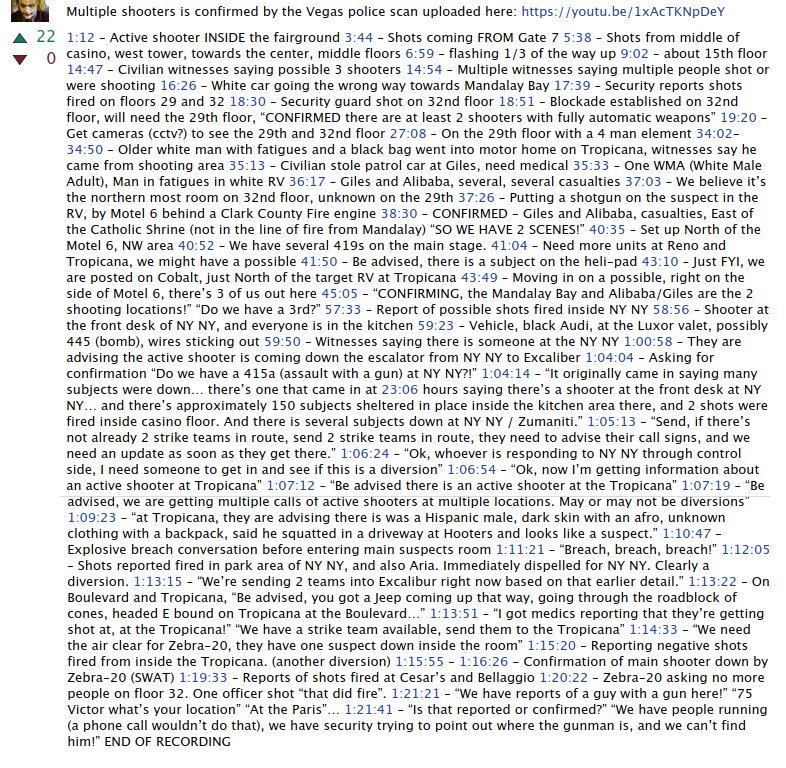 ************************************************
And more significant changes:
Friday (10/13) Media Briefing on Mass Shooting Incident
Source – Youtube
Campos originally was reported to have received an alarm about an open door – presumably a fire exit door – not Paddock's – was open?? And while investigating the open door which he discovered to be the stairwell door jammed thereby radioing down for maintenance, Campos heard a drilling noise coming from the AJAR HOTEL ROOM DOOR on the  32nd floor room and thought it was odd.  Campos unexpected entry into the suite is what caused Paddock to fire upon him.
(notice the bullet holes in the door)
CONTRADICTION – A maintenance engineer – STEPHEN SCHUCK – came DOWN to the 32nd floor to investigate the jammed fire exit per his statement on "The Today Show".
He (Schuck) saw someone poke their head out of one of the hotel's inset doorways, but "nothing set off my radar," he said. It was quiet on the floor.
Schuck estimates he was about a third of the way down the hall when he heard gunshots, he said. Campos had already been shot and was taking cover in a doorway, Schuck told the morning show.
"He yelled at me to take cover. As soon as I started to go to a door to my left, the rounds started coming down the hallway. I could feel them pass right behind my head. Something hit me in the back and I took cover," Schuck told "Today."
He pondered how to reach the wounded Campos, he said.  "I told myself, 'Wait for him. He is going to have to stop shooting sometime,'" but the bullets kept coming, Schuck recalled. "It was kind of relentless."
Once the shooting paused, he and Campos ran down the hall and took cover before the gunfire erupted again.  AMP
Previously reported and CONTRADICTION to Above Statement – As the pair started talking, investigators believe Paddock saw Campos and maintenance engineer through the cameras he had previously set up that previously reported were not working / recording.   Paddock shot initially single fire gun then rapid fire rifle (more than 200 bullets) through the door which has been described as "Swiss Cheese" by one responding officer according to his interview with 60 minutes.
And this was all 6 MINUTES BEFORE at 9:59pm Paddock opened fire on concert goers to Route 91 Harvest Music Fest taking place across the street from Mandalay Bay casino.
"He called it in before" the attack began, possibly using a hallway phone to contact hotel security, Clark County Assistant Sheriff Tom Roberts told The Times in an interview. "He manually called down and he used his radio to call. … That's what we were briefed this morning."
Roberts said he didn't know precisely what time Campos called in his own shooting before the assault on the concert began, or whether the hotel immediately passed the information to police.
"We just don't know how long it took him to call. He's getting shot at, he's running, he's getting shot, he finds some cover, that's when he starts calling in," Roberts said in an article posted by LATimes
During the 200 bullet assault into the hallway, Campos was apparently struck with 1 BULLET in his right thigh.  He retreated to doorway and immediately told other security personnel that he had been shot.    Campos stayed and when police arrived he assisted officers by giving them the key pass to the rooms and directed the officers to Paddocks room and then helped hotel guests evacuate until being told to get medical attention himself.
"With only a nightstick, Jesus Campos took on a man with a military-grade arsenal." as one Twitter poster stated in NewsMax article.
CNN reports that Campos is out of the hospital but will have to return to have the bullet removed.
According to the searches appearing on Twitter when searching for the name Jesus Campos, terms like "Jesus Campos Mexican" and "Jesus Campos Las Vegas" and
"Jesus Campos hero" — along with his GoFundMe page — are ruling the roost as an article on Inquisitor reported.
Twitter Link
My name is Lilly. I am raising funds to assist Jesus Campos a co-worker, that was injured during the tragic Las Vegas shooting. Unfortunately he was shot while on random patrol.
Funds will be used to provide relief and financial support for him while he gets back on his feet. This is a young man that I work with day in and day out. Any financial support would be appreciated for the time he would need to recover. Any one of us could have been in the position he was in. Most importantly we are a home away from home and at the end of the day we are a team and we should all go home together.
$35,757 of $40k goal   Raised by 790 people in 9 days
GoFundMe
There is a second GoFundMe acct as well set up by:
Encore Event Technologies (the AV partner to Mandalay Bay).  Mandalay Bay Security Guard Jesus Campos, our fellow employee was shot and injured when he interrupted the shooter during the horrific events that occurred on October 1st, 2017. His bravery and this distraction prevented further injuries and casualties. After being shot, Campos spoke with police officers at 10:18 p.m., giving them the shooter's exact room and key pass. He remained with Metro officers, providing them the key pass to access the doors and continued to help them clear rooms until they demanded he seek medical attention.  This campaign is for Encore employees to have a specific place to make a contribution knowing that 100% of the funding will go directly to Jesus. Your voluntary donation is greatly appreciated as Encore honors him for his bravery and heroism.
$11,280 of $10k goal     Raised by 98 people in 6 days
GoFundMe
*******************************************************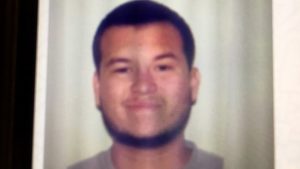 "The security guard story made no sense before, now it's down right BS. If he had checked on an open door alert, he would have received a radio call to do so. After reaching the floor, he would have been required to respond and security would have done a video check on him. There is no way he was down 74 minutes without a video check. Especially after shooting began. They would have been frantically scanning every floor. As for the police uniform, it wasn't Paddock's (it was too small).  AntiFa apoya a los inmigrantes ilegales y adultos jovenes DACA. Si, Jesus? (translation – AntiFa supports illegal immigrants and young adults DACA, Right Jesus?)
200 rounds BEFORE the shooting rampage out the window? And no one inside the hotel heard that? Is that now the story?
Campos was shot 81 minutes prior to breach. Campos called dispatch after being shot. So why then, did it take 75 minutes to find Paddock's room? Timeline issues needed to mesh. Now they have a bigger problem.
It's beyond absurd.
It's not ISIS. It's Homegrown. Accepting that will save lives.
It's not ISIS. Pushing false perpetrators won't save lives.
I find the timing of Marilou's trip itinerary to be mighty suspicious, but of course she knows nothing…
We shall see.
How did Paddock get access to the service elevator? With which employees did Marilou still associate? Whom else sent money overseas?
Marilou Who? Who is Marilou?
What are authorities missing? Liliana's not so innocuous statement re: Jesus Campos. Social Justice causes are frequently put into lyric. While there isn't anything wrong with Social Justice, historically, there have been dark elements within the good.
James Blake was wrongfully arrested. These incidents are a blight to our society. His reaction, a call for Social Justice is, without question, an understandable reaction to his experience. We can all respect this. HOWEVER, when darker elements latch onto mantras and lyrics to justify their own unjust acts as a means to their own end, it's not Social Justice. 'James Blake-Fighting for Social Justice with "Ways of Grace" '. Nothing wrong with turning a negative experience into positive cause. Then there's Mt Kimbie song featuring James Blake "We Go Home Together", they are different James Blakes. Both believe in Social Justice. And, yes, we do need social justice. What happened to James Blake, the tennis player, was wrong. It happens all to often. I also believe Mt Kimbie featuring James Blake was not intend to be a mantra for dark acts. But, "we go home together" is now included in anarchists messaging. Liliana's messaging in her Go Fund Me for Jesus wasn't innocuous.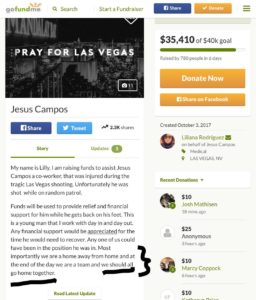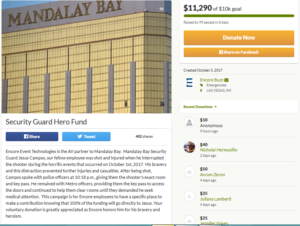 Causes pick up Symbolism & Mantras. Was Liliana was making a statement and appealing to a specific group to help one of 'their own'?
Campos was SPFPA, an organization troubled by complaints and legal troubles in recent years. Dichotomy between a real Union and Union buster organization. It styles from NRTW which is supported by Soros and has all the appearances of nefarious acts to quash traditional American Values Unions in favor of International "open borders" right to work coalition. Notable is that SPFPA recently won the Mandalay Bay contract in December 2016, where Soros is a BoD member with a financial stake (must be why he bought all those puts in August). An example of SPFPA dirty, strong arm tactics and behavior: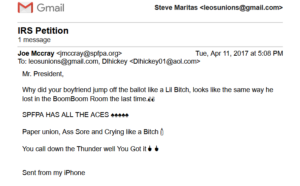 SPFPA donated $3K to Campos.
Source – Anne Webber @awebberaz
**********************************************************************
As the crime scene tape is still visible on the 32nd floor and Campos and Schuck are making the media circuit with today's version of events, we will continue to bring you the updates as they are presented.  Part two in the Jesus Campos series concerning his early life and how he came to working in Las Vegas casinos will be published shortly.  If you have any contributing evidence or verified documentation that you would like to add, please contact us at the below anonymous tip line.  Thank you for your support.
American Digital News Previous coverage:
MB Security Guard – Campos – SEIU -Story Doesn't Jive