CIA 'working to take down' WikiLeaks threat, agency chief says

The head of the CIA lumped WikiLeaks with al Qaeda and the Islamic State and said his agency is working toward reducing the "enormous threat" posed by each of them.
CIA Director Mike Pompeo placed the antisecrecy website in the same category as terrorist organizations while speaking Thursday at the Foundation for the Defense of Democracies' National Security Summit in D.C.
WikiLeaks publisher Julian Assange scoffed at the CIA chief's remarks.
"All serious news organizations develop and protect sources with the intent of publishing what they find," Mr. Assange told The Washington Times. "To suggest that media organizations are intelligence agencies is as absurd as suggesting that CIA employees are journalists. This ridiculous claim has a transparently insidious purpose: to gain the legal authority to treat journalists and publishers as terrorists for simply doing their job, holding the CIA to account."
Later, Pompeo — who has controversially called WikiLeaks a "non-state hostile intelligence service" — described the primary-source publisher as an "enormous threat."
"It's not just the Russian info ops," he said. "I talked about these non-state actors, and it's not just Wikileaks. Indeed I may have overemphasized them — they are an enormous threat, we are working to take down that threat to the United States as well, to reduce the threat from all of it. But Hezbollah, ISIS, al Qaeda, none of them sit at the U.N., these are all non-state actors."
Pompeo did not say how the CIA was working "to take down" WikiLeaks, but has previously said there are no First Amendment protections for WikiLeaks founder Julian Assange — who oversaw publication of U.S. diplomatic and military documents shared by Chelsea Manning in 2010 and last year published hacked Democratic emails that the U.S. government claims came from Russia.
"Is there a recording or transcript? A very serious statement, if true," WikiLeaks tweeted after a journalist shared Pompeo's remarks.

9:56 AM – 19 Oct 2017

"WikiLeaks = ISIS. The CIA hasn't just jumped the shark here–it has gone into orbit." Assange tweeted as well.

Trump CIA head Mike Pompeo on @WikiLeaks today
"They're an enormous threat — we're working to take down that threat"
5:36 PM – 19 Oct 2017
This was shared in retweets by viewers that may shed some light on Pompeo's motive.
Mike Pompeo Verified account @RepMikePompeo
"Need further proof that the fix was in from Pres. Obama on down? BUSTED: 19,252 Emails from DNC Leaked by WikiLeaks"
9:36 AM – 24 Jul 2016    (Archive Link)
It's far from the first time the two men have butted heads.  Assange, who remains living in the Ecuadorian embassy in London under political asylum, was the subject of Pompeo's ire in April this year as posted above, not long after he took the position of top chief.
In his first speech, the newly-appointed director called the WikiLeaks boss a "coward hiding behind a screen" and asserted that his website's output was "abetted by state actors like Russia".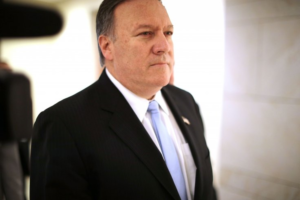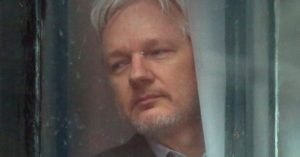 "When the director of the CIA, an unelected public servant, publicly demonizes a publisher such as WikiLeaks as a 'fraud,' 'coward' and 'enemy', it puts all journalists on notice, or should," Assange responded in an op-ed for The Washington Post on 25 April this year.
"I investigated both presidential candidates — Hillary was the only one with corrupt ties to #Russia #LockHerUp #MAGA", Assange tweeted.
  Video embedded 1:45
6:39 AM – 20 Oct 2017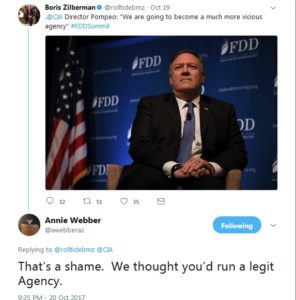 A BusinessInsider article from April 2017 reported that in 2010, WikiLeaks made available to the public thousands of classified cables and documents from the military and the State Department. However, during President Barack Obama's tenure, the Justice Department decided against charging WikiLeaks, reasoning that it would be too difficult and similar to prosecuting a news organization that published classified information, The Post reported.
Thousands of top-secret files were leaked after the infiltrator used an "attack code" – which could be used to break into products from companies like Apple, Google, Samsung, and Microsoft – to "gain unauthorized access to computers and smartphones," especially if software updates meant to patch certain vulnerabilities weren't available. The breach has since been referred to as "Vault 7" by WikiLeaks.
Gabe Rottman, Washington director of PEN America, a group that supports freedom of expression, said he's concerned that "the continued use of terms like 'non-state intelligence' services seems to be designed to give the intelligence community greater leeway to go after not just groups like Wikileaks, but any foreign media organization reporting on things the CIA doesn't like." "Say what you will about Wikileaks, we can't be conflating news organizations with spies," Rottman said as reported on WashingtonExaminer.
Since CIA Pompeo puts WikiLeaks in same category as ISIS…
DOES THAT MEAN THEY'LL START SENDING MONEY & WEAPONS TO WIKILEAKS AS WELL???