Las Vegas: Beware of Gang Activity in Your Neighborhood!
A GANG is a group of recurrently associating individuals with identifiable leadership and internal organization, identifying with or claiming control over territory in the community, and engaging either individually or collectively in violent or other forms of illegal behavior. Usually, gangs have gained the most control in poorer, urban communities.
Gangs are involved in all areas of street-crime activities like extortion, drug trafficking (both in and outside the prison system), and theft. Gang activity also involves the victimization of individuals by robbery and kidnapping. Street gangs take over territory or "turf" in a particular city and are often involved in "providing protection".
Las Vegas-area police and federal law enforcement agencies have crippled a longtime area gang, indicting most of its members in a state racketeering case, the first in Nevada targeting an entire organization, authorities said.
Operation Spartan Fist netted 21 suspects in connection with two murder cases, several attempted murder incidents, drug trafficking and robbery, Clark County Assistant Sheriff Tom Roberts said Thursday.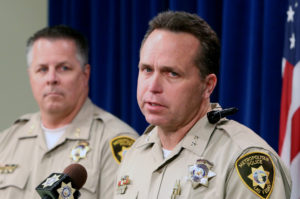 "Las Vegas is a safer place today with these individuals behind bars, and we want to send a strong message to gang members who live in Las Vegas and those who come to Las Vegas and believe they can conduct criminal activity without impunity," said Roberts.
Assault rifles, guns, electronics, drugs, money and "gang paraphernalia" including a flare launcher, homemade silencer and homemade zip gun were also seized according to Sheriff Roberts.
Those arrested are: the heads of the gang, Oscar "Primo" Rodriguez and Raul "Puppet" Lara; their lieutenants Rafael "Shadow" Bonilla and William "Player" Kentros; and so-called soldiers Susana "Grifo" Cuevas, Alexis "Toker" De-La-Rosa Zavala, Elizar "Crow" Gomez, Elmer "Homer" Hernandez, Anthony "Lil Bones" Lopez-Mez, Jorge "Jukie" Martinez, Richard "Sneaky" McCullough, Daniel "Dreamer" Mendoza, Eladio "Magic" Murillo, Julian "Conejo Grande" Orozco, Alejandro "White Boy" Rodriguez, Christian "Psycho" Rojas, Osvaldo "Sleepy" Rojas, William "Dub" Rojas, Joshua "Widow" Sibley, Juan "Danny" Alvarado, and Jacobo Rodriguez.
Police said there are more than 400 individual gangs and is home to roughly 20,000 street gang members in the Las Vegas area, a number law enforcement officials say is growing as members ditch loyalties and create new groups.  That's 6 for every 1,000 Nevada residents, according to the FBI's 2011 National Gang Threat Assessment. Only five other states have as high a rate: California, Idaho, New Mexico and Illinois.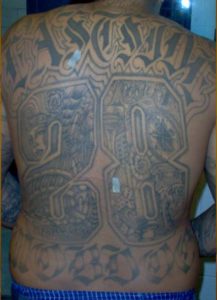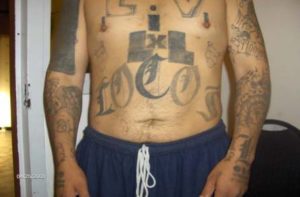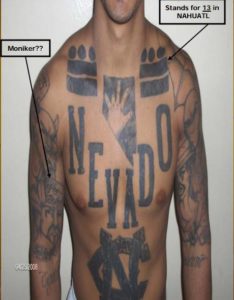 WHITE GANGS
Neo-Nazi gangs tend to use the symbol "SWP," an acronym for "supreme white power," and the number 311, which represents "KKK," the 11th letter of the alphabet repeated three times. Known white gangs include Insane NAZI Lowriders and Aryan Warriors
BLACK GANGS
Bloods and Crips
Among the most infamous criminal groups in America, the Crips and Bloods are rival gangs founded in Los Angeles. They are widely known for their violent feuding that's so intense it often permeates every aspect of members' lives. A Blood, for example, might describe something as "brazy," swapping out the letter "c" in "crazy," to snub the Crips. Crips traditionally wear blue, while Bloods wear red.
Other notable gangs are:  The Gerson Park Kingsmen, The Woods, The Rolling 60s, The Playboy Bloods and The West Side Piru Bloods.
LATINO GANGS
The Sureños
Spanish for "southerners," the Sureños are a Southern California street gang with many loosely affiliated subgroups in Las Vegas. Members pay tribute to the Mexican Mafia prison gang and use the number 13 to represent the letter "M," the 13th letter of the alphabet, to pay allegiance to their mentors. Sureños typically wear blue, including clothing featuring the logo of the Los Angeles Dodgers.
The Norteños
Spanish for "northerners," the Norteños are a Northern California street gang and the Sureños' rivals. Members ally with the Nuestra Familia prison gang, the rival of the Mexican Mafia. There are far fewer Norteños in Las Vegas than Sureños. Norteños wear the number 14 to represent the letter "N," the 14th letter of the alphabet, and favor red clothing from sports teams such as the San Francisco 49ers and UNLV. Some gang members say UNLV's acronym stands for "Us Norteños Love Violence."
Other notable gangs are:  The San Chucos,  The 28th Streets and Barrio Naked City Gang
ASIAN GANGS
Pinoy Boys
One of the most wide-reaching Asian gangs in Las Vegas and police typically identify them through foreign language tattoos.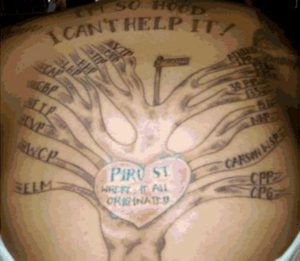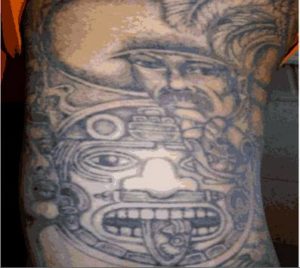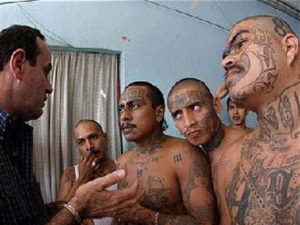 U.S. Immigration and Customs Enforcement Acting Director Thomas Homan announced the six-week operation from March 26 to May 6 in which the national efforts resulted in 1,378 arrests: 1,098 on state and federal charges, including 21 on murder-related charges and seven on rape and sexual assault counts.  1,095 were confirmed gang members with rest being gang-affiliated suspects.
The operation targeted gang members and their associates in cases on "transnational criminal activity," including suspected drug traffickers, weapons smugglers, sex traffickers, and murder and racketeering suspects.  About half a million dollars and 238 firearms were seized, officials said.
In San Antonio, Texas, 933 U.S. citizens and 445 are foreign nationals were arrested in a Gang related operation.  Agents found cocaine, methamphetamine, heroin, four guns, and confiscated $48,000 in cash, officials said.
In San Diego, they found 17 firearms, meth, marijuana and over $25,000 cash.
Younger members are now quicker to pull triggers over simple disputes, police say, and the old codes of conduct and family dynamics have gradually been overshadowed by the drive for wealth and individual standing. Instead of being motivated by honor, turf and colors, so-called hybrid gangs appear more into the profits of criminal enterprise and boasting about their power on social media.
According to the National Gang Intelligence Center (NGIC), members can be as young as 12, and recruitment efforts in some cities now target elementary school students as early as first grade.
MOTIVATIONS OF GANG LIFE
Gang recruitment is considered a serious social problem. Risk factors tie to other social problems.
Poverty strongly correlates with cycles of addiction and abusive relationships, and children born into unstable homes naturally seek protection and opportunity.
In 2013, Psychology Today published a story by Robert Muller on the findings of investigative reporter Joe Killian, who years earlier had interviewed 40 gang members from Greensboro, N.C. They said gangs provided an "intense feeling of family," and that membership held the promise of Cinderella stories they'd seen in movies. "Coupled with a lack of support and guidance from positive role models, oftentimes a life of relative poverty and few alternate activities to occupy their attention, it becomes easy for these youth to be wooed by the false promise of a glamorous lifestyle and for older gang members to step into the role of mentor," Muller wrote.
Research out of England's University of Kent last year indicated that data on the mental health of gang members are scarce. The study points to anxiety, depression and post-traumatic stress disorder stemming from the violent lifestyle, and suggests that effects of being both victim and perpetrator are "likely to have a negative impact on their behavioral, social and psychological functioning."
Nationally, strategies that have proven successful in rooting out hybrid gangs include examining chronic offenders, tracing seized guns and taking better advantage of officer-initiated stops, though Sousa stresses that officers must be trained not to alienate or lose the trust of the community. He adds that gang members might not take any effort by law enforcement seriously, considering arrests a "badge of honor."
Although all-female gangs are less common — constituting two of the 557 documented gangs in the Las Vegas Valley — Sgt. Anthony Longo from Metro's gang unit said many of the same factors lure women to gangs: money, the thrill and the sense of camaraderie.
"The female gang part of gang membership has been there for almost as long as the male gang members," he said. "You just don't see them as often."
Often times, Longo said, male gang members let females, who may be their girlfriends or sisters, use their vehicles and stay at their houses in exchange for the females helping them commit crimes.
Police said there are about 1,500 documented female gang members and more than 13,500 documented male gang members in the Las Vegas Valley as of 2010.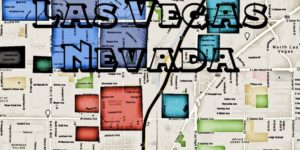 The Las Vegas hoods of the West Side in the heart of the city's community and where the community was started at, has many areas like Valley View, Crip City, Burgundy Square, Vegas Heights, 40 Block and more.
The West Side Las Vegas hoods biggest areas were the projects like Marble Manor known as the Coast or the Jetz in Sherman Gardens, along with the old projects of Herbert Gerson and Madison Terrace.
The Las Vegas gangs and hoods of North Town has areas like 004 Hoods or Hoodsmen, the Rose Gardens, White Street, DSV of Diana Street, and the notorious Donna Blocc.
Featured Image:  Las Vegas Gangs
Contributing Sources:  Review Journal   Las Vegas Sun  Las Vegas Sun
Related Articles:  Will Nevada Change the Way America Defines Terrorists