On October 21st at 7:35am The World Shook….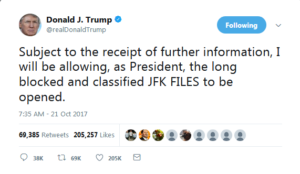 Over the years information has slowly leaked out about George H.W.Bush's "presence" in Dallas on November 22, 1963.
Despite his claims to the contrary, there is documentary evidence that George H. W. Bush was in Dallas on Nov. 22, 1963, and was affiliated at that time with the CIA, despite protests that he was not associated with the agency until President Gerald R. Ford appointed him director in 1976.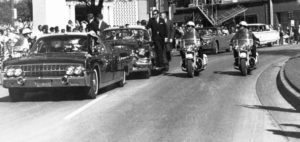 Two FBI memos and a photograph of a man standing outside the Texas School Book Depository are among the intriguing items addressed in Jerome Corsi's  book "Who Really Killed Kennedy".
The evidence is significant as Corsi broaches the question asked by some researchers of the assassination:
Was John F. Kennedy the first presidential victim of the emerging "New World Order" championed by former CIA directors Allen Dulles and George H. W. Bush?
Source – WND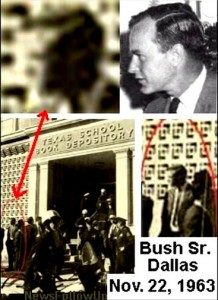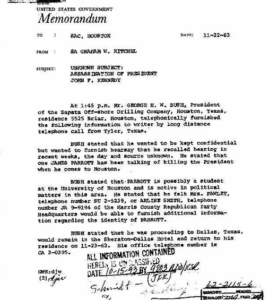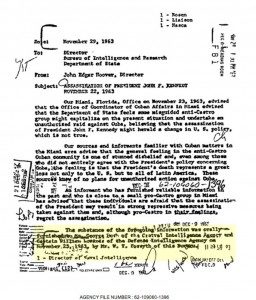 The Deathbed Confession of CIA Agent, E. Howard Hunt to his son on the JFK Assassination. Hunt was one of the people who brought down the Nixon Administration during the Watergate scandal. Made famous for being one of the "Plumbers" in the Watergate Hotel Break-In which eventually forced Nixon to resign. (YouTube video)
Consider the career of George H.W. Bush.  He was a Texas oilman (Zapata Oil) and a CIA operative, involved with the Bay of Pigs.  Bush's name was found in the papers of George DeMohrenschildt, one of Lee Harvey Oswald's CIA handlers.  As documented by Pete Brewton, author of The Mafia, the CIA and George Bush, Bush was deeply connected with a small circle of Texas elites tied to the CIA and the Mafia, as well as the Florida-based CIA/anti-Casto Cuban exile/Mafia milieu.  As Richard Nixon's hand-picked Republican National Committee chairman, and later as CIA director, Bush constantly covered-up and stonewalled for his boss about Watergate, which itself (by the admission of Frank Sturgis and others) was a cover-up of the JFK assassination.
Tracking any of the individual CIA operatives involved with the Bay of Pigs, it is impossible to ignore or deny direct connections to George H.W. Bush and his crime family, across the Kennedy assassinations, covert operations in Indochina and, later, Latin America.
Beyond any reasonable doubt, the US government murdered John F. Kennedy.  There are people still alive today who were involved directly and indirectly implicated.  Some are probably even serving in positions of high influence. Some still have never been identified or touched.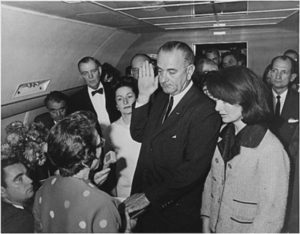 Most Americans who lived through the Kennedy assassination are very familiar with the photo to the right of Vice President Lyndon Johnson being sworn in as President aboard Air Force One.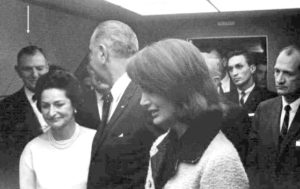 But very few people are aware of another photograph snapped just seconds later!
In this photo, Congressman Albert Thomas winks back at the brand-new President!
Source – What Really Happened
****************************************************
Now lets jump ahead 54 years into the 21st century…
The evening of October 21st at Texas A&M, the five remaining former presidents met for a benefit concert to support the victims of the multiple hurricanes that hit different parts of the country: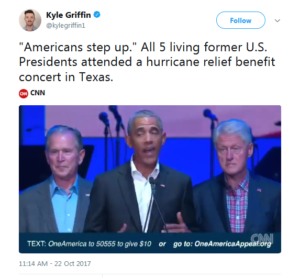 All five living former U.S. presidents put divergent politics aside and converged on Saturday inside a college sports arena in College Station, Texas to raise money and awareness for hurricane victims in Texas, Florida, Puerto Rico and the U.S. Virgin Islands.
"We've seen the spirit of America at its best," former president Barack Obama said, "when ordinary people step up and do extraordinary things."
Democrats Obama, Bill Clinton and Jimmy Carter joined Republicans George H.W. and George W. Bush on stage during a rousing concert that set politics aside to promote their joint venture in raising money for those battered by Hurricanes Harvey, Irma and Maria.
A website accepting donations, OneAmericaAppeal.org, was created with 100% of proceeds pledged to hurricane relief. The group, started shortly after Hurricane Harvey hit South Texas in August and expanded to help victims of other disasters, has so far raised $31 million according to USA Today.
Earlier in the day, former President Carter interviewed with NYTimes and stunned the nation with his support of President Trump and criticism of the Clinton Foundation slush funds and Obama's failure to deliver on his campaign promises.
Former President Carter shared on October 21: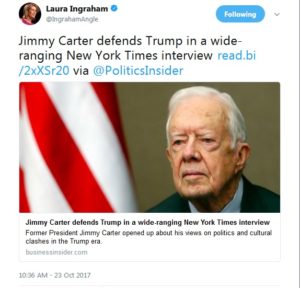 Jimmy Carter Unleashed: Russians Didn't Alter Election, Obama Didn't Deliver, We Didn't Vote For Hillary
At 93, Jimmy Carter is cutting loose.
The former president sat down with The New York Times recently and chatted about all kinds of subjects. The Times decided to play up the fact that Carter — one of the worst presidents in U.S. history — would love to go over to North Korea as an envoy.
But the Times is steadily proving how out of touch it is, and how it no longer seems to actually "get" what real news is. A recent Harvard study showed that 93% of new coverage about President Trump is negative.
Here a major highlight from the interview:
Carter defended Trump. "I think the media have been harder on Trump than any other president certainly that I've known about," Carter said. "I think they feel free to claim that Trump is mentally deranged and everything else without hesitation."
Source – The Daily Wire
Jimmy Carter Wants To Help Trump With North Korea; RIPS Clinton Foundation!