Thomas Wictor describes what he has penned – The Trump Doctrine – with a list of fantastic examples.
Rex Tillerson describes the first pillar of the Trump Doctrine in one sentence during his remarks with Qatari Foreign Minister Sheikh Mohammed bin Abdulrahman al-Thani on October 22, 2017.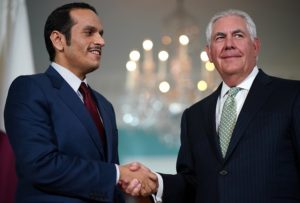 We cannot force talks upon people who are not ready to talk, so there has been no invitation to the White House because it's not clear the parties are ready to engage. But we are going to continue to work towards that dialogue and toward that engagement. But as I said in response to an earlier question, we cannot and will not impose a solution on anyone. Department of State
King Abdullah II of Jordan describes the second pillar of the Trump Doctrine.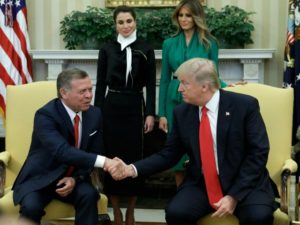 No doubt, with all the challenges that we face in the world, the role of the U.S. is key to all the issues that we have around the world, but it's not just the fact that we should expect the United States to do all the heavy lifting. The heavy lifting has to be done by all of us in the international community to support the United States in being able to translate that vision into the right direction. So there's a lot of responsibility for all of us in the international community to support the President, the administration, and the American people to bring brighter days to all of us. The White House
What's the third pillar of the Trump Doctrine, the pillar that allows the doctrine to stand?
Teddy Roosevelt, throughout his political life, felt that being prepared for conflict was the best recourse the United States had to prevent war. He believed that if the U.S. made a show of force to the rest of the world, other nations might be more hesitant to challenge the American military. As a corollary to this, he also understood that the threat of force rather than force itself was often sufficient to deter military conflict. He summarized this belief with an old African proverb, "Speak softly and carry a big stick, and you will go far." The third pillar of the Trump Doctrine is "Speak loudly and conceal both your weapons and the conditions under which you use them."
We have inarguable evidence that the third leg of the Trump Doctrine is effective in bringing rogue states into line. North Korea has for DECADES shouted that it would destroy anyone who didn't obey. Donald Trump is the first US president to use North Korea's own rhetoric against it.
Trump Threatens 'Fire and Fury' Against North Korea if It Endangers U.S.
President Trump threatened on Tuesday to unleash "fire and fury" against North Korea if it endangered the United States, as tensions with the isolated and impoverished nuclear-armed state escalated into perhaps the most serious foreign policy challenge yet of his administration.
In chilling language that evoked the horror of a nuclear exchange, Mr. Trump sought to deter North Korea from any actions that would put Americans at risk. But it was not clear what specifically would cross his line. Administration officials have said that a pre-emptive military strike, while a last resort, is among the options they have made available to the president.
"North Korea best not make any more threats to the United States," Mr. Trump told reporters, "They will be met with fire and fury like the world has never seen." The New York Times
What was the result?
October 10 North Korean holiday passes without incident. Did Kim Jong-un just blink?
THE conditions were right. The rhetoric was hot. But October 10 has passed — and with it a prime time for Kim Jong-un to launch a missile. What changed?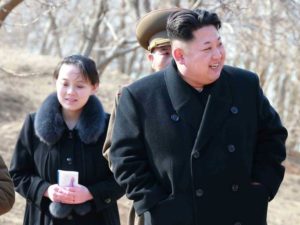 SOUTH Korea says it is continuing to carefully monitor activity north of the Demilitarised Zone after Pyonyang marked an October 10 national holiday in an unusually sedate manner.
It didn't set off a nuclear device.
It didn't lob any missiles towards Japan.
This is uncharacteristic.
Especially for such a significant date on its national calendar — the foundation of its governing Workers Party of Korea in 1945.
"We are maintaining a thorough readiness posture in preparation for North Korea's possible provocations," South Korean Joint Chiefs of Staff (JCS) spokesman Army Colonel Roh Jae-cheon told local media.
South Korea's Presidential Office also warned reporters that Pyonyang was capable of launching missiles at a moment's notice — but added there appeared to be no signs it had any intention of doing so. News.com.AU
North Korea taps GOP analysts to better understand Trump and his messages
North Korean government officials have been quietly trying to arrange talks with Republican-linked analysts in Washington, in an apparent attempt to make sense of President Trump and his confusing messages to Kim Jong Un's regime.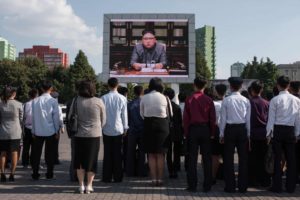 The outreach began before the current eruption of threats between the two leaders but probably will become more urgent as Trump and Kim have descended into name-calling that, many analysts worry, sharply increases the chances of potentially catastrophic misunderstandings.
"Their number-one concern is Trump. They can't figure him out," said one person with direct knowledge of North Korea's approach of experts on Asia with Republican connections. Washington Post
 And:
U.S. imposes more sanctions on North Korea
Tightening pressure on nuclear-armed North Korea and its allies, the Trump administration on Tuesday announced another round of economic sanctions against Pyongyang, blacklisting banks and individuals in several countries.
Even as the administration stepped up the economic pressure, President Trump repeated his warnings of possible military action.
"Not a preferred option," he told reporters. "But if we take that option, it will be devastating, I can tell you that, devastating for North Korea."
Trump spoke at a brief White House news conference with visiting Spanish Prime Minister Mariano Rajoy, who agreed that North Korea posed an urgent danger and said he supported the U.S. sanctions.
***
In the past, US presidents supported the status quo because they were told that changing it was too hard. What's happening NOW is that President Trump has made the Pentagon and the State Department partners rather than rivals.
Here's a little secret that people don't know:
Most political leaders encourage infighting. Most political leaders are in it for themselves. Infighting serves several selfish purposes. If everyone in your organization is fighting everyone else, then YOU get to be the daddy who steps in. Remember being a kid and fighting your siblings? "I'm gonna tell!"  Also, infighting preserves the status quo. "I tried, but muh team let me down. I'll have another mimosa. Let's go golfing!" Every member of the Trump administration is a revolutionary. This is a one-time deal. Infighting is for puny losers.
More evidence that "Speak loudly and conceal both your weapons and the conditions under which you use them" is effective:
Trump designates Iran Revolutionary Guard Corps as a terrorist group, calls for more sanctions
The Trump administration on Friday designated Iran's Islamic Revolutionary Guard Corps as a terrorist organization, a move that President Trump followed up with by calling for tougher sanctions against the organization.
"I am authorizing the Treasury Department to further sanction the entire Islamic Revolutionary Guard Corps for its support for terrorism and to apply sanctions to its officials, agents, and affiliates," Trump said in a White House speech.
"I urge our allies to join us in taking strong actions to curb Iran's continued dangerous and destabilizing behavior," Trump added.
"The IRGC has played a central role to Iran becoming the world's foremost state sponsor of terror," Treasury Secretary Steven Mnuchin said Friday. "We urge the private sector to recognize that the IRGC permeates much of the Iranian economy, and those who transact with IRGC-controlled companies do so at great risk." Washington Examiner
***
I read two dozen pieces about how the idiot Trump had just strengthened the IRGC. WELL, GUESS WHAT?
Iran Saps Strength of Revolutionary Guards With Arrests and Cutbacks
From its nine-story headquarters in an upscale neighborhood of Tehran, a giant construction company directs its operations across Iran, building mosques, airports, oil and gas installations, hospitals, and skyscrapers.
Armed guards stand watch at the doors, and small posters on its exterior walls honor Iranians who have died in the current wars in Syria and Iraq.
But this is not just any company. Khatam-al Anbiya, whose name means "seal of the prophet," is the most important economic arm of Iran's elite Islamic Revolutionary Guards Corps. It employs nearly 1.5 million people, including subcontractors, and is led by a military commander.
Yet the company's outward signs of strength belie the powerful currents of change that are eroding its business. A crackdown is being led by Iran's president, Hassan Rouhani, who ran for office promising to unleash economic growth by completing a nuclear deal and freeing the country from international sanctions. New York Times
***
The Iranian government–WITH THE SUPPORT OF KHAMENEI–is cutting funds to the IRGC and arresting its leaders.
Trump has been in office nine months. What will the world look like in 2024? "Pretty darn great" is my prediction.
Excellent job, @realDonaldTrump.
The Trump Doctrine is what the world needed…
By: Thomas Wictor