So who is really behind the Russian Dossier?  The list of players ebb and flow daily around a cast of likely suspects but when the truth finally is revealed, WILL YOU BE SURPRISED??
No, The "Russian Dossier" Did Not Begin With GOP it Began With Clinton, The DNC and the FBI…
VIA — CONSERVATIVE TREEHOUSE — SUNDANCE
There is a tremendous amount of obfuscation coming from democrats after the revelation that Hillary Clinton and the DNC paid Fusion GPS to contract Christoper Steele to create the now infamous "Dossier". One of the most significant falsehoods is that the dossier origins began with an unknown GOP entity within the primary. This narrative is entirely false.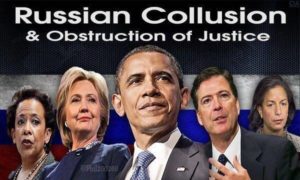 The "Russian Dossier" did not begin assembly until after it was commissioned by Hillary Clinton and the DNC (June 2016). Prior to that Fusion GPS was simply doing opposition research on behalf of a Trump opponent (stopped April 2016).
We likely know, with great confidence, exactly who that 2016 originating Trump opponent was. Thanks to: the timing, the originating entities, the associations and the player networks behind the 2015 GOP road map splitter strategy. I'll get to that aspect later.
First it's important to frame a correct baseline. Fusion GPS was doing commissioned opposition research. AFTER April 2016, the Clinton Campaign and DNC then began financing Fusion GPS to create the "Russian Dossier". Christopher Steele began in June 2016 – The "Russian dossier" did not start assembly until commissioned by Clinton and the DNC. This distinction is important.
What began as ordinary commissioned opposition research into candidate Donald Trump back in 2015, stopped in April 2016. This date is important because two key people, allies in the GOPe roadmap for Jeb Bush, took action at the exact same time the oppo-research was discontinued.
Candidate Jeb Bush dropped out of the race (Feb 20th,2016); and not long after Rupert Murdoch dropped out of his influence campaign after losing his alternate (Rubio – March).
Christopher Steele was the retired British MI6 operative who authored the "Russian Dossier". Mr. Steele also formerly worked under Sir John Macleod Scarlett, a retired senior British Intelligence Officer in Moscow before Steele starting his own "consulting" business, Orbis in 2009.
Sir John Scarlett was behind the Tony Blair dossier claiming Saddam had deliverable weapons of mass destruction. He has experience trafficking fabricated charges and putting them in the hands of powerful people. However, more importantly, since 2011 Scarlett also sits on the board of Rupert Murdoch´s rebranded News UK, formerly News International.
This network is the likely connection between Rupert Murdoch wanting to aid the Jeb Bush candidacy and connect opposition research via familiar intelligence gathering operatives in the U.K. It is highly likely, though not certain, THE ORIGINATING FINANCES FOR THE GOP "OPPOSITION RESEARCH" ON TRUMP, VIA FUSUION GPS, CAME FROM RUPERT MURDOCH.
Rep. Stefanik begins by asking director Comey what are the typical protocols, broad standards and procedures for notifying the Director of National Intelligence, the White House and senior congressional leadership (aka the intelligence GANG OF EIGHT), when the FBI has opened a counter-intelligence investigation.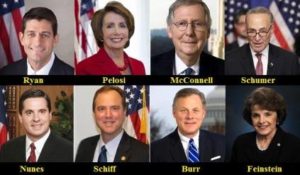 Rep. Elise Stefanik asks questions at Comey hearing                      (7.08 Video)
Rep. Elise M. Stefanik, R-Willsboro, asks questions during a House Permanent Select Committee on Intelligence hearing with FBI Director James Comey about an investigation into Russian interference in the presidential election and whether associates of President Donald Trump were in contact with Moscow.
The uncomfortable aspect to this line of inquiry is Comey's transparent knowledge of the politicized Office of the DNI James Clapper by President Obama. Clapper was used rather extensively by the Obama Administration as an intelligence shield, a firewall or useful idiot, on several occasions.
Anyone who followed the Obama White House intel policy outcomes will have a lengthy frame of reference for DNI Clapper and CIA Director John Brennan as the two primary political operatives. Brennan admitted investigating, and spying on, the Senate Intelligence Committee as they held oversight responsibility for the CIA itself.
The first and second questions from Stefanik were clear. Comey's understanding of the questions was clear. However, Comey directly evaded truthful response to the second question. When you watch the video, you can see Comey quickly connecting the dots on where this inquiry was going.
There is only one reasonable explanation for FBI Director James Comey to be launching a counter-intel investigation in July 2016, notifying the White House and Clapper, and keeping it under wraps from congress. Comey was a participant in the intelligence gathering for political purposes – wittingly, or unwittingly.
As a direct consequence of this mid-thought-stream Comey obfuscation, it is now clear -at least to me- that Director Comey was using his office as a facilitating conduit for the political purposes of the Obama White House.
RUPERT MURDOCH … SOURCE OF RUSSIAN DOSSIER FUNDING ???????
VIA — CASH McCALL —
Just the facts Ma'am. Tonight nearing the Donald Trump Inauguration, people across the globe are asking who was the shadowy Republican figure that funded the Golden Shower dossier on Trump? We don't know. But our professional street wise gumshoes think they have a suspect in mind.
DID RUPERT MURDOCH ORDER TRUMP DOSSIER? Judge for yourself.
ALL ROADS LEAD RIGHT STRAIGHT TO MURDOCH!
He's a smug old bird isn't he?
Gumshoe Logic: People operate through familiar channels:
For now let's call this big shot Republican donor Mr. X. What do we know? We know that Mr. X contacted a Washington DC Based Firm named FUSION GPS through a knowledgeable and trusted intermediary. Fusion GPS hired London base Orbis Business Intelligence, founded by ex-British spies Christopher Steele and Christopher Burrows. The purpose was auspiciously to dig up dirt on Donald J. Trump and to use that dirt or spin to defeat his nomination.
CASH McCALL — Rupert's failed attempts to derail Trump:
Rupert Murdoch got worried when he boy Ellis Bush was getting carpet bombed by Trump and Rubio.
Murdoch held Rodger Ailes to blame for Trump's growing popularity. Murdoch needed a reason to offload Ailes so Fox would swing to the more progressive. In the end Murdoch used Torpedo Megyn Kelly to charge Ailes with "sexual harassment" because ten years previous Ailes had "hugged" Megyn Kelly and "Made her feel uncomfortable." The focus here was on the GENDER WARS! Murdoch seized the chance and fired Ailes. Unfortunately for Murdoch, Megyn Kelly got herself in trouble with the Fox news base for locking horns with Trump. This improved Kelly's liberal progressive following and not long after Megyn Kelly deserted Fox for NBC a more liberal venue. Ain't she just wonderful?
We maintain that Murdock seized on the sexually salacious anti-female theme in order to derail Trump. In desperation he contacted Fusion GPS to get sexually explicit information on Trump. It all began because of a RICH Desperate man named Murdoch. Murdoch had failed repeatedly on his own and needed the help of experts. The plan grew from there.
CASH McCALL — How does McCain fit into this?
McCain was the flunky. Murdoch regards McCain as impulsive, stupid, and unreliable. I think he's being generous. The decision to contact McCain was to play on McCain's ego. McCain is a natural born liar. Read his autobiography. Here is a guy that was shot down in Vietnam by Triple A because he was a fool that evaded protocols. But in his book, there is a dramatic tale of being shot down by a SAM missile. Trouble is that the description of the downing of the aircraft was lifted from another Airman's diary. The US Government official report says McCain was hit by Triple A for not following procedures. What else is new. In his short career as a bomber pilot, McCain never hit a single military target. The more you know about McCain the more you can't stand him.
TWO STORIES HOW McCAIN GOT THE DOSSIER:
First is a story that some toad named David J. Kramer of the…. get this… ASU's "McCain Institute for International Leadership." According to this, Kramer gave McCain a copy of the document in December of 2016. Kramer formerly worked for the State Department under War Criminal George W. Bush.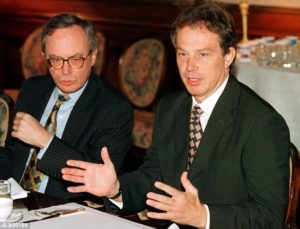 The second story claims that Schmuck Andrew Wood [By convention any British "Sir" we exchange with the more appropriate royal title "Schmuck." We in America DO NOT ALLOW royals to set foot in our country using royal titles. The Queen is just the OLD BAG to us.] Wood is alleged to have met with McCain in Canada and informed him of the existence of said Dodgy Dossier. Wood also claims he never gave McCain a copy nor had he seen it he said. Wood may have told McCain, "This information is now in the hands of British Intelligence and maybe your FBI should be informed."
Schmuck Andrew Wood with none other than his pal TONY BLAIR… All Roads lead to Murdoch
CASH McCALL — McCAIN ENTERS
The next question is who did McCain send to Moscow fetch the document?
We think it was David J. Kramer. This is how the news picked up what looked like conflicting stories but this is likely how it went down. Of course ask John McCain. I am sure he will be glad to furnish a raft of fiction to cover his worthless backside. He may even tell you the heroic story of how he was shot down by a SAM Missile. What a loser.
McCain moved so slowly it all became irrelevant:
Murdoch always said McCain was unreliable and rather stupid. Comey of the FBI who had already seen most of the documents in September or October was probably wondering why that old Glue Horse McCain was handing him these documents and where he got them.
Think about this: Citizen McCAIN!
If you were the FBI Director and some old out of touch shill like McCain handed you a salacious document critical of his arch enemy, wouldn't the FBI ask, "Where did you get this?"
Instead McCain says he told COMEY he received this document and was doing what any good citizen would do. Which is what exactly? McCain sent somebody to London for the document. That is hardly "receiving it."
McCain says there was no conversation about it and that was the end of it. I can see them just standing there sort of nodding. With that Comey had to know the document was fake having been planted by two sources to the FBI, one in Rome and now from this old faggot with a Trump grudge. [The nice part about calling anyone a faggot these days is that its regarded as complementary in liberal circles. In fact calling somebody a Heterosexual is probably a HATE CRIME!] McCain has both feet in the same sex and Military Transgender movement. And may as well add global warming and Illegal Immigrant Amnesty.
It was unquestionably McCain that told the Clinton Campaign about giving the FBI the document.
That's why Hillary continued to harp post election about Trump's locker room talk and the Russians. John McCain is such a backstabber that you almost can't imagine him not finding some way to knife somebody in the back. To me it is incredible that he gets re-elected. Must be Democrats pushing him back in over and over. Why would any Republican vote for that guy?
CASH McCALL — (THIS AND MORE) >>> Once Trump won the nomination, Murdoch dropped out of the scam.
He knew he had to fake friendliness to Trump so he kissed the ring. Meanwhile the Democratic Party seizing on the dead horse of Russian Hacking salacious sex charges continued to pursue this fake story and distributed it. That moment was easily identifiable when Hillary Clinton was harping on Russian Hacking after the election and Trump locker room talk. What a bunch of filthy punks.
CASH McCALL — final statement .. "…REAL NEWS not fictional British Intelligence Con Artist scams, WE SPEAK AAA MERICAN HERE BOY…"
Then there is this article that is sourced…
VIA — TALKING POINTS MEMO — Did The Trump-Russia Dossier Grow Out Of Jeb Bush's Super PAC?, by Kristin Salaky, January 11, 2017
Following the publication of a dossier containing explosive and unverified info on Donald Trump and Russia, BBC News reported Wednesday that it originated in opposition research done by a former British intelligence officer working for a Super PAC supporting none other than Jeb Bush.
If that sounds like a too-good-to-be-true political plot twist, that's because maybe it is—a lawyer for the PAC told TPM it "had nothing to do with British Intelligence officers."
The Guardian reported earlier Wednesday that the former British intelligence official credited with compiling the dossier on the alleged Russia-Trump ties had been working as a subcontractor for an opposition research firm digging up dirt for one of Trump's Republican presidential primary opponents. The article pointed out that often, research firms do not know who exactly who is hiring them.
The Guardian's report did not name who the opposition research firm's client was. But BBC News' Paul Wood later reported, without citing any sources, that "the opposition research firm that commissioned the report had worked first for a superpac – political action committee – supporting Jeb Bush during the Republican primaries."
***
and this one…
NEW YORK TIMES — What to Know About the Dossier of Trump Research and Who Paid for It, by Kenneth P. Vogel, October 25, 2017
WASHINGTON — The so-called Steele dossier of research into President Trump's connections to Russia is back in the news, with the revelation that it was at least partly funded by Hillary Clinton's presidential campaign and the Democratic National Committee.
What is the dossier?
It is a 35-page collection of research memos written by Christopher Steele, a respected former British intelligence agent, primarily during the 2016 presidential campaign. The memos allege a multifaceted conspiracy between the Trump campaign and the Russian government to help Mr. Trump defeat Mrs. Clinton. The memos also detail unsubstantiated accounts of encounters between Mr. Trump and Russian prostitutes, and real estate deals that were intended as bribes, among other claims about Mr. Trump's businesses.
Who paid for it?
During the Republican primaries, a donor opposed to Mr. Trump becoming the party's presidential candidate retained a research firm called Fusion GPS to unearth potentially damaging information about Mr. Trump. The donor has never been identified, but several possible suspects have denied responsibility, including officials from the so-called super PACs that supported the rival campaigns of Senator Marco Rubio of Florida and former Gov. Jeb Bush of Florida.
After Mr. Trump secured the nomination, Fusion GPS was hired on behalf of Mrs. Clinton's campaign and the D.N.C. by their law firm, Perkins Coie, to compile research about Mr. Trump, his businesses and associates — including possible connections with Russia. It was at that point that Fusion GPS hired Mr. Steele, who has deep sourcing in Russia, to gather information.
Does it matter who paid for it?
That depends on your politics.
Republicans have criticized the dossier since it was first publicly disseminated when Buzzfeed published it in January. Mr. Trump has blasted it as "fake news" and "phony stuff," and alleged that it is part of a broader witch hunt intended to cast doubt on his victory. His allies now contend that the allegations in the dossier are discredited by the fact that it was funded at least partially by the Clinton campaign and the D.N.C. Mr. Trump asserted on Wednesday in an interview with Fox Business Network's "Lou Dobbs Tonight" that the Democrats' payments for the research were "the real collusion."
Democrats argue that who paid for the research is irrelevant to the veracity of its claims, which they say should be thoroughly investigated. Yet some of the Democrats who funded the dossier have been leery about being associated with it. THE LEAD PERKINS COIE LAWYER REPRESENTING BOTH THE CAMPAIGN AND THE D.N.C., MARC ELIAS, pushed back earlier this year when asked whether his firm was the client for the dossier, whether he possessed it before the election and whether he was involved in efforts to encourage media outlets to write about its contents.
On Tuesday, the veteran Democratic consultant Anita Dunn, who is working with Perkins Coie, explained Mr. Elias's earlier response. "Obviously, he was not at liberty to confirm Perkins Coie as the client at that point, and should perhaps have 'no commented' more artfully," Ms. Dunn wrote in an email.
Is this sort of research common or legal?
Campaigns and party committees frequently pay companies to assemble what's known in politics as opposition research — essentially damaging information about their opponents — and nothing is illegal about the practice.
However, Republicans and campaign watchdogs have accused the Clinton campaign and the D.N.C. of violating campaign finance laws by disguising the payments to Fusion GPS on mandatory disclosures to the Federal Election Commission. Their disclosure reports do not list any payments from the Clinton campaign or the D.N.C. to Fusion GPS. They do list a total of $12.4 million in payments to Perkins Coie, but that's almost entirely for legal consulting, with only one payment — of $66,500 — for "research consulting" from the D.N.C.
In a complaint filed with the F.E.C. on Wednesday, the Campaign Legal Center, a nonprofit group that urges stricter enforcement of election laws, alleged that "at least some of those payments were earmarked for Fusion GPS, with the purpose of conducting opposition research on Donald Trump." The complaint asserts that the failure to list the ultimate purpose of that money "undermined the vital public information role that reporting is intended to serve."
Graham M. Wilson, a partner at Perkins Coie, called the complaint "patently baseless," in part because, he said, the research was done "to support the provision of legal services, and payments made by vendors to sub-vendors are not required to be disclosed in circumstances like this."
Who else knew about Mr. Steele's research during the campaign?
Officials from the Clinton campaign and the D.N.C. have said they were unaware that Perkins Coie facilitated the research on their behalf, even though the law firm was using their money to pay for it. Even Mrs. Clinton only found about Mr. Steele's research after Buzzfeed published the dossier, according to two associates who discussed the matter with her. They said that she was disappointed that the research — as well as the fact that the F.B.I. was looking into connections between Mr. Trump's associates and Russia — was not made public before Election Day.
But word of the memos and their contents had circulated in Washington political and media circles before the election. In British court filings, Mr. Steele's lawyers said that he and Fusion GPS briefed journalists from a range of media outlets, including The New York Times, on his research starting in September of 2016.
YET THE RESEARCH AND EVEN THE EXISTENCE OF THE DOSSIER WERE NOT REPORTED BY THE MEDIA, WITH THE EXCEPTION OF MOTHER JONES MAGAZINE, WHICH PUBLISHED A STORY IN THE DAYS BEFORE THE ELECTION THAT DESCRIBED THE DOSSIER, ITS ORIGIN AND SIGNIFICANCE, while omitting the salacious claims.
How much of the dossier has been substantiated?
There has been no public corroboration of the salacious allegations against Mr. Trump, nor of the specific claims about coordination between his associates and the Russians. In fact, some of those claims have been challenged with supporting evidence. For instance, Mr. Trump's longtime personal lawyer, Michael D. Cohen, produced his passport to rebut the dossier's claim that he had secret meetings in Prague with a Russian official last year.
Where does the dossier fit in with the government's Russia investigations?
James B. Comey, the former F.B.I. director whose firing by Mr. Trump prompted the appointment of a special counsel to oversee the Justice Department's Russia investigation, received a copy of the memos after Election Day from Senator John McCain, Republican of Arizona. Mr. McCain had dispatched David J. Kramer, a former top State Department official, to obtain the dossier directly from Mr. Steele. And before Election Day, the F.B.I. reached an agreement to pay Mr. Steele to continue his research, though that plan was scrapped after the dossier was published. During the presidential transition, senior American intelligence officials briefed Mr. Trump and President Barack Obama on the dossier.
Investigators from the House and Senate intelligence committees and Mr. Mueller's team have been exploring claims made in the dossier. Mr. Mueller's team reportedly interviewed Mr. Steele over the summer.
***
and the original breaking article on this subject came from Mother Jones below…
VIA — MOTHER JONES — A Veteran Spy Has Given the FBI Information Alleging a Russian Operation to Cultivate Donald Trump – Has the bureau investigated this material?, by David Corn, October 31, 2016
On Friday, FBI Director James Comey set off a political blast when he informed congressional leaders that the bureau had stumbled across emails that might be pertinent to its completed inquiry into Hillary Clinton's handling of emails when she was secretary of state. The Clinton campaign and others criticized Comey for intervening in a presidential campaign by breaking with Justice Department tradition and revealing information about an investigation—information that was vague and perhaps ultimately irrelevant—so close to Election Day. On Sunday, Senate Minority Leader Harry Reid upped the ante. He sent Comey a fiery letter saying the FBI chief may have broken the law and pointed to a potentially greater controversy: "In my communications with you and other top officials in the national security community, it has become clear that you possess explosive information about close ties and coordination between Donald Trump, his top advisors, and the Russian government…The public has a right to know this information."
Reid's missive set off a burst of speculation on Twitter and elsewhere. What was he referring to regarding the Republican presidential nominee? At the end of August, Reid had written to Comey and demanded an investigation of the "connections between the Russian government and Donald Trump's presidential campaign," and in that letter he indirectly referred to Carter Page, an American businessman cited by Trump as one of his foreign policy advisers, who had financial ties to Russia and had recently visited Moscow. Last month, Yahoo News reported that US intelligence officials were probing the links between Page and senior Russian officials. (Page has called accusations against him "garbage.") On Monday, NBC News reported that the FBI has mounted a preliminary inquiry into the foreign business ties of Paul Manafort, Trump's former campaign chief. But Reid's recent note hinted at more than the Page or Manafort affairs. And a former senior intelligence officer for a Western country who specialized in Russian counterintelligence tells Mother Jones that in recent months he provided the bureau with memos, based on his recent interactions with Russian sources, contending the Russian government has for years tried to co-opt and assist Trump—and that the FBI requested more information from him.
But a senior US government official not involved in this case but familiar with the former spy tells Mother Jones that he has been a credible source with a proven record of providing reliable, sensitive, and important information to the US government.
IN JUNE, the former Western intelligence officer—who spent almost two decades on Russian intelligence matters and who now works with a US firm that gathers information on Russia for corporate clients—was assigned the task of researching Trump's dealings in Russia and elsewhere, according to the former spy and his associates in this American firm. THIS WAS FOR AN OPPOSITION RESEARCH PROJECT ORIGINALLY FINANCED BY A REPUBLICAN CLIENT CRITICAL OF THE CELEBRITY MOGUL. (Before the former spy was retained, the project's financing switched to a client allied with Democrats.) "It started off as a fairly general inquiry," says the former spook, who asks not to be identified. But when he dug into Trump, he notes, he came across troubling information indicating connections between Trump and the Russian government. According to his sources, he says, "there was an established exchange of information between the Trump campaign and the Kremlin of mutual benefit."
This was, the former spy remarks, "an extraordinary situation." He regularly consults with US government agencies on Russian matters, and near the start of July on his own initiative—WITHOUT THE PERMISSION OF THE US COMPANY THAT HIRED HIM–HE SENT A REPORT HE HAD WRITTEN FOR THAT FIRM TO A CONTACT AT THE FBI, according to the former intelligence officer and his American associates, who asked not to be identified. (He declines to identify the FBI contact.) The former spy says he concluded that the information he had collected on Trump was "sufficiently serious" to share with the FBI.
Mother Jones has reviewed that report and other memos this former spy wrote. The first memo, based on the former intelligence officer's conversations with Russian sources, noted, "Russian regime has been cultivating, supporting and assisting TRUMP for at least 5 years. Aim, endorsed by PUTIN, has been to encourage splits and divisions in western alliance." It maintained that Trump "and his inner circle have accepted a regular flow of intelligence from the Kremlin, including on his Democratic and other political rivals." It claimed that Russian intelligence had "compromised" Trump during his visits to Moscow and could "blackmail him." It also reported that Russian intelligence had compiled a dossier on Hillary Clinton based on "bugged conversations she had on various visits to Russia and intercepted phone calls."
The former intelligence officer says the response from the FBI was "shock and horror." The FBI, after receiving the first memo, did not immediately request additional material, according to the former intelligence officer and his American associates. Yet IN AUGUST, they say, THE FBI ASKED HIM FOR ALL INFORMATION IN HIS POSSESSION AND FOR HIM TO EXPLAIN HOW THE MATERIAL HAD BEEN GATHERED AND TO IDENTIFY HIS SOURCES. The former spy forwarded to the bureau several memos—some of which referred to members of Trump's inner circle. After that point, he continued to share information with the FBI. "It's quite clear there was or is a pretty substantial inquiry going on," he says.
"This is something of huge significance, way above party politics," the former intelligence officer comments. "I think [Trump's] own party should be aware of this stuff as well."
The Trump campaign did not respond to a request for comment regarding the memos. In the past, Trump has declared, "I have nothing to do with Russia."
The FBI is certainly investigating the hacks attributed to Russia that have hit American political targets, including the Democratic National Committee and John Podesta, the chairman of Clinton's presidential campaign. But there have been few public signs of whether that probe extends to examining possible contacts between the Russian government and Trump. (In recent weeks, reporters in Washington have pursued anonymous online reports that a computer server related to the Trump Organization engaged in a high level of activity with servers connected to Alfa Bank, the largest private bank in Russia. On Monday, a Slate investigation detailed the pattern of unusual server activity but concluded, "We don't yet know what this [Trump] server was for, but it deserves further explanation." In an email to Mother Jones, Hope Hicks, a Trump campaign spokeswoman, maintains, "The Trump Organization is not sending or receiving any communications from this email server. The Trump Organization has no communication or relationship with this entity or any Russian entity.")
According to several national security experts, there is widespread concern in the US intelligence community that Russian intelligence, via hacks, is aiming to undermine the presidential election—to embarrass the United States and delegitimize its democratic elections. And the hacks appear to have been designed to benefit Trump. In August, Democratic members of the House committee on oversight wrote Comey to ask the FBI to investigate "whether connections between Trump campaign officials and Russian interests may have contributed to these [cyber] attacks in order to interfere with the US. presidential election." In September, Sen. Dianne Feinstein and Rep. Adam Schiff, the senior Democrats on, respectively, the Senate and House intelligence committees, issued a joint statement accusing Russia of underhanded meddling: "Based on briefings we have received, we have concluded that the Russian intelligence agencies are making a serious and concerted effort to influence the U.S. election. At the least, this effort is intended to sow doubt about the security of our election and may well be intended to influence the outcomes of the election." The Obama White House has declared Russia the culprit in the hacking capers, expressed outrage, and promised a "proportional" response.
There's no way to tell whether the FBI has confirmed or debunked any of the allegations contained in the former spy's memos. But a Russian intelligence attempt to co-opt or cultivate a presidential candidate would mark an even more serious operation than the hacking.
IN THE LETTER REID SENT TO COMEY ON SUNDAY (NOTE: This was August 27, 2016), HE POINTED OUT THAT MONTHS AGO HE HAD ASKED THE FBI DIRECTOR TO RELEASE INFORMATION ON TRUMP'S POSSIBLE TIES. SINCE THEN, according to a Reid spokesman, REID HAS BEEN BRIEF SEVERAL TIMES. The spokesman adds, "He is confident that he knows enough to be extremely alarmed."
***
then there is further sourced information here…
VIA — NEW YORK TIMES — Harry Reid Cites Evidence of Russian Tampering in U.S. Vote, and Seeks F.B.I. Inquiry, by David E. Sanger, August 29, 2016
***
and here…
VIA — WASHINGTON POST — Democrats ask the FBI to investigate Trump advisers' Russia ties, By Josh Rogin, August 30, 2016
On Monday, The New York Times broke the story of Senate Minority Leader Harry Reid's August 27 letter to FBI Director James Comey asking the bureau to investigate alleged Russian interference in the U.S. presidential election, which followed new reports that foreign hackers penetrated two state election databases. In the same letter, without naming them directly, Reid pointed Comey to two specific Trump advisers, each of whom is allegedly connected to Russia, according to Reid and the Clinton campaign.
Reid's letter implicitly asks Comey to look into the dealings of Roger Stone, the longtime Trump friend who has claimed to be in touch with Wikileaks founder Julian Assange, and Carter Page, a Trump foreign policy advisor who traveled to Moscow in July.
***
VIA — YOUR NZ — (August 27, 2016) Letter – Harry Reid to James Comey
***
ANOTHER LETTER — OCTOBER 30, 2016 — Harry Reid's full letter to Director Comey. …. (2 pages, pdf file)
***************************************************
GREAT SUMMARY OF EVENTS
WAS COMEY TOO TARDY TO INVESTIGATE THE RUSSIAN PLOT?
Given what we now know, there is a need for independent investigations both of the concerns that the White House raises but also to know whether the FBI failed to properly pursue Russia's intrusion into the DNC computer systems and reported contacts between Trump campaign associates and Russian agents and their intermediaries. FBI mishandling of the Russia file is of paramount importance as it raises acute concerns for our national security and the sanctity of our election process.
The contrast between these cases is stark: Investigations of the Trump team's suspected links to Russia—which could involve a severe national security threat and potentially direct impact on the election—were deliberately slowed down until after Nov. 8 out of concern that pursuing them might influence voters. Yet Comey took the extraordinary step of sending his letter on October 28 to Congress (before even seeking a warrant). In his message to staff that day, Comey said, "I also think it would be misleading to the American people were we not to supplement the record." (Comey's decision to lead the American people with this information right before the election is why the Office of Special Counsel is presumably now looking into whether he violated the Hatch Act.)
"Law enforcement officials say that none of the investigations so far have found any conclusive or direct link between Mr. Trump and the Russian government. And even the hacking into Democratic emails, F.B.I. and intelligence officials now believe, was aimed at disrupting the presidential election rather than electing Mr. Trump."
* * *
The point here is not to determine whether the FBI engaged in wrongdoing, or to say whether specific individuals were motivated by ideology or by misplaced concerns about upsetting the electorate. One strong possibility, for example, is that different actors within the FBI may have had different motivations in these investigations, many of them unbiased and professional but perhaps some of them not. The important point is that there is enough information in the record for a special prosecutor, Congress, and the Inspector General to investigate and make their own assessments. If there was no wrongdoing, these investigations can help clear the record and restore public trust in Director Comey and the Bureau. These investigations should also get at the underlying question of what evidence exists of Russian contacts and collaboration with Americans during the election—what information motivated the FBI to act or not act to protect our national security. We, accordingly, agree with the White House that the investigations should cover whether there is a basis for President Trump's claim that the FBI or others in the Obama Administration unlawfully wiretapped phones and, if there was surveillance of Trump with a warrant what evidence supported that warrant.
SO NOW THE QUESTION IS…. WHO PAID FOR THE RUSSIAN DOSSIER… CLINTON, MCCAIN, BUSH, DNC, JARRET OR MURDOCH????