WE THE PEOPLE NOT WE THE BLM
Stand and Fight for your Rights Against BLM and UN Agenda 21/2030
BLM's SELF HISTORICAL TIMELINE (1776 -2017) BLM Timeline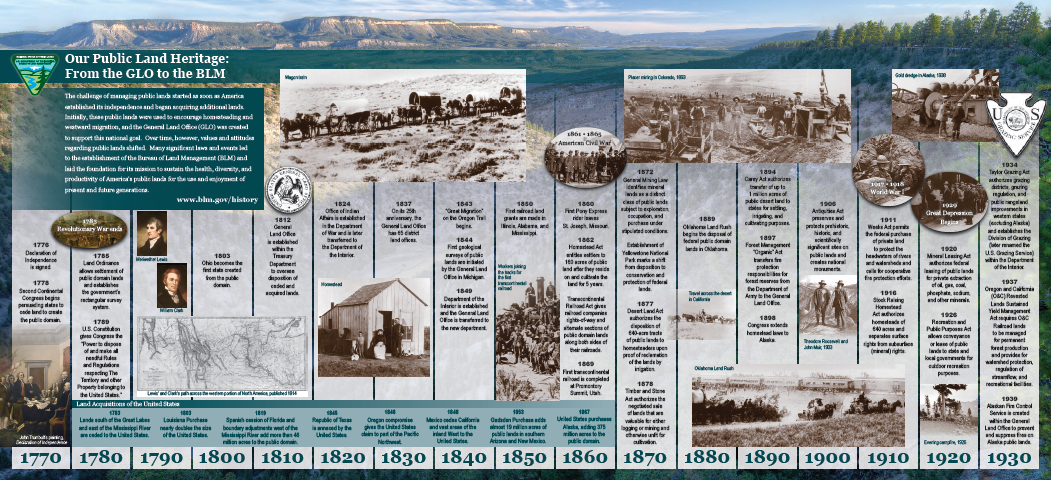 With historical roots dating back to the earliest days of the nation, the BLM administers the lands that remain from America's original "public domain."  Created in 1946 through a government reorganization during the Truman Administration, the BLM is the successor to the General Land Office (established in 1812) and the U.S. Grazing Service (originally called the Division of Grazing and renamed in 1939).
This year (2016), the BLM is commemorating two milestone events: its 70th anniversary as an Interior Department agency, and the 40th anniversary of the principal law defining its mission: the Federal Land Policy and Management Act of 1976, commonly referred to by its acronym of FLPMA.
As the manager of more land (245 million surface acres or one-tenth of America's land base) and more subsurface mineral estate (700 million acres) than any other government agency, the BLM carries out a dual mandate under FLPMA: that of managing public land for multiple uses (such as energy development, livestock grazing, mining, timber harvesting, and outdoor recreation) while conserving natural, historical, and cultural resources (such as wilderness areas, wild horse and wildlife habitat, artifacts, and dinosaur fossils).  In the language of FLPMA, the BLM's responsibility is to administer public lands "on the basis of multiple use and sustained yield" of resources.
What this means, on a practical level, is that the BLM – except in areas specifically set aside for conservation purposes – must multitask to fulfill its duties.  Nevertheless, consistent with the BLM's goal of good stewardship of public land resources, "multiple use" does not mean every use on every acre.
Below is a timeline of the BLM's history, which is primarily marked by the enactment of legislation that has guided the agency's mission, culminating in the passage of FLPMA, the BLM's legislative "charter," in 1976.
1776 — Declaration of Independence signed
1778 — Second Continental Congress, operating under the Articles of Confederation, begins persuading states to cede claimed land to create the public domain
1783 — Revolutionary War ends. Lands south of the Great Lakes and east of the Mississippi River are ceded by Britain to national government of Confederation
1785 — Land Ordinance adopted by Congress of the Confederation allows settlement of public domain lands and establishes Federal government's rectangular survey system
1787 — Drafting of U.S. Constitution begins
1788 — U.S. Constitution ratified, gives Congress the "power to dispose of and make all needful rules and regulations respecting the territory or other property belonging to the United States…"
1803 — Louisiana Purchase by the United States from France nearly doubles size of the nation. Ohio becomes first state created from the public domain.
1804-1806 — Lewis and Clark expedition
1812 — General Land Office, responsible for all public land sales, patents, and entries, is established within Treasury Department to oversee disposition of ceded and acquired lands. (As successor agency to the GLO, the BLM maintains more than nine million historical land documents: survey plats and field notes, homestead patents, military warrants, and railroad grants. Many of these records can be found at: www.glorecords.blm.gov.)
1819 — Spanish cession of Florida and boundary adjustments west of the Mississippi River add more than 46 million acres to the public domain
1845 — Republic of Texas, which had declared its independence from Mexico, is annexed by the United States
1846 — Oregon Treaty with Britain gives the United States claim to part of the Pacific Northwest
1848 — Mexico cedes California and vast areas of the inland West to the United States
1853 — Gadsden Purchase adds nearly19 million acres of public land in southern Arizona and New Mexico
1861-1865 — American Civil War
1862 — Homestead Act entitles Western settlers to 160 acres of public land after they reside on and cultivate the land for five years. (On Jan. 1, 1863, Daniel Freeman and 417 others file the first homestead claims. By 1934, over 1.6 million homestead applications are processed, passing more than 270 million acres of public domain into private ownership.)
1862 — Transcontinental Railroad Act gives railroad companies rights-of-way and alternate sections of public domain lands along both sides of their railroads
1867 — United States purchases Alaska from Russia for $7.2 million, adding 375 million acres to the public domain
1869 — First coast-to-coast railroad is completed at Promontory Summit, Utah
1872 — General Mining Law identifies mineral lands as a distinct class of public lands subject to exploration, occupation, and purchase under specified conditions
1877 — Desert Land Act authorizes the disposition of 640-acre tracts of public lands to homesteaders upon proof of reclamation of the lands by irrigation
1878 — Timber and Stone Act authorizes negotiated sale of public lands that are valuable for either logging or mining and otherwise unfit for cultivation
1889 — Oklahoma Land Rush begins the disposal of public domain lands in Oklahoma
1894 — Carey Act authorizes transfer of up to one million acres of public desert land to states for settling, irrigating, and cultivating purposes
1897 — Forest Management "Organic" Act transfers fire protection responsibilities for forest reserves from the Department of Army to the General Land Office
1898 — Congress extends homestead laws to Alaska
1906 — Antiquities Act preserves and protects prehistoric, historic, and scientifically significant sites on public lands through creation of national monuments
1916 — Stock Raising Homestead Act authorizes homesteads of 640 acres and separates surface rights from subsurface (mineral) rights
1920 — Mineral Leasing Act authorizes Federal leasing of public lands for private extraction of oil, gas, coal, phosphate, sodium, and other minerals
1926 — Recreation and Public Purposes Act allows conveyance or lease of public lands to state and local governments for outdoor recreation purposes
1934 — Taylor Grazing Act authorizes grazing districts, regulation of grazing, and public rangeland improvements in Western states (excluding Alaska) and establishes Division of Grazing (later renamed U.S. Grazing Service) within the Department of the Interior
1937 — Oregon and California (O&C) Revested Lands Sustained Yield Management Act requires O&C Railroad lands to be managed for permanent forest production and provides for watershed protection, regulation of streamflow, and recreational facilities
1941-1945 — World War II
1942 — Extensive withdrawal of public lands for military purposes begins, with more than 13 million acres withdrawn in two years
1946 — BLM is established within the Department of the Interior through the consolidation of General Land Office and U.S. Grazing Service
1953 — Outer Continental Shelf Lands Act authorizes Secretary of the Interior to lease mineral lands more than three miles offshore. The BLM assumes responsibility for leasing through competitive sales.
1954 — Recreation and Public Purposes Act amends the 1926 Act and allows sale and lease of public lands for purposes besides recreation
1955 — Multiple Surface Use Act withdraws common varieties of minerals from entry as mining claims and allows claim owners to use the surface for mining operation purposes only.
1959 — Wild Horse Protection Act (also known as the "Wild Horse Annie Act") prohibits hunting of wild horses and burros on public land by aircraft or motor vehicles
1964 — Wilderness Act protects undeveloped Federal land to preserve its natural condition
1965 — Land and Water Conservation Fund is established for Federal acquisition of outdoor recreation areas
1966 — National Historic Preservation Act expands protection of prehistoric and historic properties
1968 — Wild and Scenic Rivers Act and National Trails System Act preserve sites with outstanding natural, cultural, scenic, historic, and recreational significance
1969 — National Environmental Policy Act requires Federal agencies to assess the impacts of their actions on the environment
1971 — Alaska Native Claims Settlement Act provides for settlement of aboriginal land claims of Alaskan Natives and Native groups. The BLM is tasked with the largest U.S. land transfer effort ever undertaken.
1971 — Wild Free-Roaming Horses and Burros Act mandates protection and management of these animals on public lands managed by the BLM and U.S. Forest Service
1973 — Endangered Species Act requires the conservation of threatened and endangered plants and animals and the ecosystems on which they depend
1975 — Energy Policy and Conservation Act addresses energy demands and establishes a strategic petroleum reserve
1976 — Federal Land Policy and Management Act (FLPMA, the BLM's legislative "charter") repeals homestead laws and establishes policy of retaining public lands in Federal ownership. FLPMA requires that these lands be managed for multiple uses and sustained yield through land-use planning.
1976 — Management of the National Petroleum Reserve–Alaska is transferred from the U.S. Navy to the BLM
1977 — Surface Mining Control and Reclamation Act ensures environmental safeguards for mining and reclamation of mined areas
1978 — Public Rangelands Improvement Act requires inventory, determination of trends, and improvement of public rangelands
1979 — Archaeological Resources Protection Act requires permits for excavation or removal of these resources from Federal lands and sets criminal and civil penalties for violations
1980 — Alaska National Interest Lands Conservation Act designates millions of acres of public land in Alaska as wilderness, national parks, national wildlife refuges, and wild and scenic rivers. Act also provides for subsistence use by rural Alaska residents.
1980 — The BLM completes its first resource management (land-use) plan, covering the California Desert Conservation Area, and designates its first areas of critical environmental concern in Utah and California
1983 — The BLM transfers responsibility for offshore leasing to the Minerals Management Service
1987 — Federal Onshore Oil and Gas Leasing Reform Act establishes a new leasing system and changes certain operational procedures for onshore resources on Federal lands.
1990 — Northern spotted owl is listed as a threatened species under the Endangered Species Act, leading to enjoinment of all Federal timber sales within its range
1996 — Grand Staircase-Escalante National Monument in Utah is designated by President, representing first such monument under BLM management
2000 — National Landscape Conservation System, consisting of wilderness areas, wilderness study areas, national monuments, and other conservation-related units on BLM-managed land, is established by Secretary of the Interior
2005 — Energy Policy Act promotes energy efficiency and the production of secure, affordable, and reliable domestic energy
2008 — BLM-managed lands are officially designated as the National System of Public Lands
2009 — Omnibus Public Land Management Act officially authorizes National Landscape Conservation System and sets penalties for unauthorized removal of paleontological resources from Federal lands
*********************************************
Land tyranny didn't stop in 2009 — in August 2015 — Obama renamed Mount McKinley in Alaska to Mount Denali and in 2016 – Obama was hell bent on land grabbing for the BLM, including property in Arizona near the Grand Canyon — and in 2016 with much state controversy — Obama took Bear Mountain in Utah for a National Monument designation and also under lesser controversy – Obama took Golden Butte in Nevada (between Grand Canyon and Lake Meade) and designated it as a National Monument, also. …. AND NOT JUST THE BLM — in the Forestry Service — On Oct. 10, 2014, President Barack Obama designated 346,177 acres of existing federal lands as the San Gabriel Mountains National Monument, the eighth national monument under Forest Service management (this is in California). …. and don't forget — wild burros and wild horses were rounded up and slaughtered (ignoring prior "adoption" round ups. … DOESN'T SEEM LIKE THE LAND TYRANNY WILL EVER END.
What BLM doesn't indicate in the history .. is that the U.S. Constitution began with the U.S. only owning acreage donated from the States of Virginia and Maryland — which were set up for Congress to be sited on their own property — separate of any state — the DISTRICT OF COLUMBIA. (Residence Act on July 16, 1790 for the nation's capitol). … Other land Constitutionally approved was land for PORTS and FORTS for national defense. Over time — even Washington, D.C. has gobbled up more land … growing from the donated land from the states of Maryland and Virginia, which initial shape/size of the federal district was a square measuring 10 miles (16 km) on each side, totaling 100 square miles (259 km2 — to today's total area of 68.34 square miles (177.0 km2), of which 61.05 square miles (158.1 km2) is land and 7.29 square miles (18.9 km2) (10.67%) is water.
DISTRICT OF COLUMBIA —- Washington-Arlington-Alexandria, DC-VA-MD-WV Metropolitan Statistical Area
Location of Washington, D.C., in the contiguous United States and in relation to Maryland and Virginia. Coordinates: 38°54′17″N 77°00′59″W
**Map of the District of Columbia in 1835, prior to the retrocession
BLM LAND MAP (owns major portion of Western USA … nearly all of Arizona and Utah (bet Ya'll didn't know this)!!!! — and the BLM just took more land in Utah and Arizona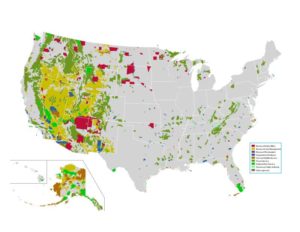 AND ICYMI …. There is URANIUM AND GOLD (as well as other precious minerals) in and surrounding the Bundy Ranch in Nevada and the Hammond Ranch in Oregon (go check out BLM — Clinton Foundation … URANIUM LEASES to Russia in Oregon. …
  *******************************************************************
The US has been under control of the UN since the 1992
Rio
and
Kyoto
Treaties. This Site pretty much explains the duties, the new duties of various departments such as "Bureau of Land Management" under
Agenda 21
.
LAND MANAGEMENT
Decision-Making: Coordinating Bodies
Land and growth management in the United States is largely addressed at the local and state levels, driven by a wide-range of issues and concerns. Many of these concerns in recent years are associated with the concept of "sprawl" and pit expansion of suburban and peri-urban development against protection of open space areas, agricultural activities, and aesthetic values. Local and state policies to respond to these concerns are diverse.
Many federal activities, policies and programmes affect rates and patterns of growth and the ability of local and state governments to address them. Periodically, the question arises as to whether the federal government should take steps to influence growth patterns and support local and state efforts to respond to growth management concerns, especially with respect to sprawl.
Decision-Making: Legislation and Regulations
Recently, the Clinton Administration has attempted to address the issue through a nationwide "Livability Agenda" that promotes, among other things, the concept of "smart growth". The aim of the agenda is to help communities across America grow in ways that ensure a high quality of life and strong, sustainable growth. Under the agenda, the Administration is proposing new investments to provide communities with ways to preserve green space, ease traffic congestion, and pursue regional smart growth strategies.
The United States Government, pursuant to the 1996 Farm Bill and earlier legislation, maintains a "Conservation Reserve Programme" which enables private farm producers to bid to retire highly erodible or environmentally sensitive cropland, usually for 10 years. Participants receive rental or cost sharing payments and technical assistance for this programme through the U.S. Department of Agriculture. As of late 1998, the Conservation Reserve Programme contained approximately 30.5 million acres.
Decision-Making: Strategies, Policies and Plans 
THE LIVABILITY AGENDA: A NEW U.S. INITIATIVE TO CONSERVE LAND RESOURCES
Over the past few years, the Clinton Administration has attempted to address land degradation concerns related to either to urban areas under a nascent "brownfields" programme, as well as "green communities " programmes and "smart growth" concepts related to both urban and "sprawl" concerns. In January 1999, in an effort to coalesce and build upon these early notions of promoting land rehabilitation and conservation efforts, the Clinton Administration announced initiatives that address the related land management issues of resource protection, sprawl and growth management. A "Livability Agenda" and "Lands Legacy Initiative" were unveiled as a means to help states and local communities address burgeoning land management challenges. The "Livability Agenda" would:
provide federal tax credits in lieu of interest for state or local bonds (totaling $9.5 billion over 5 years) to buy park land, preserve farmland and wetlands, and clean up abandoned industrial sites (brownfields);
increase a portion of federal transportation grants for projects other than road building (including $6.1 billion for mass transit , $1.6 billion to improve air quality by easing traffic congestion, and $50 million for a pilot projects on regional transportation planning programmes) ; and,
provide matching funds to assist in regional planning and to assist communities in developing land-use plans, to encourage community participation in planning for education, and to fund the sharing of certain regional data ($150 million).
The "Lands Legacy Initiative", among other things, would:
increase federal land acquisition funding (to total $413 million in FY2000) using the Land and Water Conservation Fund (LWCF) and designate 5 million acres of wilderness at specified locations, including in the Mojave Desert, northern New England and the Everglades;
provide grants to state and localities to acquire land and plan for open space ($150 million in FY2000);
expand funding for other resource protection efforts including the Cooperative Endangered Species Conservation Fund, the Forest Legacy Programme, Urban and Community Forestry Programme grants and the Farmland Protection Programme ($220 million in FY2000).
Fund "smart growth" partnerships using programmes at the Department of the Interior and the USDA to support acquisition of land and easements in rural areas.
The Congress is not expected to adopt the proposal submitted by the Clinton Administration. Nevertheless, the Administration believes that the growth management proposals that it has put forward respond to increasing public interest in "sprawl" and other land policy challenges. According to a recent Brookings Institution report, such issues, often characterized as a "quality of life issues" were addressed in 240 referenda in 31 states last year, and 72 percent of these were reportedly passed in the November 1998 election.
Further and more comprehensive information on the Clinton Administration's livable communities initiatives can be found on the web at www.livablecommunities.gov.
Decision-Making: Major Groups involvement 
As of 1996, only 10 states had statewide growth management plans with land management components. Another two had growth management plans limited to coastal areas alone. One state, Maryland, received considerable publicity when it adopted a "smart growth" strategy under legislation adopted in 1997. Under this legislation, state road and sewer project spending to assist development is to be concentrated both to revitalize approved urban areas and to curb sprawl by minimizing spending in other areas of the state. In addition, more than $70 million is to be used by 2002 to purchase development rights on land with high environmental value in the state. The State of California, with the California Coastal Conservancy and Coastal Commission and the State of New York with its Hudson River Valley Greenway Act are also touted as examples of states trying to address land management challenges in a sustainable manner. The State of Colorado also had an initiative to allocate funds from the state lottery for land acquisition, easements, and other conservation measures.
There are also numerous initiatives at local levels throughout the United States that have has land management and growth as key issues. Included among these were the Sustainable City Plan for Berkeley, California, the Sustainable Cambridge (Massachusetts) coalition, Sustainable Chattanooga (Tennessee), Sustainable Seattle, and many others. The National Association of Counties and the U.S. Conference of Mayors cooperate in maintaining a "Joint Center for Sustainable Communities" that seeks, among other things, to encourage more communities to become sustainable through responsible land use design, brownfields redevelopment, appropriate transportation, "true cost" accounting, and other smart growth initiatives.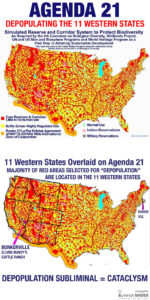 Programmes and Projects 
NATURAL RESOURCE CONSERVATION ON AMERICA'S PRIVATE LANDS
Conservation of soil and water resources has been a public policy issue in the United States for over 60 years. U.S. agricultural exports expanded rapidly through the 1970s to record levels, and U.S. producers responded by bringing additional land into production. Three problems ensued. One was high levels of soil erosion, the second was overproduction, and the third was providing water to agriculture in sufficient quantity and quality to enhance production. Federal programmes before 1985 allowed U.S. farmers to receive payments for acres not planted, referred to as annual set asides, but did not include any multi-year efforts that could provide more sustained benefits for conservation purposes.
In 1985, Congress enacted a farm act that created the "Conservation Reserve Programme" (CRP) to be managed by the U.S. Department of Agriculture (USDA). The aim of the CRP was to reduce excessive erosion, stabilize farm prices, and slow excess production. Almost 34 million acres were enrolled in the programme by private producers from 1986 to 1990, under an enrollment cap of 38 million acres. During this time, the USDA continued to adjust the programme's formula for accepting bids from producer's who wanted to join the programme by placing a growing emphasis on environmental benefits. After passage of the 1990 Farm Act, USDA started to compare bids using an evolving formula called the "Environmental Benefits Index" (EBI).
In 1996, the Congress passed the Federal Agricultural Improvement and Reform Act of 1996 – more commonly referred to as the 1996 Farm Act. Under this law, provisions were made to either reauthorize or introduce new programmes. The CPR and Wetlands Reserve programmes were among those programmes reauthorized and readjusted, while new programmes included the Environmental Quality Incentives Programme (EQIP). The EQIP programme's aims are to provide $200 million per year to be split evenly between crop and livestock producers in addressing a range of conservation problems. While the EQIP programme was to be managed by the USDA's Natural Resources Conservation Service (NRCS), the CRP was to be once again administered by the USDA's Farm Service Agency (FSA).
As noted above, private farm producers are allowed to bid to retire highly erodible or environmentally sensitive cropland, usually for 10 years (or longer under limited circumstances). Participants receive rental or cost sharing payments and technical assistance for this programme through the FSA. As of late 1998, the Conservation Reserve Programme contained approximately 30.5 million acres.
The CRP also has two other important ways to enroll land. One allows continuous sign-up for individuals who wish to enroll portions of their fields with particularly high environmental values. The second way is a state-initiated enhancement programme under which higher rents are paid to attract eligible land. In 1997, the State of Maryland became the first state approved for this programme. Maryland will contribute financial resources in an attempt to enroll 100,000 acres of stream buffers, restored wetlands, and highly erodible lands near streams in the Chesapeake Bay drainage. (The Chesapeake Bay is the largest east U.S. coast estuary and is subject to harmful nutrient overloading brought about, in part, from agricultural run-off.)
Under the revised CRP, there is a total maximum enrollment cap of 36.4 million acres and no one single county in any given state may exceed a participation rate of 25 percent. Numerous plains state counties are currently at capped enrollment.
Status 
LAND UNDER FEDERAL JURISDICTION
While the overwhelming majority of Americans reside in urban and suburban areas, the United States remains primarily an agricultural land. Nearly 71 percent of land in the United States is in private hands or under state and local authorities. The remaining 29 percent of the land (657 million acres) is in federal hands and is administered primarily by four federal agencies: the Bureau of Land Management (BLM), the National Park Service (NPS) and the Fish and Wildlife Service (FWS) in the U.S. Department of the Interior, and the Forest Service (FS) in the U.S. Department of Agriculture. The majority of these federal lands (92 percent) are in 12 western states, including Alaska. Altogether, the following four agencies manage over 95 percent of federal land in the United States and the Clinton Administration has sought to ensure that all manage lands in a sustainable manner involving public participation and stakeholders at local levels. And, of equal importance, are managed in accordance with a range of U.S. environmental laws, including the National Environmental Policy Act (NEPA) and the Endangered Species Act (ESA).
BLM: The Bureau of Land Management administers 264 million acres, or 40 percent of all federal lands, as well as approximately 300 million additional acres of subsurface mineral estate. The BLM manages these public lands for sustained yields of multiple uses – livestock grazing, outdoor recreation, timber production, water supply, wildlife and fish habitats, and wilderness. Its mission statement calls on the BLM: "To sustain the health, diversity and productivity of the Nation's public lands for the use and enjoyment of present and future generations." Federal environmental laws affecting the BLM, such as NEPA, the Federal Land Policy and Management Act (FLPMA), and the ESA, require that the BLM involve the public and consider the needs of local communities when taking land management decisions.
FS: The Forest Service manages a 192 million acre National Forest System (NFS), consisting of 155 national forests, 20 national grasslands, and 112 other areas. Most NFS lands are concentrated in the western United States and Alaska, but the FS manages more than half of all federal lands in the eastern United States. NFS lands are generally administered for sustained yields of multiple uses. The NS decides on permitted levels and locations of the uses in land and resource management plans that are prepared by interdisciplinary teams under the provisions of a wide-range of laws, including NEPA and the ESA. The FS has committed to goal of ensuring the sustainable management of the forests it manages wherever they are found in the United States.
FWS: The U.S. FWS manages 93 million acres in 512 national wildlife refuges, including 198 waterfowl production areas, 50 wildlife coordination areas, and 114 other sites in a "National Wildlife Refuge System" (NWS). The FWS mission is to work "with others to conserve, protect and enhance fish, wildlife and plants and their habitat for the continuing benefit of the American people." While the President or the Congress can create new NWS units, most are established by the FWS under general land acquisition authorities, especially the Migratory Bird Treaty Act. The National Wildlife Refuge System Improvement Act of 1997, and earlier related laws, direct the FWS to administer the System primarily to conserve and enhance fish and wildlife and their habitats. Only uses compatible with these general purposes are permitted.
NPS: The National Park Service manages 77 million acres in the 378 units of the National Park System. There are many diverse categories of units, with 20 different designations. The three largest units are the: (1) National Parks (e.g., Yellowstone and Yosemite National Parks); (2) National Preserves; and, (3) National Monuments. The NPS also administers other units, including some 19 National Recreation Areas. Some hunting, fishing, livestock grazing and mineral extraction is allowed on certain NPS lands, but in some areas these activities are expressly prohibited. Wherever such activities are allowed, they must be compatible with the primary purpose for which the area was set aside.
The NPS, FWS and BLM also are involved in managing three special management systems on the lands that they administer that have been created to protect particular features or characteristics. These include: the National Wilderness Preservation System (104 million acres); the National Trails System (20 trails totaling nearly 40,000 miles); and, the National Wild and Scenic Rivers System (155 rivers totaling over 10,800 miles).
There are also sometimes transfers of land between the agencies. For example, roughly 3 million acres of land were transferred from the BLM to the NPS due to the enactment of the California Desert Protection Act of 1994, an act designed to help better conserve environmentally sensitive desert areas in California.
Several other U.S. agencies are involved in administering approximately 4 percent of U.S. federal land. These include the Department of the Defense (DOD), the Department of Energy, the U.S. Department of Agriculture, the Bureaus of Reclamation and Indian Affairs in the Department of the Interior (DOI) and others. DOD has both pollution prevention and conservation programmes established for lands that it manages and DOD installations are required to produce Integrated Natural Resource Management Plans and Integrated Cultural Resource Management Plans for the lands that they manage. DOD also maintains two funding programmes, a sustainable forest management programme for DOD lands and a small-grants programme for streamside restoration. DOE, together with all other US federal agencies must follow NEPA requirements pertaining to environmental impact assessments related to land use decisions. The Bureau of Reclamation's mission is to "manage develop, and protect water and related resources in an environmentally and economically sound manner in the interest of the American people. In addition to managing reservoirs in western United States, the Bureau of reclamation also manages over 300 recreation areas for public benefit.
DOI's Bureau of Indian Affairs (BIA) has jurisdiction over more than 56 million acres, of which more than 45 million acres are under tribal trust and about 10 million acres are individually owned. DOI is legally obligated to ensure that American Indian and Alaska Native resources and lands are properly managed, protected and conserved. DOI bureaus provide an array of services to American Indians. For example, in addition to BIA's activities, the BLM provides survey and mineral management programmes for tribes, DOI's Office of Surface Mining provides tribal grants for reclamation of abandoned mines and restoration of water quality affected by acid mine drainage. The Bureau of Reclamation provides financial and technical assistance to the tribes in the planning, design, construction, and operation of water resource needs on reservations. FWS partners with tribes in restoring and improving fishery resources, training conservation law enforcement officers from Native American tribes, and technical assistance for tribal resource conservation and management plans. DOI's U.S. Geological Service conducts research on water and mineral resources of environmental, economic or subsistence importance to Indians. NPS provides technical assistance to tribes on preservation of their endangered heritage and sacred places.Capacity-building, Education, Training and Awareness-raising 
The U.S. Environmental Protection Agency (USEPA), through its Urban and Economic Development Division, is coordinating the "Smart Growth Network", a coalition of private sector, public sector and NGO partners "seeking to create smart growth in neighborhoods, communities and regions across the United States." The partnership programme will conduct several projects to encourage more environmentally responsible land use, regional growth and development. USEPA is also involved in helping direct a "Brownfields National Partnership Partnership Action Agenda". This Agenda calls for the selection of 10 showcase communities across the nation to demonstrate that through cooperation, federal, state and local and private efforts can be concentrated around brownfields to produce environmental cleanup, stimulate economic development, and revitalize communities. The Agenda encompasses more than 100 commitments from more than 25 organizations, including more than 15 U.S. agencies. These commitments represent a $300 million investment in brownfields communities by the Federal government.
USEPA also sponsors a green community programme, including a "Green Communities" assistance kit that takes users through a five-step process towards achieving "Green Community" status. A Green Community is one that provides open space, complies with environmental regulations, reduces consumption of natural resources and practices pollution prevention, actively involves all citizens and incorporates local values in decision-making and encourages all elements of civil society to work together with government to promote a healthy environment, a strong economy and a high quality of life.
The Department of Housing and Urban Development (HUD) also uses some of the core programmes that it funds to support livability and regional development initiatives, including "smart growth"and brownfields projects, at the levels of neighborhood, city, region and state. HUD's strategy is to lead in three dimensions: (1) identifying and working to promote livability and effective regional action; (2) adding new activities and policies that promote sustainable, equitable; and (3) building knowledge and constituencies so that local choices are both informed and responsive to all stakeholders.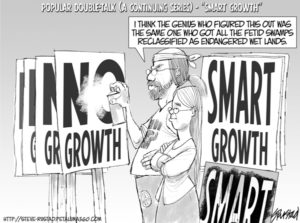 Information 
A coalition of developers, planners government officials, lending institutions, community development organizations, architects, environmentalists and community activists are part of the "mart Growth Network" (www.smartgrowth.org). This group hopes to encourage more environmentally and fiscally responsible land use, growth and development around the U.S. It provides a forum for facilitating smart growth in neighborhoods, communities, and regions. Those who become members of the Network reportedly receive a membership kit featuring two primers – one on "Best Development Practices" and "Why Smart Growth". The group has also produced a video for educating citizen groups or city councils about smart growth concepts and relevant land use and development issues.
Cooperation
With the support of HUD, the Henry M. Jackson Foundation, and other agencies together with the American Planning Association (APA) has launched a "Growing Smart" initiative. The initiative will be pursued in three phases. The first phase focuses on intergovernmental relationships and works to help design statutes that enhance regional planning and cooperation. The second phase develops model legislation dealing with local planning. A third phase will provide model legislation for creating the implementation tools communities need to manage change. As part of Growing Smart, the APA has prepared summaries of planning statutes of all 50 States, as well as the first of a series of working papers, entitled Modernizing State Planning Statutes, that addresses various aspects of local, state, and regional planning. More information on APA's Growing Smart efforts are available at: www.planning.org.
* * *
This information was provided by the Government of United States of America to the 5th and 8th Sessions of the United Nations Commission on Sustainable Development. Last Update: December 1999.  
 *********************************************
As you can see there is more than meets the eye to the BLM, the UN Agenda 21 and the land acquisitions that have become commonplace in our United States this last several decades.  As we continue to dig deeper, we will uncover specific instances and first hand accounts of what our government is really doing with these actions.