The Coming Russian Bombshells 

?

Fusion GPS Bank Records 

?

FBI Disclosures 

?

Perkins Coie 

?

Unmasking Of Americans
PERKINS COIE, LLC — has and is working on behalf of: Clinton Campaign, Democratic National Committee (DNC), (DSCC) and Obama For America (OFA) just to name a few.
<<< LET THAT SINK IN >>>
• Meet Marc E. Elias, the Perkins Coie political law practice chairman who hired the research firm that compiled a dossier of explosive, unverified allegations about Russia connections of President Donald Trump and his campaign.
Elias, a firm partner and chair of its high-powered political law practice, found himself in the spotlight after it was reported that he hired the research firm that compiled a controversial, but unverified, dossier detailing explosive allegations about President Donald Trump's connections to Russia and those between his campaign and Russian representatives.
According to the Washington Post, which broke the story Oct. 24 , Elias hired the research firm Fusion GPS while representing the Democratic National Committee and Hillary Clinton's presidential campaign.
Elias has represented a stellar list of Democratic clients including the Democratic National Committee. Prior to serving as general counsel to the presidential campaign, Hillary for America, Elias served in the same role for John Kerry's 2004 presidential bid.  Perkins Coie LLP, has also provided legal services to the Correct the Record and Priorities USA Action, making it a central node in the campaign's infrastructure.
In addition to the DNC, his clients have included the Democratic Senatorial Committee, the Democratic Congressional Campaign Committee, the Democratic Governors' Association as well as U.S. senators, governors, representatives and their campaigns, according to the Perkins Coie website.  AMERICA VOTES is also connected to Perkins Coie.
America Votes is a national coalition of grassroots, get-out-the-vote organizations. Its website claims that the coalition represents "more than 20 million Americans in every state in the country" through its member groups. America Votes is itself a member of the "Shadow Party," identified by DiscoverTheNetworks as a nationwide network of activist groups whose agendas are ideologically Left, and which are engaged in campaigning for the Democrats.
Member organizations of the America Votes coalition include, among others, the American Association for Justice; the Association of Community Organizations for Reform Now (ACORN); Campaign for America's Future; Defenders of Wildlife Action Fund; Democracy for America; EMILY's List; the League of Conservation Voters; the League of United Latin American Citizens; MoveOn.org Political Action; the NAACPNational Voter Fund; NARAL Pro-Choice America; the Planned Parenthood Action Fund; Progressive Majority; the Service Employees International Union; the Sierra Club; and USAction.

AT&T Wireless Services >> through Perkins Coie LLP   >>

Boeing Company >> through Perkins Coie LLP   >>

Craigslist >> through Perkins Coie LLP   >>

Google Inc. >> through Perkins Coie LLP   >>

Microsoft Corporation >> through Perkins Coie LLP   >>

Nintendo of America >> through Perkins Coie LLP   >>

David T. Biderman >> through Perkins Coie LLP   >>

Thomas L. Boeder >> through Perkins Coie LLP   >>

Alexandra R. Cole >> through Perkins Coie LLP   >>

Craig E. Courter >> through Perkins Coie LLP   >>

Theresa Cropper >> through Perkins Coie LLP   >>

Marc E. Elias >> through Perkins Coie LLP   >>

Susan D. Fahringer >> through Perkins Coie LLP   >>

Robert E. Giles >> through Perkins Coie LLP   >>

Judy Gold >> through Perkins Coie LLP   >>

Salim Ahmed Hamdan >> through Perkins Coie LLP   >>

Stewart M. Landefeld >> through Perkins Coie LLP   >>

Joseph E. Mais >> through Perkins Coie LLP   >>

Guy R. Martin >> through Perkins Coie LLP   >>

Chun M. Ng >> through Perkins Coie LLP   >>

Roy W. Tucker >> through Perkins Coie LLP   >>

Edward Wes >> through Perkins Coie LLP   >>

Laura N. Whitaker >> through Perkins Coie LLP   >>

V.L. Woolston >> through Perkins Coie LLP   >>

13th Regional Corporation >> through Perkins Coie LLP   >>

Alliance to Protect Nantucket Sound >> through Perkins Coie LLP

America Votes >> through Perkins Coie LLP   >>

Dragonslayers, Inc. >> through Perkins Coie LLP   >>

HRK Group, Inc. >> through Perkins Coie LLP   >>

Metropolitan Water District of Southern California >> through Perkins Coie LLP   >>

Navajo Nation >> through Perkins Coie LLP   >>
Tamarack Resort LLC >> through Perkins Coie LLP   >>

Western Urban Water Coalition >> through Perkins Coie LLP   >>

Robert F. Bauer campaign contributions: (Donations of $3,000 or more during 2007-2008 cycle)
and those specific litigations represented by Elias include:
John Kerry, Chris Dodd, Robert Menendez, Diane Feinstein, Facebook, Al Franken, Claire McCaskill, Robert Casey, Google, Mary Landieu, Richard Blumenthal and Harry Reid to name a few.
Elias described as

The Man Behind the Political Cash Grab,

was called in by the office of Harry Reid late in 2014 to help 

craft

 a provision added into the $1.1 trillion spending bill at the

last minute

. The provision effectively 

raised

 the amount of money donors can give to political parties

from $97,400 to $777,600

.
The sudden addition of the provision surprised legislators on both sides of the aisle. House Minority Leader Nancy Pelosi (D., Calif.) commented at the time she did not know about it until one day before the vote on the year-end bill.

Politico reported that Elias' firm, Perkins Coie, could benefit from the provision's stealth implementation, which also allows for higher contributions to the legal fees of the committees.

Alongside Elias, Perkins Coie is led by Robert Bauer, who served as chief counsel to the Obama White House from January 2010 to June 2011. The firm, which is described as having a "stranglehold" on Democratic clients, has raked in more than $40 million in legal fees since 2000 from clients ranging from Obama to the Democratic National Committee. (Free Beacon)

Perkins Coie's political law practice, anchored by Elias and former White House Counsel Bob Bauer, has something of a stranglehold on the Democratic Party's election law business, representing not only the party committees themselves but everyone from Reid (whose various committees have paid $317,000 in legal fees to Perkins Coie over the years) to Obama ($7.4 million) to the major Democratic super PACs ($19 million).  (Politico)
Let's look at another prominent Perkins Coie attorney while we are here:
Robert F. Bauer 
(born February 22, 1952), who served as White House Counsel  under 
President
Barack Obama
starting in 2009
. 
Bauer was President Obama's personal attorney and the general counsel of the 
Obama for America presidential campaign
 prior to his appointment as White House Counsel. He has also previously served as the general counsel to the 
Democratic National Committee,
 and had advised President Obama since Mr. Obama came to Washington, D.C. in 2005 as U. S. Senator.    On June 2, 2011, the 
White House Press Office
 stated that Bauer would be returning to private practice at Perkins Coie.  Bauer returned to private practice to again represent the president's election team and the 
Democratic National Committee
.
"
Bob was a critical member of the White House team,
" Mr. Obama said. "
He has exceptional judgment, wisdom and intellect, and he will continue to be one of my close advisers.
"  In 2013, President Obama named Robert "Bob" Bauer to be Co-Chair of the Presidential Commission on Election Administration.  Bob has also served as co-counsel to the New Hampshire State Senate in the trial of Chief Justice David A. Brock (2000); general counsel to the Bill Bradley for President Committee (1999-2000); and counsel to the Democratic Leader in the trial of President William Jefferson Clinton (1999) according to
Perkins Coie website
.
Bauer is married to 
Anita Dunn
, the former director of communications for the Obama White House.
• Elias' name turned up in another political fight yesterday, the bribery trial of Democratic U.S. Senator Robert Menendez and his co-defendant, Salomon Melgen. Defense attorneys moved for a mistrial after the judge indicated he won't allow testimony from Elias, who defended Menendez in a related Senate ethics probe.
Before calling for a mistrial, defense attorneys told Walls that Elias's testimony would show that Menendez's staff had struggled to tally the number of flights Menendez had taken at Melgen's expense, contradicting a government claim that the senator had hidden them as part of an alleged bribery conspiracy.
***
REP. NUNEZ — SUBPOENAED FUSION GPS' BANK RECORDS to determine who paid for the Russian Dossier!!!
Congressional Republicans have tried to force Fusion GPS to identify the Democrat or group behind Steele's work, but the firm has said that it will not do so, citing confidentiality agreements with its clients.
Last week, Fusion GPS executives invoked their constitutional right not to answer questions from the House Intelligence Committee. The firm's founder, Glenn Simpson, had previously given a 10-hour interview to the Senate Judiciary Committee.
Over objections from Democrats, the Republican leader of the House Intelligence Committee, Rep. Devin Nunes (Calif.), subpoenaed Fusion GPS's bank records to try to identify the mystery client.
Fusion GPS has been fighting the release of its bank records. A judge on Tuesday extended a deadline for Fusion GPS's bank to respond to the subpoena until Friday while the company attempts to negotiate a resolution with Nunes
Some of the details are included in a Tuesday letter sent by Perkins Coie to a lawyer representing Fusion GPS, telling the research firm that it was released from a ­client-confidentiality obligation. The letter was prompted by a legal fight over a subpoena for Fusion GPS's bank records.
People involved in the matter said that they would not disclose the dollar amounts paid to Fusion GPS but that the campaign and the DNC shared the cost.
***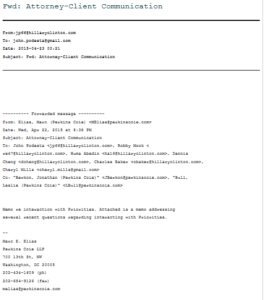 The person familiar with the matter, who spoke on condition of anonymity to discuss confidential client matters, said the arrangement was brokered by Marc Elias, a lawyer for the campaign and the DNC, and his law firm of Perkins Coie.
The deal began in the spring of 2016, when the firm was approached by Fusion GPS, the political research firm behind the dossier, and lasted until right before Election Day, according to the person. When Fusion approached Elias, it had already been doing research work on Trump for a client during the GOP primary. The identity of the original client has not been revealed.
It's unclear what Fusion GPS had dug up by the time law firm hired them in April 2016. According to a copy of the dossier published by BuzzFeed this year, the earliest report from Steele dates to June 2016, two months later. It was not immediately known how much money Fusion received or how many others in the Clinton campaign or DNC were aware that the firm had been retained.
Elias did not immediately return an email seeking comment, and representatives of Fusion GPS declined to comment. The Washington Post first reported the arrangement.  Clinton campaign officials did not immediately comment, but in a statement, a DNC spokeswoman said chairman Tom Perez was not part of the decision-making and was unaware that Perkins Coie was working with Fusion GPS.
***
Elias and his law firm, Perkins Coie, retained the firm in April 2016 on behalf of the Clinton campaign and the DNC. *Prior to that agreement, Fusion GPS's research into Trump was funded by a still unknown Republican client during the GOP primary.  When the Republican donor stopped paying for the research, Elias, acting on behalf of the Clinton campaign and the DNC, agreed to pay for the work to continue. The Democrats paid for research, including by Fusion GPS, because of concerns that little was known about Trump and his business interests, according to the people familiar with the matter.
Those people said that it is standard practice for political campaigns to use law firms to hire outside researchers to ensure their work is protected by attorney-client and work-product privileges.
Clinton's Hillary for America campaign reportedly routed 37 payments to Fusion GPS through the law firm Perkins Coie, totaling over $5.5 million, and reported each as "legal services." The DNC reported 345 payments to Perkins Coie during the election cycle and marked the payments from June 2015 to December 2016 as "legal and compliance consulting, administrative fees, and data services subscription" among others, according to the complaint. (WashingtonExaminer) While the DNC paid the firm $3.6 million in "legal and compliance consulting'' since November 2015 — though it's impossible to tell from the filings how much of that work was for other legal matters and how much of it related to Fusion GPS.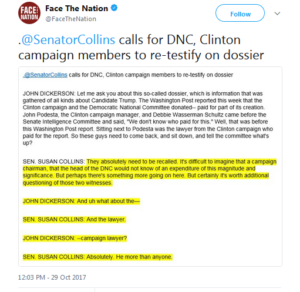 "By filing misleading reports, the DNC and Clinton campaign undermined the vital public information role of campaign disclosures," said Adav Noti, with the Campaign Legal Center in a statement obtained by LawNewz. Noti previously served as the FEC's Associate General Counsel for Policy. "Voters need campaign disclosure laws to be enforced so they can hold candidates accountable for how they raise and spend money. The FEC must investigate this apparent violation and take appropriate action." (Wayne Dupree)
At no point, the people said, did the Clinton campaign or the DNC direct Steele's activities. They described him as a Fusion GPS subcontractor.
In its capacity as attorney for the DNC, Perkins Coie – through another of its partners, Michael Sussman – is also the law firm that retained CrowdStrike, the cyber security outfit, upon learning in April 2016 that the DNC's servers had been hacked.  CrowdStrike — the Lone Sources of 'Russian Hookers' and 'Russian Hacking' Claims is the third-party company ultimately relied upon by the FBI to make its assessment about alleged Russian hacking into the DNC.  The DNC reportedly did not allow the FBI to gain access to servers that were suspected of being hacked, instead coming to an arrangement with the federal agency in which CrowdStrike carried out forensics on the servers and shared details with the FBI. (Breitbart)
Interesting: Despite the patent importance of the physical server system to the FBI and Intelligence-Community investigation of Russian meddling in the 2016 election, the Bureau never examined the DNC servers. Evidently, the DNC declined to cooperate to that degree, and the Obama Justice Department decided not to issue a subpoena to demand that the servers be turned over (just like the Obama Justice Department decided not to issue subpoenas to demand the surrender of critical physical evidence in the Clinton e-mails investigation).
Instead, the conclusion that Russia is responsible for the invasion of the DNC servers rests on the forensic analysis conducted by CrowdStrike. Rather than do its own investigation, the FBI relied on a contractor retained by the DNC's lawyers. (NationalReview)
***
Perkins Coie hired both of these guys: 1. Fusion GPS 2. Crowdstrike   
Crowdstrike was the firm that claimed Russia hacked DNC servers. Given the fact that Perkins Coie lied to the NYT for a year regarding Fusion GPS should we maybe circle back around & kick the tires on Crowdstrike.
***
An attorney memo posted by Wikileaks appears to show the lengths to which Hillary Clinton's campaign committee sought to "interact" with an allied Super PAC.
Clinton's team apparently sought advice from attorneys at Perkins Coie on how it could help to raise funds for Priorities USA Action Fund, according to an April 2015 email published by Wikileaks.
Here's the April 21, 2015 memo in part:
According to the Wikileaks document, "Hillary for America" aids could not explicitly tell the Super PAC who to call and how much to ask for, but they could offer guidance in general terms.
"Donor A works in financial services and has been a long-time contributor. I think she's be willing to do six figures for Priorities," was "permissible," while "I want you to call Donor A and ask for $250,000," was supposedly not.
The memo also sought to provide guidance on how Clinton's team and the Super PAC could communicate legally:
The Wikileaks post shows the memo was sent to several staffers, including campaign chairman John Podesta.
The email was sent to [email protected] — Podesta's campaign email.
He then forwarded the memo to his personal email address, [email protected]
The full memo can be viewed at Wikileaks site here.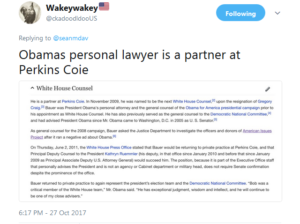 Perkins Coie is also the firm that Obama used to block every courtroom challenge to force release of his original birth certificate.  Perkins Coie serves high-profile clients such as Microsoft, Amazon and Starbucks. In 2006, the firm also represented Salim Ahmed Hamdan, Osama bin Laden's alleged bodyguard and driver.
FEC shows more than $1 million paid by Obama to top law firm since election
President Obama may be using campaign funds to stomp out eligibility lawsuits brought by Americans, as his campaign has paid more than $1 million to his top lawyer since the election.
According to Federal Election Commission records, Obama For America paid $688,316.42 to international law firm Perkins Coie between January and March 2009.
The campaign also compensated Perkins Coie for legal services between Oct. 16, 2008 and Dec. 31, 2008 – to the tune of $378,375.52.
Robert Bauer of Perkins Coie – top lawyer for Obama, Obama's presidential campaign, the Democratic National Committee and Obama's Organizing for America – is the same Washington, D.C., lawyer defending President Obama in lawsuits challenging his eligibility to be president.
Where's the proof Barack Obama was born in the U.S. or that he fulfills the "natural-born American" clause in the Constitution?
As WND reported earlier, Bauer sent a letter to plaintiff Gregory Hollister, a retired Air Force colonel, of Hollister v. Soetoro, threatening sanctions if he doesn't withdraw his appeal of the eligibility case that earlier was tossed by a district judge because the issue already had been "twittered."
Bauer's warning was dated April 3 and delivered via letter to the plaintiff's attorney, John D. Hemenway. It is not the first such warning issued. Lawyers trying to kill a similar California lawsuit filed on behalf of Ambassador Alan Keyes also said they would seek sanctions against the plaintiff's attorneys in that case unless they left the issue of the president's eligibility alone.
"For the reasons stated in Judge Robertson's ruling, the suit is frivolous and should not be pursued," Bauer's letter warned. "Should you decline to withdraw this frivolous appeal, please be informed that we intend to pursue sanctions, including costs, expenses and attorneys' fees, pursuant to Federal Rule of Appellate Procedure 38 and D.C. Circuit Rule 38."
Bauer also represented Obama and the DNC in Philip Berg's eligibility lawsuit and various other legal challenges. He and the White House have not responded to WND's request for comment.
The FEC allows elected officials to use campaign funds to pay legal fees only if the action/investigations arise as a result of their tenure in office or campaigns, according to Politico.
The FEC report also reveals Obama For America has spent nearly $9.5 million in the first three months of this year – of which $6,365 in legal fees paid by Obama For America also went to Oldaker, Biden & Belair, a firm founded by Joe Biden's son, Hunter Biden.
Obama's Campaign Paid $972,000 To Law Firm That Secretly Paid Fusion GPS In 2016 in addition the FEC records as well as federal court records show that Marc Elias, the Perkins Coie lawyer whom the Washington Post reported was responsible for the payments to Fusion GPS on behalf of Clinton's campaign and the DNC, also previously served as a counsel for OFA. In Shamblin v. Obama for America, a 2013 case in federal court in Florida, federal court records list Elias as simultaneously serving as lead attorney for both OFA and the DNC. (Federalist)
***
Bob Bauer runs DC office of Perkins Coie (used as cutout by DNC, Clinton to get Steele dossier about Trump written) also was: WH Counsel for Barack Obama, counsel to Obama's presidential campaign, general counsel for DNC,DCCC, DSCC, sometimes at same time—– Was the guy who wrote a lot of the ethics complaints filed against Newt when he was Speaker——Seasoned professional: This firm was not picked by accident or happenstance.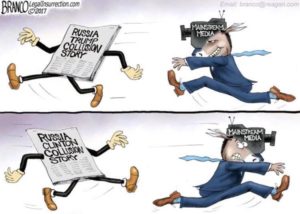 AND A BIT OF RESEARCH IS RECOMMENDED … Members of Fusion GPS and CrowdStrike — have ties to the Council on Foreign Relations (CFR)!! … and the Atlantic Council.  And some of these participants have ties to George Soros, Hillary Clinton, and the US State Department. …. DIG, DIG, DIG — it's there!!!
Featured Image Credit:  NewsCoShift:  L to R: Shawn Henry President & CSO, CrowdStrike Services Marc Elias Partner, Firmwide Chair, Political Law Practice; Member, Firmwide Executive Committee, Perkins Coie — John Podesta Chair, Hillary Clinton for America