GulfTainer
Gulftainer is an independently owned, global port operator with its corporate head office in the United Arab Emirates. Established in 1976, the company today manages about 40% of all the major container terminal facilities in the Middle East and has business operations in seven countries around the world. The company's primary business is container, with additional and bulk cargo handling within port terminals and logistics cities.
gulftainer.com
Jafars' Abraaj Group Paid Clinton Foundation; Jafars rewarded with Port Canaveral Gulftainer Deal
By Mary Fanning and Alan Jones | October 6, 2016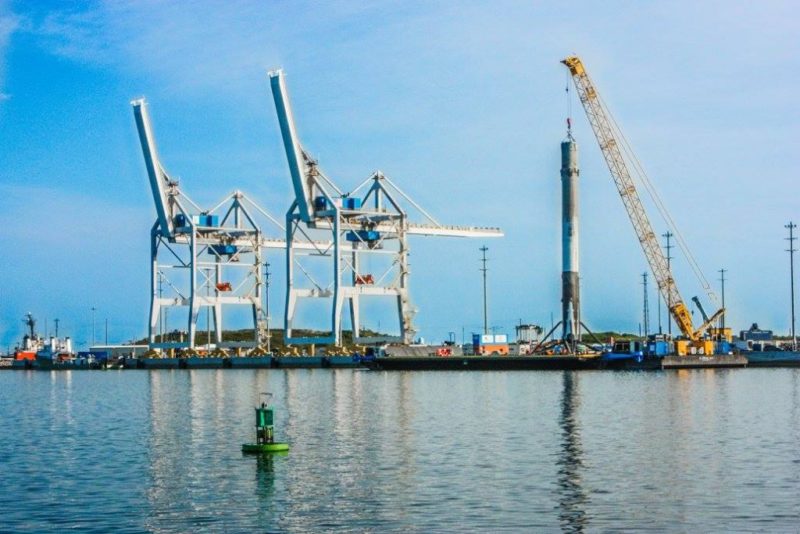 The Abraaj Group, a UAE private equity company co-founded and partly-owned by the Iraqi family of Saddam Hussein's nuclear weapons mastermind, donated between $500,000 and $1 million to the Clinton Foundation and co-sponsored the 2012 Clinton Global Initiative annual meeting. That same Iraqi family was awarded a 35-year container terminal lease at national-security nexus Port Canaveral, Florida through the family's ports company Gulftainer. The Port Canaveral lease received no national security review (CFIUS or FINSA), despite the family's connection to Iraq's rogue WMD program.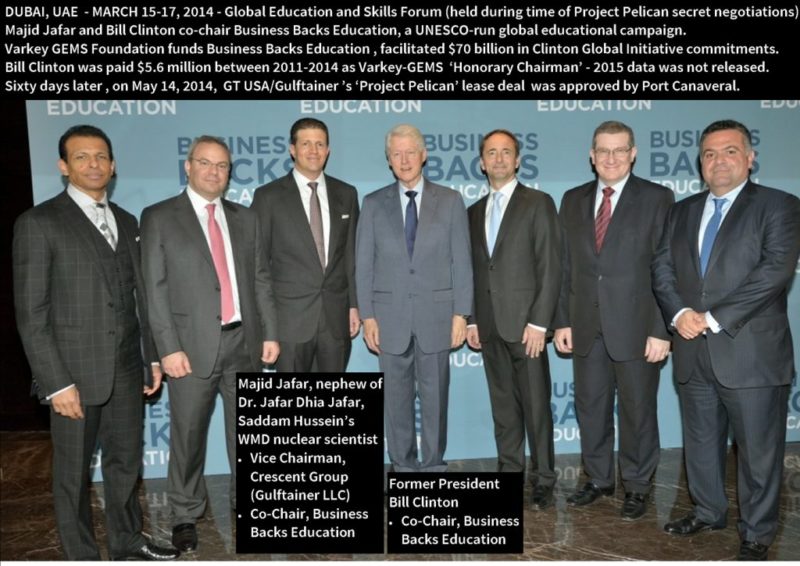 Earlier, the Abraaj Group was awarded the first of hundreds of millions of dollars in loans and investment management contracts through the State Department's Overseas Private Investment Corporation (OPIC), a federal agency exploited by Secretary of State Hillary Clinton. The American Report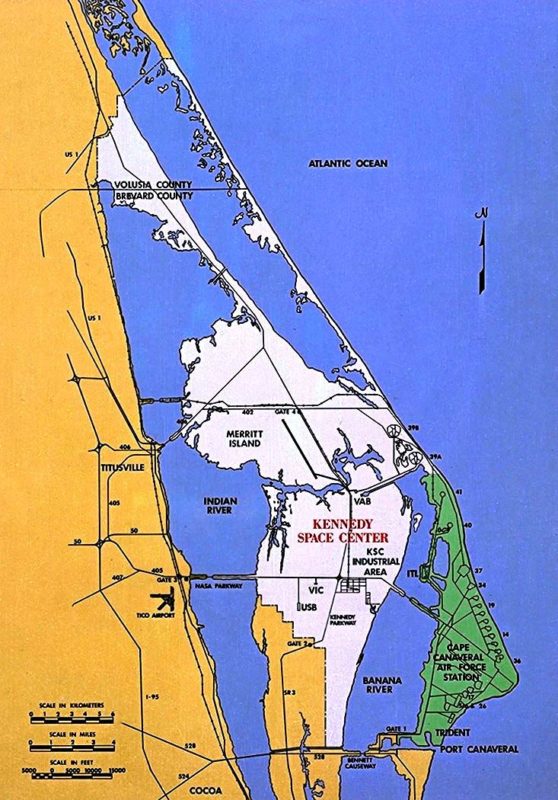 The Perfect Storm: Port Canaveral's Gulftainer Tied To Russia's 'Club-K' Container Missile Launcher, Jafar's Iraqi Nuclear 'Beach Ball,' North Korea, KGB's Primakov, And Iran Deal As Russia Enters 'Endgame'
By Mary Fanning and Alan Jones | October 27, 2017
President Barack Hussein Obama and his administration awarded Saddam Hussein's rogue nuclear mastermind access to Florida's Port Canaveral cargo container terminal, a U.S. port of entry that gives Russia and its Axis of Evil client states unfettered access to the entire United States.

The tectonic shift of (i) the placement of Saddam Hussein's nuclear scientist Dr. Jafar Dhia Jafar and Gulftainer inside the wire at Port Canaveral with a 35-year container terminal lease through a secret operation known as 'Project Pelican' (ii) the dawn of Russia's Club-K container missile launch system, (iii) The Jafars' and Gulftainer's joint venture with Russia's state-owned Rostec, which owns 100% of the shares of Rosoboronexport, the exporter of the Club-K, (iv) Dr. Jafar's miniaturized nuclear weapon, known as the 'Arab bomb' or 'Beach Ball,' (v) the Jafar family's long-term relationship with Russia and the KGB/SVR and GRU intelligence services revolving around nuclear, chemical, and biological WMD, (vi) Dr. Jafar's collaboration with North Korea on weapons delivery systems, and (vii) the similarities between Dr. Jafar's 'Beach Ball' and the miniaturized nuclear weapon seen with Kim Jung-un, has become the perfect storm of danger, both on and off our shores. The American Report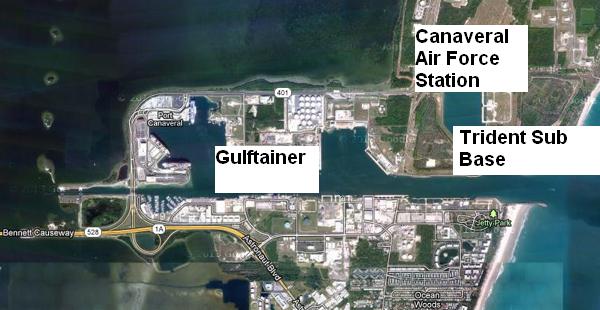 Gulftainer Scandal Connects Obama, the Clintons and the Media
by Roger Aronoff on
This clear case of malfeasance comes at the expense of national security and American safety. As we reported in 2015, a United Arab Emirates subsidiary company, Gulftainer USA, was granted a lease "at the vital national security hub of Port Canaveral, Florida." Now a recent Occasional Paper from the Center for Security Policy (CSP) shows that Gulftainer's parent company, The Crescent Group, is connected to Iraq's illicit nuclear program, and may have benefited from associations with the Obamas and Clintons. CSP has done an excellent job connecting these very disturbing dots.
Gulftainer was granted its lease without a national security review because it was not purchasing part of the port. Instead, it was leasing it—for 35 years. But it is clear that in this case the Obama administration looked the other way on a potential national security nightmare.
That the media refuse to cover this ongoing Obama and Clinton scandal is a profound dereliction of their journalistic duty to investigate issues of America's national interest, and an additional blatant attempt to shield President Obama from criticism. The media have an obligation to cover ongoing threats to our national security, no matter who is responsible for them.
AIM
Port Canaveral is home to critical national security operations and infrastructure. A plethora of space and defense installations and programs, many of them highly classified, are situated either inside the port or within the immediate vicinity:
• NASA Kennedy Space Center and Visitor Complex
• Patrick Air Force Base
• Cape Canaveral Air Force Station
• U.S. Navy Trident submarine base (Trident Turning Basin)
• Top secret Air Force space plane
• National Reconnaissance Office (NRO) spy satellites
• Department of Defense/Boeing GPS satellites
• SpaceX resupply missions to the International Space Station
• SpaceX Falcon 9 Rocket
• NASA Orion deep space capsule project and test launches
• United Launch Alliance Delta IV Heavy Rocket
• United Launch Alliance Atlas V Rocket
• Nuclear submarines resupply operations
• Lockheed Martin Fleet Ballistic Missile Eastern Ranger Operations
• Air Force Technical Applications Center (AFTAC) – Seismic, hydroacoustic and satellite monitoring of nuclear treaty signatory nations
• Air Force Space Command/45th Space Wing
• Air Force 920th Rescue Wing (Combat Search and Rescue)
• Craig Technologies Aerospace and Defense Manufacturing Center
• Naval Criminal Investigative Service (NCIS)
• U.S. Coast Guard Station Port Canaveral
• Department of Homeland Security – Customs and Border Protection
• Numerous defense contractors (too many too list)