Collusion That Goes Way Beyond a Few Bad Apple Emails
Written by A. Webber (Shared with written permission)
June, 2016
On April 12, 2015, Hillary Clinton officially announced her run for the Democratic nomination. On June 13, 2015, she launched her presumptive campaign. But, realistically, her presidential campaign of 2008 was on informal hiatus. Let's not waste time with pleasantries. Nothing about this undemocratic process is pleasant, and there is a lot of material and data to cover. The Hillary 2016 Campaign started long before 2015.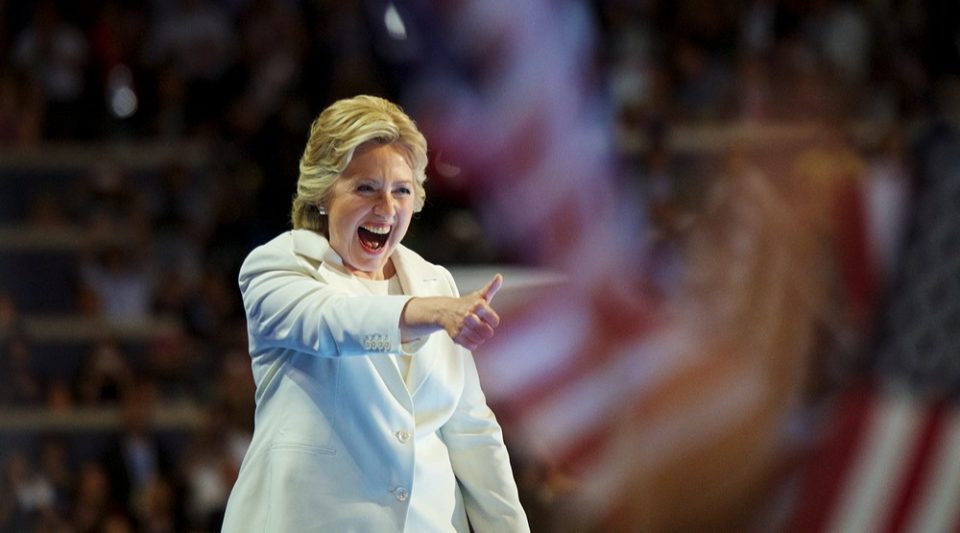 THE HFA LEADERSHIP COUNCILS
The Monday, October 5, 2015, New York Times edition included a piece entitled 'Today in Politics: Hillary Clinton Seeks to Add 'Leadership Councils' to Campaign Infrastructure'. [1] A quote from the piece reads as follows:
"With the summer behind them, Mrs. Clinton's campaign aides on Monday will announce a series of "leadership councils" in crucial March states, the latest effort to create an engaged network of organizers."
The cumulative members of these Councils number over 2,000. They include US Senators, US Representatives, current and past DNC Members, Democratic State Chairs, Treasurers, Committee Members, Democratic Caucus Leaders, Governors, State Legislators and, yes, super delegates. The sheer total number of members could only mean that the effort to create these Leadership Councils took months if not over a year to coordinate. Hillary announced her candidacy in April 2015 and, by October 5, 2015, her campaign began issuing Press Releases announcing these HFA Leadership Councils. [2]
These Councils were organized in 25 States, along with the formation of the American Asian and Pacific Islander Leadership Council and the Caribbean Leadership Council. [3] While what may have been quoted to the New York Times as Councils "to create an engaged network of organizers", the actual Press Releases indicate more of a job description for these Council members. For example, following is the Council function description from the Hillary Massachusetts Leadership Council Press Release [4] of December 11, 2015:
"Hillary for America announced the launch of its "Massachusetts Leadership Council" – a group of 190 elected officials, community, labor and grassroots leaders who will help build a grassroots-driven volunteer team that will help Hillary Clinton win the Massachusetts Primary on March 1st. The Council includes an unprecedented level of support of Massachusetts office holders. These Massachusetts officials are taking on leadership roles in Clinton's Massachusetts campaign …"
The Massachusetts Leadership Council has among its members not just "officials", but DNC members past and present, as well as super delegates who, as stated in the Press Release, will build a "volunteer team that will help Hillary Clinton win the Massachusetts Primary", and "take on leadership roles in Clinton's Massachusetts campaign". The roles of the Leadership Council members are similarly described in all HFA Leadership Council Press Releases. It would appear that HFA and the DNC decided in early-to-mid 2015, and probably before 2015 (long before the first primaries took place), that the best use of DNC members and super delegates was as official leaders and volunteers of Hillary's personal campaign.
Super Delegate is "a non-elected delegate to a presidential nominating convention, usually an office-holder or influential party leader, who is not [emphasis added] pledged to support any particular candidate."
By this definition, it is incomprehensible that so many super delegates were signing on in early-to-mid 2015, prior to the first primaries, to HFA Leadership Councils that were dedicated to being "volunteer team" members "that will help Hillary Clinton win" and "taking on leadership roles in Clinton's campaign".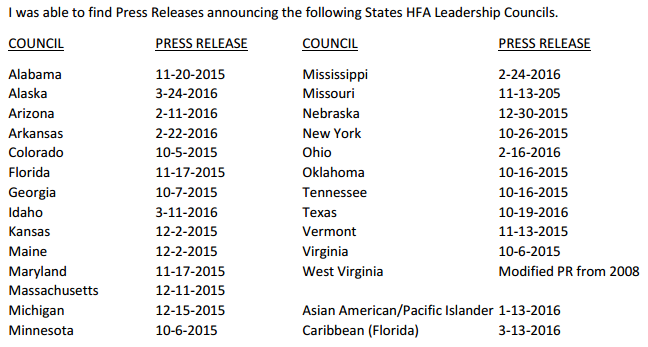 Congressman and super delegate John Lewis, who gave the impression he was putting much thought, aka grandstanding, into his endorsement which he ultimately gave to Hillary Clinton on February 11, 2016, was actually included as a member on the HFA Georgia Leadership Council as announced on October 7, 2015.
Of note, also, are key politico members who were included in the October and November HFA Leadership Councils Press Releases: super delegate, VP wannabe, and Senator Amy Klobuchar, Minnesota; super delegate and Senator Claire McCaskill, Missouri; super delegate, current FBI Investigation subject and Governor Terry McAuliffe, and Mrs. McAuliffe, Virginia; super delegate, VP wannabe and Senator Tim Kaine, Virginia; super delegate, Governor and sexism-confused John Hickenlooper, Colorado; super delegate, Democratic Whip and Congressman Steny Hoyer, Maryland; super delegate, member of Committee on Ethics, Congresswoman Donna Edwards, Maryland; and, fairly close to the entire New York, Texas, Florida, and Massachusetts Democratic Party elected federal officials, DNC Members and super delegates, as well as a few Council members recently convicted or under investigation.
THE HILLARY VICTORY FUND – FUNDRAISING/KICKBACK SCHEME
At the August 2015 DNC summer meeting Hillary campaign staff began asking State party leaders to join the Fund, it's not quite clear when the idea for the Victory Fund was conceived or who was the brain child for the Fund which is managed by the Clinton campaign. Among the leaked documents hacked by Guccifer 2.0 is a March 19, 2015 memo to Senior Staff. [5] As there is no apparent author, it's not clear whether it was written by a DNC member, Hillary, or a Hillary aide. Nor is it clear exactly who were all the 'Senior Staff' recipients. It was on the DNC server, so was it Hillary senior staff only or did it include DNC senior staff as well?
Senior staff may have included senior staff at the DNC, as some of the documents leaked appear to indicate that the DNC has been guided by internal consensus that Hillary would be the presumptive nominee from the get go. The fact that this March 19, 2015 memo is on the DNC server raises a critical question. To what extent was the DNC and HFA collectively involved in the Hillary Victory Fund creation and process for an intraparty committees finance sharing structure prior to Hillary announcing she was a candidate? The answer to that question, at least in part, may be in the following:
On page two of this memo, the last bullet under whom to direct specific inquiries, staff are informed fundraising inquiries are to be directed to Marc Elias.
"Finally, inquiries about related to any testing-the-waters or campaign committee — legal issues, fundraising practices, etc. — should be coordinated with Marc Elias at Perkins Coie."
As reported by Politico in a December 12, 2014 piece by Kenneth Vogel titled "The man behind the political cash grab", [6]
"Marc Elias, a partner at the Seattle-based law firm Perkins Coie, was called in to advise outgoing Senate Majority Leader Harry Reid's aides on the campaign finance proposal on Tuesday, as they negotiated it with representatives from House Speaker John Boehner's office, multiple sources confirm.

The provision was then added to a massive $1.1 trillion funding bill hours before it was introduced Tuesday night. The question of who was behind this major campaign finance deal had been the source of intense speculation in Washington over the past few days, but nobody has been willing to take credit for it."
And…
"Elias' firm could benefit from a section of the new provision that codifies a new fund with higher contribution limits for legal and other fees within the Democratic National Committee, the Democratic Congressional Campaign Committee and the Democratic Senatorial Campaign Committee. Perkins Coie represents all three committees."
This article clearly describes a move at the end of 2014 that was antithetical to public sentiment over campaign finance reform. Moreover, it was to the immediate benefit of Hillary Clinton's planned 2016 run for President. Taking this into account, one can speculate that the crafting of the Hillary Victory Fund was, if not orchestrated by, but at the very least, coordinated between Marc Elias, Hillary Clinton, her campaign staff, and the DNC. Hillary's 2016 coronation guarantee started well before 2015.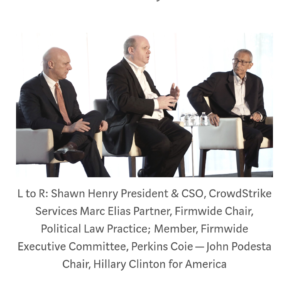 The fact that State Democratic Committees were approached with this Hillary Victory Fund Scheme at the 2015 DNC summer meeting and that ultimately 31 State Democratic Committees signed on is not in and of itself illegal. However, of those 31 State Democratic Committees that have received "kickbacks" from The Hillary Victory Fund to date, 18 of those States are also those wherein HFA Leadership Councils made up of super delegates and DNC members, among other members, were being simultaneously formed. These States include Alaska, Arkansas, Colorado, Florida, Georgia, Idaho, Maine, Massachusetts, Michigan, Minnesota, Mississippi, Missouri, Ohio, Oklahoma, Tennessee, Texas, Virginia, and West Virginia.
Hillary Clinton "bought" the loyalty of 33 State Democratic Parties last summer according to an April 1, 2016 Counterpunch article written by Margot Kidder appropriately titled, 'How Hillary Clinton Bought the Loyalty of 33 State Democratic Parties'. [7] The agreements with the Hillary Victory Fund began at the August 2015 DNC summer meeting. When each of all the involved States actually executed these agreements is unknown to the writer.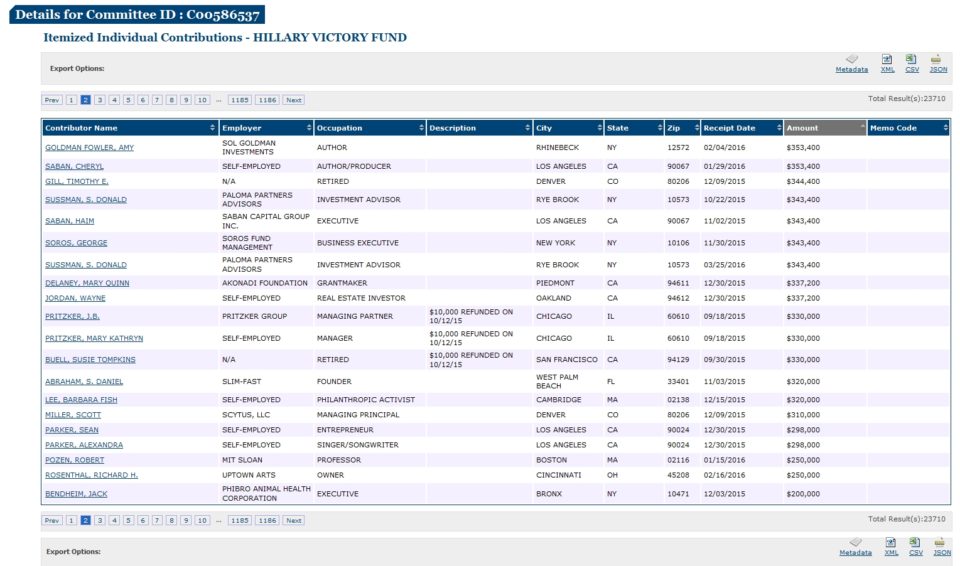 According to the article, 33 State Democratic parties made agreements, however, the list of beneficiaries in the article reflect that as April 1, 2016, it was actually 31 State Democratic Committees that received funds 'back' from the Hillary Victory Fund. Additionally, there may be more involved States or kickbacks to those already listed which we may not be aware of until the June 30 FEC reporting.
According to the following table, 38 States had HFA Leadership Councils and/or had agreed to the campaign finance sharing scheme with the Hillary Victory Fund. Quite a few of these States primaries are subject to allegations of voter fraud.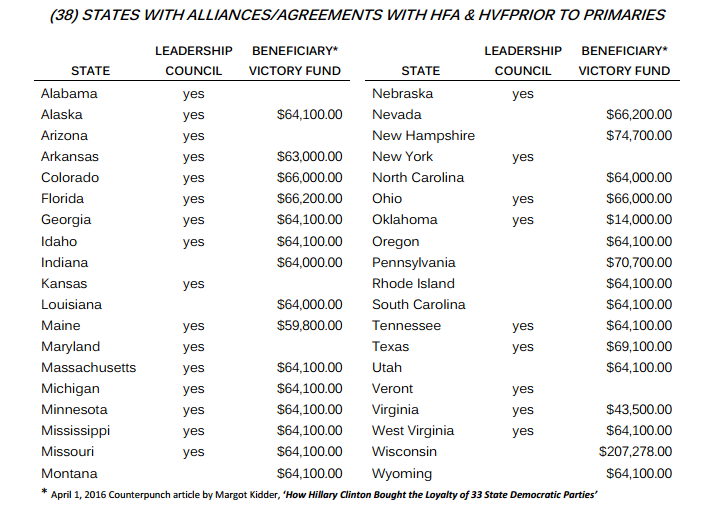 TRUMP AS THE DNC/CLINTON INTERLOPER TO THE RNC
While many may consider it a ridiculous conspiracy, this whole election appears to be an orchestrated fraud on Democratic voters, so why not include a little fraud on the Republican voters to make sure Hillary gets elected.
Ted Cruz, although a more insufferable character to some, appeared to be a much more viable candidate and did announce in April 2015. So why did the February to May confabs between Trump and Clinton result in the simultaneous writing by the DNC, on behalf of Hillary, an Oppo Strategy against Trump and not Cruz and the obvious candidate of Marco Rubio? Why was this Oppo Strategy distributed by memo on May 26, 2015? Trump didn't actually announce until June 6, 2015? And why was the DNC paying In-Kind expenses on behalf of Trump and Trump, Jr. according to the leaks?
DNC AS DE FACTO MEMBERS OF HFA PRIMARY CAMPAIGN
Although it is the responsibility and charge of the Democratic National Committee to remain unbiased in the primary process, thanks to Guccifer 2.0, we now know that the DNC was also acting as de facto members of Hillary Clinton's campaign. Less than one month subsequent to candidacy announcement by Bernie Sanders, April 30, 2015, and prior to candidacy announcements of Martin O'Malley, Lawrence Lessig, Lincoln Chafee and Jim Webb in the summer and fall of 2015, Hillary's 2008 Campaign Co-Chair and current Chairperson of the DNC, Debbie Wasserman-Shultz began the process of using the DNC to act as unofficial campaign surrogates for HFA. The dormant 2008 Hillary Campaign was back in full swing.
Much has been made of the Guccifer 2.0 leak of a May 26, 2015 memo to the Democratic National Committee. [8] Although the document was hacked from the DNC server, it does not say who actually authored the memo or who authorized its dissemination. The subject of the memo is "2016 GOP presidential candidates", however, it clearly makes the point that HRC is the endorsed candidate of the DNC as of May 26, 2015, which was a full 14 months prior to the National Convention and well before the first primary.
This memo was addressed to Democratic National Committee members, many of which were, at approximately the time of the writing of the memo, signing on as "volunteer team" members "that will help Hillary Clinton win" and "taking on leadership roles in Clinton's campaign". How many non-DNC super delegates of these Councils were privy to this and other communications from the DNC?
Most troubling is that this memo was disseminated approximately at the same time that The Victory Fund was being finalized before it was sold to State Democratic Committees at the August 2015 DNC summer meeting, and while solicitation for membership to the HFA Leadership Councils. These approximate simultaneous actions, collectively, confirm collusion between State and National DNC members and HFA.
[1] https://www.nytimes.com/politics/first-draft/2015/10/05/today-in-politics-clinton-seeks-to-add-leadership-councils-to-campaign-infrastructure/
[2] Attachment A – List of links to the Press Releases for the HFA Leadership Councils
[3] Attachment B – full list of Super Delegates and Leadership Council members by state.
[4] https://medium.com/@MAforHillary/hillary-for-america-announces-massachusetts-leadership-council-7068a9333612#.jmhv0daot
[5] https://guccifer2.files.wordpress.com/2016/06/2015-03-22-memo-for-senior-staff.docx
[6] https://www.politico.com/story/2014/12/democratic-lawyer-crafted-campaign-finance-deal-113549
[7] https://www.counterpunch.org/2016/04/01/how-hillary-clinton-bought-the-loyalty-of-33-state-democratic-parties/
[8] https://guccifer2.files.wordpress.com/2016/06/2.doc
ATTACHMENT A
LINKS TO PRESS RELEASES ANNOUNCING HFA LEADERSHIP COUNCILS
Alabama
https://blog.4president.org/2016/2015/11/hillary-clinton-for-america-announces-alabama-leadershipcouncil.html
Alaska

Arizona
https://www.p2016.org/clinton/clinton021116praz.html
Arkansas
https://www.p2016.org/clinton/clinton022216prar.html
Colorado
https://blog.4president.org/2016/2015/10/hillary-clinton-campaign-announces-hillary-for-colorado-minnesota-and-virginia-leadership-councils.html
Florida
https://www.p2016.org/clinton/clinton111715pr.html
Georgia
https://blog.4president.org/2016/2015/10/hillary-clinton-campaign-announces-hillary-for-georgia-leadership-council.html/
Idaho
https://www.idahostatesman.com/news/politics-government/politics-columns-blogs/politics-blog/article65496042.html#storylink=cpy
Kansas
https://www.p2016.org/clinton/clinton120215prks.html
Maine
https://blog.4president.org/2016/2015/10/clinton-campaign-announces-hillary-for-maine-oklahoma-and-tennessee-leadership-councils.html
Maryland
https://www.p2016.org/clinton/clinton111715pr.html
Massachusetts
https://medium.com/@MAforHillary/hillary-for-america-announces-massachusetts-leadership-council-7068a9333612#.jmhv0daot
Michigan
https://www.p2016.org/clinton/clinton121515prmi.html
Minnesota
https://blog.4president.org/2016/2015/10/hillary-clinton-campaign-announces-hillary-for-colorado-minnesota-and-virginia-leadership-councils.html
Mississippi
https://www.p2016.org/clinton/clinton022416prms.html
Missouri
https://www.p2016.org/clinton/clinton111315pr.html
Nebraska
https://www.p2016.org/clinton/clinton123015prne.html
New York
https://blog.4president.org/2016/2015/10/clinton-campaign-announces-hillary-for-new-york-leadership-council.html
Ohio
https://www.p2016.org/clinton/clinton021616proh.html
Oklahoma
https://blog.4president.org/2016/2015/10/clinton-campaign-announces-hillary-for-maine-oklahoma-and-tennessee-leadership-councils.html
Tennessee
https://blog.4president.org/2016/2015/10/clinton-campaign-announces-hillary-for-maine-oklahoma-and-tennessee-leadership-councils.html
Texas
https://www.texastribune.org/2015/10/19/nearly-90-texas-democrats-throw-support-behind-cli/
Vermont
https://www.p2016.org/clinton/clinton111315pr.html
Virginia
https://blog.4president.org/2016/2015/10/hillary-clinton-campaign-announces-hillary-for-colorado-minnesota-and-virginia-leadership-councils.html
West Virginia
https://www.presidency.ucsb.edu/ws/?pid=116019
Asian American and Pacific Islander
https://www.hillaryclinton.com/briefing/statements/2016/01/13/aapi-leadership-council/
Caribbean
https://sflcn.com/hillary-clinton-campaign-caribbean-leadership-council/
________________________________________________________________________________
ATTACHMENT B – 2016 SUPER DELEGATE LIST
*(216 OF THESE SUPER DELEGATES WERE HILLARY FOR AMERICA VOLUNTEER STAFF ACCORDING TO HFA LEADERSHIP COUNCIL PRESS RELEASES)