ADN DAILY RECAP  NOVEMBER 4, 2017
In Case You Missed It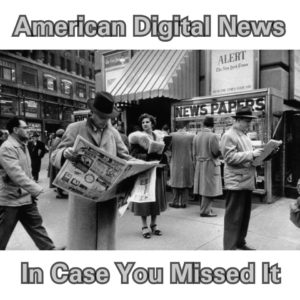 Former President George W. Bush and his father, former President George H.W. Bush, both criticize President Trump in a new book to be released this month, with George W. Bush admitting that, despite Trump's political affiliation, he's worried "that I will be the last Republican president."
Every year smoking kills  480,000 people in the United States. That statement and others like it, which present unfiltered facts about smoking, will appear over the next five months in TV and print advertisements from tobacco companies throughout the nation. You read that right. Tobacco companies will soon be running ads detailing the harmful, often deadly, effects of their products and the lies and techniques they used to manipulate people into using them.
A map titled "Our Country as Traitors & Tyrants Would Have It; or Map of the Disunited States" published in New York by H.H. Lloyd & Co. in 1864 offers a glimpse at how the continent might look shortly after the U.S. Civil War if "traitors and tyrants" had their way.
The map shows the "former" U.S.A. divided into four separate countries. The Pacific States, Interior States, Atlantic States, and Confederate States compete for land between Canada and Mexico.
Canadian cities such as Winnipeg, Windsor, and Charlottetown offer the first glimpses of the huge problems to be faced when regular streets lights are replaced by LEDs.  In recent years, the cities have replaced traditional traffic signal bulbs with LED bulbs, thinking that they would modernize the cities. Unfortunately, they missed one huge dilemma that now threatens lives.
Nearly half of all U.S. millennials believe the greatest safe space of them all would be living under a socialist regime.  That's according to a new study from research firm YouGov and Washington, D.C.-based Victims of Communism Memorial Foundation, which surveyed over 2,000 people regarding their views on socialism and the communist political system. The biggest takeaway from the study was that one out of every two millennials surveyed said they would rather live in a socialist or communist country over a capitalist democracy like the U.S.
The Department of Justice issued California another stern warning Wednesday – drop its sanctuary state status or remain in violation of federal law and potentially lose out on millions of dollars.  Earlier this month, Gov. Jerry Brown signed a so-called "sanctuary state" bill which basically erects a wall between California law enforcement and federal immigration enforcement officers.
Senate Republicans delivered a series of victories to President Donald Trump this week, confirming four federal appeals judges and two trial judges, with more expected soon.
A disabled Navy veteran said Wednesday he declined to accept an award at a New Orleans Saints game due to the controversy over players protesting during the national anthem.
The Saints organization was going to honor retired Cmdr. John Wells, the executive director of Military Veterans Advocacy, with the Peoples Health Champion award during last week's game in New Orleans, according to The Advocate.
He told the organization he was unable to accept the award at the Mercedes-Benz Superdome because of the anthem protests. Saints players have been seen kneeling before the anthem and some continue during the national anthem.
As TFPP reported back in June, the Huffington Post laid off 50 employees and Time Magazine had to let go a whopping 300. Sporting News reports that ESPN has another round of layoffs in the works, and that they're going to be "painful."
China has floated out a giant island-building vessel, which has been called "a magic island-maker" by its designer and is considered the most powerful vessel of its type in Asia. The launch comes amid ongoing territorial disputes in the South China Sea.   The 'Tiankun' cutter-suction dredger was launched at Qidong in eastern Jiangsu province on Friday. The vessel, with a deck as long as five basketball courts, 140 meters, can smash underwater rocks and then suck out sand, water, and mud, and transfer the substance up to 15 kilometers away. It can dredge up to 6,000 cubic meters (around two and half Olympic swimming pools) an hour from a depth of up to 35 meters.
A moderately prestigious university in Germany has instituted a religious code of conduct in response to complaints about Muslim students praying noisily in the library and flooding campus bathrooms with water as they ritually cleanse their feet.
The NYPD is prepared to arrest Harvey Weinstein for raping "Boardwalk Empire" star Paz de la Huerta— and the next step is for the Manhattan district attorney to get an arrest warrant, a top department official said Friday.  "She put forth a credible and detailed narrative to us. We then sought to garner corroboration — this happened seven years ago — and we found corroboration," Chief of Detectives Robert Boyce told reporters.
Rep. Frederica Wilson (D-Fla.) predicted that President Donald Trump will eventually resign from office to avoid impeachment by making up an excuse such as "somebody is trying to kill Barron" Trump, his 11-year-old son.
"We just have to, like the slogan says, stay woke; just stay woke, be careful, because I can see the wheels turning now…we're marching toward impeachment, there's no question about it. If that happens, are we prepared? Because it's going to happen," Wilson said Thursday at the annual Legislative & Policy Conference organized by Al Sharpton's National Action Network (NAN) on Capitol Hill.
Scientists have pinpointed the chemical in the brain that suppresses intrusive thoughts – a discovery that could shed light on a number of psychological conditions where the inability to control thoughts is a key symptom.   Schizophrenia, Post Traumatic Stress Disorder (PTSD), Obsessive Compulsive Disorder, anxiety, and depression are all marked by persistent intrusive thought patterns.
Nearly 1.5 million Americans dropped off the food stamp rolls since President Trump's inauguration in January 2017, according to the latest U.S. Department of Agriculture (USDA) statistics on food stamp enrollment.   Supplemental Nutrition Assistance Program (SNAP) participation dropped to 41,203,721 as of July 2017, the most recent data available from the USDA, from 42,691,363 in January 2017 when Trump took office.  According to the latest data, SNAP enrollment decreased by 3.48 percent, or 1,487,642, since Donald Trump began his presidency.
New reports say Nestlé has solicited bids for its U.S. candy company to competitors between $2 billion to $2.5 billion.  Nestlé announced back in June that it considered selling its candy business due to decline of demand in the United States.  According to Nestlé, candy sales are declining, and the company has recently worked on re-branding itself. In the past couple months, it bough up coffee businesses, including Texas-based Chameleon Cold-Brew.
When people talk about how violent – or not violent – America is, they're not telling you the whole story.
There are pockets of this country with levels of violence so high they make the West Bank look like the Hamptons. Conversely, there are areas in this country where violence is so low, it's almost non-existent.
Breaking it down state by state, there are dramatic differences in the country. Some states are prone to crime and violence, while others are relatively safe.