Another Case for Term Limits?
John Conyers – Michigan Dist. 13 US Congressional Representative
John James Conyers Jr. (born May 16, 1929) is an American Democratic politician and the U.S. Representative for Michigan's 13th congressional district. The district includes the western half of Detroit, as well as River Rouge, Ecorse, Redford Township, Dearborn Heights, Highland Park, Westland, Garden City, Inkster, Wayne, and Romulus. As the longest-serving active Representative, he is the Dean of the House of Representatives. 
He co-founded the Congressional Black Caucus in 1969 and established a reputation as one of the most liberal members of Congress.  Conyers serves as the ranking member of the House Committee on the Judiciary. He previously served as chairman of that committee from 2007 to 2011 and as Chairman of the House Oversight Committee from 1989 to 1995.
Questionable Office Romance Ethical Behaviors
Rep. John Conyers knows what it's like to have a Monica in the workplace. Ten years ago, the Detroit congressman began a relationship with a 23-year-old aide named Monica Ann Esters. In June 1990, Conyers, then 61, married Esters, which was eight months pregnant. Though his office is relatively small, Conyers had managed to keep the affair secret, and when reports called his other aides seeking comment on the marriage, no one on his staff admitted to knowing anything about it. We were out of the loop, they said.

There are differences, of course. For one thing, Conyers made an honest woman out of his Monica. (Although not before enduring a degree of public humiliation: Conyers's new wife, more than one person pointed out, was born the year he was first elected to Congress.) In the years since, Conyers, the ranking Democrat on the House Judiciary Committee, has said little about his courtship of his former employee, though recently he has had quite a bit to say about another, more famous office romance.
Questionable Office Ethical Behaviors
Where Are The Turkeys, Congressman Conyers?
The director of a Detroit food bank wants to know what happened to 60 turkeys — 720 pounds of frozen birds — that his charity gave to members of U.S. Rep. John Conyers' local staff two days before Thanksgiving to give to needy people.  Conyers' Detroit office promised an accounting of any turkey distribution by Dec. 27, but the Gleaners Community Food Bank had received no paperwork as of Tuesday, said the charity's director, Agostinho Fernandes.
Fernandes said he became suspicious that the turkeys didn't get to poor people after hearing from a friend that a federal court worker had said he was offered free turkeys from a member of Conyers' staff.
Fernandes said Conyers staffer Elisa Grubbs signed a Gleaners invoice Nov. 23 acknowledging she picked up the turkeys on the congressman's behalf.  A serious allegations that food meant for the Thanksgiving table of poor people in Detroit went instead to reward political supporters of a Congressman.
"I've got to tell you that our mission of feeding hungry people has been violated by the people who should have been guardians of our mission," Fernandes said.
Ethics controversies
In letters sent separately to the House Ethics Committee, the FBI, and the US Attorney's office, two former aides of Conyers alleged that Conyers used his staff to work on several local and state campaigns, and forced them to baby-sit and chauffeur his children.  In late December 2006, Conyers "accepted responsibility" for possibly violating House rules. A statement issued December 29, 2006, by the House Ethics Committee Chairman Doc Hastings (R-WA) and Ranking Minority Member Howard Berman (D-CA), said that Conyers acknowledged what he characterized as a "lack of clarity" in his communications with staff members regarding their official duties and responsibilities, and accepted responsibility for his actions. In deciding to drop the matter, Hastings and Berman stated:
"After reviewing the information gathered during the inquiry, and in light of Representative Conyers' cooperation with the inquiry, we have concluded that this matter should be resolved through the issuance of this public statement and the agreement by Representative Conyers to take a number of additional, significant steps to ensure that his office complies with all rules and standards regarding campaign and personal work by congressional staff."
Bribery Conviction of wife, Monica Conyers

On June 16, 2009, the United States Attorney's Office said that two Synagro Technologies representatives had named Monica Conyers, the disgraced former president of the Detroit City Council, as the recipient of bribes from the company totaling more than $6,000, paid to influence passage of a contract with the City of Detroit.  The information was gathered during an FBI investigation into political corruption in the city.  She was given a pre-indictment letter, and offered a plea bargain deal in the case.  On June 26, 2009, she was charged with conspiring to commit bribery.
She pleaded guilty.  On March 10, 2010, she was sentenced to 37 months in prison, and also received two years of supervised probation.  She ended up serving just over 27 months at the Alderson Federal Prison Camp and was released from federal custody officially on May 16, 2013.  In September 2015, Monica Conyers filed for divorce from her husband, citing a "breakdown" in the marriage.  This is the same Monica mentioned in previous controversy.
Questionable Passing of Laws WITHOUT Reading Beforehand
In July 2009, Conyers admitted he had not read the Obamacare bill before voting for it. He stated that "I love these members, they get up and say, 'Read the bill'… What good is reading the bill if it's a thousand pages and you don't have two days and two lawyers to find out what it means after you read the bill?" His remark brought criticism from government transparency advocates such as the Sunlight Foundation, which referred to readthebill.org in response.  In the House, 93 representatives signed a pledge, started by Mike Pence of Indiana, to read a health care bill before voting on it.  In February 2012 he made a similar admission about legislation he supported that cut the Social Security payroll tax and expanded unemployment compensation benefits.
He also appeared in Michael Moore's documentary Fahrenheit 9/11 discussing the aftermath of the September 11 attacks, stating that members of Congress "don't read most of the bills."
More Questionable Office Ethical Behaviors
Over 2010 Thanksgiving weekend John Conyers III (the son of Rep. John Conyers) reported a theft of computers and concert tickets from the Cadillac Escalade SUV that he was using. The problem? John Conyers III was using the car unlawfully: it was leased to his father's Congressional office as an official vehicle, and Conyers was not using it in an official capacity. And it wasn't anything like an one-time event, either: John Conyers III also got a speeding ticket on the car back in September. The behavior was so egregious that Rep. Conyers isn't even trying to fight it: he's just swiftly reimbursing the government as comprehensively as possible before the 112th Congress gets sworn in.  PS:  John III was a mere 20 years old when posting these pics by the way.
Conyers' Blighted Properties Concern for Locals

Conyers faces similar problems on housing issues. While he emphasizes his support for homeowners battered by the faltering national economy, Conyers' own blighted properties have created headaches for neighbors in several areas of Detroit.

In Detroit, WJBK-FOX 2 reported that the lawn at one Conyers home was overrun by weeds and tall grass. A second, where Conyers' mother once lived, had been abandoned for years. A neighbor who lived near the second home said her homeowners' insurance had jumped from $1,700 to $7,000 per year because of the risk that the abandoned Conyers property would catch fire.  Fox 2's Charlie LeDuff stopped by Congressman John Conyers' personal home adjoining the Detroit Golf Club recently to discover, well, that John Conyers' home is kind of a mess. LeDuff showed viewers the Congressman's uncut lawn, unmaintained façade, and other issues that probably merits a summons from the Blight Court.  In April 2016, Conyers Praises $188 Million Hardest Hit Fund Allocation for Michigan Homeowners.  Rep. Conyers also highlighted the "expeditious manner that Hardest Hit Fund resources have been disbursed in our state," as the funds enabled Michigan to conduct more blight removal than any other state.
Conyers' Chief of Staff Pleads Guilty
Conyer's chief of staff to the longest-serving member of the U.S. House of Representatives pleaded guilty to receiving stolen property. In an affidavit, U.S. Capitol Police investigators said Cynthia Martin, top aide to Rep. John Conyers (D-Mich.), had initially refused to repay $13,000 mistakenly deposited in her savings account.
Martin's misconduct involved her savings account in the Wright Patman Congressional Federal Credit Union, a credit union with branches inside the Capitol and the Rayburn and Longworth House Office Buildings, investigators said. In the court filings, the investigators said another credit union customer mistakenly routed $16,500 of his direct deposits to Martin's account, by writing down the wrong account number when he opened the account.
In their filings with the court, the investigators said Martin was aware of the erroneous deposits, but at first refused to return the money.  The mistaken deposits were placed in Martin's account every pay period, every two weeks, in $500 increments, investigators said in their court filings. The mistaken deposits, they said, continued from May 2013 to September 2015.  Congressional records show Martin earned about $166,000 salary in 2015, serving as Rep. Conyers' chief of staff.
The House Ethics Committee is continuing its investigation of U.S. Rep. John Conyers, D-Detroit.  The ethics board found "substantial reason to believe" Conyers paid former Chief of Staff Cynthia Martin for work she didn't perform rather than the deposited funds being placed erroneously into incorrectly opened account.  "If Representative Conyers provided a member of his congressional staff with compensation that was not commensurate with the work she performed, then he may have violated House rules and standards of conduct," the report read.
Conyers' counsel, Brian G. Svoboda and David J. Zazarus of Perkins Coie said Martin was suspended and placed on unpaid leave after she pleaded guilty to receiving stolen property, a misdemeanor, and was eventually placed on two months of severance pay and given a payment for accrued annual leave. She then reportedly was on the payroll for two months of unpaid leave before she was fired in October 2016.  The Office of Congressional Ethics said in its report Martin was paid more than $13,000 a month through August 2016. Investigators said they were told in June 2016 that Martin no longer worked in the office.  The leave w/o pay, placed back on payroll and granted 2 months of severance pay and accrued annual leave ("a period of two months and six days") … and then terminated.
REVIEW NO: 17-7171 to US ETHICS COMMITTEE by PERKINS COIE, LLP – Brian G. Svoboda and David J. Zazarus, Counsel to Rep. John Conyers, Jr.
NO FURTHER INFORMATION ABOUT THE DISPOSITION OF THIS ETHICS VIOLATION IS AVAILABLE AFTER THE AUGUST 9TH RELEASE.  CURRENT STATUS UNKNOWN.
Committee assignments
Committee on the Judiciary (Ranking Member)
As Ranking Member of the full committee, Rep. Conyers may serve as an ex officio member of all subcommittees.
Subcommittee on Courts and Competition Policy
Subcommittee on the Constitution, Civil Rights, and Civil Liberties
Subcommittee on Commercial and Administrative Law
John Conyers Net Worth
For all time, at the moment, 2017 year, John Conyers earned $62 Million. Exact sum is $62000000.  Includes monies earned for appearances in movies/documentaries such as Fahrenheit 9/11 and authoring books such as What Went Wrong in Ohio. (unconfirmed salaries in addition to congressional pay of $174,000.00/year)
Political Offices Held
Member of the U.S. House of Representatives
from Michigan's 1st congressional district
1965–1993
Member of the U.S. House of Representatives
from Michigan's 14th congressional district
1993–2013
Member of the U.S. House of Representatives
from Michigan's 13th congressional district
2013–present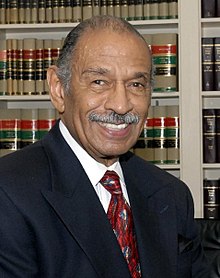 Chair of the House Oversight Committee
1989–1995  The Committee's government-wide oversight jurisdiction and expanded legislative authority make it one of the most influential and powerful committees in the House. The Committee serves as Congress' chief investigative and oversight committee, and is granted broad jurisdiction. The chairman of the committee is one of only three committee chairmen in the House with the authority to issue subpoenas without a committee vote or consultation with the ranking member.
Chair of the House Judiciary Committee
2007–2011  The U.S. House Committee on the Judiciary, also called the House Judiciary Committee, is a standing committee of the United States House of Representatives. It is charged with overseeing the administration of justice within the federal courts, administrative agencies and Federal law enforcement entities. The Judiciary Committee is also the committee responsible for impeachments of federal officials.
U.S. Rep. John Conyers, D-Mich., already the longest-serving active member of Congress and the longest-serving African-American congressman in U.S. history, will run for a 27th two-year term next year, looking to extend a legislative tenure stretching back to the Civil Rights era.  Conyers, 86, made clear that he has no immediate intention to cede a seat he has held with few serious challenges since 1965, despite some recent opposition.
These last five decades riddled with one scandal after another and yet re-election seems almost an expectation?  What does it take to get term limits in place to stop this repetitive behavior of our elected officials and leaders?
Contributing Sources:  Wikipedia   USAToday   NBCWashington   MichiganLive   YahooNews   CovertHistory   WeeklyStandard  RedState   NetWorth   House.gov   Ethics.House.gov