Who was in the Saudi helicopter crash today?
OKAZ SA NEWS — Who was in a lost plane? Saudi News Okaz Newspaper — Who was in a lost plane? Saudi News Okaz Newspaper — "Okaz learned that the helicopter lost hours ago in the reserve of Redha was carrying Deputy Governor of Asir region Prince Mansur bin Muqrin and the Deputy Governor Salman Al-Jerish and the Secretary of the Region Saleh bin Abdullah al-Qadi and director of agriculture branch in Asir Fahd al-Fartish and a number of officials were on a tour of the coastal province. It is about 60 km from Abha. — Informal reports said all those on board the plane died after the crash."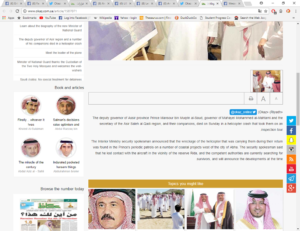 8 high-ranking Saudi officials, including Prince Mansour bin Muqrin, the son of the former crown prince, died in helicopter crash.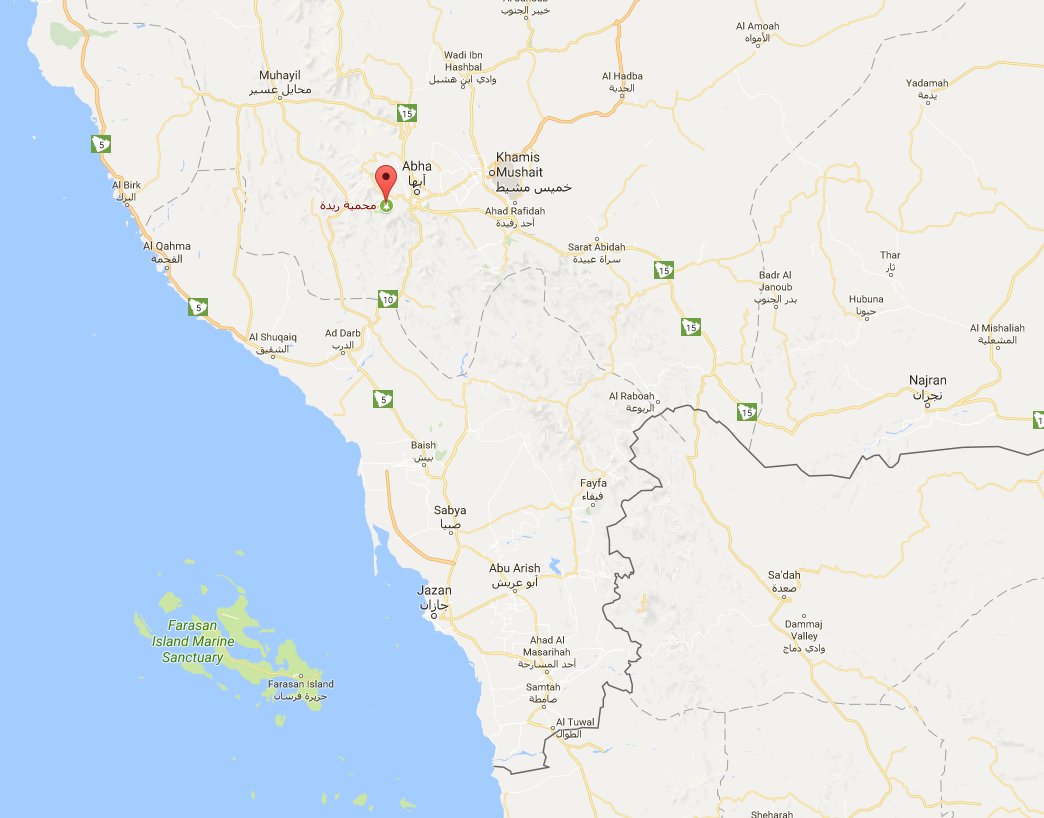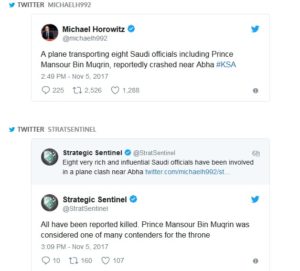 A plane transporting eight Saudi officials reportedly crashed near Abha
Saudi state outlets now confirm Prince Mansour bin Muqrin was aboard and has died in the crash
He was deputy governor of the Asir Province
It appears it was a helicopter not an fixed wing plane:
helicopter crash near Yemen border
News of the crash comes as Saudi Arabia pursues a sweeping purge of the kingdom's upper ranks, with dozens of princes, ministers and a billionaire tycoon arrested as Crown Prince Mohammed bin Salman cements his hold on power.
Already viewed as the de facto ruler controlling all the major levers of government, from defence to the economy, Prince Mohammed is widely seen to be stamping out traces of internal dissent before a formal transfer of power from his 81-year-old father King Salman.
The helicopter crash also comes after Saudi Arabia on Saturday intercepted and destroyed a ballistic missile near Riyadh's international airport after it was fired from Yemen in an escalation of the kingdom's war against Iran-backed Huthi rebels.
On Sunday, Saudi Arabia announced rewards of up to $30-million for information that would help arrest or track down some of the top Huthi rebel leaders and planners.
Featured Image Credit