Fourth of series
In the past four articles, through publicly available official records, private correspondence, memoirs, newspaper articles, photos and other information, a case has been built regarding a Nazi connection to the Scherff-Bush family and their illegal entry into America.
Former Hitler bodyguard, Otto Skorzeny, claimed that the true identity of George H.W. Bush was, "George H. Scherff, Jr., the son of Nikola Tesla's illegal-immigrant, German-born accountant, George H. Scherff, Sr. (Prescott S. Bush)."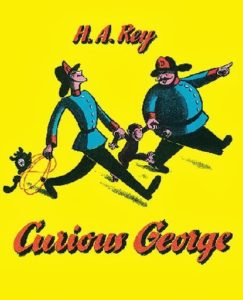 Friends and acquaintances of Nikola Tesla recall him complaining about Scherff's son, George, Jr., always snooping around Tesla's lab. On more than one occasion (probably during the late 1930s), Tesla caught the 14-year old Scherff looking at his notes, poring through his books, and stealing small items from his lab. Tesla gave him the nickname, "Curious George" and likened him to a "mischievous monkey."
According to Skorzeny, (Adolph Hitler's former bodyguard) in a deathbed confession to Eric "Orion" (Eric Berman) in S. Miami, Florida, Tesla, "hated the younger Scherff." In fact, according to Skorzeny, the "Curious George" book and movie were inspired by Tesla' s suggestion.
Skorzeny, producing a shoe box full of 60-years worth of his personal photographs, showed them to Berman, describing each one in great detail. The collection featured a photo of a young, majestic Skorzeny in full S.S. Nazi military dress, next to his Führer, Adolph Hitler. Skorzeny did not stop there. He produced a photo of a young Skorzeny, Mengele, Bormann, and the family of George H. Scherff, Sr.. Seated in the midst of those in the photo was a young George H. Scherff, Jr.,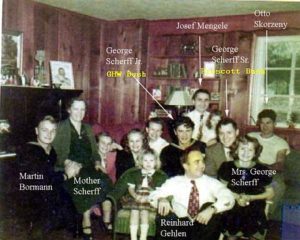 who, Skorzeny explained, was trained as a spy and sent to America to work for Adolph Hitler.
"He was given false identification and adopted by Prescott Sheldon Bush as his "son," George Herbert Walker Bush," Skorzeny went on. "He forged a birth certificate in order to enter the military before he turned 18. He was 16 at the time." In the family photo, a young Scherff and Bormann both sported a German Navy uniform. Scherff later enlisted in the U.S. Navy as "George H.W. Bush."
In even greater detail, Otto Skorzeny described how ("contrary to the CIA-written history books") he helped Hitler escape to Austria in a plane flown by a female pilot, Hanna Reitsch.
George H. Scherff Jr. / George H.W. Bush – b. 12 June, 1924, Milton, MA (Wrong: Forged birth certificate to enlist in U.S. Navy). Emigrated from Germany covertly to U.S. as George Scherff, Jr., son of Nikola Tesla's assistant, George Scherff, Sr., as spy for Adolph Hitler. (German birth records expunged). Marriage: 6 Jan., 1945 to "Barbara Pierce."

Barbara Pierce Bush- b. 8 June, 1925, Rye, NY (Wrong: Based upon 1930 Census, she was 4 yrs., 2 mos. old. Correct age was 5 years, 2 mos.). Most likely emigrated from Germany, since no birth record exists in U.S. Likely "borrowed" name from the daughter of William Brown Pierce and Isabel Ayres who died on unknown date and at unknown place. Married to George H. Scherff, Jr. aka George H.W. Bush. Her parents, "Marvin and Pauline Pierce," had no children, according to familysearch.org.  Her "grandmother," Kate P. Pierce, emigrated from Bavaria, Germany.
Both George H.W. (Schreff) Bush and Barbara (maiden name unknown) Bush claim to have been born in 1925. Both were actually born circa 1915 in Nazi Germany. The picture with Young "Barbara" and "George H.W" in Germany has been approximately dated as 1932 because of the model of car in the picture. A birth date of 1925 would make them seven if the date of the picture is correct.
A woman with a flock of kids not using birth control usually is in the early forties when the last child was born. That date was 1959 for Barbara Bush. Her claimed birth date of 1925 would mean she was age 34 when her last child was born instead of a more likely age of 44.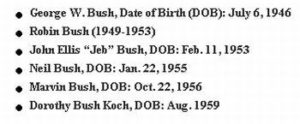 Today's U.S. history book show a different George, H.W. Bush (GHWB), born in Milton, Massachusetts, to Prescott Bush and Dorothy Walker Bush. Following the attack on Pearl Harbor on December 7, 1941, Bush postponed his university studies, enlisted in the U.S. NAVY on his 18th birthday, and became the youngest aviator in the U.S. Navy at the time. He served until the end of the war, then attended Yale University. Graduating in 1948, he moved his family to West Texas, where he entered the oil business and became a millionaire by the age of 40 in 1964.
GHWB was involved in the CIA during this time, something not reflected in the history books. He was in Dallas before, during and after President Kennedy was assassinated, a fact he denies to this day.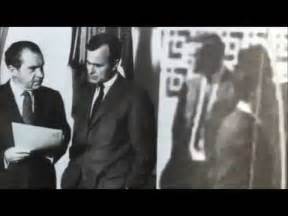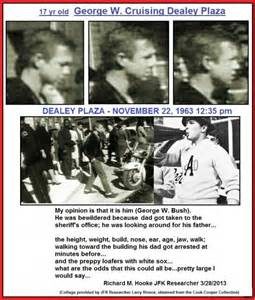 George H. W. Bush at Dealey Plaza 11-22-63                 George Sr. even brought George Jr. to Dealey Plaza November 22, 1963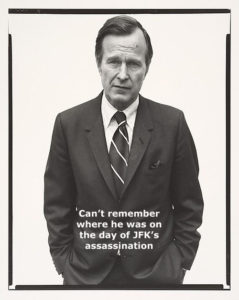 Since beginning this series, we have come across a video better able to describe this time and all the players. It is grapic and has disturbing pictures and information, especially to those who lived during this time and still grieve for JFK and Camelot. Quite frankly, it tells the story better than we might so please take the time, it's long but well worth it every minute
Bush became involved in politics soon after founding his own oil company, and he won election to the House of Representatives in 1966. In 1971, President Richard Nixon appointed Bush as AMBASSADOR TO THE UNITED NATIONS, and in 1973, Bush became the CHAIRMAN OF THE REPUBLICAN NATIONAL COMMITTEE. The following year, President Gerald Ford appointed Bush as the AMBASSADOR TO THE PEOPLE'S REPUBLIC OF CHINA, and later reassigned Bush to the position of DIRECTOR OF CENTRAL INTELLIGENCE. Bush ran for president in 1980 but was defeated in the Republican primary by Ronald Reagan. Reagan chose Bush as his running mate, and Bush became VICE PRESIDENT after the Reagan–Bush ticket won the 1980 election. During his eight-year tenure as vice president, Bush headed administration task forces on deregulation and fighting the War on Drugs.
In 1988, Bush ran a successful campaign to succeed Reagan as PRESIDENT, defeating Democratic opponent Michael Dukakis. Foreign policy drove the Bush presidency: military operations were conducted in Panama and the Persian Gulf; the Berlin Wall fell in 1989, and the Soviet Union dissolved two years later. Though the agreement was not ratified until after he left office, Bush also signed the NORTH AMERICAN FREE TRADE AGREEMENT, which created a trade bloc consisting of the United States, Canada, and Mexico. Domestically, Bush reneged on a 1988 campaign promise and, after a struggle with Congress, signed an increase in taxes that Congress had passed. In the wake of a weak recovery from an economic recession, along with continuing budget deficits and the diminution of foreign politics as a major issue in a post-Cold War political climate, he lost the 1992 presidential election to Democrat Bill Clinton.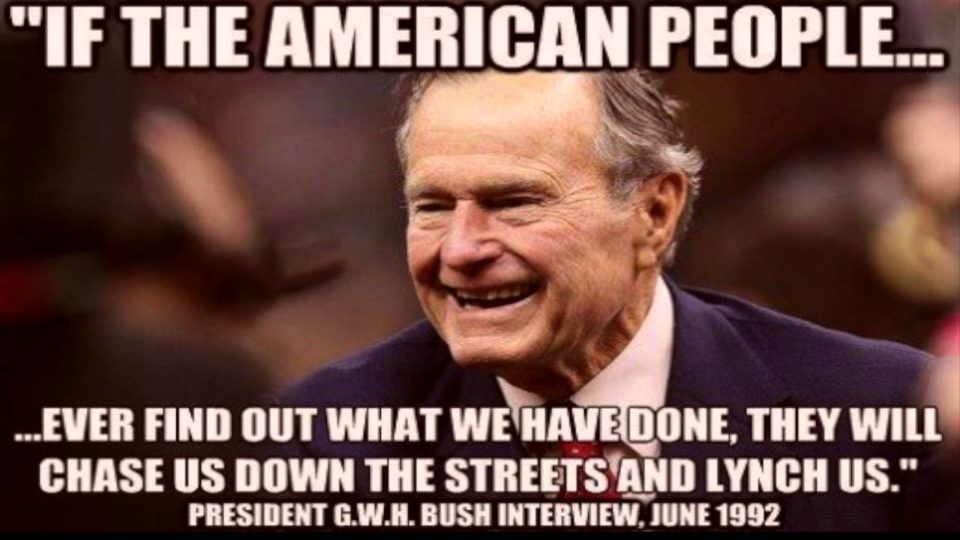 Bush left office in 1993. His presidential library was dedicated in 1997, and he has been active—often alongside Bill Clinton—in various "humanitarian activities".
Trump Opens JFK Pandora Box – George H.W. and CIA Connected?
Will Trump's Pandora Box also reveal the Bush/Nazi connection??