HAPPY BIRTHDAY MARINES!!
'A Great Honor and Tremendous Privilege.' The U.S. Marines Are Celebrating Their 242nd Birthday Today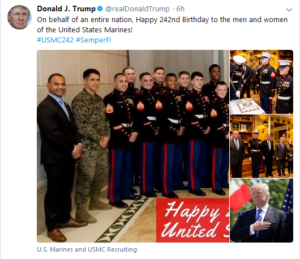 Semper Fi!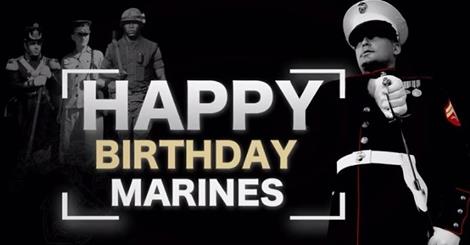 HAPPY BIRTHDAY MARINES!!
This Marine Corps birthday, let's remember our fallen comrades while focusing on these wonderful memories, of the time spent enjoying each other's company and forming the bonds that hold us all together forever.
"Though the world we have is the world we have [and] it's probably not the world we want, it can become the world that we want if we're willing to sacrifice and dedicate and work hard to make it what we believe it should be," said Marine Corps Commandant Robert B. Neller at a Friday ceremony held at the National World War II Memorial in Washington, D.C.
Semper Fi!
HAPPY BIRTHDAY MARINES!!
The main reasons for the celebrations are:
To remember the day, when such a huge and important division has been established and began its existence officially
To note all the soldiers, who protect the borders of their native country every day, at days and nights
To note also those people, who were soldiers there earlier and are retired now or were killed in various armed conflicts
To express signs of regret and respect to all the veterans, killed or people, who are missing, and certainly to their families
To lay wrists to the special monuments in the sign of remembrance to all, mentioned above
That is why for all the participants of the celebrations it is extremely important to know, what is the date of Marine Corps Birthday 2017.
Semper Fi!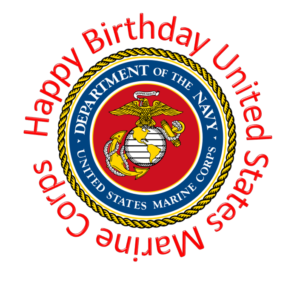 The day marks the anniversary of the approval of two Marine battalions to join the American Revolution, and today marks the occasion served as a "yearly reminder of the brave spirit that has compelled young men and women to defend our nation and its interests for more than two centuries," according to Marines.com.
HAPPY BIRTHDAY MARINES!!
Semper Fi!
A Marine field cook, stationed in Bermuda, with a cake he baked for the Marine Corps' birthday in 1943.
US Marine Corps photo