Saudi Arabia's Vision 2030: Middle East to Asia Transformation along the Silk Road Initiative
In less than three years, Crown Prince Mohammad bin Salman has acquired oversight of nearly every major aspect of the Saudi Arabia's economy: foreign policy, security, defense, and social reforms, which is likely to cause resentment in a royal family unaccustomed to so much power concentrated in the hands of one so new to the power.
But the prince's his ambitious plan has many supporters applauding his vision to modernize the ultraconservative kingdom.  Saudi Arabia is home to Islam's holiest shrines, and is known for its historic dependence on oil.
In the Crown Prince's "Saudi Vision 2030", he calls for liberalizing the economy and easing social restrictions in order to preserve stability in the face of lower oil prices and a burgeoning youth population in need of employment.

"MBS as he's commonly referred to has talked about his vision as a matter of life and death for the Saudi economy," said Fawaz Gerges, a professor of international relations at the London School of Economics. "Anyone who doesn't subscribe to it is liable to be seen as a person who doesn't want the kingdom to move forward."
The recent corruption investigations and subsequent shifts in the country's power struggle, herald a "new era" of transparency and accountability, reforms that are needed to attract more foreign investment.
"The state will never tolerate or condone any violations of local or international business standards," Finance Minister Mohammed bin Abdullah pledged in a statement Sunday carried by the Saudi Press Agency. "Nothing and no one will prevent us providing a world-class investment environment to accelerate the pace and momentum of national transformation."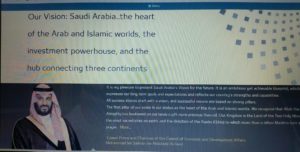 "It is my pleasure to present Saudi Arabia's Vision for the future. It is an ambitious yet achievable blueprint, which expresses our long-term goals and expectations and reflects our country's strengths and capabilities.
All success stories start with a vision, and successful visions are based on strong pillars.
The first pillar of our vision is our status as the heart of the Arab and Islamic worlds. We recognize that Allah the Almighty has bestowed on our lands a gift more precious than oil. Our Kingdom is the Land of the Two Holy Mosques, the most sacred sites on earth, and the direction of the Kaaba (Qibla) to which more than a billion Muslims turn at prayer.
The second pillar of our vision is our determination to become a global investment powerhouse. Our nation holds strong investment capabilities, which we will harness to stimulate our economy and diversify our revenues.
The third pillar is transforming our unique strategic location into a global hub connecting three continents, Asia, Europe and Africa. Our geographic position between key global waterways, makes the Kingdom of Saudi Arabia an epicenter of trade and the gateway to the world. "
Crown Prince and Chairman of the Council of Economic and Development Affairs
Mohammad bin Salman bin Abdulaziz Al-Saud states on the Saudi Arabia Vision 2030 website.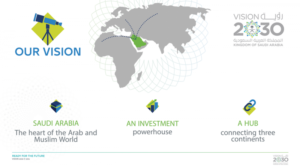 The stagnation in non-oil growth has caused concern in Saudi Arabia's  economic sector recently.  The chart below reflects the decline in growth.
Twitter
"We haven't seen any meaningful pick-up in investments or clear plans to stimulate the economy," said Monica Malik, chief economist at Abu Dhabi Commercial Bank in related Bloomberg article.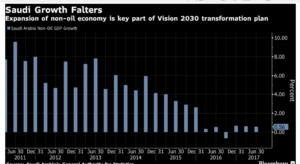 This decline in oil reliance has led Saudi Arabia into futuristic territories.  With proposed cities such as Neom being slated to be a super smart city/region per Agenda 2030:
Technology and Digital Sciences:  Think of the future and a few key things spring to mind.  Artificial Intelligence, Virtual Reality, Smart Devices that make life effortless, the Internet Of Things… the destination itself is a test ground for urban innovations.
A strategic location on one of the world's most prominent economic arteries will make NEOM a global hub for trade, Innovation and knowledge.
NEOM will operate as an independent economic zone – with its own laws, taxes and regulations specially created to boost healthy growth and wealth for the region, investors and residents."
NEOM will seize the world's attention… just a few descriptions from DiscoverNEOM website.
A previous American Digital News article covering AI, specifically a humanoid robot named Sophia that was given Saudi Arabian citizenship last month, discussed a futuristic city of robots.
Newsweek reported last month, Saudi Arabia's prince announced an ambitious plan to build a $500 billion megacity populated by robots. The new city is part of Prince Mohammed bin Salman's plan to diversify the economy and modernize the country. But critics say the money could be put to better use.
The Discover Neom website goes on to detail its innovative plans for manufacturing, R&D, robotics… fully automated, point-to-point transfers, passenger drones, self learning systems and refine them to perfection.  Next-generation gene therapy, genomics, nanobiology, bioengineering and stem-cell research are but a few of the healthcare innovations planned in Neom.  Pioneering the future of energy productions…with whole new kinds of energy the world has yet to hear of.  All part of Saudi's Vision 2030 Agenda.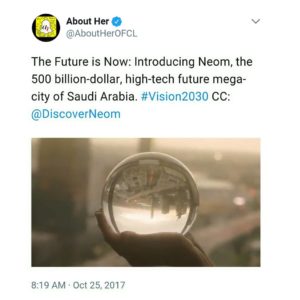 Twitter
It is important to note that the area slated for the Saudi super smart city project of Neom is perfectly positioned along China's new Maritime Silk Road – One Belt One Road Initiative.   Which is a development strategy proposed by China's paramount leader Xi Jinping that focuses on connectivity and cooperation between Eurasian countries, primarily the People's Republic of China (PRC), the land-based Silk Road Economic Belt (SREB) and the oceangoing Maritime Silk Road (MSR). The strategy underlines China's push to take a larger role in global affairs with a China-centered trading network.
"The aim of the $900 billion scheme, as China explained recently, is to kindle a "new era of globalization", a golden age of commerce that will benefit all. Beijing says it will ultimately lend as much as $8 trillion for infrastructure in 68 countries. That adds up to as much as 65% of the global population and a third of global GDP", according to the global consultancy McKinsey in a recent article on World Economic Forum.
Chinese President Xi Jinping's new Silk Road to Europe traverses territory where most bond investors fear to tread.  Of the 68 nations China lists as partners in its Belt and Road Initiative, the sovereign debt of 27 are rated as junk, or below investment grade, by the top three international rating firms. Another 14, including Afghanistan, Iran and Syria, are either not rated or have withdrawn their requests for ratings.
The Road involves spending as much as $1.2 trillion on railways, roads, ports and power grids over the next decade, according to Morgan Stanley on Bloomberg News article. The intent is to open new business opportunities for domestic companies and extend China's reach — even though the route cuts through multiple conflict zones and some of the world's most corrupt countries.
Yet the most striking image rising from the desert are entirely new city. For instance, four years ago, Khorgos was founded to become the world's busiest inland port, a vital link in China's multi-billion dollar plan to re-create the Silk Road.  Khorgos, one of the most remote spots on earth, sits on the edge of the Taklamakan Desert, nicknamed the "Sea of Death."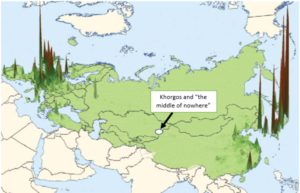 "Today, the ground of Khorgos is mud," says Guo Jianbin, deputy director of the Khorgos Economic Development Zone administration committee, accenting his words with a booted stamp in Time's article last month. "But soon it will be paved with gold."
The Belt and Road Initiative will span more than 65 countries, cover 70% of the planet's population, 3/4 of its energy resources, a 1/4 of its goods and services and 28% of global GDP—some $21 trillion.
China and Saudi Arabia signed memorandums of understanding and letters of intent potentially worth about $65 billion during Saudi King Salman's visit to Beijing, a senior Chinese diplomat said. The octogenarian monarch, who has overseen the launch of an ambitious economic reform plan since his accession two years ago, was on a month-long Asian tour this past March according to PKKH. The visits to countries that are some of world's fastest growing importers of Saudi oil aim to promote investment opportunities in the kingdom, including the sale of a stake in its giant state firm Saudi Aramco.
#AmDigitalNews  #SaudiArabia   #China  #SilkRoadInitiative  #AI  #IoT  #SmartCity
Special thanks to contributing researchers:  Azra Dale and Sir-Templar.