ADN HEADLINE RECAP  NOVEMBER 6-12, 2017
In Case You Missed It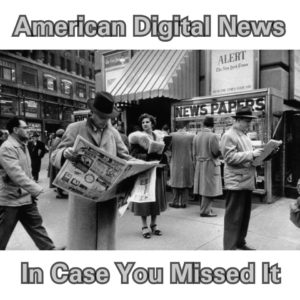 Here are several of the week's Headline Stories with hyperlinks to each article listed.
*****************************************
Week 10: Thousands of Empty Seats Still Plague NFL Stadiums
Photos of empty seats continue to make their appearance on Twitter as the NFL's Week 10 games debut on Veterans Day, this weekend. Though only a few players decided to protest the country on this day dedicated to our soldiers, fans stayed away in droves.
***
'Hannity' Fans Blow Up Products as Companies Pull Advertising over Roy Moore Coverage
At least five companies have confirmed that they will no longer advertise on the Fox News' show Hannity over his coverage of allegations against Alabama Senate candidate Judge Roy Moore.
***
FBI Finds 30 Pages of Clinton-Lynch Tarmac Meeting Documents – Wants Six Weeks to Turn Over Docs
Judicial Watch was informed yesterday by the U.S. Department of Justice (DOJ) that the FBI has located 30 pages of documents related to the June 27, 2016, tarmac meeting between former Attorney General Loretta Lynch and former President Bill Clinton, and proposes non-exempt material be produced no later than November 30, 2017 (Judicial Watch v. U.S. Department of Justice (No. 1:16-cv-02046)).
***
After previously having twins, a Maryland mother is now expecting triplets!
First, they had a baby boy. Then they had twin boys. Now they are expecting TRIPLETS!!!
After having their first son back in 2011, and then welcoming twin boys in 2015, Nia and Robert Tolbert are now expecting triplet girls.
***
Russia Scandal Befalls Two Brothers: John and Tony Podesta
One is a rail-thin liberal idealist who spent his career in government, on campaigns and at think tanks. The other is an overweight pragmatist who made a fortune lobbying for all manner of liberal boogeymen.
***
First to Fight for 242 Years, Can Marines Fight Without Power?
Today, though, our Marines – and 99% of all U.S. Military bases – are completely dependent upon our nation's civilian electric grid.   If that grid were to suffer a prolonged blackout – which is a very real prospect – these hardened warfighters would be in the same boat as the rest of our society:  without running water, with backed up sewer, and eventually without food or medical care.  Should we make sure military bases have secure and protected sources of electricity? Sure.  Should we make sure our entire nation has a secure grid?  ABSOLUTELY.
***
U.S. Blows $4.1 Million on Another Shoddy Project to Rebuild Afghanistan
In the latest of a slew of corrupt Afghanistan reconstruction projects, the U.S. government blew more than $4 million on a shoddy military training center in Kabul, according to a federal audit released this month. It's part of a broader, fraud-infested initiative that nevertheless keeps receiving huge sums of American taxpayer dollars. When the Taliban was booted from power in 2001, Uncle Sam committed a huge chunk of change to help rebuild Afghanistan by building and renovating facilities such as schools, prisons, hospitals and industrial parks
***
Pentagon offers no answers on $43 million price tag for Afghan gas station
The Defense Department spent $43 million on a compressed natural gas fueling station in Afghanistan, while a similar project in Pakistan cost just $300,000 — and now the Pentagon can't even account for who made the decisions behind the waste, according to an inspector general's report being released Monday.
***
Former Asst. FBI Director: Clinton Crimes 20 Times Bigger than Watergate
Former Assistant FBI Director James Kallstrom unloaded on James Comey, Robert Mueller, Hillary Clinton, and Barack Obama Thursday, charging that major crimes "20 times bigger than Watergate" are being swept under the rug while Attorney General Jeff Sessions "is in a coma."
***
Philippines leader Duterte says he is willing to shoot criminals himself
Philippine President Rodrigo Duterte has said he would be willing to shoot criminals himself after sidelining the police 10 days ago in his deadly war on drugs.
***
Trump Offered 'Fancy Lunch' on Visit to S Korea, But Chose the Troops Instead
President Donald Trump joined the troops for lunch Tuesday, sharing "Taco Tuesday" with over 100 U.S. and South Korean soldiers at Camp Humphreys, located 60 miles south of the border with North Korea.
"I had a choice of having a beautiful, very fancy lunch and I said no, I want to eat with the troops and we ate with the troops," Trump said.
***
Sen. Robert Menendez may have had sex with underage hookers in Dominican Republic: prosecutors
Federal prosecutors said Monday that they aren't convinced claims U.S. Sen. Robert Menendez cavorted with underage hookers – widely seen as discredited – are false.
***
Arkancide? Man at the Center of Clinton 'Dirt' Claim Mysteriously Disappears
Joseph Misfud is the Maltese academic who told ex-Trump camp volunteer, George Papadopoulos in April of 2016 that he has 'dirt' on the Clintons, according to a U.S. affidavit.
***
NASA to test 'space lasers' with latest launch (VIDEO)
An American aerospace firm is aiming to create 200 megabits per second (Mbps) connections in space using satellites equipped with lasers. The new satellites were launched on Sunday from NASA's Wallops Flight Facility in Virginia.
If successful, this new tech could pave the way for networks of satellite-connected devices to send data, which will be useful for military, tech, and meteorological agencies, to and from space via laser connections.
***
Poll: Nearly Half of White Southerners Feel Like They're Under Attack
Forty-six percent of white Southerners said they agree or strongly agree that white people are under attack in the U.S. More than three-fourths of black respondents said they believe racial minorities are under attack.
***
The Lineman Got $63 an Hour. The Utility Was Billed $319 an Hour.
The small energy outfit from Montana that won a $300 million contract to help rebuild Puerto Rico's tattered power grid had few employees of its own, so it did what the Puerto Rican authorities could have done: It turned to Florida for workers.
***
'We will never be your slaves!' Italy in crisis as THOUSANDS demand EXIT from 'EU MAFIA'
THOUSANDS of protesters took to the streets yesterday to demand Italy leaves the EU immediately, with march slogans labelling the European bloc a mafia.
***
Trump Reportedly Wants Scientology's Tax Exemption Revoked
It's a cult, not a church.
President Trump reportedly wants the Church of Scientology to lose its tax-exempt status, a longtime aide and friend to the commander-in-chief told actress Leah Remini.
***
House Will Vote Next Week To Cap Perks For Former Presidents
House lawmakers next week are expected to pass legislation that would cap pensions for former presidents, and also scale back the monetary allowance they're allowed to use to rent an office and keep a staff.
***
French President Macron goes full idiot, seeks to revise Iran nuclear deal to avert Tehran's hegemony in Middle East
French President Emmanuel Macron has proposed to amend the nuclear deal with Iran to cover ballistic missile development to avoid a "North Korean" scenario in the Middle East.
In 2015, Iran and six major world powers reached agreement on the Iranian nuclear question, bringing an end to the 12-year dispute over Tehran's nuclear program and related economic sanctions. Under the terms of the deal, called the Joint Comprehensive Plan of Action (JCPOA), Tehran agreed to cap its uranium enrichment below the level needed for bomb-grade material.
***
Donald Trump's Deputies Spike Repatriation of Illegals
President Donald Trump's deputies are ramping up enforcement of the nation's popular immigration laws, and are repatriating more illegal immigrants back to their homes.
***