Is this attack on Moore just another page out of DNC/RINO/DS playbook?
Thomas Wictor @ThomasWictor
This is the trap they're setting for you: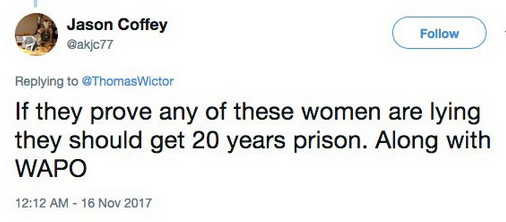 That's all I knew about him (Moore).
I wasn't following the Alabama senate race, because I don't live in Alabama.
The accusations began, and I knew immediately that the totally messed-up woman was lying.
Her background indicated lots of pathology.
Out of curiosity, however, I began researching Roy Moore, and I became fascinated by how the press had TOTALLY DISTORTED this very complex man.
Then Gloria Allred emerged. I thoroughly examined the accuser's claims and found them to be completely WANTING.
The yearbook in December, the brutality of the assault, the fact that the women kept saying that Moore was the District Attorney.
Then I watched the Allred press conference and saw that it was the same old scripted performance that included Gloria hugging the accuser, and the accuser dabbing at her eyes.
I saw first that the signature was forged.

Then I saw that two different inks were used.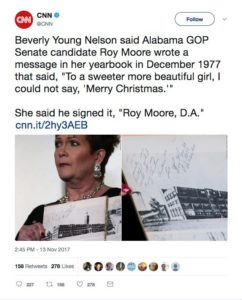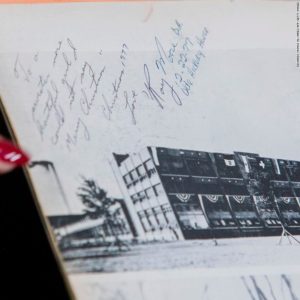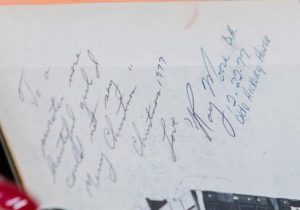 "Prove the women are lying."
No.
PROVE that Roy Moore did these things.
Here's what I did:
I researched Moore as thoroughly as I researched Donald Trump.
BEFORE the accusations began, I knew of Moore from his Ten Commandments days.
I knew then that this was an organized political hit job on Roy Moore.
Here are the events that brought Moore to local and public notoriety:
He was appointed the first full-time Assistant District Attorney for Etowah County on October 1, 1977.
In December of 1979, Moore publicly criticized the local legal system in The Gadsden Times.
Moore had to sue for a pay raise in 1981, which he got.
In 1981 the news of the grand-jury indictment of Glencoe Mayor Ronnie Rampey was published in the The Birmingham News 30 minutes before Rampey was arrested.
Alabama law prohibits officials from releasing any information concerning a grand jury case until the person indicted has been arrested.
Moore says his bosses accused him of being the leak of the news of the indictment.
"Courthouse observers [said] the probe of the leak was 'politically motivated by some Etowah County officials who are "out to get" Assistant District Attorney Roy Moore.'"
Moore finally got Mayor Ronnie Rampey removed from office on corruption charges, but only after TWO impeachments.
In 1982, Moore lost his bid to become a Circuit Court judge. He said that after that defeat, he essentially barred from practicing law in Gadsden.
I forgot that in 1981, Moore ALSO convened a grand jury to investigate whether the sheriff's department was underfunded.
This was considered an attack on his superiors, so he was hit with ethics charges that were dismissed.
In 1983 Moore became a professional kick boxer, and then he went to Australia to be a cowboy.
In 1984 Moore returned to Gadsden and opened a private practice. He ran for District Attorney in 1986 but lost to the establishment candidate.
Between 1986 and 1992, Moore ran his practice, and then he was appointed Etowah County presiding judge.
He spent the next six years battling the ACLU in court over his Ten Commandments wall plaque. The case was dismissed.
In December of 2000, Moore became chief justice of the state supreme court. He put up the Ten Commandments sculpture six months later. He was removed from office in November of 2003 because of it.
Moore was again elected chief justice of the state supreme court in November of 2012.
In May of 2016, Moore was suspended for ordering probate judge to not issue same-sex marriage licenses. In September Moore was removed from the bench.
Moore's entire career has put him at odds with powerful, moneyed, and deeply antagonistic forces.
But there was never a HINT that he was mistreating women.
In 2003, stories of Moore preying on young women would've served multiple political and social purposes.
But nothing came out. Nothing. Nothing.
We went from NOTHING to Moore is a RAPIST.
And now he's a ninja butt grabber.
According to the accusers, he has no brakes–but he stops.
This deeply serious, disciplined, ambitious man WITH POWERFUL ENEMIES allegedly jeopardized everything, yet he has no history of compulsive or self-destructive behavior.
Why are the accusations–perfect? Down-to-the-letter tailored to derail Moore/s candidacy?
Suddenly he's every parent's nightmare, a literal boogeyman.
Why did NONE OF THIS come out over the many years that Roy Moore fought political and legal battle?
There's ONLY ONE ANSWER:
The accusations are false.
This is an organized political hit job. A mafia is trying to take out the judge.
Only the voters can stop it from happening…
+++ ++ +
Additional interesting comments we've found: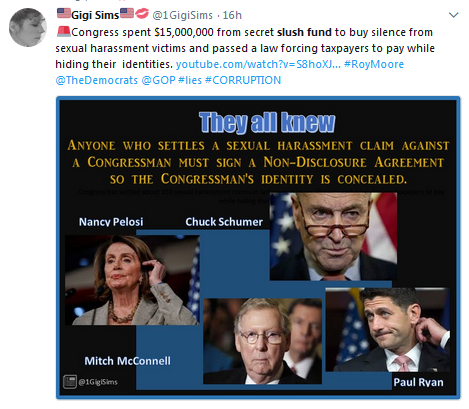 #MooreSenate should tell McConnell that when seated in the Senate he's going to demand a list of all Congress members involved in the 235 cases that taxpayers were forced to pay $15.2 M to settle and anyone on the list that holds a seat must be immediately removed from office.
Who authorized this "slush" fund and of that $15.2 million how much is at tax payers expense?
SO OFFENSIVE!! Sexual harassment of young victims sounds rampant in Congress. Kept secret! Payoff victims out of $15M slush fund! Perpetrators not stopped! Innocent victims blackballed! Yet attack Moore!
'Why aren't they naming names?': @IngrahamAngle calls for probe of congressional 'shush' fund that has paid out $15.2 million to victims or accusers of sexual misconduct over the past few years.
TWELVE ALABAMA WOMEN AFFIRM THE GOOD NAME OF JUDGE ROY MOORE
This evening, the Judge Roy Moore Campaign for U.S. Senate released the statements of twelve women who are coming forward as character witnesses for Roy Moore.
Here are their statements:
"I have known Roy Moore for about forty years. Roy and I briefly dated when I was in my twenties. While I was around Roy, either just the two of us or with other people, he was always a true gentleman treating me with respect and courtesy. I can honestly say that I never have seen or heard any inappropriate remarks or behaviors while he was around me. I believe that Roy lives by his Christian beliefs and is a good man. – Jennie Klingenbeck, Birmingham, AL (previously Gadsden, Alabama).
My name is Jaime Moses and I was born and raised in Gadsden, Alabama. I worked at Uncle Sam's BBQ (closed now) for 10 years while in my 20's and waited on Roy Moore and his family. Mr. Moore and his wife were nothing but friendly and respectful. The children were the same, which is a sign of great parenting. He knew many people dining there and spoke and shook hands with everyone. Not once did he make me feel uncomfortable. Working in the food industry can be hard sometimes and Mr. Moore's kindness to myself and staff did not go unnoticed. – Jaime Moses, native of Gadsden, Alabama.
"My first remembrance of Roy Moore was grammar school. He was probably in Jr High school but all of us Gallant kids rode the same bus. He was always a gentle, kind boy and grew into an even more admirable man. He was my softball coach in my high school days and was always such a kind person, never a mean or hateful word to any of us. Only kindness and utmost respect! Have been friends with all of his family for many, many years. NEVER heard ANY mention of any such behavior in all these years. Have seen him at the local church several times with his knees bowed in prayer at the altar. Takes time to listen to people. Just a wonderful, Christian man in a small rural community. Devoted to family, friends and most of all God. Proud to know him and will continue to support him with our presence and prayers."
– Sharon Lamkin, Gallant, Alabama
"I have known Roy for over 30 years. I met him in 1984 when he met my sister in church and began dating her. He has always showed honor and dignity. I truly can't even begin to grasp that people would question his character. He has lived by what he preached since the day I met him." – Kandi Kisor Smith, sister of Kayla Moore.
​"​I was the receptionist for Roy Moore the first time he was Chief Justice and I am proud of our history. I saw everything that went on in that office and I've never worked for anybody who was more considerate, honest, or kind. We all enjoyed our tenure there. He was always up and above board. If any of these people who are slandering the good name of Roy Moore had ever worked with Judge they would know what a fine person he is. My history with Judge Moore was nothing but pleasurable and this is all upsetting to me." – Marianne Rhodes, receptionist for Roy Moore during his tenure as Chief Justice of the Alabama Supreme Court from 2000-2003.
​"I feel it my duty to say that I have known Roy Moore since I was a kid. I worked closely with Roy (adjoining offices) when I was 16 years old. I went to school half a day and worked at the bank half a day. NEVER did he in any way make me feel uncomfortable, flirt, or make advances towards me. He was always a kind and respectable man. We are still friends to this day and I would put my life in his hands if need be. There is not way that these statements these people are making are true. Someone is getting some hefty perks coming from the lies that are being told. I appreciate and respect everything that Roy has done for our state and citizens."
– Elaine Conner Watson, native of Gadsden, Alabama.
"I have known Roy Moore and his family for over thirty years. I spent a great deal of time as a child with his nieces, who lived in close proximity to Mr. Moore's residence. There was never a time I felt uncomfortable or witnessed any inappropriate behavior by him . We have attended the same church for over twenty years and I have always had the utmost respect for the life he leads and the principles he stands for." – Amanda Pearce, Gadsden, Alabama.
"My name is Doris Mason. I have known Roy Moore for over 50 years. I first met him when I started dating his first cousin, Dennis Mason. Dennis and I married in 1965, eventually had 4 children (3 of whom are girls) and we frequently visited his childhood home prior to our marriage. Roy has been nothing short of a true gentleman toward me, my daughters, and anyone else I have witnessed his interaction with. He spent many evenings in our home around our dinner table. Roy has spent time with all of our children at length and he has always displayed integrity, honesty and impeccable character. It is my belief that the accusations against Roy are completely false! Do I believe that Roy is perfect? Certainly not. No human is. What I do know is that he is a man that I trust and offer my utmost respect to because he has never been anything but respectful towards me and my family!" – Doris Mason, Attalla, Alabama.
"I have known Roy Moore for 25 years. Roy has always been a kind, caring and generous Man of God. I have never heard anything bad said about Roy. He is a wonderful spiritual leader to his family and has exceptional character."
-Brenda Parrish, Gallant, Alabama.
"My name is Angie Johnson. We have know Roy Moore and his family for more than 25 years. His son was coached on a ball team by my husband ..a team player along side my son. Roy also helped with coaching the team. My husband and I have been guests in his home, in his office in Gadsden as well as Montgomery. I am acquaintances with several members of Roys family. I have never known Roy to exhibit anything other than appropriate behavior during our times together. Further I was raised and lived in Gadsden all of my 50+ years and I have never been aware of any of the incidents that have been spoken of about Roy. I worked in a fast food establishment that Roy frequented during the time period in question. Again …no behaviour exhibited other than respect and mannerful…during that time Roy had written and recorded a 45 record which he brought over and gifted to my mother. I do not understand waiting years and years to make accusations unless there are political or monetary gains to be made. It is a sad day when someone can take a person's character and attempt to discredit them by making accusations that cannot be proven. How quick everyone is to take the position of judge, juror, and executioner. What if the shoe was on the other foot. I would never condone sexual harassment against anyone if proven."
– Angie Johnson, native of Gadsden.
"My name is Linda Whitt. I had the pleasure of meeting Roy Moore around 15 years ago. He is related to my husband's brother-in-law. I have never known Roy to be anything other than a gentleman. With that being said, it saddens me that there are those who seek to tarnish the reputation of a good man." – Linda Whitt, Duck Springs, Alabama.
"I have known Roy Moore all my life. He is one of the most godly men I've even known. I would trust him with my life and I could call on him for anything and I know he'd be there. He's a wonderful husband, father and granddaddy and loves his family dearly." – Jennifer Price, Gallant, Alabama.
Previous Articles: