ADN HEADLINE RECAP – NOVEMBER  20, 2017
In Case You Missed It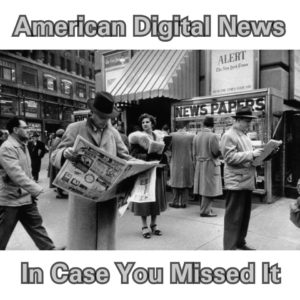 Here are several of the day's Headline Stories with hyperlinks to each article listed.
*****************************************
HANNITY EXCLUSIVE: Newly Unearthed Documents Linking Russia To Clinton-Uranium One Scandal Validates FBI Informant
Fox News host Sean Hannity and Circa News reporter Sara A. Carter have teamed up to report that "the treasure trove of documents," linking Russia to the Clinton-Uranium One deal validates statements by FBI informant William D. Campbell Jr.
***
Fifth SEIU Official Ousted After Being Accused of Sexual Assault
Another official at the Service Employees International Union has been ousted following accusations of sexual assault. Pedro Malave was first fired from a local Boston-area SEIU chapter in 2014, only to be later rehired at two other local chapters in California.
***
Saudi Arabia's Top Cleric: Fighting Jews Forbidden, Hamas a Terror group
The Grand Mufti of Saudi Arabia issued a ruling forbidding war against the Jews and proclaiming that Hamas is a terror group. The Grand Mufti of Saudi Arabia, Abdulaziz Al Sheikh, issued a surprising religious ruling, saying that fighting against Israel was inappropriate and that Hamas is a "terror organization."
***
Federal Judge announces decision on Trump's order defunding sanctuary cities
U.S. District Judge William Orrick, who was appointed by former president Barack Obama in 2012, has continued to put up roadblocks before President Trump, in his efforts to fight illegal immigration. Monday, Judge Orrick ruled that the temporary block he had put in place in April to stop Trump's efforts to withhold funding from sanctuary cities would become permanent, calling Trump's order "unconstitutional on its face."
***
World's first human head transplant 'imminent' – Italian surgeon.
***
Former staff members allege that Conyers, the ranking Democrat on the powerful House Judiciary Committee, repeatedly made sexual advances to female staff that included requests for sexual favors, contacting and transporting other women with whom they believed Conyers was having affairs, caressing their hands sexually, and rubbing their legs and backs in public. Four people involved with the case verified the documents are authentic.
***