In our article  Stephen C Paddock: "FACTS", findings & false narratives  we covered the "FACTS" as known at that time about Stephen Craig Paddock. More information has surfaced regarding Stephen Paddock that may change the whole Las Vegas narrative.
As we covered earlier, we are led to believe Paddock completed his studies at Richard E. Byrd Middle School in 1967, then graduated from John H. Francis Polytechnic High School in 1971, and from California State University, Northridge in 1977, with a degree in business administration. Paddock allegedly worked for the federal government from about 1975 to 1985. He was a letter carrier for the U.S. Postal Service from 1976 to 1978. After that, he worked for six years as an Internal Revenue Service agent, until 1984. Then, he was a federal auditor for one year, in 1985, focusing on defense contractors.
Towards the end of the 1980s, Paddock allegedly worked for three years as an internal auditor for a company that later merged to form Lockheed Martin.
These areas of vague employment would be perfect if you were providing living expenses for someone working for a branch of U.S. Intelligence.
***
FBI Agents Quietly Told to Stop Investigating Vegas Shooter Paddock's Travels, Cash Linked to Terrorism Hot Beds
Stephen Paddock's travel and finances have definitive ties to terrorism-related hot spots throughout the globe, according to several federal law enforcement sources.
His girlfriend Marilou Danley does too. She travels on an Australian passport, frequents the Philippines, Japan, and has family in Dubai. She has traveled there too. (She might be there now.)
Paddock has traveled to these locales with Danley. But he has been other places too linked to terrorism, including possibly Jordan, according to a State Department source. The FBI places Paddock in Dubai as recent at June 2016, with Danley.
The State Department said the FBI is aware of Paddock's treks to the Middle East and beyond, as they are "documented in a number of databases" not available for public eyes. Yet the FBI portrays Paddock as a Franciscan monk. Truepundit
***
Now the tale of an uninteresting, mundane Paddock stops and we learn there was much more to this quiet, reclusive appearing man. And how very interesting that Paddock, described as an "accountant", would Chair the American Institute of Aeronautics and Astronautics' Space Operations and Support Technical Committee from 5/1988 to 4/1989 while an employee of McDonnell Douglas.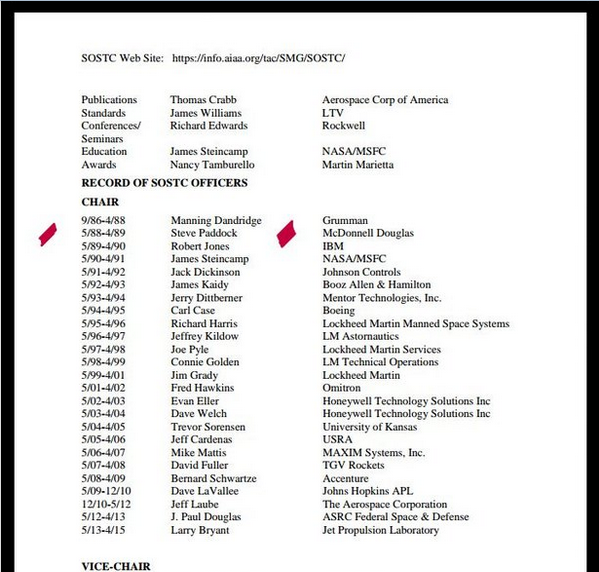 Here's just a few topics the AIAA finds interesting:
Military & Aerospace Aviation Technology
Space tethering
Military & Aerospace Cyber Security
***
And another interesting bit of information we found regarding this picture of Stephen and his younger brother Eric: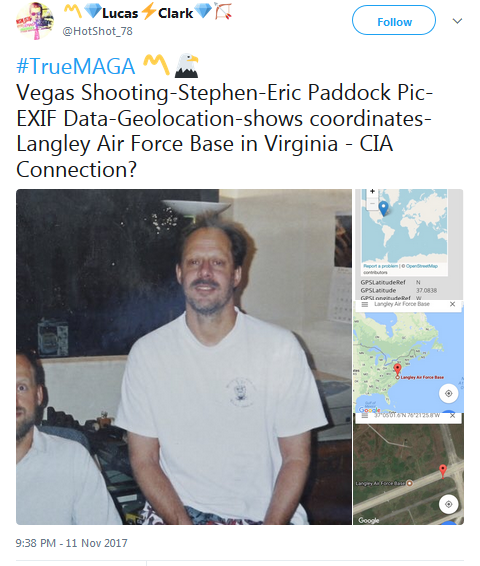 The Paddock brothers were/are close, owning businesses together and sharing comped hotel suites during vacations. Stephen gambled as he lived, his brother said — methodically, always weighing the odds and taking few chances. He was cautious and liked to plan ahead, Eric said, and didn't like leaving things to chance. Our question – are the brothers so close Eric would share his photo for a Stephen Paddock passport? In Iowa??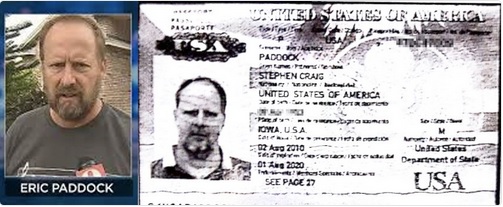 A man with houses everywhere who did not really live in any of them. Someone who liked the high life of casinos but drove a nondescript minivan and dressed casually, even sloppily, in flip-flops and sweatsuits. Stephen lived an intensely private, unsocial life. He always carried two cellphones, each with a different carrier, in case one network was down. He was a pilot, taking the extra step to get an instrument rating so that he could legally fly in cloudy conditions with limited visibility. He bought cookie-cutter houses in Texas and Nevada towns with small airports so that he could park his planes. Stephen had been buying guns since 1982. But something seemed to change over time and we know he went on a shopping spree, adding to his arsenal until late September. It's been stated, When it came to guns, "he was not a novice." It is also widely believed Stephen Paddock was a gun runner, possibly supplying guns to MS-13. And some of the guns were legally purchased and some were from VERY suspicious sources. As we covered in Will Nevada Change the Way America Defines Terrorist.
***
ONLY CASINO EMPLOYEES WITH FIREARMS ARE ALLOWED PAST CASINO ENTRANCES MONITORED BY MAGNOMETERS
What may not be widely known is Casino entrances have magnometers. Firearms would be detected had Paddock used patron entrances. Steve Wynn just confirmed this. So, who would allow Paddock to use an EMPLOYEE service elevator? Which employee(s)?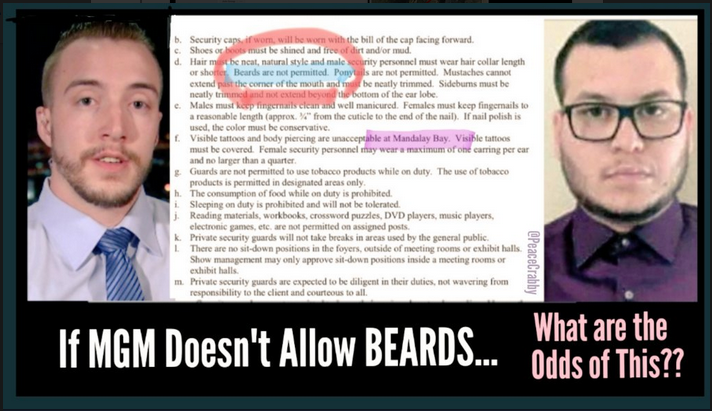 Next. Internal Security Protocol at Hotels/Casinos require a room check if a room is on "Do Not Disturb" for more than 12 hours. Yet, we are to believe his room was on 36 hours without visual inspection? Again, this leads to employee(s). Now, we do know SEIU and Antifa have formed connections (See articles HERE and HERE and HERE). There is no way LVMPD is unaware of these Protocols and Entrance security.
Was Paddock the one who actually brought the firearms in? Did he use EMPLOYEE service elevators? Or did EMPLOYEE(s) ferry the firearms in through service elevator for him? And what are the demographic / visa / immigration status' of casino service employees?
Another critical piece of researching… Paddock didn't commonly imbibe in alcohol.  These are questions that should have been asked by the media. He frequented his neighborhood bar for the slots, not alcohol. Gambling was his vice, not alcohol. Also note, many serious poker players do not imbibe, especially not in excess. Throws their wits. The celebrity players aren't a prime example of a professional player. They make their money elsewhere and drink and play as entertainment. "A drink" doesn't translate to frequently imbibing. The narrative is deceptive….
**********************************************************************************************************************************************************************************************
***GRAPHIC IMAGES***
Was Paddock the person in the "leaked" photo supposedly in room 32-135?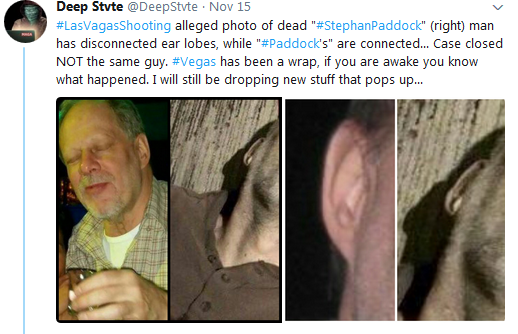 From this evidence, we believe @DeepStvte is correct, this is NOT Stephen Craig Paddock. If not, who IS IT?? Luis Francisco Castro??
Was Luis Castro Linked to MS-13?
We are hearing "YES" and that MS-13 are used as assassins by a variety of individuals/organizations .
***
And as a bonus… helicopters landing on the rooftop just after the shooting??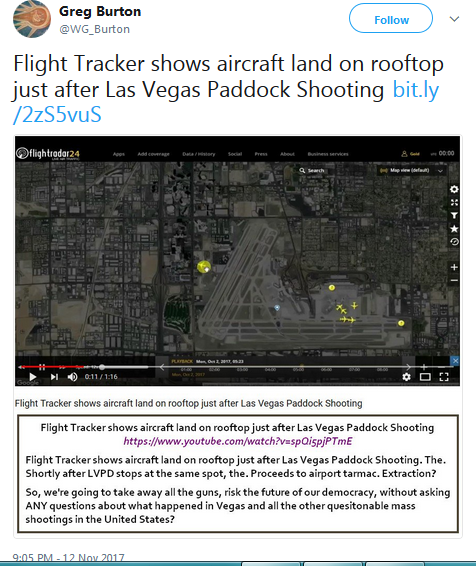 And helicopters with machine guns on the rails???
Las Vegas – Helicopter Shooting Mystery – Machine Gun?