ADN HEADLINE RECAP – NOVEMBER 21, 2017
In Case You Missed It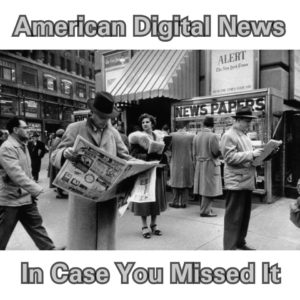 Here are several of today's Headline Stories with hyperlinks to each article listed.
Silent for more than a week, President Donald Trump all but endorsed embattled Alabama Republican Senate nominee Roy Moore on Tuesday, discounting the sexual assault allegations against him and insisting repeatedly that voters must not support Moore's "liberal" rival. The president said he would announce next week whether he will campaign for Moore, who faces Democrat Doug Jones in a Dec. 12 special election to fill the seat once held by Attorney General Jeff Sessions.
***
Harvard University has been accused of failing to cooperate with an investigation by the U.S. Department of Justice on its use of race in admissions.  While such lack of cooperation with discrimination investigation was once the signature of universities fighting desegregation, it has now become something of a badge of honor for academics who are obstructing efforts to determine if students are being turned down based on their race, particularly Asian students.
***
Rhonda Ledbetter, who worked at the restaurant at the time, hesitated to come forward but she said, "As a moral and ethical person," she had to come forward. Rhonda said she never remembered ANYONE coming into the restaurant in a suit and that Roy Moore NEVER came into the restaurant.
***
Evidence gathered by an FBI undercover informant conflicts with several media reports as well as statements by Justice Department officials concerning the connections between a Russian nuclear bribery case and the Obama administration's approval of the sale of Uranium One to Russia's state-owned Rosatom nuclear company. Here are five revelations from those documents reviewed by The Hill.
***
Ever since Watergate, the mantra of all major corruption investigations has been to "follow the money." Well, Americans of all political stripes should be outraged by the fact that both Democrats and Republicans in Washington are up to their eyeballs in Kremlin cash. Russian money found its way into the pockets of not only Trump advisers like Paul Manafort and Rick Gates — who were recently indicted by special counsel Robert S. Mueller III — but also Democratic power lobbyist Tony Podesta, Bill Clinton and the Clinton Foundation.
***
A federal judge has denied a request for a new trial by former U.S. Rep. Corrine Brown, who was found guilty of taking money from a sham charity that was purported to be aiding poor students. The 70-year-old Ms. Brown was convicted of taking money from the One Door for Education Foundation and lying on her taxes and congressional financial-disclosure forms.
***
Houston attorney and top Democratic donor Steve Mostyn has died. He was 46. The Mostyn Law Firm said in a prepared statement that he ended his life Wednesday. His wife, Amber Mostyn, told The Texas Tribune that he died after "a sudden onset and battle with a mental health issue." "Steve was a beloved husband and devoted father who adored his children and never missed any of their sporting activities," she said in a prepared statement. "He was a true friend, and a faithful fighter for those who did not have a voice."
***
This is the bolthole where Prince Andrew is alleged to have slept with an underage girl at an orgy – and where his sex offender pal is thought to be hiding out. For the first time, Jeffrey Epstein's "Island of Sin" is seen, showing where teenage "sex slaves" were allegedly abused by the banker and some of the world's most powerful men. Brought in on the billionaire's private jets, nicknamed by locals as the Lolita Express, numerous girls were allegedly taken to his 78-acre Little Saint James hideout in the US Virgin Islands. It is claimed they were made to take part in depraved orgies.
***
A recent revelation from the newly released JFK Files can now help put this entire Russian hacking scenario into context—as it has been the subject of previous propaganda campaigns. As the deep state continues to push the Russian election interference narrative—with no concrete evidence—the damage to US-Russia relations continues to grow. Sadly, those who continue to buy the Russiagate conspiracy theory have forgotten the US government's history when it comes to propaganda used to start wars and bolster the military-industrial complex.
***
"Rep. John Conyers, newly facing sexual misconduct charges from former aides, was praised by fellow Rep. Maxine Waters just last month as a champion of women.
"During an address to organizers of the national Women's March in which she lashed out at "rape culture" and President Trump, she singled out the Michigan lawmaker for special attention. " 'You know, there is a member of Congress who has been supportive of women for many, many, many years," said said in a keynote address to the Women's Convention Sojourner Truth Luncheon in Detroit. " 'He is quiet, he is confident, he is powerful, but he has impeccable integrity on all of our issues. Give John Conyers a big round of applause."
***
Airstrikes targeting opium processing labs in Afghanistan were conducted by U.S. troops Sunday, Pentagon spokesman Lt. Col. Michael Andrews told CNN. The airstrikes were part of a joint U.S.-Afghan operation targeting drug facilities in Helmand Province, an area controlled by the Taliban. They were conducted by U.S. F-16s out of Bagram Air Base in Afghanistan and U.S. B-52s flying out of Al Udeid Air Base in Qatar. General John Nicholson, the commander of U.S. forces in Afghanistan, told reporters at the Pentagon that a U.S. F-22 Raptor and Afghan Air Force A-29s also participated in the strikes. The Trump administration's new South Asia policy has given Nicholson the authority to declare war on Afghan drugs.
***
Massive in scale, it is difficult to state exactly how or why these particular posts were collected over the course of almost a decade. Given the enormous size of these data stores, a cursory search reveals a number of foreign-sourced posts that either appear entirely benign, with no apparent ties to areas of concern for U.S. intelligence agencies, or ones that originate from American citizens, including a vast quantity of Facebook and Twitter posts, some stating political opinions. Among the details collected are the web addresses of targeted posts, as well as other background details on the authors which provide further confirmation of their origins from American citizens.
***
Former IRS director Lois Lerner told a federal court last week that she and her family could face death threats and physical violence if her testimony of why tea party groups were targeted under her watch becomes public. Lerner and her former deputy at the IRS, Holly Paz, filed court documents Thursday, saying their depositions given in a court case this year should remain sealed from the public forever.