ADN HEADLINE RECAP – NOVEMBER 22, 2017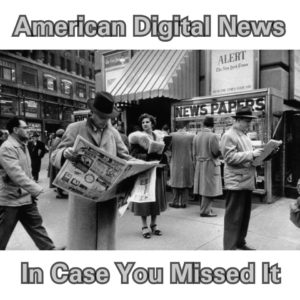 Click on headlines to go to article:
A man who was freed from North Korea with the help of President Jimmy Carter in 2010 burned to death over the weekend in a dirt lot in Mission Bay Park, family said Tuesday. Aijalon Mahli Gomes, 38, had recently moved to San Diego from Boston and police do not believe his death is the result of homicide, San Diego police Lt. Todd Griffin said. Investigators said Gomes likely died as a result of an accident or suicide. An off-duty California Highway Patrol officer saw Gomes on fire Friday night in the dirt lot near 5200 Pacific Highway and called firefighters and police, Griffin said. He was pronounced dead at the scene.
***
Crowdstrike Payments Coincide With Deaths Of Seth Rich, Shawn Lucas. Crowdstrike is a technology company that specializes in cyber-security. Not only is there conflict of interest with Crowdstrike receiving payments, campaign data shows some incredible correlations with the payments that were made. All payments cited below are part of the Federal Election Committee data of campaign spending on the www.fec.gov website. The first payments made were preemptive measures on May 5th, 2016 when the DNC was looking to figure out where the breach of security was. Payments made on May 5th, 2016 of $7,650.00 and $1,462.50 were likely paid for Crowdstrike to install their Falcon software, a stellar technology security suite that would identify any internal or external security breach.
***
Former Trump campaign foreign policy adviser Carter Page filed a defamation lawsuit against Yahoo and the Huffington Post on Thursday over a story that said he was under investigation for meeting Russian officials who meddled in the election. In the Manhattan Federal Court suit, filed by Page himself, he charges that on Sept. 23, 2016 Yahoo "published a highly misleading article filled with false allegations." The article, headlined, "US intel officials probe ties between Trump adviser and Kremlin," said that the officials were trying to determine if Page had private communications with senior Russian officials about possibly lifting economic sanctions if Trump became president.
***
Iranian President Hassan Rouhani declared the end of Islamic State on Tuesday while a senior military commander thanked the "thousands of martyrs" killed in operations organised by Iran to defeat the militant group in Syria and Iraq. "Today with God's guidance and the resistance of people in the region we can say that this evil has either been lifted from the head of the people or has been reduced," Rouhani said in an address broadcast live on state TV. "Of course the remnants will continue but the foundation and roots have been destroyed."
***
Washington Post reporter Janell Ross gave a presentation at a secretive California gathering where Democratic politicians, liberal activists, and their biggest donors plotted the future of the progressive movement without notifying her superiors that she would be attending. The Democracy Alliance went to great lengths to keep the identities of its members and guests confidential at its fall investment conference last week at the La Costa Resort, but the Washington Free Beacon obtained a detailed conference agenda that lists both events and featured guests. Among them was Ross, a national reporter who closely covered the 2016 presidential campaign for the Washington Post and has since continued to cover the Trump administration. Ross sat on a panel to assist conference-goers on the topic of "getting the economic narrative right" in future elections, according to the agenda, which can be viewed in full here.
***
A convicted child sex trafficker in Colorado will spend the rest of his life in prison, and then some, after receiving the longest sentence for a human trafficking case in U.S. history on Tuesday. Brock Franklin, 31, was sentenced to 472 years in prison for operating a prostitution ring that preyed on young girls and women. Franklin was found guilty on 30 counts including human trafficking, sexual exploitation of a child, child prostitution, and kidnapping by an Arapahoe County jury in March.
***
A new study by the VA is showing that a parasite from the jungles of Vietnam may be slowly killing Vietnam War veterans. The study was conducted using blood samples of the veterans. The VA issued a study this spring to look at the connection between liver flukes that were ingested through undercooked fish and a rare bile duct cancer. The study shows that the disease can take decades to manifest into symptoms, by which time the victims are likely to be in tremendous pain and with only a few month left to live. 20% of the samples submitted came back positive or bordering positive. (source) 7:52 p.m. ET November 21, 2017
***
The U.S. State Department has courted controversy by announcing it will plough $700,000 into Hungarian media, angering the country's anti-globalist, conservative government. The funding was announced by U.S. Chargé d'Affaires David Kostelancik, who has previously appeared to openly criticise the Trump administration by alluding to "apparent inconsistencies in [U.S.] foreign policy" and remarking that "not every criticism of the government is 'fake news'." Breitbart London spoke to a State Department official who confirmed it supports what it calls "democracy and human rights programming" in many countries, and that its intentions in Hungary — a NATO ally — are to "support media outlets operating outside the capital … to produce fact-based reporting and increase their audience and economic sustainability".
***
The government watchdog group Judicial Watch released 79 pages of Department of Justice documents Tuesday, obtained through a Freedom of Information Act (FOIA) lawsuit, showing conflict of interest issues regarding FBI Deputy Director Andrew McCabe's involvement with his wife's campaign while at the FBI and his investigation into Hillary Clinton's private email server. The latest documents include a February 2015 email from Jill McCabe to her husband saying she'd been recruited for the Virginia state senate race by then-Virginia Lieutenant Gov. Ralph Northam's office. The news that Clinton used a private email server broke just five days later, on March 2, 2015. Virginia Gov. Terry McAuliffe, a former Clinton Global Initiative board member, met with the McCabes five days after that and Jill McCabe announced her candidacy on March 12, 2015.
***