"Power tends to corrupt and absolute power corrupts absolutely. Great men are almost always bad men, even when they exercise influence and not authority" ~ Lord John Dalberg-Acton

******************************
Office of Congressional Ethics Report and Findings on John Conyers Compensating Cynthia Martin
Michigan Rep. John Conyers, a Democrat and the longest-serving member of the House of Representatives, settled a wrongful dismissal complaint in 2015 with a former employee who alleged she was fired because she would not "succumb to [his] sexual advances."
"When you make private settlements, it doesn't warn the next woman or the next person going into that situation."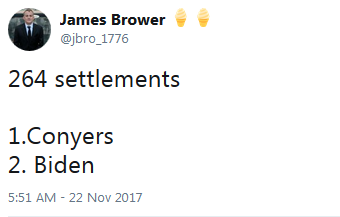 Conyers' office has a history of ethical run-ins. Documents from the complaint obtained by BuzzFeed News 
include
 four signed 
affidavits
, three of which are notarized, 
from former
 staff members who allege that Conyers, the ranking Democrat on the powerful House Judiciary Committee, repeatedly made sexual advances to female staff that included requests for sexual favors, contacting and transporting other women with whom they believed Conyers was having affairs, caressing their hands sexually, and rubbing their legs and backs in public. Four people involved with the case verified the documents are authentic.
And the documents also reveal the secret mechanism by which Congress has kept an unknown number of sexual harassment allegations secret: A grinding, closely held process that left the alleged victim feeling, she told BuzzFeed News, that she had no option other than to stay quiet and accept a settlement offered to her.
"I was basically blackballed. There was nowhere I could go," she said in a phone interview. BuzzFeed News is withholding the woman's name at her request, because she said she fears retribution.
Last week 
the Washington Post reported
 that the office paid out $17 million for 264 settlements with federal employees over 20 years for various violations, including sexual harassment. The Conyers documents, however, give a glimpse into the inner workings of the Office of Compliance, which has for decades concealed episodes of sexual abuse by powerful political figures.
 The woman who settled with Conyers launched the complaint in 2014 with Congress's Office of Compliance alleging that she was fired for refusing his sexual advances and ended up facing a daunting process that ended with a confidentiality agreement in exchange for a settlement of more than $27,000. Her settlement, however, came from Conyers' office budget rather than the designated fund for settlements.
Additionally, in 2016, his former chief of staff Cynthia Martin pleaded guilty to receiving stolen property after she refused to reimburse $16,500 that was mistakenly deposited in her account. A preliminary investigation by the Office of Congressional Ethics found that Conyers continued to pay Martin more than $13,000 per month when she was supposedly on unpaid leave.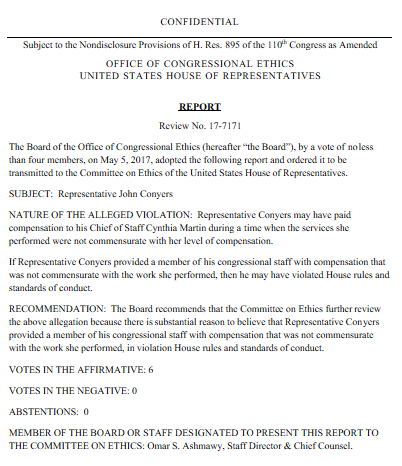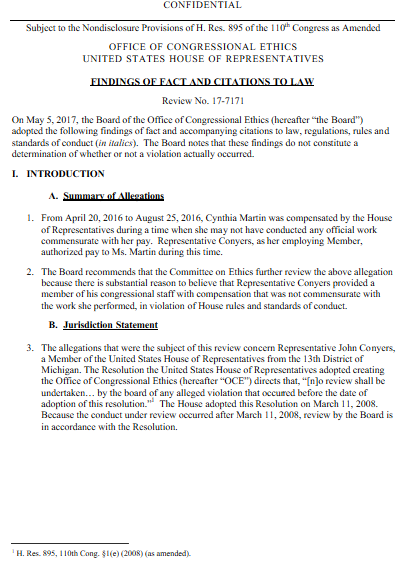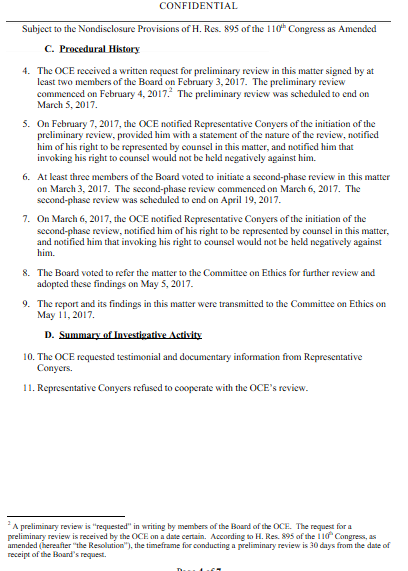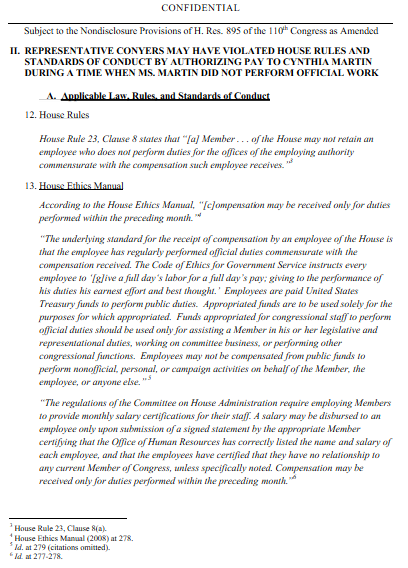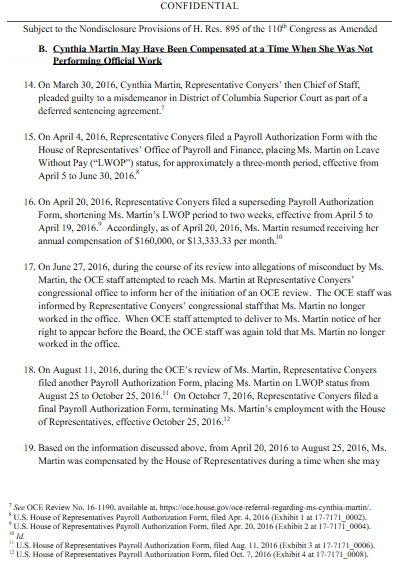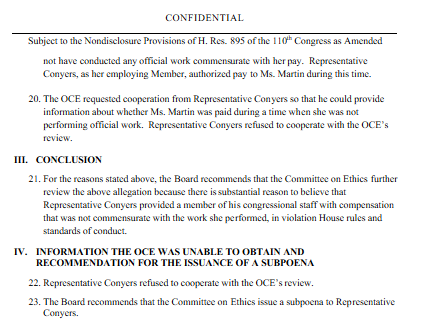 https://www.scribd.com/document/356052763/Office-of-Congressional-Ethics-Report-and-Findings-on-John-Conyers-Compensating-Cynthia-Martin-17-7171
Ever since the news of Harvey Weinstein's near-psychopathic history of sexual harassment and abuse went public, the floodgates have opened.
Victims, feeling emboldened to tell their stories have come forward. The shock waves have hit everything from the entertainment industry, the political world and even the news media. All of this came after the reports of sexual harassment by players at Fox News including Roger Ailes, Bill O'Reilly and Eric Bolling. Names of the accused include Weinstein, Kevin Spacey, Celebrity chef, John Besh, Mark Halperin, Ken Baker, Brett Ratner, Jeffrey Tambor, Roy Moore, Louis C.K., Al Franken, Glenn Thrush, Charlie Rose and Pixar's John Lasseter. The last of the dominos hasn't fallen by a long shot. There are a lot of nervous men out there waiting for the instances of their harassment or assault to surface. It's only a matter of time. RedState
***
CONYERS: Espionage, Fraud & Lies – Epic Secrets Behind An Epic Investigation
While sexual harassment in the workplace is a repulsive, arcane social norm that needs to seriously be addressed, so is the rampant fraud and public corruption that takes place in the Congress, the States, County and City governments. Consider this an introduction because there is much, much more to this story.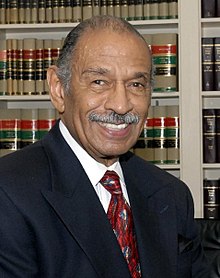 Conyers' office has a history of ethical run-ins. In 2016, his former chief of staff Cynthia Martin pleaded guilty to receiving stolen property after she refused to reimburse $16,500 that was mistakenly deposited in her account.
A 
preliminary investigation
 by the Office of Congressional Ethics found that Conyers continued to pay Martin more than $13,000 per month when she was supposedly on unpaid leave.
In 2006, 
two former aides complained
 that Conyers made them babysit his children, run errands, and work on his reelection campaign while drawing their congressional salaries. There was also a bizarre incident in 2005 when 60 Thanksgiving turkeys, given to his staff to disperse to people, 
may have gone missing
.
Conyers' wife, former Detroit city councilor Monica Conyers, was 
sentenced to three years in prison
 over bribery charges in 2010. (One of the documents alleged Conyers began "aggressively acting out his sexual harassment behavior" following this.) Last year the couple renewed their vows.
Beverly Tran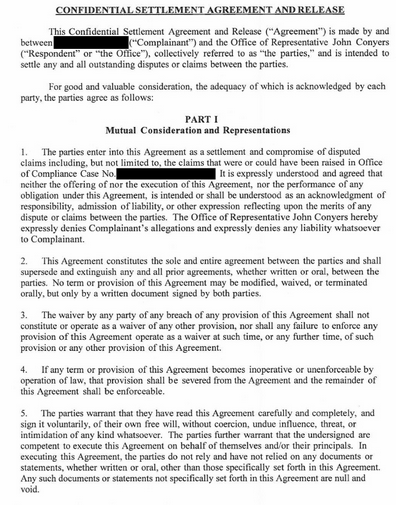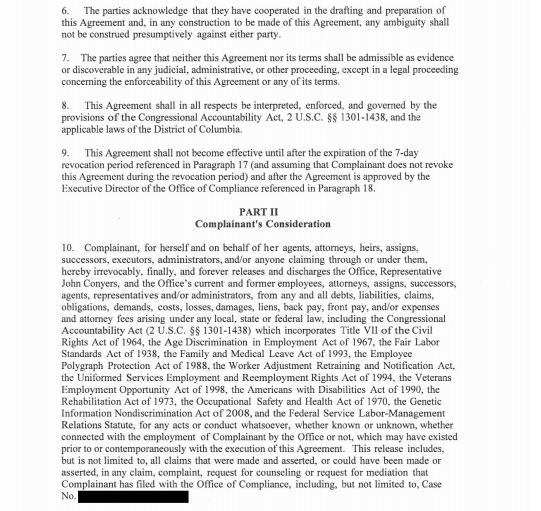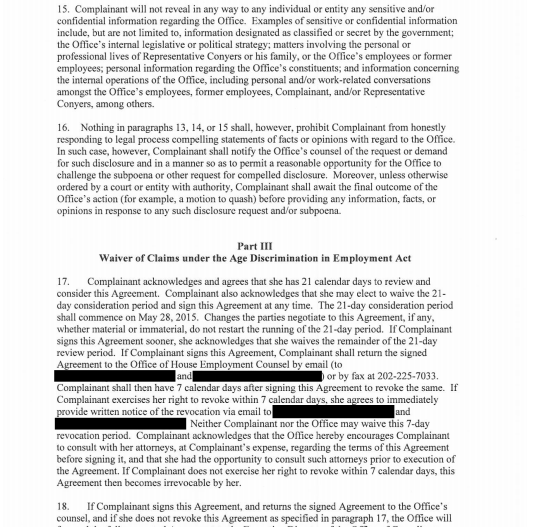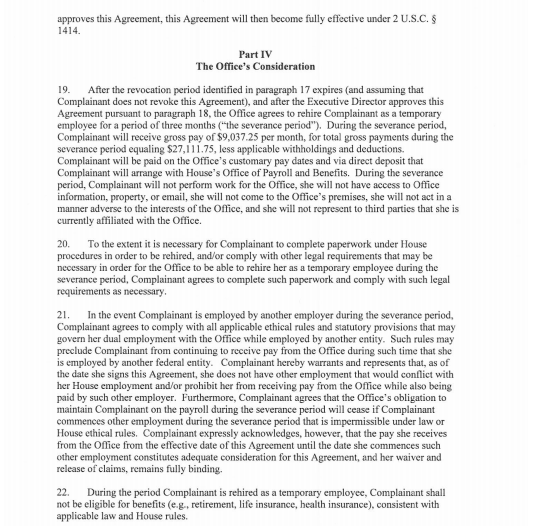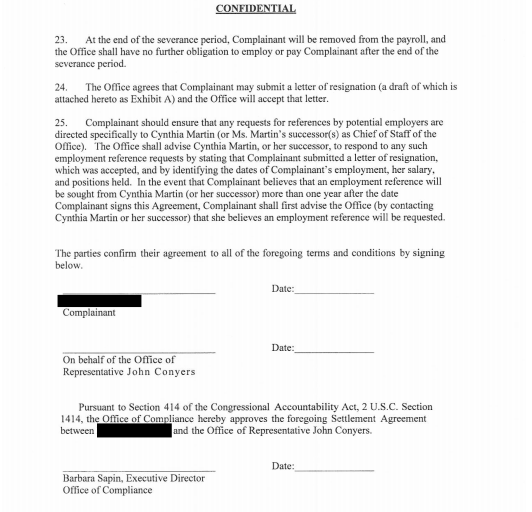 ***
Another Woman Accused Conyers Of Sexual Harrassment
In a lawsuit unearthed by Buzzfeed, a second woman accused Conyers of sexual harassment, but later abandoned efforts to hold him accountable. According to Buzzfeed, a former scheduler for the Democrat said she faced daily harassment from the congressman in a suit she later dropped after a court denied her request to keep it sealed. The behavior described in the suit took place between 2015 and 2016, meaning it happened after Conyers settled with the previous, unnamed, former staffer.
"These behaviors and actions were so common and pervasive that they created a hostile work environment," she alleged. Unlike the settlement agreement that was published by Buzzfeed earlier Monday, this lawsuit is a public document. BuzzFeed News was not able to reach the woman for comment and also decided against releasing her name.
Asked by Buzzfeed to comment on the lawsuit Tuesday, a Conyers spokesman said: "[The former staffer] voluntarily decided to drop her case." The congressman "vehemently" denied the previously reported allegations. Good-Stockinvest
***
CALIFORNIA — ANOTHER ONE IDENTIFIED AND RESIGNS STATE ASSEMBLYMAN SEAT — BUT HIS RESIGNATION IS FOR SEPTEMBER 1, 2018 AND HE WON'T SEEK RE-ELECTION!! What's wrong with now, Raul Bocanegra???
VIA – DAILY WIRE — Democratic Leader Resigns As Sexual Harassment Claims Begin To Surface — "It was a moment that I truly regret, that I am very sorry for, and for which I have accepted responsibility for my actions.", by Ryan Saavedra, November 20, 2017
"I spent my life advocating for the Northeast Valley, fighting for a fair share for our communities and residents," Bocanegra said. "It is because of my deep commitment to you, residents of the 39th Assembly District, that I have made the decision to resign from the State Assembly, effective September 1, 2018, and immediately resign my leadership position. I am also suspending my campaign and will not run for re-election."
The Times notes that Bocanegra's announcement comes after the paper presented a report to his office on Friday with its findings that at least six women have accused him of sexual harassment. Bocanegra was reportedly disciplined in 2009 for "inappropriate and unwelcome physical contact" against a female staffer after an investigation. DailyWire
***
Rep. Tim Murphy announces resignation in wake of sex scandal
Rep. Tim Murphy of Pennsylvania announced he will resign from Congress on Oct. 21 in the wake of a sex scandal. Republican congressman Tim Murphy of Pennsylvania is resigning from Congress effective Oct. 21, House Speaker Paul Ryan announced Thursday.
Ryan said in a statement Wednesday afternoon that he received a letter of resignation from Murphy.
"It was Dr. Murphy's decision to move on to the next chapter of his life, and I support it. We thank him for his many years of tireless work on mental health issues here in Congress and his service to the country as a naval reserve officer," Ryan said.
Murphy's decision came a day after he announced he would not run for a ninth term, amid tawdry revelations of an extramarital affair in which the anti-abortion lawmaker urged his mistress to get an abortion when he thought she was pregnant. USAToday
***
Indianapolis councilman Jeff Miller charged with 3 counts of child molestation
Indianapolis City-County Councilman Jeff Miller is accused of molesting two children following a nearly month-long investigation.
Friday, three counts of child molesting, fondling or touching with child under 14 were filed against the councilman. The charges come after authorities conducted a search at Miller's home after reports of child molestation surfaced last month.
Marion County Republican Central Committee Chairman Jim Merritt said he accepted Miller's resignation Friday, and it will be effective on Monday. Fox59
***
Democrat (PHILIP AHR) Resigns After Being Charged With Child Porn, Includes Kids Sexually Abused By Animals
"The ages of these children is particularly disturbing. Anywhere from infants to 2-4 to 3-6, and all in those different categories."
A Pennsylvania Democrat resigned from his position on Monday night after being charged with child porn and abusing children last month. Philip Ahr officially resigned from the Radnor Township Board of Commissioners following his resignation as the board's president in late October. DailyWire
***
 Florida Democratic Party chairman resigns over report he made women 'uncomfortable'
The Florida Democratic Party chairman is resigning after a report that he makes women feel uncomfortable.
Stephen Bittel released a brief statement on the party's Twitter account Friday shortly after four of his party's candidates for governor called for him to step down.
https://www.washingtonexaminer.com/florida-democratic-party-chairman-resigns-over-report-he-made-women-uncomfortable/article/2641052
***
State Sen. Dan Schoen, Rep. Tony Cornish both to resign after harassment claims
Two Minnesota lawmakers announce they will resign on same day following harassment allegations that reverberated at State Capitol.
A pair of Minnesota state lawmakers — one a DFL senator, the other a Republican representative — announced Tuesday that they will resign from office in the wake of sexual harassment allegations.
Word of the resignations of Sen. Dan Schoen and Rep. Tony Cornish came within two hours of each other, capping a stunning sequence of events that vividly demonstrated a new awareness of what many insiders say has been a long-standing tolerance of mistreatment of women working at Minnesota's Capitol. Both men had been under pressure from leaders of their parties to resign. Star Tribune
***
Kim Dotcom‏ [Verified account] @KimDotcom Nov 20 New sexual assault allegations against President @BillClinton from 4 women. This occurred after leaving the White House. Clinton lawyers are attempting to settle these cases to silence the victims. DON'T accept the Clinton crime money and share your stories. #PredatorBill