ADN HEADLINE RECAP – NOVEMBER 24, 2017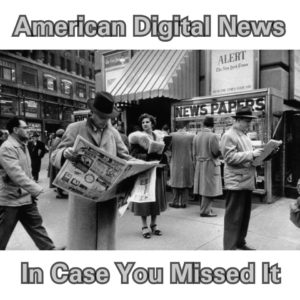 On Oct. 12, the Trump administration announced the United States would pull out of UNESCO — the United Nations Educational, Scientific and Cultural Organization. Founded in 1945, UNESCO is perhaps best known for its World Heritage seal, used to brand and protect some of the planet's most precious places, from the Taj Mahal to the Pyramids of Giza to the Grand Canyon. What might U.S. withdrawal mean? Research in international relations shows that withdrawing from UNESCO isn't simply a pragmatic decision with nominal ramifications. Instead, because this unilateral exit adds to Trump's pattern of withdrawing from international organizations, the UNESCO decision has broader, strategic consequences.
***
We have already reached the cornered animal stage of Democrats caught up in the sexual harassment hysteria.  Is there anything more amusing than watching your enemies play a game of chicken with each other, threatening mutual assured destruction?  Even better: a threat that comes written in all caps, the cyber-equivalent of shouting, hinting that "many members" could find themselves in a similarly difficult situation.
Peter Hasson describes for the Daily Caller the remarkable vague threat emanating for the attorney representing John Conyers:
The attorney for Democratic Michigan Rep. John Conyers, who is accused of continuously sexually harassing his female staffers, defended Conyers by indicating that there are allegations against "many members" of the House and Senate. Conyers' attorney, Arnold E. Reed, released a statement defending the Michigan Democrat and pushing back against the "disturbing allegations." The bizarre statement was written in all-CAPS and referred to both Reed and Conyers in the third person.
***
one prominent name has managed to stay off of our radar, and I don't know why. I am, of course, speaking of former Vice President Al Gore. Back in October of 2006, a Portland, Ore. masseuse accused the former vice president of "unwanted sexual contact" while performing a massage on him in a hotel room. "I went into much deeper shock as I realized it appeared he was demanding sexual favors or sexual behaviors." She alleged he later tried to have sex with her.
***
All of the Democrat sex scandals that CNN has failed to report on have made news in 2017, with 19 of the 24 making news within the last month. As sexual misconduct allegations continue to rock liberal Hollywood, the mainstream media establishment, and politicians of both political parties, at least the Democrats can count on CNN to eschew reporting about dozens of sexual allegations on members of their party. To be fair, it is worth noting that CNN has reported on a couple of the big Democrat sex scandals currently receiving major media attention on other news networks, specifically the scandals involving Sen. Al Franken (D-MN) and Rep. John Conyers (D-MI).
***
Dotcom says his alternate version of the Internet – 'MegaNet' will offer users "true Internet Freedom." Kim Dotcom, who is wanted in the US for alleged widespread illegal file sharing on his online file sharing platform Megaupload, has weighed in on the controversy surrounding the US government's decision to overturn net neutrality. Dotcom took to Twitter recently to warn that breaking net neutrality would "only accelerate the adoption of a new network." In the series of tweets, the German entrepreneur also hinted that he is working on building an alternate internet to combat privacy and freedom concerns online. Dotcom has vowed to build his own alternate version of the internet called "MegaNet," which he says will offer users "true Internet Freedom."
***
Oh, this is SWAMPY – and the timing is epic.  Pennsylvania Congressman Bob Brady is a ranking member of the Committee on House Administration which oversees settlements paid by Congress for sexual discrimination and harassment complaints. Additionally, representative Brady is also under FBI investigation for false statements, conspiracy and campaign fraud, according to FBI documents revealed on Tuesday.
***
Teen Vogue columnist Emily Lindin is under fire this week after writing how she is "not at all concerned about innocent men losing their jobs" over false allegations of sexual assault or harassment.  Lindin dismissed the dangers of false claims as low in joining other feminist writers in arguing that women must be believed in such cases. Indeed, Lindin wrote that even raising false claims could be a sign of hostility to women. I wrote recently how this standard was not used during the Clinton presidency where leading feminist not only supported Bill Clinton but continue to flock to events featuring the accused sexual harasser. Lindin insisted that "false allegations VERY rarely happen, so even bringing it up borders on a derailment tactic. It's a microscopic risk in comparison to the issue at hand (worldwide, systemic oppression of half the population)."
Now that the FBI's informant on the Uranium One deal has been outed and the nondisclosure agreement formerly muzzling him abrogated, it is possible to see the outlines of the devastating case to be made against not just Hillary Clinton, but the entire Obama administration.  Two intrepid reporters, John Solomon of The Hill and Sara Carter of Circa News and Sinclair Broadcasting, are gaining access to some of the reported 50,000 documents in the possession of William Campbell, the whistleblower who went to the FBI with the scary details of what appeared to him to be an illegal attempt by Russian entities to take over the world uranium market, including even the uranium resources in our ground.
***