Statement of the Chairwoman and Ranking Member of the Committee on Ethics Regarding Representative John Conyers, Jr.
Nov 21, 2017

Pursuant to Committee Rule 7(g), the Chairwoman and Ranking Member of the Committee on Ethics (Committee) determined to release the following statement:
The Committee is aware of public allegations that Representative John Conyers, Jr. may have engaged in sexual harassment of members of his staff, discriminated against certain staff on the basis of age, and used official resources for impermissible personal purposes. The Committee, pursuant to Committee Rule 18(a), has begun an investigation and will gather additional information regarding these allegations.
The Committee notes that the mere fact that it is investigating these allegations, and publicly disclosing its review, does not itself indicate that any violation has occurred, or reflect any judgment on behalf of the Committee.
In order to comply with Committee Rule 7 regarding confidentiality, out of fairness to all respondents, and to assure the integrity of its work, the Committee will refrain from making further public statements on this matter pending completion of its initial review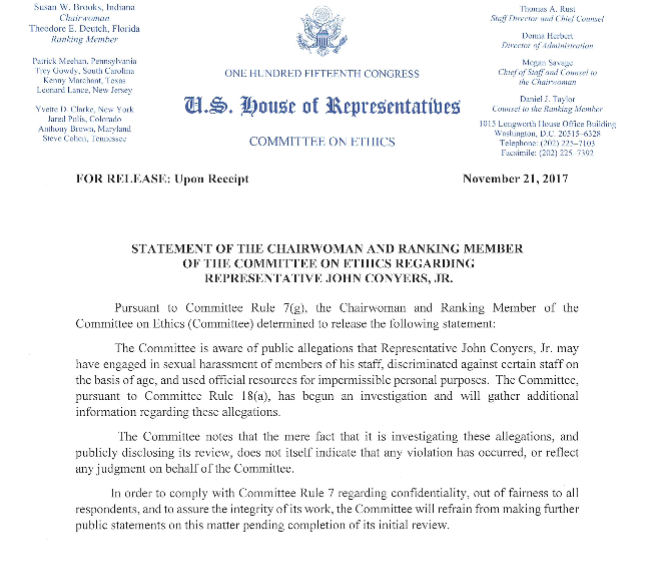 American's TAX DOLLARS AT WORK *insert sarcasm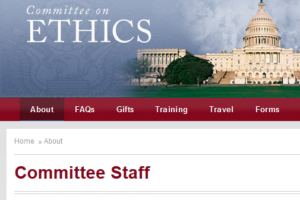 Ethics Committee Archived Statements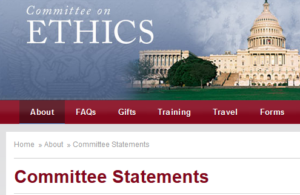 Ethics Committee Archived Press Releases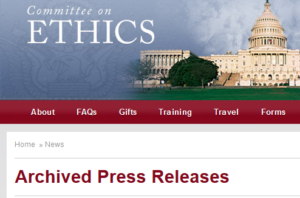 ADN's Articles On John Conyers Ethics Issues
MI Congressman John Conyers: 5 Decades in Politics Riddled with Entitlement and Corruption?
CONYERS: Espionage, Fraud & Lies – Epic Secrets Behind An Epic Investigation
The Trend of Sexual Corruption in America