Rep. Conyers et al. are using Taxpayer Funds to settle Sexual Harrassment Lawsuits??
Rep. Ron DeSantis to Introduce Bill Banning Lawmakers from Settling Sexual Harassment Claims with Taxpayer Funds
Rep. Ron DeSantis (R-FL) announced Wednesday he was working on legislation to end the practice of lawmakers using taxpayer dollars to settle sexual harassment claims, and to unseal those settlement records.
"I'm working on legislation to unseal settlement records, bar use of tax dollars to pay claims against members & staff, prohibit members from using office budgets to camouflage payments (a Conyers rule) & require reimbursement of the taxpayer," DeSantis tweeted on Wednesday.
DeSantis's legislation will make public all payments funded by taxpayers, as well as the nature of the initial allegation and the member of Congress implicated.
This comes following Buzzfeed (M.Cernovich) release of John Conyers payment to Cynthia Martin for sexual harassment allegations.  The below Congressional Ethics documents where Ms Martin is named as plaintiff.
Office of Congressional Ethics Report and Findings on John Conyers Compensating Cynthia Martin #17-7171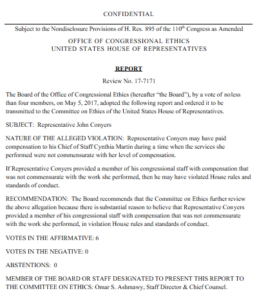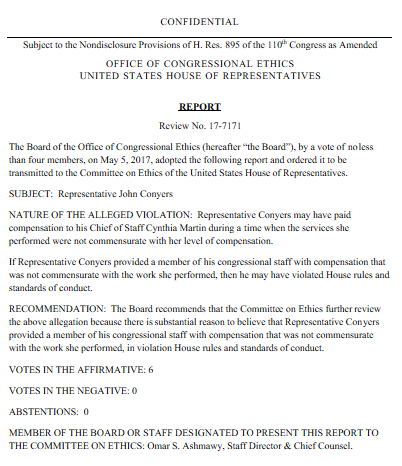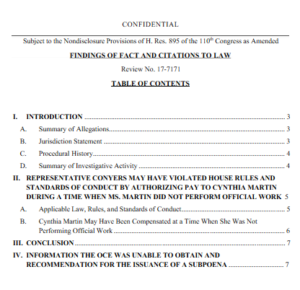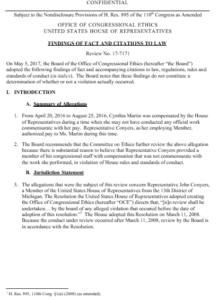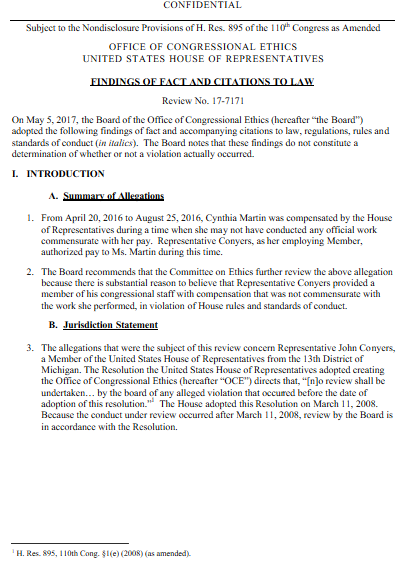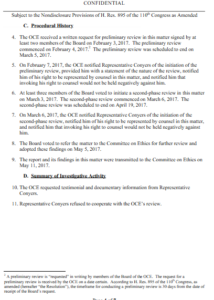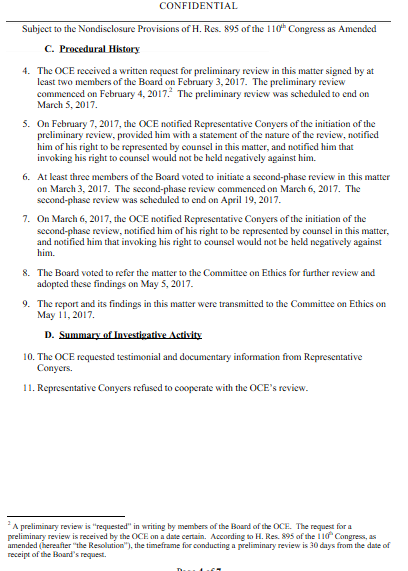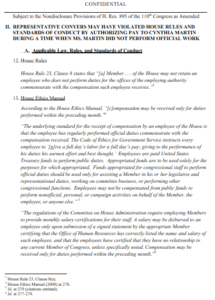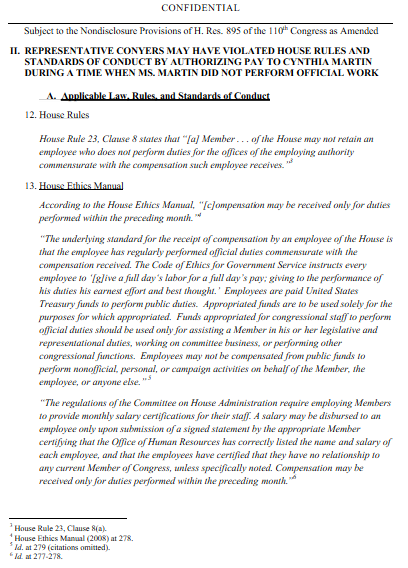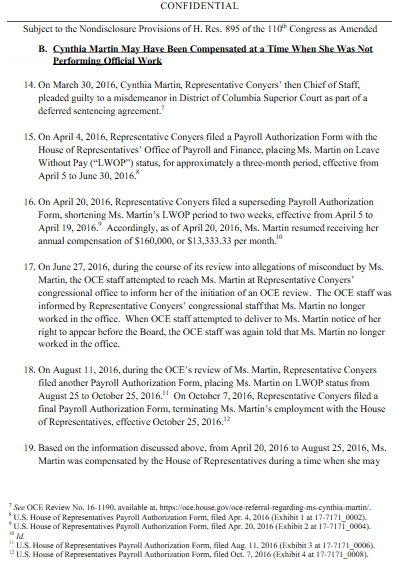 Another female former staffer has now accused top Democrat Rep John Conyers of "daily" sexual harassment.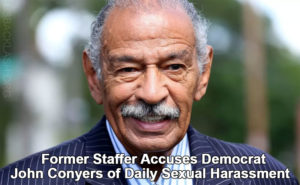 USBacklash reported, the former staffer said Conyers subjected her to unwanted touching on a daily basis, BuzzFeed reported, while Conyers' wife called the staffer a "whore" and accused her of wanting an affair with the congressman. The staffer filed suit in February but dropped it after the judge denied her request to seal the complaint, according to BuzzFeed.
Sworn affidavits signed by four of his former staffers in connection with the 2015 settlement describe Conyers as a serial sexual harasser who would prey on his young, female staffers and pressure them to give him sexual favors.  There were three other sworn affidavits of similar behavior signed by alleged victims as well.
But Fox News reported that John Conyers's lawyer said he 'has no plans to resign' amid sexual harassment scandal.
In a statement, Arnold Reed said that Conyers "will not be forced out of office based on the agenda of others" and claimed that "[i]f people were required to resign over allegations, a lot of people would be out of work in this country including, many members of the house[sic], senate[sic], and even the president."
One former staffer said one of her duties was "to keep a list of women that I assumed he was having affairs with and call them at his request and, if necessary, have them flown in using Congressional resources."
In the Detroit Free Press oped piece earlier this week called for Rep. John Conyers to resign.  Going on to say "His documented use of taxpayer dollars to bury allegations of sexual harassment goes too far".
But Conyers' situation gets worse — far, far worse.
After the alleged victim made a formal complaint through the U.S. Congress Office of Compliance, Conyers' office endorsed an alternative route. If the woman dropped her complaint and signed a legal document attesting that Conyers had done no wrong, and if she agreed never to disparage him or make subsequent claims, she'd be re-hired as a temporary "no-show" employee and paid $27,111.75 over the course of three months. She accepted the terms. (See documents above)
Over the last two decades, a special congressional office that works to resolve claims out of court has paid $17 million to settle 264 complaints. Legislation introduced by U.S. Rep. Jackie Speier, Democrat of California, would require the office to change its operations, including naming each member who is involved in a claim.
The Washington Post article covering the funds used for the settlements and awards come from a special Treasury Department account established in 1995 for such payments. In total, the Office of Compliance has paid $17,240,854 since 1997.
Even if Conyers could prove that he did not make inappropriate advances toward his former staffer, there's no defense for having used dollars from his congressional office to "settle" a claim. That sort of thing happens in the private sector, yes. It should never, ever happen where public dollars (and public accountability) are concerned.
And it's a betrayal that breaches the most fundamental trust that exists between a public servant and the people that person represents.
More ADN articles on this topic:
MI Congressman John Conyers: 5 Decades in Politics Riddled with Entitlement and Corruption?
CONYERS: Espionage, Fraud & Lies – Epic Secrets Behind An Epic Investigation
The Trend of Sexual Corruption in America