MI Democrat Representative John Conyers Jr stepping down as Ranking House Judiciary Committee Member amid Sexual Scandal Allegations.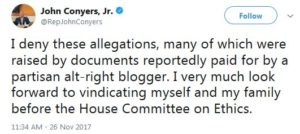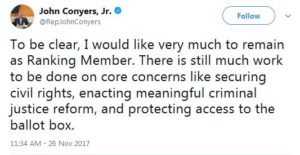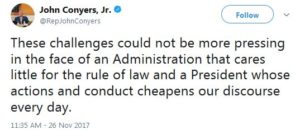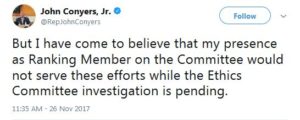 ***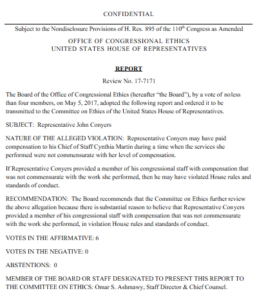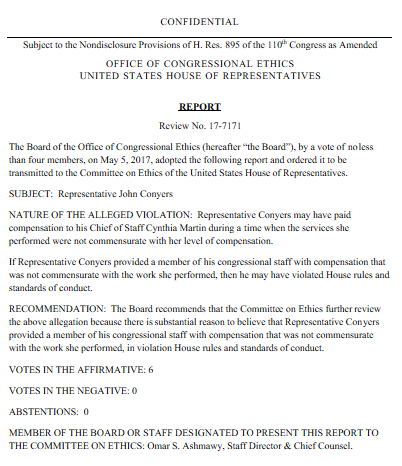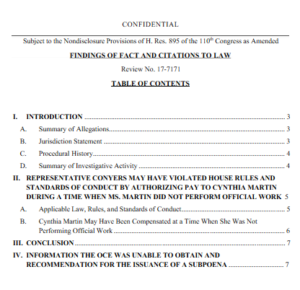 Office of Congressional Ethics Report and Findings on John Conyers Compensating Cynthia Martin #17-7171
***
Conyers stepping aside as ranking Dem on House Judiciary Committee
By Rebecca Savransky and Olivia Beavers – 11/26/17
Rep. John Conyers Jr. (D-Mich.) announced he is stepping aside as the ranking member of the House Judiciary Committee pending an investigation into allegations of sexual harassment.
"After careful consideration and in light of the attention drawn by recent allegations made against me, I have notified the Democratic Leader of my request to step aside as Ranking Member of the House Judiciary Committee during the investigation of these matters," he said in a statement on Sunday.
"I deny these allegations, many of which were raised by documents reportedly paid for by a partisan alt-right blogger. I very much look forward to vindicating myself and my family before the House Committee on Ethics," he added.
Conyers's attorney last week maintained that the lawmaker would not resign from the post as the House Ethics Committee investigates the allegations.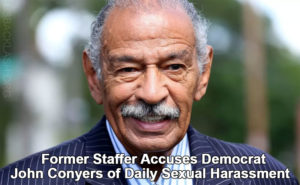 The Ethics Committee opened an investigation into Conyers after BuzzFeed News reported last week that Conyers settled a wrongful dismissal complaint in 2015 with a former employee who alleged she was fired because she would not "succumb to [his] sexual advances." – TheHill
****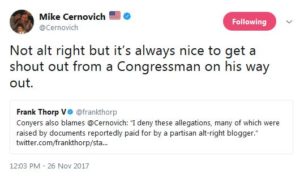 Mike Cernovich   @Cernovich
***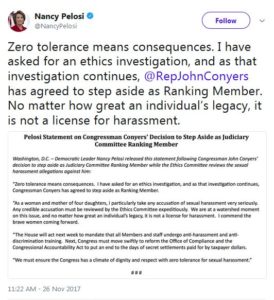 ***
"It's a tragic end to his public career," the Free Press wrote. "But it's the appropriate consequence for the stunning subterfuge his office has indulged here, and a needed warning to other members of Congress that this can never be tolerated."
While few lawmakers have said Conyers should step down, more could be coming. Another woman came forward alleging that she endured daily harassment from him and attempted to pursue legal action.  – BusinessInsider
***
With Conyers out, New York Rep. Jerry Nadler becomes the ranking Democrat on the panel.
"Even under these unfortunate circumstances, the important work of the Democrats on the House Judiciary Committee must move forward," said Nadler (D-Manhattan and Brooklyn), who had been the second most senior Democrat. – NYDailyNews
***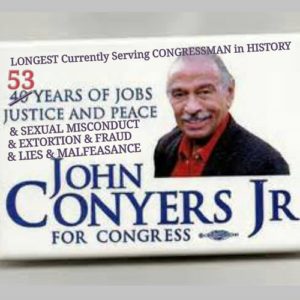 CONYERS: Espionage, Fraud & Lies – Epic Secrets Behind An Epic Investigation – ADN
Rep. Conyers et al. are using Taxpayer Funds to settle Sexual Harrassment Lawsuits?? – ADN
MI Congressman John Conyers: 5 Decades in Politics Riddled with Entitlement and Corruption? – ADN
The Trend of Sexual Corruption in America – ADN
GOV Ethics Committee BEGINS INVESTIGATION on Conyers – ADN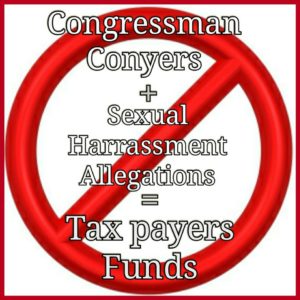 ***
Ethics lawyer: Conyers summoned me to his office while wearing underwear
By John Bowden – 11/22/17 06:26 PM EST
A high-profile ethics lawyer based in Washington, D.C., says Rep. John Conyers Jr. summoned her to his office where the Michigan Democrat was in his underwear during her time as minority counsel for the House Judiciary Committee.
Melanie Sloan, who formerly headed Citizens for Responsibility and Ethics in Washington (CREW) and worked for Conyers from 1995 to 1998, told The Washington Post on Wednesday that Conyers asked her to come to his Rayburn Building office at one point, where she found him in his underwear. – TheHill
***
Conyers stepping down from post as ranking Democrat on Judiciary panel – But the Michigan Democrat says he does so reluctantly.
By KYLE CHENEY and HEATHER CAYGLE 11/26/2017
Conyers, the most senior member of the House — he's held his seat since 1965 — said he relinquished the post reluctantly.
Since the allegations first surfaced earlier this week, Conyers faced mounting internal pressure to relinquish his ranking member post even as Democratic members danced around the topic publicly. The CBC is arguably the most powerful bloc within the House Democratic Caucus and is fiercely protective of its members, particularly Conyers, who is a founding member of the group.
Rep. Jackie Speier (D-Calif.), who has become an outspoken advocate for victims of sexual harassment on Capitol Hill, said Sunday that Conyers should step down from Congress if the allegations against him are true — and she has called for an overhaul of the Capitol's harassment reporting process, which she and dozens of others say is stacked against victims.  – Politico
***