Foundations, Loopholes and Tax Havens have become the Elite's way of avoiding tax liability but is it at the detriment of the American people?
The wealthy have tucked billions into private nonprofits—where the IRS can't touch it.
Americans deserve genuine tax relief and reform and while Congress is scrambling to find ways to pay for its tax cut, perhaps it should pay closer attention to the elite's use of foundations and tax havens.  Last month, George Soros  transferred $18 billion of his fortune to The Open Society Foundation – a private charity that he controls. There it will be sheltered from the Internal Revenue Service forever.   This is the same IRS that can garnish your wages and take money from your bank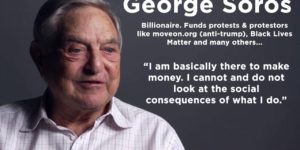 account without due process of law. It can invade your home or office and seize your assets until your tax liability is met.  But for the Soros "donation" no one seems to raise an eyebrow as the single biggest tax dodge in U.S. history takes place right under our noses.
Congress needs to stop ignoring this tax-avoidance scheme. The super rich have already poured hundreds of billions into private foundations, but the figure could soon be in the trillions.  Mark Zuckerberg has pledged to give away 99% of his Facebook shares, currently estimated to be worth somewhere around $70 billion, and much of it will go to a foundation his family controls. Bill Gates and Warren Buffett have each put roughly $30 billion tax-free into the Bill and Melinda Gates Foundation. This has left the foundation so flush that it spent $500 million on a 12-acre, 900,000-square-foot office complex in Seattle for its 1,500 employees. This is philanthropy?
25 Largest US Foundations by Total Assets

This chart includes the 25 largest U.S. grant making foundations ranked by the market value of their assets, based on the most current audited financial data in the Foundation Center's database. The Bill & Melinda Gates Foundation is by far the largest foundation with over $44 billion dollars in assets, followed by the Ford Foundation at $12.4 billion. J. Paul Getty Trust, The Robert Wood Johnson Foundation, and Lilly Endowment Inc. round out the top five with over $9 billion each.
********
Once updated for 2017, Soros will be 2nd only behind Gates Foundation.
When Congress eliminated the tax break in 2008, investors were given until December 31, 2017, to bring the cash home and pay the accumulated taxes. After years of playing hard-to-get with the IRS, Soros was facing a monumental tax bill — one tax expert estimated of nearly $7 billion.  After Soros used the tax maneuver of donating to his private foundation, he now owes nothing to the IRS.
This year, businesses and families will pay an all-time record high $6,000,000,000,000 (thats $6 TRILLION) in federal, state and local taxes. That's more than the GDP of all but a handful of countries. For millions of Americans, taxes are now the single largest expenditure item in the family budget.
All of this revenue flows into the government's coffers through an endless pipeline of extractions: income taxes, payroll taxes, import taxes, gasoline taxes, cigarette taxes, state income and sales taxes, property taxes, food
taxes, beer taxes, soda pop taxes, sewer taxes, water taxes, investment taxes, hotel taxes, stock taxes, energy taxes, health care taxes, prescription drug taxes, airline ticket taxes and more. And after all of that, when you are laid in a casket, you pay a tax for the privilege of dying.
The United States tax code is a 1,000 times longer than the U.S. Constitution and 10 times longer than "War and Peace".  The first income tax was just four pages long now it tops 82,000 pages that only those with accounting degrees can comprehend.  And because of the complexity of the tax system, the IRS employs an equivalent 82,000 agents to enforce it.  With costs to our federal government of $12 billion a year to administer this tax system, the costs to families and businesses is at least this amount just to figure out how much taxes they owe.
In an August 2011 Forbes article, Buffett and Bill Gates asked other billionaires to sign their pledge to donate half their net worth to charity in similar fashion. Others are not as wealthy as Buffett, so figure 50 billionaires' times $5 billion of tax savings equals $250 billion of taxes diverted from the IRS and states. That's a meaningful amount of taxes and it should be considered for repeal in pending discussions for tax reform. That's fair play and it doesn't balance the books on the backs of the middle-class and "upper middle-class" making $250,000 per year.
Many ask how can a charity be a tax loophole or scheme, but Buffett, and his billionaire crew, avoid capital gains taxes by donating their own company stock to their own charitable foundations as well.  And they still retain control of these untaxed millions and billions of dollars in many cases.
A massive cache of leaked financial documents – dubbed the Paradise Papers – has exposed hundreds of politicians, multinationals, celebrities, and high-net-worth individuals and how they use complex structures and foundations to avoid paying higher taxes.
The International Consortium of Investigative Journalists (ICIJ) which oversaw the release, issued a statement noting that there are legitimate uses for offshore trusts and companies. "ICIJ does not intend to suggest or imply that any persons, companies or other entities have broken the law or otherwise acted improperly," it said in a disclaimer posted online.
But despite the seeming legality, companies like Apple are nevertheless under fire for appearing to hoard billions of untaxed cash offshore, a charge CEO Tim Cook vehemently denied.  However, the New York Times reported that "Apple has accumulated more than $128 billion in profits offshore, and probably much more, that is untaxed by the United States and hardly touched by any other country. Nearly all of that was made over the past decade."
Contributing Sources – WSJ  BurningPlatform  RT  NPTrust  WorldTribune  WeAreChange  Forbes  NYTimes PrisonPlanet