BLM continuing Saga of Federal Land Grabs, Management and Profits
TRU

th

MA

chine Exclusive for

A

merican

D

igital

N

ews

Dear Almighty God — May I humbly remind You of how Job went through so many trials and losses and how after he persevered, You blessed and restored his losses and increased his wealth? Will You please – equally bless the Bundy family!
And the Hammond family! And the: Henderson, Armstrong, Hancock, Shepperson, Aderholt, Yowell, Dann, Farris, Hage, Wintah, Hamblin, Black, Jarvis, Edwards et al (the list goes on and on and on) family ranchers suffering land tyranny by the Bureau of Land Management across the United States!!!
And protect and defend the Shoshone, Blackfeet, Navajo, et al (many) Native American Indian tribes!!!
And protect the Wyoming Checkerboard wild horses and burros!!!
I humbly pray for Your divine help, dear Father, in the name of Jesus / Immanuel. AMEN

HOW DID THE UNITED STATES OF AMERICA get from owning 10 square miles of land for the nation's capital in the District of Columbia (donated by the states of Maryland and Virginia) and the Constitutional authorization to maintain lands for "ports and forts" to defend our nation — to this >>>>>> ??? — The Bureau of Land Management (BLM) has become land tyrants!!!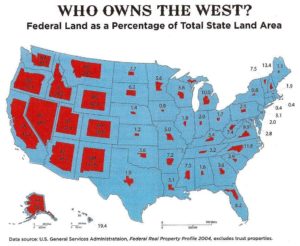 Most of the public lands held by the Bureau of Land Management are located in the western states.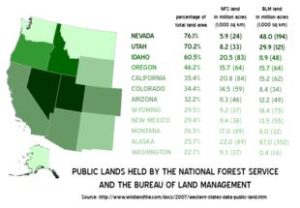 BLM's SELF HISTORICAL TIMELINE (Part 1 – 1776 -1898)
1776 — Declaration of Independence signed
1778 — Second Continental Congress, operating under the Articles of Confederation, begins persuading states to cede claimed land to create the public domain
1783 — Revolutionary War ends. Lands south of the Great Lakes and east of the Mississippi River are ceded by Britain to national government of Confederation
1785 — Land Ordinance adopted by Congress of the Confederation allows settlement of public domain lands and establishes Federal government's rectangular survey system
1787 — Drafting of U.S. Constitution begins
1788 — U.S. Constitution ratified, gives Congress the "power to dispose of and make all needful rules and regulations respecting the territory or other property belonging to the United States…"
1803 — Louisiana Purchase by the United States from France nearly doubles size of the nation. Ohio becomes first state created from the public domain.
1804-1806 — Lewis and Clark expedition
1812 — General Land Office, responsible for all public land sales, patents, and entries, is established within Treasury Department to oversee disposition of ceded and acquired lands. (As successor agency to the GLO, the BLM maintains more than nine million historical land documents: survey plats and field notes, homestead patents, military warrants, and railroad grants. Many of these records can be found at: www.glorecords.blm.gov.)
1819 — Spanish cession of Florida and boundary adjustments west of the Mississippi River add more than 46 million acres to the public domain
1845 — Republic of Texas, which had declared its independence from Mexico, is annexed by the United States
1846 — Oregon Treaty with Britain gives the United States claim to part of the Pacific Northwest
1848 — Mexico cedes California and vast areas of the inland West to the United States
1853 — Gadsden Purchase adds nearly19 million acres of public land in southern Arizona and New Mexico
1861-1865 — American Civil War
1862 — Homestead Act entitles Western settlers to 160 acres of public land after they reside on and cultivate the land for five years. (On Jan. 1, 1863, Daniel Freeman and 417 others file the first homestead claims. By 1934, over 1.6 million homestead applications are processed, passing more than 270 million acres of public domain into private ownership.)
1862 — Transcontinental Railroad Act gives railroad companies rights-of-way and alternate sections of public domain lands along both sides of their railroads
1867 — United States purchases Alaska from Russia for $7.2 million, adding 375 million acres to the public domain
1869 — First coast-to-coast railroad is completed at Promontory Summit, Utah
1872 — General Mining Law identifies mineral lands as a distinct class of public lands subject to exploration, occupation, and purchase under specified conditions
1877 — Desert Land Act authorizes the disposition of 640-acre tracts of public lands to homesteaders upon proof of reclamation of the lands by irrigation
1878 — Timber and Stone Act authorizes negotiated sale of public lands that are valuable for either logging or mining and otherwise unfit for cultivation
1889 — Oklahoma Land Rush begins the disposal of public domain lands in Oklahoma
1894 — Carey Act authorizes transfer of up to one million acres of public desert land to states for settling, irrigating, and cultivating purposes
1897 — Forest Management "Organic" Act transfers fire protection responsibilities for forest reserves from the Department of Army to the General Land Office
1898 — Congress extends homestead laws to Alaska
BLM's SELF HISTORICAL TIMELINE (Part 2 – 1906 -2009) –                                                                                             1906 — Antiquities Act preserves and protects prehistoric, historic, and scientifically significant sites on public lands through creation of national monuments
1916 — Stock Raising Homestead Act authorizes homesteads of 640 acres and separates surface rights from subsurface (mineral) rights
1920 — Mineral Leasing Act authorizes Federal leasing of public lands for private extraction of oil, gas, coal, phosphate, sodium, and other minerals
1926 — Recreation and Public Purposes Act allows conveyance or lease of public lands to state and local governments for outdoor recreation purposes
1934 — Taylor Grazing Act authorizes grazing districts, regulation of grazing, and public rangeland improvements in Western states (excluding Alaska) and establishes Division of Grazing (later renamed U.S. Grazing Service) within the Department of the Interior
1937 — Oregon and California (O&C) Revested Lands Sustained Yield Management Act requires O&C Railroad lands to be managed for permanent forest production and provides for watershed protection, regulation of streamflow, and recreational facilities
1941-1945 — World War II
1942 — Extensive withdrawal of public lands for military purposes begins, with more than 13 million acres withdrawn in two years
1946 — BLM is established within the Department of the Interior through the consolidation of General Land Office and U.S. Grazing Service
1953 — Outer Continental Shelf Lands Act authorizes Secretary of the Interior to lease mineral lands more than three miles offshore. The BLM assumes responsibility for leasing through competitive sales.
1954 — Recreation and Public Purposes Act amends the 1926 Act and allows sale and lease of public lands for purposes besides recreation
1955 — Multiple Surface Use Act withdraws common varieties of minerals from entry as mining claims and allows claim owners to use the surface for mining operation purposes only.
1959 — Wild Horse Protection Act (also known as the "Wild Horse Annie Act") prohibits hunting of wild horses and burros on public land by aircraft or motor vehicles
1964 — Wilderness Act protects undeveloped Federal land to preserve its natural condition
1965 — Land and Water Conservation Fund is established for Federal acquisition of outdoor recreation areas
1966 — National Historic Preservation Act expands protection of prehistoric and historic properties
1968 — Wild and Scenic Rivers Act and National Trails System Act preserve sites with outstanding natural, cultural, scenic, historic, and recreational significance
1969 — National Environmental Policy Act requires Federal agencies to assess the impacts of their actions on the environment
1971 — Alaska Native Claims Settlement Act provides for settlement of aboriginal land claims of Alaskan Natives and Native groups. The BLM is tasked with the largest U.S. land transfer effort ever undertaken.
1971 — Wild Free-Roaming Horses and Burros Act mandates protection and management of these animals on public lands managed by the BLM and U.S. Forest Service
1973 — Endangered Species Act requires the conservation of threatened and endangered plants and animals and the ecosystems on which they depend
1975 — Energy Policy and Conservation Act addresses energy demands and establishes a strategic petroleum reserve
1976 — Federal Land Policy and Management Act (FLPMA, the BLM's legislative "charter") repeals homestead laws and establishes policy of retaining public lands in Federal ownership. FLPMA requires that these lands be managed for multiple uses and sustained yield through land-use planning.
1976 — Management of the National Petroleum Reserve–Alaska is transferred from the U.S. Navy to the BLM
1977 — Surface Mining Control and Reclamation Act ensures environmental safeguards for mining and reclamation of mined areas
1978 — Public Rangelands Improvement Act requires inventory, determination of trends, and improvement of public rangelands
1979 — Archaeological Resources Protection Act requires permits for excavation or removal of these resources from Federal lands and sets criminal and civil penalties for violations
1980 — Alaska National Interest Lands Conservation Act designates millions of acres of public land in Alaska as wilderness, national parks, national wildlife refuges, and wild and scenic rivers. Act also provides for subsistence use by rural Alaska residents.
1980 — The BLM completes its first resource management (land-use) plan, covering the California Desert Conservation Area, and designates its first areas of critical environmental concern in Utah and California
1983 — The BLM transfers responsibility for offshore leasing to the Minerals Management Service
1987 — Federal Onshore Oil and Gas Leasing Reform Act establishes a new leasing system and changes certain operational procedures for onshore resources on Federal lands.
1990 — Northern spotted owl is listed as a threatened species under the Endangered Species Act, leading to enjoinment of all Federal timber sales within its range
1996 — Grand Staircase-Escalante National Monument in Utah is designated by President, representing first such monument under BLM management
2000 — National Landscape Conservation System, consisting of wilderness areas, wilderness study areas, national monuments, and other conservation-related units on BLM-managed land, is established by Secretary of the Interior
2005 — Energy Policy Act promotes energy efficiency and the production of secure, affordable, and reliable domestic energy
2008 — BLM-managed lands are officially designated as the National System of Public Lands
2009 — Omnibus Public Land Management Act officially authorizes National Landscape Conservation System and sets penalties for unauthorized removal of paleontological resources from Federal lands
The BLM LAND TYRANNY didn't stop in 2009 — in August 2015 — Obama renamed Mount McKinley in Alaska to Mount Denali and in 2016 – Obama was hell bent on land grabbing for the BLM, including property in Arizona near the Grand Canyon — and in 2016 with much state controversy — Obama took Bear Mountain in Utah for a National Monument designation and also under lesser controversy – Obama took Golden Butte in Nevada (between Grand Canyon and Lake Meade) and designated it as a National Monument, also. …. AND NOT JUST THE BLM — in the Forestry Service — On Oct. 10, 2014, President Barack Obama designated 346,177 acres of existing federal lands as the San Gabriel Mountains National Monument, the eighth national monument under Forest Service management (this is in California). …. and don't forget — wild burros and wild horses were rounded up and slaughtered (ignoring prior "adoption" round ups). — DOESN'T SEEM LIKE THE LAND TYRANNY WILL EVER END.
BUREAU OF LAND MANAGEMENT — The Bureau of Land Management (BLM) is an agency within the United States Department of the Interior that administers more than 247.3 million acres (1,001,000 km2) of public lands in the United States which constitutes one-eighth of the landmass of the country. President Harry S. Truman created the BLM in 1946 by combining two existing agencies: the General Land Office and the Grazing Service. The agency manages the federal government's nearly 700 million acres (2,800,000 km2) of subsurface mineral estate located beneath federal, state and private lands severed from their surface rights by the Homestead Act of 1862. Most BLM public lands are located in these 12 western states: Alaska, Arizona, California, Colorado, Idaho, Montana, Nevada, New Mexico, Oregon, Utah, Washington and Wyoming.
This map shows land owned by different federal government agencies. The yellow represents the Bureau of Land Management's holdings.
The mission of the BLM is "to sustain the health, diversity, and productivity of the public lands for the use and enjoyment of present and future generations." Originally BLM holdings were described as "land nobody wanted" because homesteaders had passed them by. All the same, ranchers hold nearly 18,000 permits and leases for livestock grazing on 155 million acres (630,000 km2) of BLM public lands. The agency manages 221 wilderness areas, 27 national monuments and some 636 other protected areas as part of the National Landscape Conservation System–now known as the National Conservation Lands, totaling about 36 million acres (150,000 km2). In addition the National Conservation Lands include nearly 2,400 miles of Wild and Scenic Rivers, and nearly 6,000 miles of National Scenic and Historic Trails. There are more than 63,000 oil and gas wells on BLM public lands. Total energy leases generated approximately $5.4 billion in 2013, an amount divided among the Treasury, the states, and Native American groups. – Wikipedia
Agency overview:
Formed: 1946; 71 years ago
Preceding agencies: U.S. Grazing Service, General Land Office
Jurisdiction: United States federal government
Headquarters: 1849 C Street NW Room 5665, Washington, D.C., U.S. 20240
Employees: 11,621 Permanent and 30,860 Volunteer (FY 2012)
Annual budget: $1,162,000,000 (FY 2014 operating)
Agency executive: Michael Nedd, Director (Acting) 2017
Parent agency: U.S. Department of the Interior
BLM NEVADA MINING AND MINERALS

Mining has been and continues to be vital to Nevada's economy. The BLM Nevada solid minerals program consists of locatable minerals, such as gold and silver, and is the only state producing lithium, which is quickly becoming the "gold rush" of the 21st century due to its value for use in emerging technologies in stored energy.
Nevada has the largest mineral materials program in the Bureau for sand and gravel and crushed stone, used in construction supporting the fast-growing population centers of Las Vegas and Reno, which is a vital contributor to the economic well-being of the state, producing 5 million cubic yards of sand/gravel valued at $11.4 million in 2015.
BLM Nevada also has an active solid leasable minerals program for sodium, potassium, and other important leasable minerals.
Overall, Nevada leads the nation with the largest mining program in the BLM, with more than 180,000 active mining claims (49% of the BLM total), 198 authorized mining plans of operations, and 282 active exploration notices. With a strong ethic towards effective and successful reclamation, BLM Nevada holds and administers more than $2 billion in surface management reclamation bonds.
The BLM Nevada minerals program has responsibilities and adjudicative duties associated with federal mining claims, mineral surveys and patents, validation of title of evidence, review of mineral validity reports, service of federal minerals contest actions, guidance of surface use management (43 CFR 3809) and use and occupancy under the mining laws (43 CFR 3715). BLM Nevada also processes mineral material disposal applications, solid mineral prospecting permits, mineral lease applications and bonding documentation.
In Nevada, BLM also manages the minerals estate on approximately 300,000 acres of split-estate lands. The term split-estate (federal minerals) refers to federal mineral rights under private surface lands. These are patented lands with minerals reserved to the United States. These reservations and may be for single, multiple, or all minerals.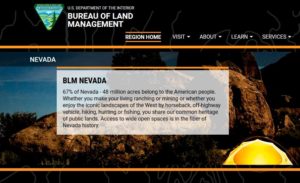 Big uranium supply at Hammonds Ranch in Oregon – plus other precious minerals, metals, and ores. …. Bundy Ranch of course located in Nevada — and BLM owns 84.5% of the state. On the Bureau of Land Management website they even state that Nevada contains the greatest amount of metals and ores. >>> BLM WEBSITE – STATE OF NEVADA (NOTE: BLM only acknowledges ownership of 67% of Nevada.)
BLM — NEVADA MINING AND MINERALS access to the following topics are available on website:

* Standardized Reclamation Cost Estimator (SRCE)
* SRCE cost data file and Mob/Demob file
* SRCE-based Reclamation Cost Model (2017 version 3.2) with Calculators for Notice Level exploration
* Heap Leach Draindown Estimator (HLDE) Version 1_2
* Process Fluids Cost Estimator (PFCE)
* Voluntary – 3809 Plan of Operations Outline/Format
* BLM Nevada 3809 Reclamation Bonding Guidelines (.pdf)
* How to obtain Mineral Materials from BLM administered federal lands
* State of Nevada's Mining Claim Forms
* Nevada Revised Statutes (NRS) Chapter 517: Mining Claims, * Mill sites and Tunnel Rights
BLM PROGRAMS (Part 1):
Most of the public lands held by the Bureau of Land
Management are located in the western states.
* GRAZING: The BLM manages livestock grazing on nearly 155 million acres (630,000 km2) million acres under the Taylor Grazing Act of 1934. The agency has granted more than 18,000 permits and leases to ranchers who graze their livestock, mostly cattle and sheep, at least part of the year on BLM public lands. Permits and leases generally cover a 10-year period and are renewable if the BLM determines that the terms and conditions of the expiring permit or lease are being met. The federal grazing fee is adjusted annually and is calculated using a formula originally set by Congress in the Public Rangelands Improvement Act of 1978. Under this formula, the grazing fee cannot fall below $1.35 per animal unit month (AUM), nor can any fee increase or decrease exceed 25 percent of the previous year's level. The grazing fee for 2014 was set at $1.35 per AUM, the same level as for 2013. Over time there has been a gradual decrease in the amount of grazing that takes place on BLM-managed land. Grazing on public lands has declined from 18.2 million AUMs in 1954 to 7.9 million AUMs in 2013.
* MINING: Domestic production from over 63,000 Federal "onshore" oil and gas wells on BLM lands accounts for 11 percent of the natural gas supply and five percent of the oil supply in the United States. BLM has on record a total of 290,000 mining claims under the General Mining Law of 1872.
* COAL LEASES: The BLM holds the coal mineral estate to more than 570 million acres (2,300,000 km2) where the owner of the surface is the federal government, a state or local government, or a private entity. As of 2013, the BLM had competitively granted 309 leases for coal mining to 474,252 acres (191,923 ha), an increase of 13,487 acres (5,458 ha) or nearly 3% increase in land subject to coal production over ten years' time.
* RECREATION: The BLM administers 205,498 miles (330,717 km) of fishable streams, 2.2 million acres (8,900 km2) of lakes and reservoirs, 6,600 miles (10,600 km) of floatable rivers, over 500 boating access points, 69 National Back Country Byways, and 300 Watchable Wildlife sites. The agency also manages 4,500 miles (7,200 km) of National Scenic, National Historic and National Recreation Trails, as well as thousands of miles of multiple use trails used by motorcyclists, hikers, equestrians, and mountain bikers. In 2013, BLM lands received an estimated 61.7 million recreational visitors.
* CALIFORNIA DESERT CONSERVATION AREA: The California Desert Conservation Area covers 25 million acres (100,000 km2) of land in southern California designated by Congress in 1976 by means of the Federal Land Policy and Management Act. BLM is charged with administering about 10 million acres (40,000 km2) of this fragile area with its potential for multiple uses in mind.
* TIMBERLANDS: The Bureau manages 55 million acres (220,000 km2) of forests and woodlands, including 11 million acres (45,000 km2) of commercial forest and 44 million acres (180,000 km2) of woodlands in 11 western states and Alaska. 53 million acres (210,000 km2) are productive forests and woodlands on public domain lands and 2.4 million acres (9,700 km2) are on O&C lands in western Oregon.
* FIREFIGHTING: Well in excess of 3,000 full-time equivalent firefighting personnel work for BLM. The agency fought 2,573 fires on BLM-managed lands in fiscal year 2013.
BLM PROGRAMS (Part 2):
* MINERAL RIGHTS ON INDIAN LANDS: As part of its trust responsibilities, the BLM provides technical advice for minerals operations on 56 million acres (230,000 km2) of Indian lands.
* CADASTRAL SURVEYS: The BLM is the official record keeper for over 200 years' worth of cadastral survey records and plats as part of the Public Land Survey System. In addition, the Bureau still completes numerous new surveys each year, mostly in Alaska, and conducts resurveys to restore obliterated or lost original surveys.
* ABANDONED MINES: BLM maintains an inventory of known abandoned mines on the lands it manages. As of April 2014, the inventory contained nearly 46,000 sites and 85,000 other features. Approximately 23% of the sites had either been remediated, had reclamation actions planned or underway, or did not require further action. The remaining sites require further investigation. A 2008 Inspector General report alleges that BLM has for decades neglected the dangers represented by these abandoned mines.
* ENERGY CORRIDORS: Approximately 5,000 miles (8,000 km) of energy corridors for pipelines and transmission lines are located on BLM-managed lands.
* HELIUM: BLM operates the National Helium Reserve near Amarillo, Texas, a program begun in 1925 during the time of the Zeppelin Wars. Though the reserve had been set to be moved to private hands, it remains subject to oversight of the BLM under the provisions of the unanimously-passed Responsible Helium Administration and Stewardship Act of 2013.
* REVENUE AND FEES: The BLM produces significant revenue for the United States budget. In 2009, public lands were expected to generate an estimated $6.2 billion in revenues, mostly from energy development. Nearly 43.5 percent of these funds are provided directly to states and counties to support roads, schools, and other community needs.
The land tyranny of the Bureau of Land Management is a thorn under my feet, a piercing stab to my heart. I won't give up exposing them. BTW — did Ya'll know — that they even "surplus" some of their confiscated lands and sell acres of them at public (not so visible) auctions?? … WHY NOT DONATE THESE "SURPLUS" LANDS — BACK TO THE STATES IN WHICH THEY EXIST??
BOTH INTERESTING AND TROUBLING >>>> Bureau of Land Management sells 818 acres of federal land in Las Vegas LAS VEGAS (KSNV News3LV) — by Fatima Rahmatullah, Tuesday, April 26th 2016 — The Bureau of Land Management sold 818 acres of federal land in Las Vegas on Tuesday for more than $94 million. For some, it's a sign that real estate in Southern Nevada is viable again and that it's growing.
At the auction, the pulse of the housing market could be felt. Nearly 35 parcels of land situated in locations across the Las Vegas valley sold. The most popular parcels were bought up in the southwest.
At the auction, the pulse of the housing market could be felt. Nearly 35 parcels of land situated in locations across the Las Vegas valley sold. The most popular parcels were bought up in the southwest.

Big residential builders from Lewis Homes and KB battledit out, working hard to outbid each other.
One parcel of 47.5 acres on the corner of Meranto Avenue and Grand Canyon Drive sold for $14.2 million, a $2.3 million profit from the appraised value of $11.9 million.
NOTE: Try as you may …. you, too, will find difficulty or defeat in any attempts to locate BLM's actual "surplus land" AUCTION documents.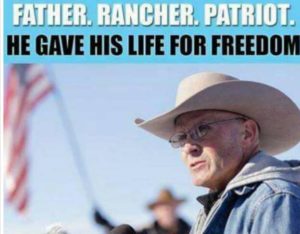 RIP – ROBERT LaVOY FINICUM
Born: January 27, 1961, Kanab, Utah, USA
Died: January 26, 2016, Harney County, Oregon, USA
Cause of death: Gunshot wounds in a BLM, FBI, Oregon State Police, et al roadblock ambush as he was traveling to attend a meeting in the city of John Day, Grant County, Oregon.
A Christian patriot defending land rights and our United States Constitution.
Ammon Bundy just confirmed that his Dad, Cliven Bundy, has refused being released from jail amid the ongoing trial — unless all defendants are released — And this article from FOX News – November 29, 2017 — Cliven Bundy refuses to leave jail amid ongoing trial …….
Bret Whipple, Cliven Bundy's attorney, told Fox News that a motion to dismiss the case entirely on Wednesday morning was denied. The court then unilaterally had a detention hearing regarding custody of the defendants.
It was subsequently granted that Cliven Bundy, Ammon Bundy and Ryan Payne be released from detention for the duration of the trial. 
AMMON BUNDY — Family photo following his jail release yesterday, November 30, 2017
BLM.gov – FoxNews – BLM.gov energy&mining – BLM.gov Nevada – News3LV – American Digital News Group