James Comey, a lawyer, served as the seventh Director of the FBI from 2013 until May 9th, 2017, when he was dismissed by President Trump.
Comey's earlier career includes acting as deputy special counsel to the Senate Whitewater Committee and taking over the investigation into President Bill Clinton's controversial pardon of Marc Rich, both potential conflicts with Hillary Clinton in Obama's administration. He appointed Patrick Fitzgerald to be the Special Counsel to head the grand jury investigation into the Valerie Plame affair and led the prosecution of three men involved in one of the largest identity fraud cases in American History. He also led the indictment of John Rigas, "one of the most elaborate and extensive corporate frauds in United States history."
He then became the General Counsel and Senior Vice President for Lockheed Martin, the US Department of Defense's largest contractor. Comey also held an executive position at HSBC Bank, during the time money laundering operations where being carried out for Mexican Drug Cartel, with the assistance of HSBC banking officials. All before being appointed Director of the FBI in 2013, by President Barack Obama. Comey's promotion to Director of the FBI was initially questioned on several fronts, specifically his lack of law enforcement background.

Comey hit the highlight of his career with his involvement in the Hillary Clinton personal server/classified email investigation, which later included the information found on Anthony Weiner and Huma Abedin's computer. Readers should remember no one in Washington D.C. was prepared for a president other than Hillary Clinton. And prior to Comey's firing, Democrat Leadership was calling for his firing as well for his handling of the Hillary Email Scandal. There was obstruction of justice from all directions, possibly including Democratic Leadership and President Obama. Obama made comments effectively declaring he did not want his successor indicted for the email offenses. Obama did not discuss an intent to endanger national security, and this was not the only criminal offenses Clinton was suspected of committing.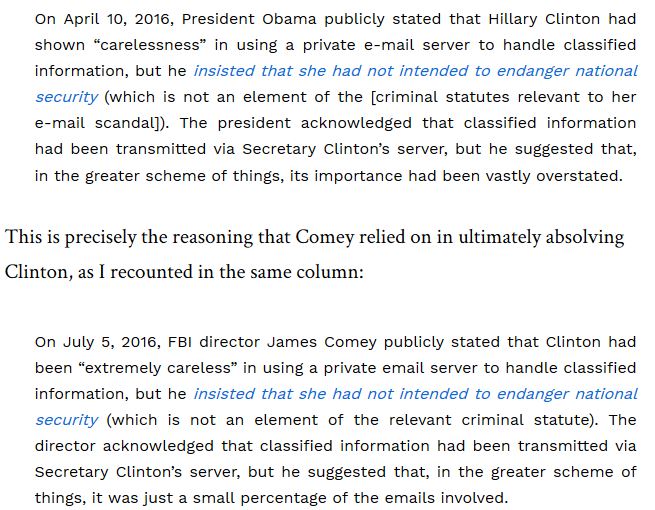 Obama's April statements are the significant ones. They told us how this was going to go. The rest is just details. [1]
Comey was in a tough position. Obama and Clinton wanted the Clinton investigation closed early in 2016 and Comey was under pressure. He appeared to be protecting the FBI at the same time he was facing a lot of Democratic wrath for not closing the Clinton investigation. Comey was also threatened with violating the Hatch Act when he was summoned to Congress. He was getting boxed in with no escape, even if Hillary Clinton won.
Comey bringing in Mueller was a way to get immunity. Was Comey straight with his friend about how many laws he broke and how badly he'd destroyed the Agency? No one thought Trump would win the election, so no one bothered to clean up all the loose ends. Comey found himself in a Catch 22. He was culpable for running a bogus investigation, bowing to political pressure and perjury. Then he had Democrats threatening him with Hatch Act violations and holding his lies over his head. What does an FBI Director do when they are caught in his own illegal acts and get fired while giving a speech a thousand miles from the office?
He breaks another law by leaking his 'memos to self' written on FBI time and on an FBI device after he's already been to talk to his very good friend, Bob Mueller. Orchestrate Mueller as Special Counsel and Comey gets immunity.

[2]
And with all the additional crimes coming to light, why hasn't Comey been charged with perjury, by anyone? Congress or the Department of Justice? Will those charges appear if he loses his deal? Comey WILL testify again. Under oath. To a Grand Jury.
Comey set Mueller up, probably unintentionally. Mueller got into the investigation and realized it is a huge disaster. There is no Trump and Russia collusion but a boat load of politicization of the FBI and DOJ. And more illegal acts being uncovered daily. Comey MUST tell the truth. Mueller will hold him to telling the truth to keep his immunity. That is the only way Mueller can come out of this mess whole; by arresting the real criminals.
@CLewandowski_: "Jim Comey very likely could be brought up on perjury charges before Congress."
Prediction – Flynn's plea deal will include going after the Podesta, Clinton, and Obama factions. McCabe will go down, without immunity, as will Lynch.
And Robert Mueller will come out of this convoluted mess as a good guy.
President Trump will keep WINNING!
[1] National Review
[2] TruePundit
[3] Justice.gov