IF MCABE RETIRES & STRZOK RESIGNS, THEY CAN PLEAD THE FIFTH TO CONGRESS…
…however, they can't testify to a Grand Jury or in a prosecution because they would be subject to cross examination. So where would a retirement and resignation leave Mueller?
WHO is FBI's Deputy Director – Andrew McCabe
Andrew McCabe Timeline:
1990 – Graduated from Duke University and then obtained a law degree from Washington University in St. Louis. He practiced privately for three years before joining the FBI.
1996 – Joined the FBI, focusing on organized crime in the New York City office. He was assigned cases against Russian mob and helped take out a dangerous gang of Russian-speaking gangsters in one of his first big assignments.
2009 – As head of the FBI's National Security Branch, he launched the Obama administration program called 'High-Value Interrogation Group' also known as 'HIG'.
2010 – Now 45, he is tapped to be the first director of the FBI's high-value detainee interrogation group; a multi-agency squad formed to question top terrorist suspects immediately after their capture. McCabe was thought to have risen in rank uncommonly fast, bypassing field office work.
9/2012 – John Solomon of The Hill reports tht Rep. Ron Desantis (R-FL) recently interviewed a retired FBI supervisor who told him he was instructed by Deputy Director Andrew McCabe not to call the 2012 Benghazi attack an act of terrorism when distributing the FBI's findings to the larger intelligence community – despite knowing exactly who conducted the attack.
The agent found the instruction concerning because his unit had gathered incontrovertible evidence showing a major al Qaeda figure had directed the attack and the information had already been briefed to President Obama, the lawmaker said. -The Hill
After the September 11, 2012 attack against U.S. government facilities in Benghazi, Libya, the Obama administration peddled a lie, telling the public that the attack was related to Muslims who had become enraged at an anti-Islam YouTube video, and not a planned act of terrorism – despite Hillary Clinton emailing Chelsea Clinton from her unsecure @clintonemail.com server the night of the attack to say exactly that. [1]
2013/2014 – Promoted to assistant director at the Washington Field Office.
3/02/15 – The New York Times publicly reveals Clinton's use of private email address.
3/04/15 – The New York Times reveals Clinton and staff used of a private server.
3/07/15 – McAuliffe and other DNC leaders meet with Dr. Jill McCabe and persuade her to run for state senator of
Virginia with no political experience, whatsoever. McCabe seeks ethics advice from the FBI and follows it, avoiding involvement with public corruption cases in VA and also avoiding any of Jill McCabe's campaign activities or events.
3/12/2015 – Jill McCabe announces her candidacy.
5/2015 – Five major banks agree to parent-level guilty pleas for manipulating the London Interbank Offered Rate (LIBOR) and other benchmark interest rates. They pay a measly $203 million dollar criminal penalty. McCabe described the fine as defining what the U.S. Government will not tolerate in any sector of financial markets.
7/2015 – Promoted to third in command at the FBI. Clinton email investigation formally begins – Provides personnel & resources to the investigation (Peter Strzok).

9/2015 – Now in the FBI's Washington, D.C. field office, he announced that the Russian Nuclear Energy Official Pleaded Guilty to Money Laundering Conspiracy involving violations of the Foreign Corrupt Practices Act.
12/2015 – Under McCabe's direction, the San Bernidino killer case set new precedents and involving encrypted iPhones and a legal battle with Apple, Inc.
1/2016 – Becomes second in command of the FBI under Director James B. Comey.
7/2016 – Briefed the nation on the 1Malaysia Development Berhad case where the Malaysian people were defrauded on an enormous scale.
10/2016 – Senator Richard Black calls for McCabe to resign for conflicts of interest in the Hillary Clinton Email Scandal. Black also shares that Governor Terry McAuliffe of Virginia, a Clinton confidant, directed almost $800,000 into the political coffers of the McCabe's wife Jill. Jill McCabe raised an astonishing $1.8M and, by law, kept the remainder after loosing the race.
10/2016 – New York-based FBI officials notified McCabe, now the Bureau's second in command, that while investigating Anthony Weiner for possibly sending sexually charged messages to a minor, they had recovered a laptop with 650,000 emails. Note that the Justice Department, largely under McCabe's direction, somehow neglected to secure a warrant to look at Abedin's emails for three weeks. McCabe has very recently been promoted twice and his wife, number three in a race she can't win, bankrolled.
11/2016 – Much like they blamed Comey for fumbling the Clinton server case, personnel within the FBI accused McCabe of caving to Justice Department demands and not pursuing the Clinton Foundation case more forcefully. FBI agents investigating the foundation requested to move the investigation to another attorney general's office in New York. The request was denied by FBI Deputy Director Andrew McCabe.
How could the FBI allow McCabe to oversee the investigation of Hillary Clinton's email server scandals. McCabe was clearly indebted to the Clinton's because of the support given his wife. McCabe should have immediately recused himself from the investigation.
In 2015 the FBI begins conducting an investigation of McAuliffe. Media reports suggest it may involve McAuliffe's financial relationship with a Chinese man who has donated millions to the Clinton Foundation. It is also reported that investigators have looked at McAuliffe's time as a board member of the Clinton Global Initiative (CGI).
In early 2016, McCabe agrees to recuse himself from the McAuliffe investigation, due to McAuliffe's donations to Jill McCabe's election campaign. However, he doesn't recuse himself from the Clinton Foundation investigation or the Clinton email investigation, despite his and McAuliffe's close ties to Bill and Hillary Clinton.
In October 2016, McCabe's potential conflicts of interest will be revealed by two Wall Street Journal articles. House Oversight Committee Chairman Jason Chaffetz asked McCabe to provide documents about his wife's 2015 campaign for Senate. Chaffetz tweeted that the FBI would examine new emails related to the investigation into Clinton's use of a private server.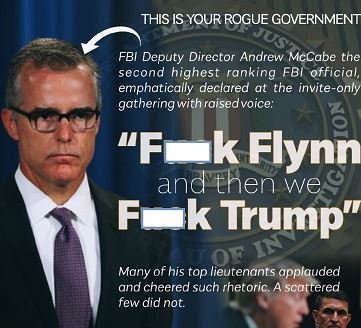 Just days before Gen. Michael Flynn was sacked as national security advisor, McCabe gathered more than a dozen of his top FBI disciples to plot how to ruin Flynn's aspiring political career and manufacture evidence to derail President Donald Trump, according to FBI sources.
McCabe, declared at the invite-only gathering with raised voice: "F**k Flynn and then we F**k Trump," according to direct sources. Many applauded and cheered. A few did not. Many such meetings were held in seclusion among key FBI leaders once Trump was elected president.
If you are among the millions of Americans who have pondered in recent months whether the Obama-era "Deep State" intelligence apparatus and FBI are working for or against Trump, this is the first definitive proof that parts of the country's once-premiere law enforcement agency has gone rogue. McCabe has been stalling investigations for the past 23 years. Many have voiced he should be fired and investigated for obstruction of justice.
The non-elected hierarchy that steered the FBI declared war on President Trump and his White House inner circle. FBI Director Christopher Wray is now cleaning house, make no mistake.
***
WHO is FBI agent Peter Strzok?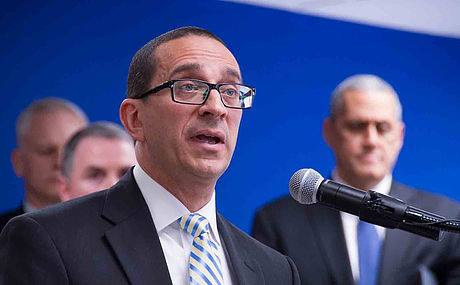 Strzok's information is scant, as one would expect for a member of the intelligence community. What is available describes him as an officer in the U.S. military, then an intelligence research specialist before joining the FBI in the late 1990s. Strzok's has served as one of FBI's top experts on Russia and as the deputy head of FBI counter-intelligence. Strzok may also has some degree of ties to Hillary and Bill Clinton and to a couple of Jeffrey Epstein's friends; Leon Black and Michael Milken. He also is linked to an alleged mistress, Lisa Page, an FBI lawyer with direct connections to FBI Deputy Andrew McCabe.
Strzok is married to

Melissa Hodgman, an associate director of the U.S. Securities and Exchange Commission in SEC Enforcement Division. She was promoted by President Obama on October 14, 2016 [2]
Coincidentally, on October 28, 2016 – Comey announces FBI finds new emails on Anthony Weiner/Huma Abedin laptop (case overseen by  Peter Strzok). The computer was confiscated 10/3/16  so FBI leadership knew about new emails for "weeks" before Comey's announcement [3]
So, weeks before Comey's announcement, Peter Strzok's wife got a major promotion by President Obama – when FBI leaders likely knew the case her husband Peter Strzok was overseeing was about to be reopened and could implicate Hillary Clinton.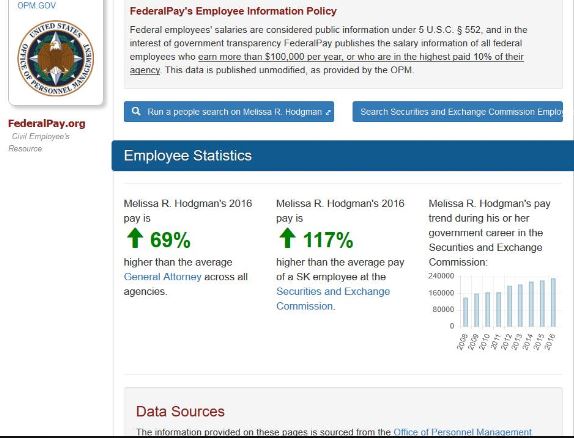 Nov 6, 2016: Comey writes a letter clearing the emails found on Weiner's laptop [4]
Peter Strzok, was a leading member of the FBI Clinton Email investigation which looked into Hillary's private email server and found "that Clinton exchanged nearly two-dozen top secret emails from her private server in 2011 and 
2012 with her deputy chief of staff, Jacob Sullivan, her chief of staff, Cheryl Mills, and Deputy Secretary of State William Burns. The State Department said the contents of the 22 emails were so highly classified that not even the subject matter could be disclosed." He also apparently was a part of the initial Russian probe after the Clinton Email investigation closed down, making him only the second official link to the rest of the government's Russian investigations to be added to the team, and the first to have been directly tied to an investigation of Hillary Clinton.[5] Strzok was one of multiple agents who interviewed Clinton in the probe during her testimony, which lasted well over three hours. Strzok interviewed Clinton along with Justice Department official David Laufman. Heavily-redacted court documents also show that Strzok took part in interviewing multiple others as part of the probe.[6]

And, according to The New York Times, Peter Strzok reviewed the Clinton emails on Weiner & Huma's computer in RECORD TIME before the Election. [7]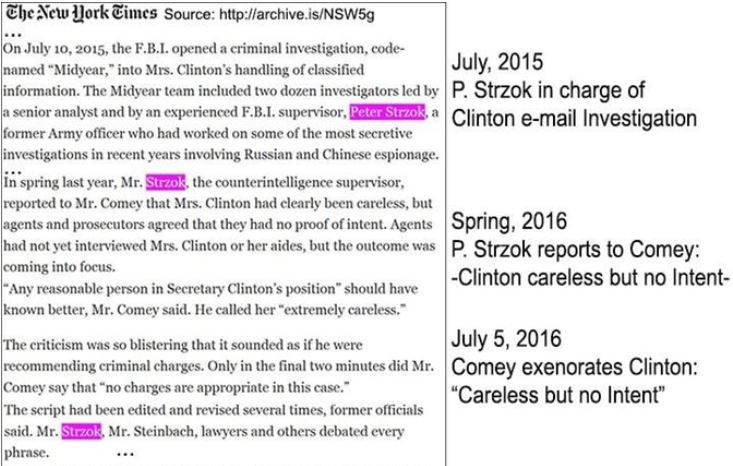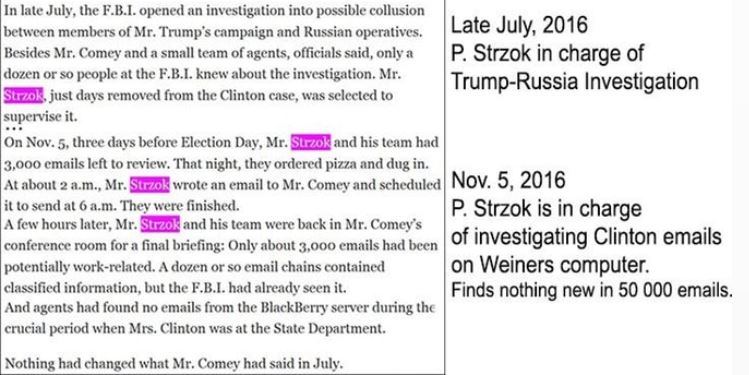 ***

***
EXCLUSIVE: FBI Supervisor BOOTED from Mueller Probe INTERVIEWED Mike Flynn
A supervisory special agent who is now under scrutiny after being removed from Robert Mueller's Special Counsel's Office for alleged bias against President Trump also oversaw the bureau's interviews of embattled former National Security advisor Michael Flynn, this reporter has learned. Flynn recently pled guilty to one-count of lying to the FBI last week.
FBI agent Peter Strzok was one of two FBI agents who interviewed Flynn, which took place on Jan. 24, at the White House, said several sources. The other FBI special agent, who interviewed Flynn, is described by sources as a field supervisor in the "Russian Squad, at the FBI's Washington Field Office," according to a former intelligence official, with knowledge of the interview. On Saturday, the House Intelligence Committee's Chairman Devin Nunes chided the Justice Department and the FBI for not disclosing why Strzok had been removed from the Special Counsel three months ago, according to a statement given by the Chairman. The former official also said that "Strzok's allegiance to (Deputy Director Andrew) McCabe was unwavering and very well known." [8]
***
Trump-Hating FBI Agent Fired From Mueller Probe is Key Figure in Fusion GPS Dossier Scandal
Strzok played a key role in analyzing the infamous 'Trump dossier,' supplied by shady research firm Fusion GPS. The now disgraced FBI agent used dis-proven elements of the dossier to spy on members of the Trump campaign.
Fox News report:
House investigators told Fox News they have long regarded Strzok as a key figure in the chain of events when the bureau, in 2016, received the infamous anti-Trump "dossier" and launched a counterintelligence investigation into Russian meddling in the election that ultimately came to encompass FISA surveillance of a Trump campaign associate.

The "dossier" was a compendium of salacious and largely unverified allegations about then-candidate Trump and others around him that was compiled by the opposition research firm Fusion GPS. The firm's bank records, obtained by House investigators, revealed that the project was funded by the Clinton campaign and the Democratic National Committee. […]

 Strzok himself briefed the committee on Dec. 5, 2016, the sources said, but within months of that session House Intelligence Committee investigators were contacted by an informant suggesting that there was "documentary evidence" that Strzok was purportedly obstructing the House probe into the dossier.
Fox News' James Rosen also reveals Strzok played a key role in agreeing to pay ex-MI6 agent Christopher Steele $50,000 to find evidence to further support the dossier's explosive claims. FBI officials were uncomfortable with the validity of Steele's findings, yet they moved forward with FISA surveillance anyways. [9]
***
"Reportedly, Mr. Strzok and Ms. Page exchanged these texts messages while working on the Clinton Investigation."
Letter from Sen. Grassley, chairman on the Committee of the Judiciary, to Christopher Wray with 'cc'  to Deputy AG Rod Rosenstein and Michael Horowitz, the Inspector General, DoJ.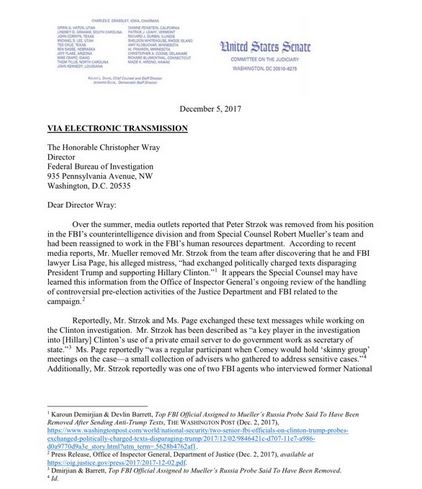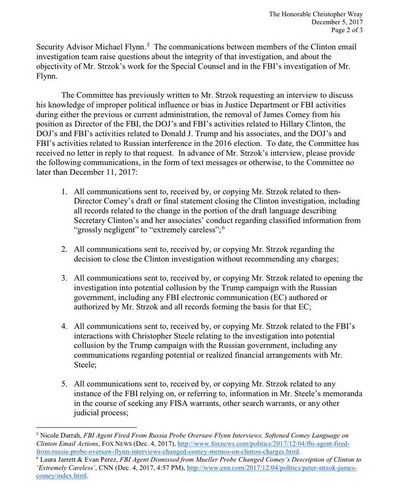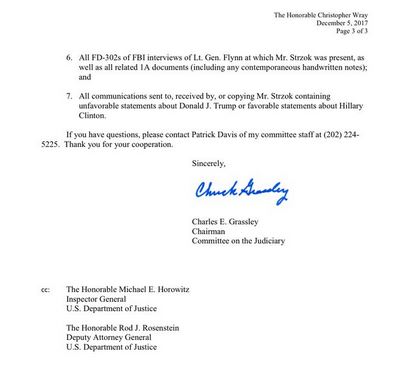 [1]  Zerohedge
[2] SEC.gov
[3] Chicago Tribune
[4] LATimes
[6] Reddit
[7] Heavy
[8] Hannity
[9] Gateway Pundit